Vancouver's favourite foodie event, Taste of Yaletown, is now on until Oct 27th. Presented by the Yaletown Business Improvement Association, the 13th annual Taste of Yaletown is a popular community-based event that invites the public to try a variety of dishes from 26 premier restaurants throughout the neighbourhood. Participating restaurants are offering innovative pairings and special menus with set prices of $25, $35, and $45.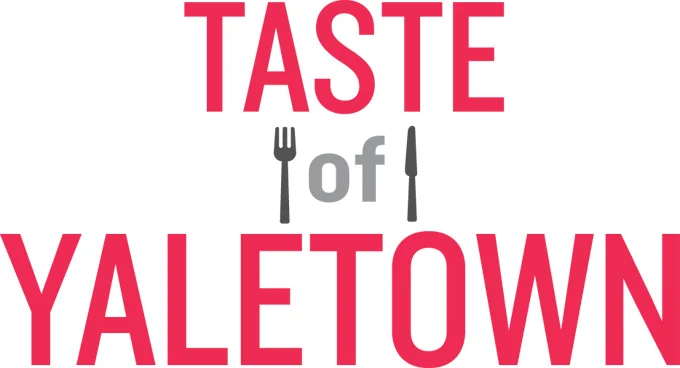 Last night, I had the opportunity to try the participating menu from Fayuca, a newcomer to Yaletown's dining scene. Fayuca opened this past summer and has been receiving a lot of positive reviews. Their cuisine is Pacific Northwest Mexican which is rather unique to Vancouver. This year, they have been nominated by Air Canada's Enroute Magazine to be one of Canada's top new restaurants. One thing to note that their Taste of Yaletown features are also on their regular menu. You really get a sense of what the restaurant is offering because of that. Here's a look at what you can expect with their $45 Taste of Yaletown Menu.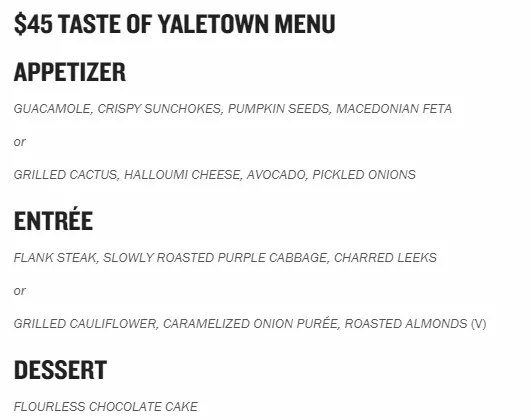 Disclosure: All food and drinks in this review were complimentary. Opinions are my own.
Appetizer
Diners are offered a choice of appetizers. First is the Guacamole, Crispy Sunchokes, Pumpkin Seeds, and Macedonian Feta accompanied by tortilla chips. The guacamole was oh-so-fresh, silky and smooth. The pumpkin seeds added some nutty flavours and textural contrast.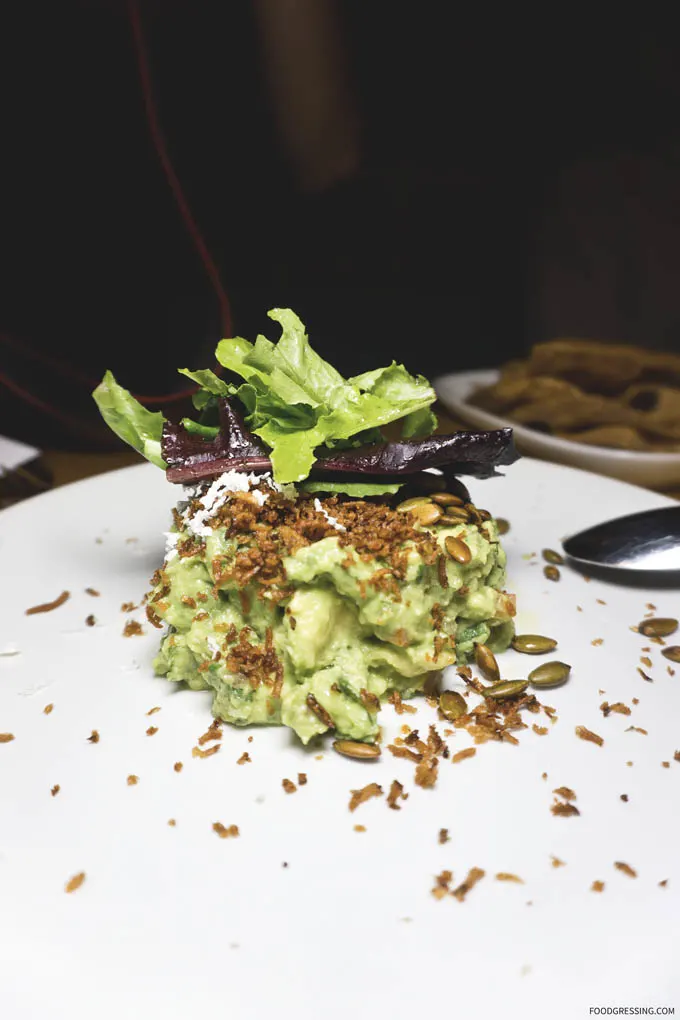 The tortilla chips were *very* crispy and made the whole tortilla and guacamole experience ultra-indulging.
The Grilled Cactus, Halloumi Cheese, Avocado, Pickled Onions seemed to be a very inventive savoury appetizer. It was my first experience with grilled cactus and I enjoyed it. The cactus was just a bit hard on the outside and soft on the inside. Its taste was similar to that of okra. The halloumi cheese was also a delight being soft and chewy. A very interesting dish.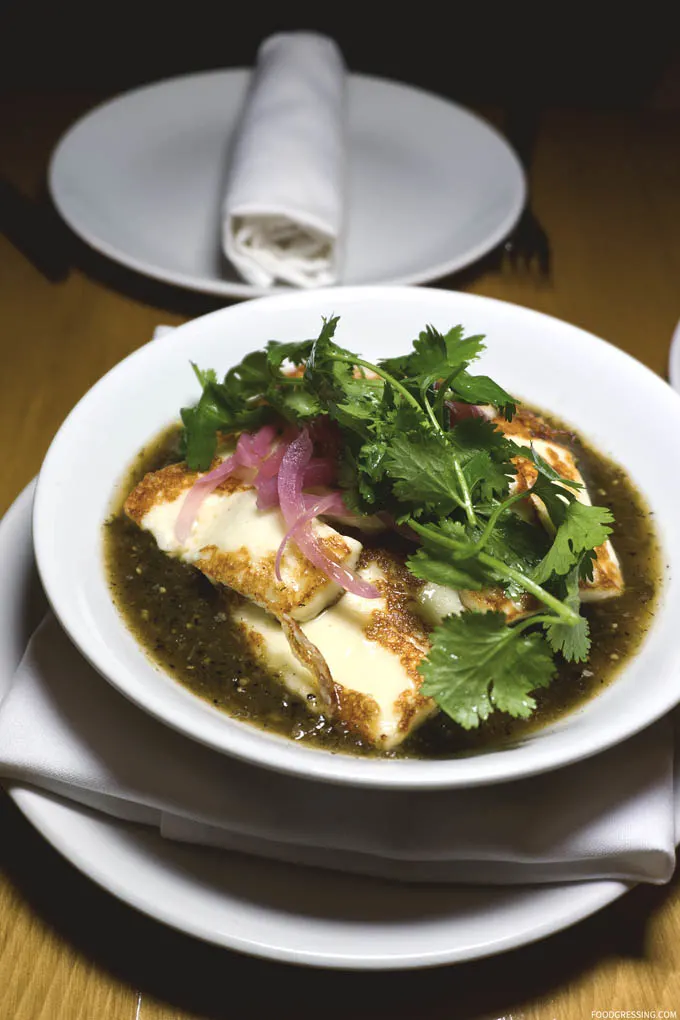 ENTRÉE
A vegan option available is the Grilled Cauliflower with Caramelized Onion Purée and Roasted Almonds. It appeared rather interesting at first sight for sure. As for the taste, it was a bit on the sweeter side with the onion puree. The roasted almonds added a lovely crunchiness to the dish. I personally am a little wary of eating burnt vegetables so I avoided those parts of the cauliflower.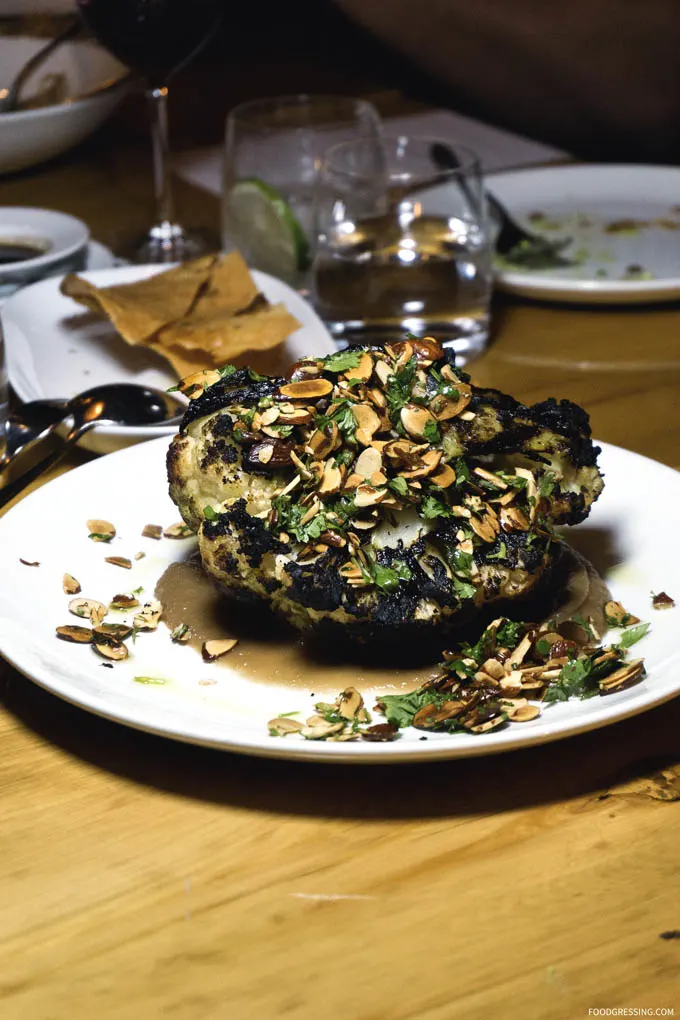 Meat lovers would certainly love the Flank steak which was wonderfully tender and juicy. On the side were slowly roasted purple cabbage and charred leeks.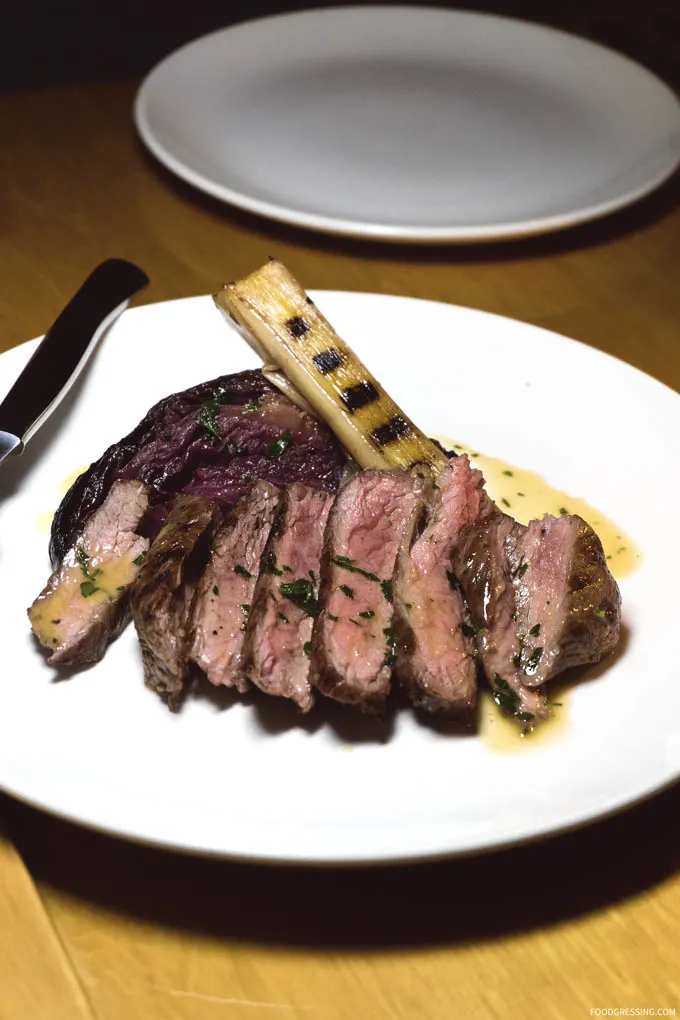 And for dessert, a moist, dense, rich (but not overly decadent) Flourless Chocolate Cake.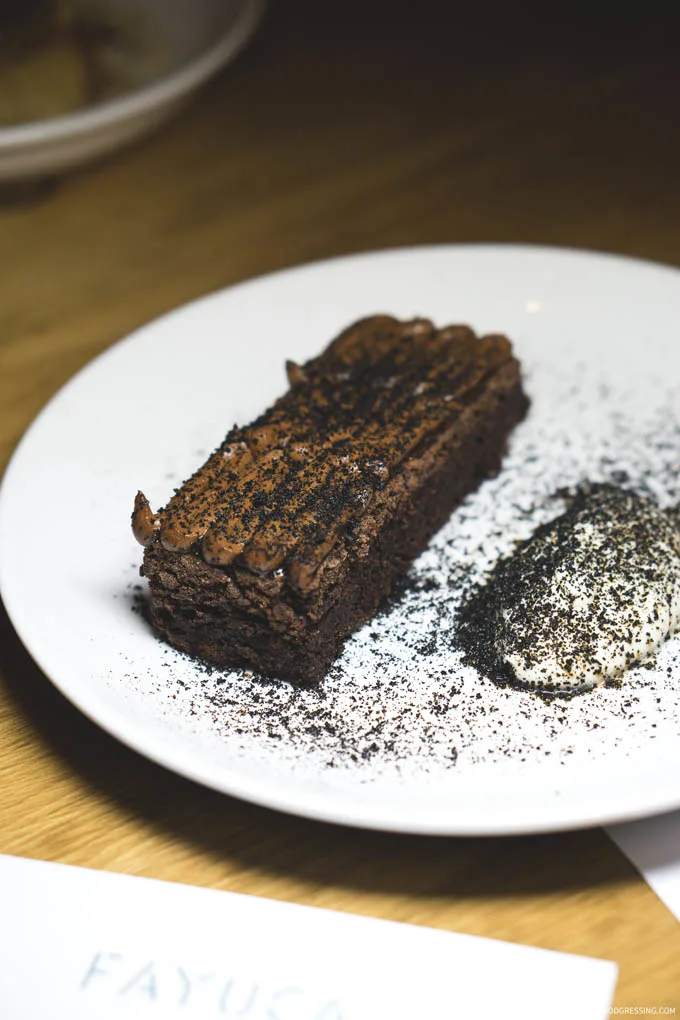 Other Dishes We Tried
A dish that we tried that was not part of the Taste of Yaletown menu was the Oxtail Fideo Pasta with Pine Nut Picada and Aioli; it was insanely delicious. I mean, where have you been all my life? All the pasta strands were coated nicely with this lightly, sweet and subtly spicy sauce. You need to go Fayuca and try this now. Go.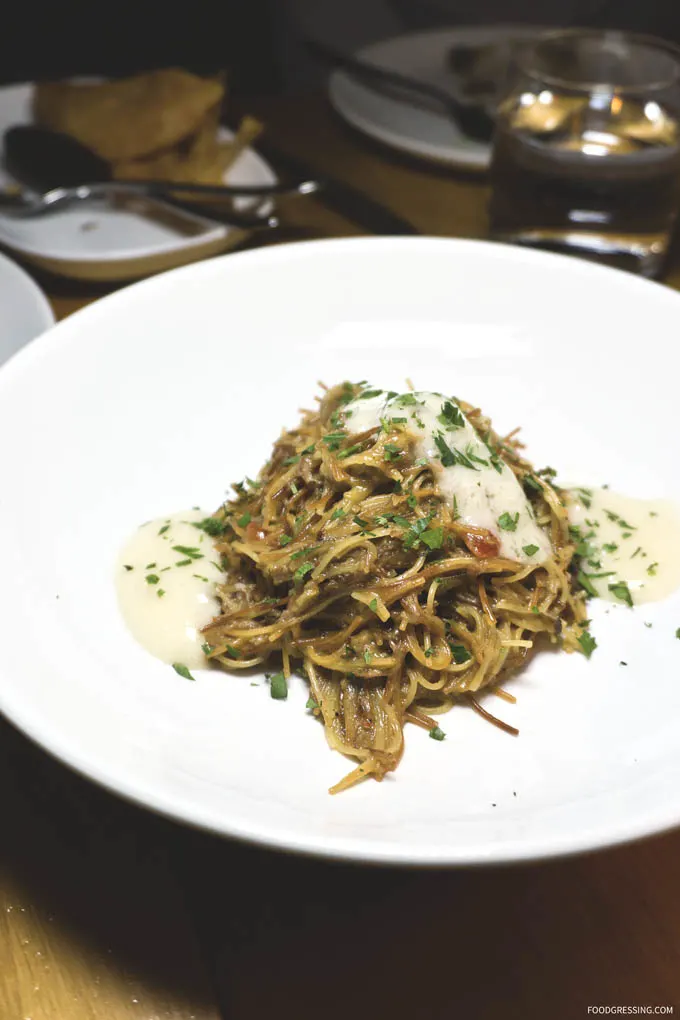 A very creative dessert that they offer is the grilled mango on caramelized torta and topped with ice cream. Lots of fun elements to this treat like a grilled mango, crispy torta and creamy ice cream.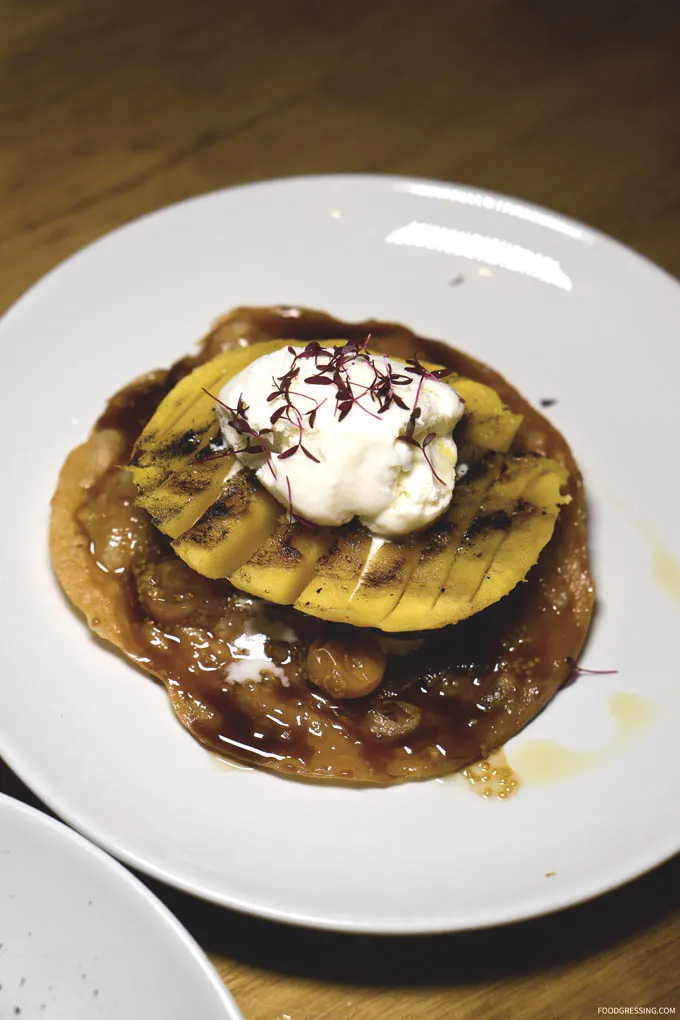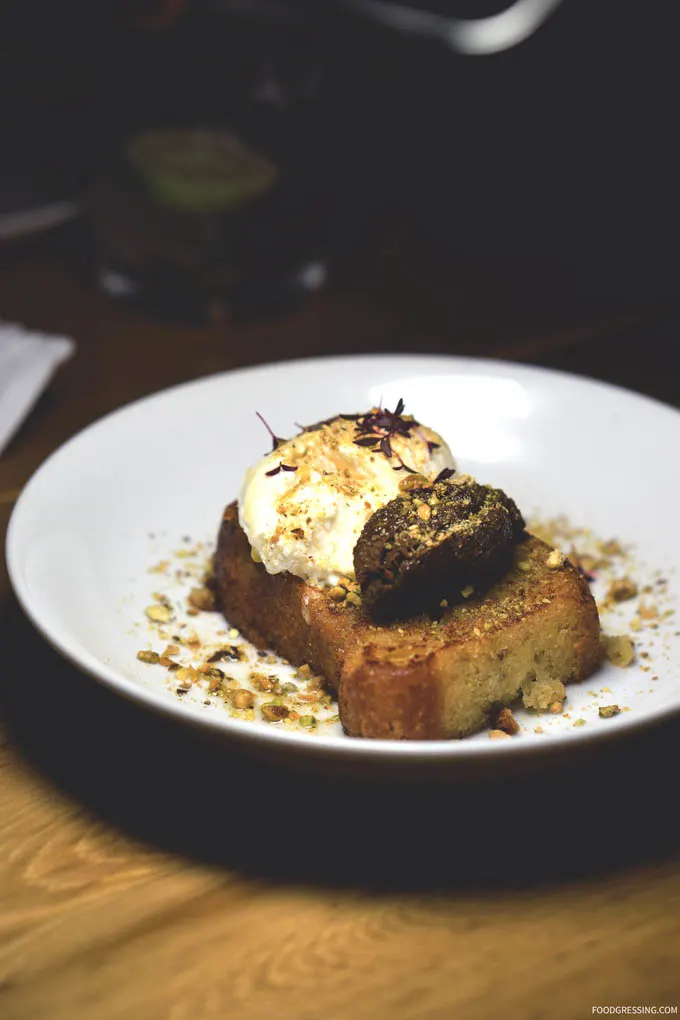 Overall Impression
Fayuca seems to be a refreshing addition to Vancouver's emerging culinary scene. The dishes we tried were interesting, inventive and made me want to try more of their menu. I highly recommend their Taste of Yaletown menu but you'll likely want to return to try more of what they have to offer.
Fayuca
Address: 1009 Hamilton St, Vancouver, BC
Website: www.fayuca.ca