After years of buzzed-about pop-ups across Miami and offerings at South Beach's expansive food hall Time Out Market, Square Pie City is finally giving the people what they want.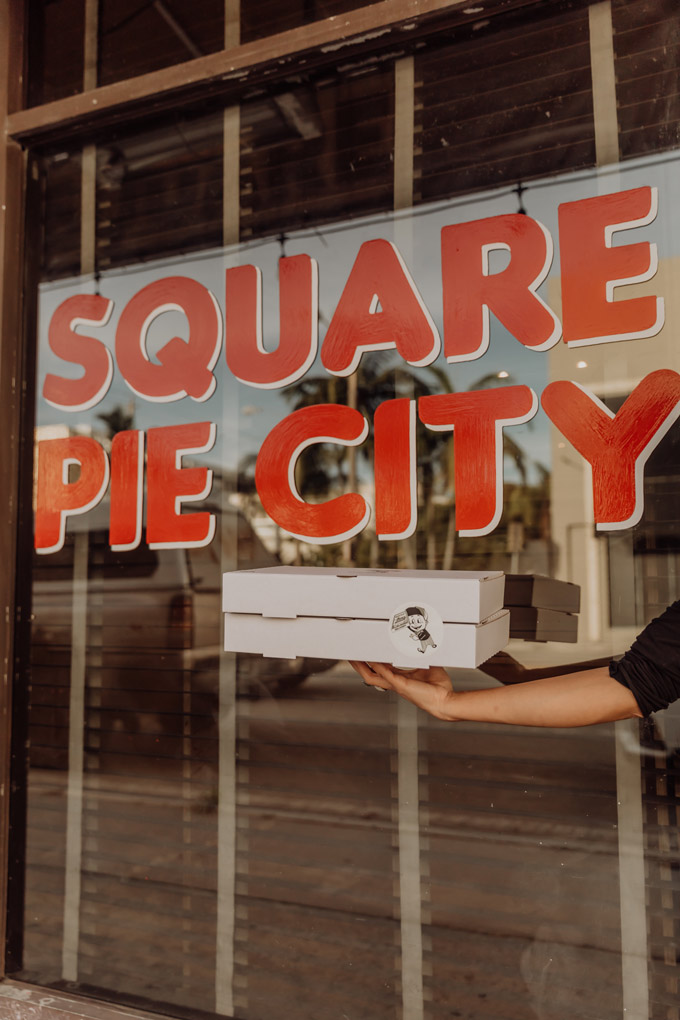 Founded by local chef and hometown celebrity Jeremiah Bullfrog, it's a true-blue pizza shop where diners can slice into signature airy pies while enjoying the casual-meets-cool vibe associated with the concept.
Located in the bustling neighborhood of Miami Design District at 3918 N Miami Avenue, the space reflects the mercurial and artistic nature of Bullfrog, with a thoughtful menu that celebrates the authentic flavors that go into Detroit-style deep-dish pies that loyal customers can't get enough of.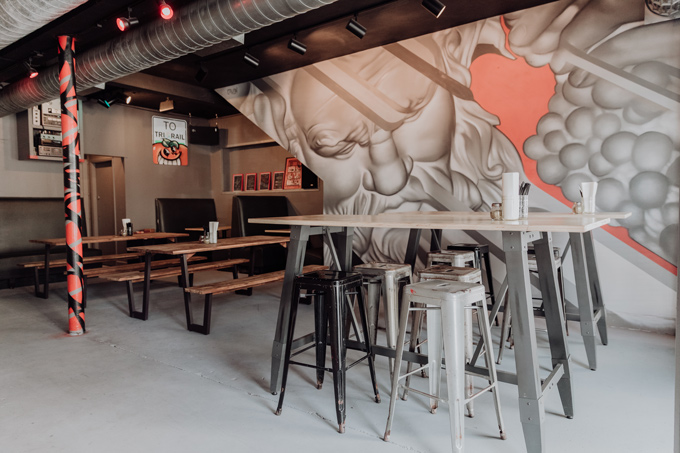 Diners can choose from a small and straightforward menu of half-pies (4 slices) and full pies (6 slices) in unforgettably tasty options, or create their own.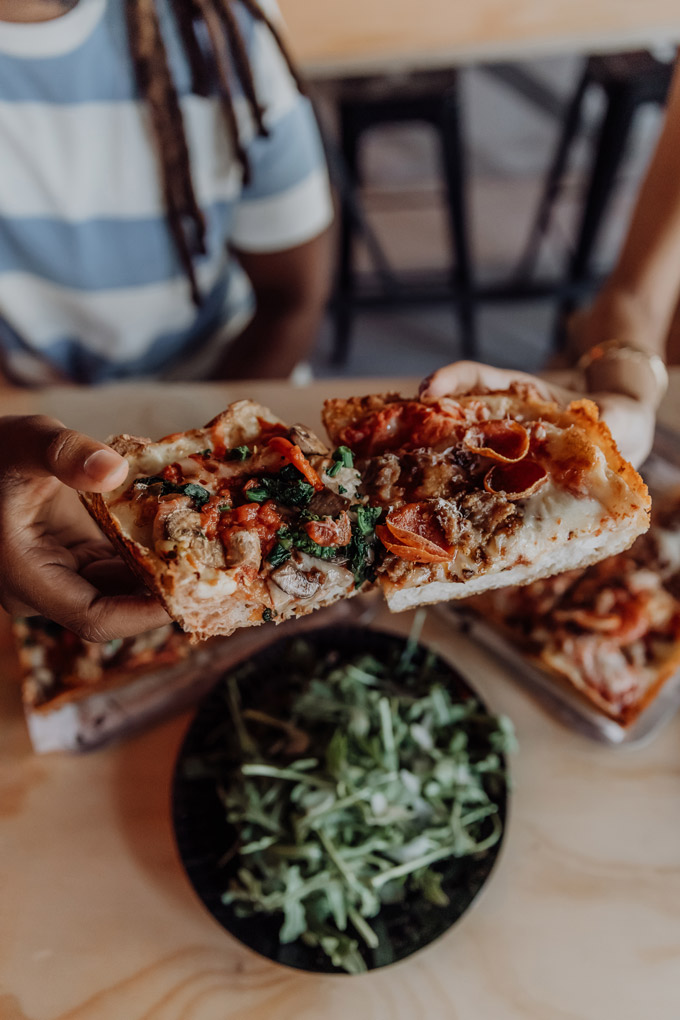 A selection of Red Pies includes the Classix (special "dat" sauce, mozzarella, provolone, parmesan), Ill Pepperoni (pepperoni, sauce mozzarella, parmesan), Red in the Head, Fire in Bed (spicy Calabrian chile, mozzarella, provolone, sauce), Meat Lovahs (bacon and sausage, pepperoni), and the Veg Supreme (mushroom, peppers, broccoli rabe). Signature White Pies available are the slightly woodsy-flavored Many Magical Mushrooms (cremini, porcini dust, mozzarella, asiago, garlic) and the All White E'rrything, one of the menu's highlights featuring housemade ricotta, white sauce created with the leftover whey from straining cheese—a detail that adds creaminess and depth of flavor to the pie.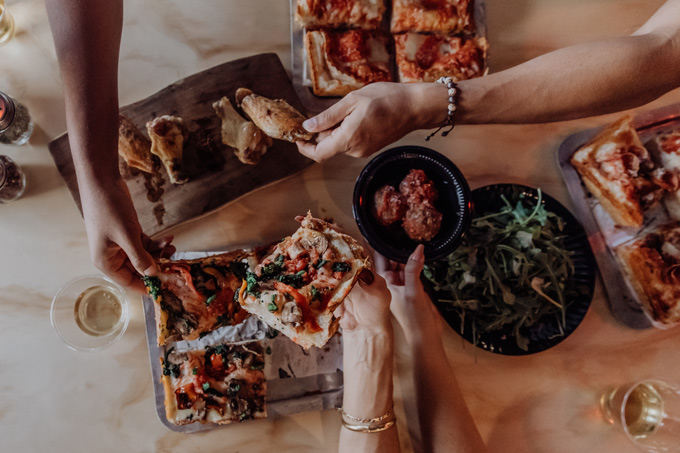 Rounding out the menu is the classic Little Gem Caesar and House Chopped Salad made with pickled peppers, salami, provolone, and croutons.
Upon entering, guests will immediately notice the purposely artful aesthetic created by Bullfrog alongside his wife Carla Merino, who designed most of the space.
Square City Pie's animated mascot and logo Pete Za adds whimsy to the branding seen around the property, while a mural of Bacchus by Claudio Piccasso, a renowned artist and friend of the couple, stares down at diners indicating that this is a spot where a little indulgence is always on the menu.
Square City Pie is currently offering daily specials for dine-in customers. Lunch offerings include 6 x 6 square, made-to-order slices for $4 in classic, pepperoni, and spicy options.
The dinner crowd can also opt for thin and crispy pies for $15 made with special dough, cooked to perfection in the wood-burning oven which is the centerpiece of the room.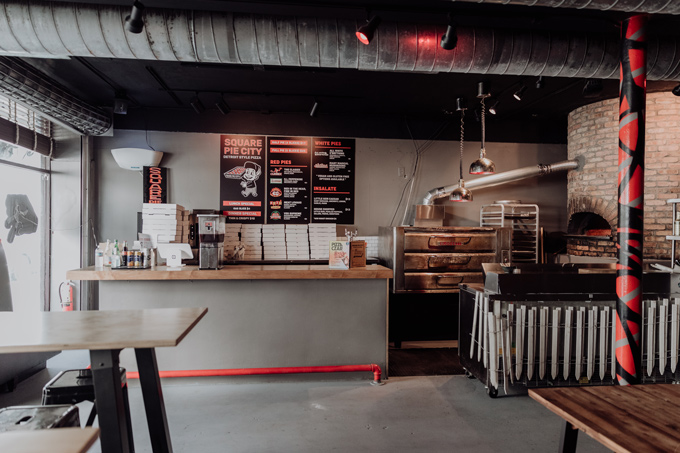 There will also be a secret menu with specialty, even more, decadent items for those in the know – just simply follow the Instagram handle.
Local beer and biodynamic wines are also available, along with an exciting cocktail program spearheaded by Mike Parish formerly of Broken Shaker, featuring a variety of small-batch vermouth options.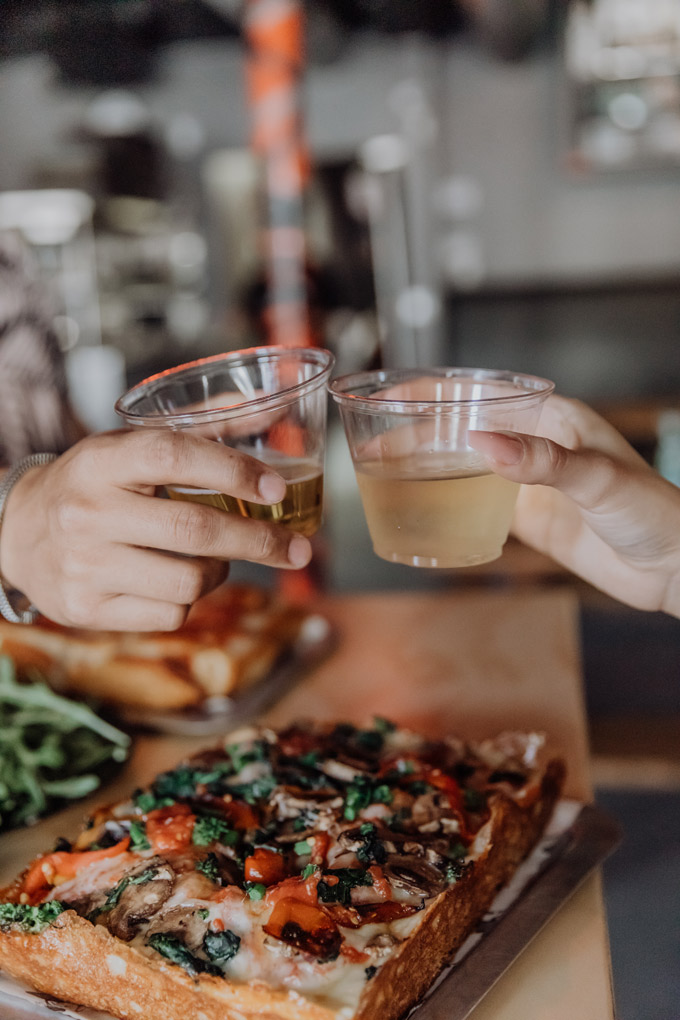 To further prove the point, Square Pie City will be partnering with local brand Buena Vista Candles to create a proprietary scent for the brand with basil, oregano, and other herbal scents known to enhance the appetite.
The new flagship space is located in the bustling Miami Design District at 3918 N Miami Avenue, Fla, 33127. Hours of Operation are 12 p.m. to 3 p.m. and 5 p.m. to 9 p.m. on Tuesday through Friday and 3 p.m. to 9 p.m. on Saturday and Sunday. For more information, please visit www.squarepiecity.com or call 786-408-3519. Follow along on Instagram and Facebook.