Reusables.com is the circular solution to the immense waste problem created in restaurant, cafe and grocery take out.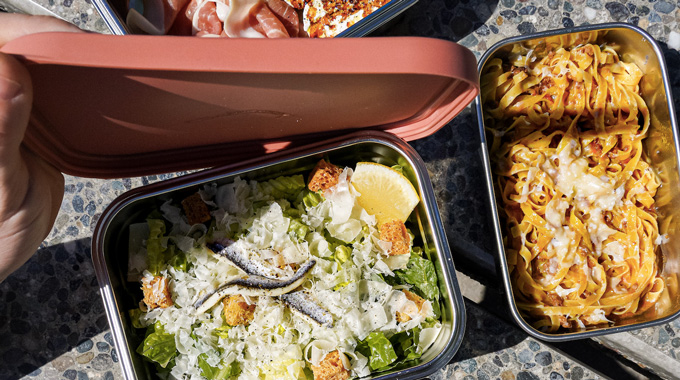 Enjoy your meal in a stainless steel container that can be used, returned, sanitized and reused approximately a thousand times, before being completely recycled.
Becoming a member lets you enjoy takeout from participating locations as much as you like, without contributing to packaging waste.
Containers and returns are managed through a user-friendly app.
Reusables.com announced a partnership with Georgia Main Food Group (formerly HY Louie) to utilize the service at the Vancouver House location of Fresh St. Market.
The expansion in the Fresh St. Market, Vancouver House location will allow new and existing customers to take home their deli, bakery, butcher, cafe and dessert items in reusable containers, straight from the store.
The service will be available at Fresh St. Market, Vancouver House starting on October 18th.
This follows closely on the heels of a successful launch with well-known Vancouver restaurants including MeeT in Gastown, Bandidas Taqueria, Autostrada, JamJar Canteen, Kula Kitchen, Tartine Bread & Pies, True Confections, Dosanko Japanese and Field & Social.
Reusables.com supplies restaurants and food businesses with reusable containers that customers can select as a more sustainable alternative to single-use packaging.
Food businesses pay a container usage fee that is more cost effective than most compostable packaging, creating a sustainable, circular economy container sharing system.
The aesthetically-pleasing stainless steel containers are delivered to the business, used when packaging meals for a participating customer's takeout or food delivery order, returned, sanitized and reused approximately a thousand times.
Through its proprietary app, the Reusables.com team is able to track containers, manage returns, ensure each container is cleaned to the highest standard and entered back into the rotation.
The app gives users' the ability to track the volume of waste they've helped divert from landfills.
Currently, the service is available in Vancouver and on Vancouver Island through the organization's first SaaS licensed operator.
Customers get their first 30 days free when downloading the app and then pay a $5.00 monthly fee to participate.
To get Reusables.com, they make a note in their takeout order, either through delivery apps or directly with the participating partner, that they're a Reusables.com member.
Once done with their container, the member has 14 days to rinse and return it to a participating location where the container QR code is scanned using the app.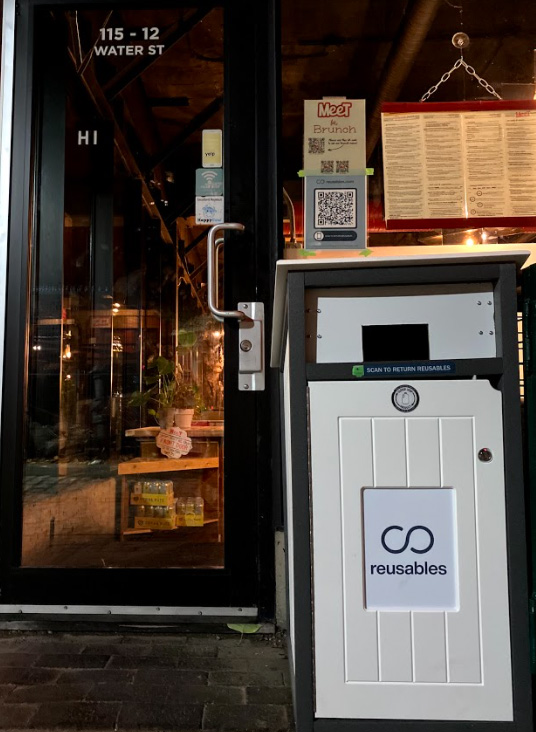 The team at Reusables.com have a jump on several municipal waste reduction or elimination goals.
By early 2022, The City of Vancouver has mandated that businesses reduce or eliminate their use of single-use items or charge a fee on reusable and recyclable items.
This is a part of its larger initiative to work toward a zero-waste Vancouver by 2040.