Back in 2015, New Brunswick-based ReLiSH Gourmet Burgers expanded to BC by opening two locations in Vancouver. One shop opened on Commercial Drive and the other on Davie (see review here). After about a year in business, their Davie location closed at the end of 2016. Their only remaining Vancouver location is at 2290 Commerical Drive. Some friends of mine hadn't tried ReLiSH before even though they passed by it many times. This evening, we decided to meet up there for some dinner.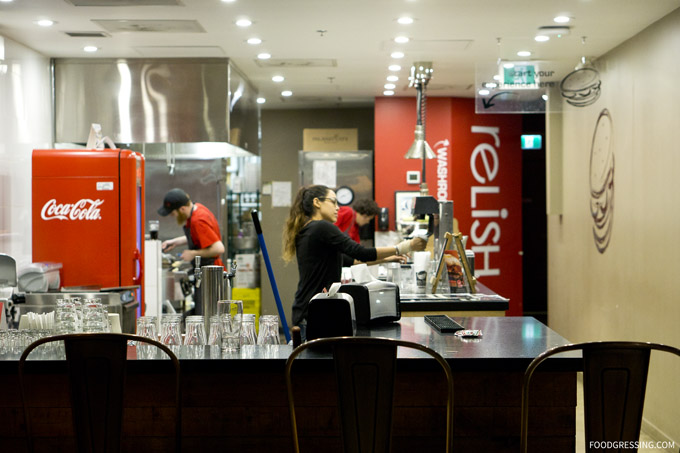 Fast Casual
ReLiSh as a fast casual restaurant – that is, somewhere in between fast food (eg, McDonalds) and premium casual (eg, Joeys, Cactus Club). Fast casual is a rapidly growing restaurant segment as customers desire better quality food. At ReLiSh, there is quick counter service like at a typical fast food restaurant but the ingredient quality is better. For example, they use 100% real, natural cheese rather than processed cheese and their beef patty is made of 100% ground chuck. The environment at ReLiSh is more upscale and inviting compared to traditional fast food restaurants.
RELISH MENU
ReLiSH has ten types of burgers on their menu with your choice of patty including 100% certified Angus beef patty, ground turkey and a vegetarian patty made of ground buttom mushoom and chick peas. Some of the burgers have special meaning in their names like The Great One after Wayne Gretsky and Le Nordique for the Quebec Nordiques. ReLiSH is also very kid-friendly with a special kids menu that includes a cheeseburger, grilled cheese, grilled peanut butter and jam sandwich, and chicken strips.
WHAT We TRIED
My family and I had the following:
LA is My Lady ($9.96)
Under The Tuscan Sun Burger ($9.76)
Sweet Potato Fries ($4.00)
Kids Chicken Strips ($6.75)
Diet Coke ($2.60)
The burgers have a "standard" 5 oz patty and come in a poppyseed bun. Based on my previous experience, I suggest that you order a side in order to be full. On average, you would be looking to spend around $15 for a meal at reLiSh.
I had the LA is My Lady which is a beef patty with sliced avocado, roasted peppers, basil pesto and creamy goat's cheese. From the list of ingredients, the basil pesto and creamy goat's cheese intrigued me the most. I thought the juicy and had lots of flavour and fitted my taste as it was a bit on the sweeter side.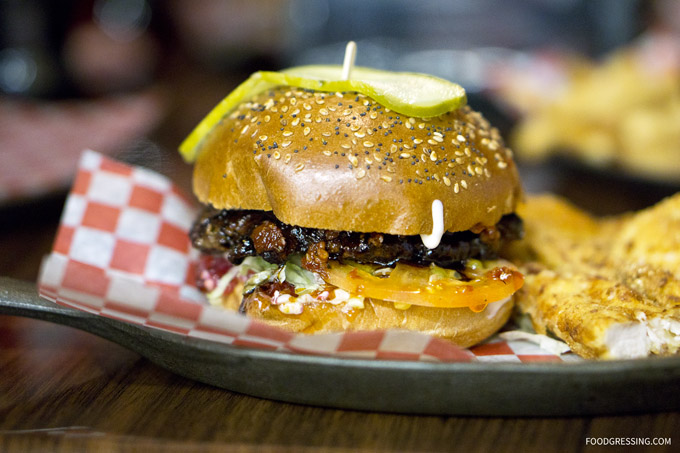 The chicken tenders were for my son although he didn't take much interest in them. I thought they were perfect being crispy on the outside and very moist, tender on the inside. These tenders are certainly one of the best I have tasted compared to other places I have tried (like KFC, Safeway hot section, Burger King.)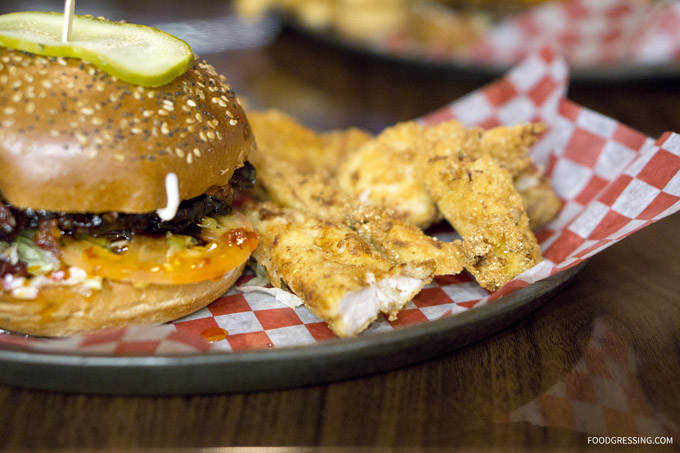 My husband had the Under The Tuscan Sun Burger. The sun-dried tomato pesto, creamy goat cheese, pancetta, and balsamic syrup ingredients appealed to him. I had a bite and it was certainly more savoury compared to the LA is My Lady. The sweet potato fries were my least favourite of the meal as they seemed a bit dry and tasted really salty?! They added too much salt on top such that it overpowered the sweetness of the sweet potato fries.
reLiSh versus McDonalds?
reLiSH's burger prices are comparable to the Create Your Taste burgers at McDonald's. For $10, I think I would rather have reLiSH's burgers which are way more juicy and flavourful than the angus burger I created at McDonalds (see review here).
Overall Impression of reLiSH Gourmet Burgers on Commerical
reLiSH serves up some juicy and tasty burgers but I suggest you get a side (fries, onion rings) to be full. Rating: 4/5
Website: www.relishlife.com