Pop-Tarts is taking its iconic flavors from edible to wearable in a new collaboration with fashion marketplace, Depop.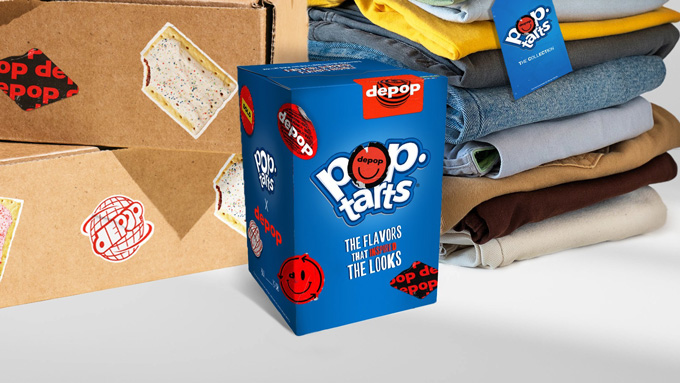 United by the power of nostalgia and a crazy-good fanbase, the two brands are launching the official Pop-Tarts x Depop Collection featuring five unique, flavor-inspired collections.
Each collection includes thrifted pieces hand-selected by Depop's most ingenious creators, drawing inspiration from a beloved Pop-Tarts flavor: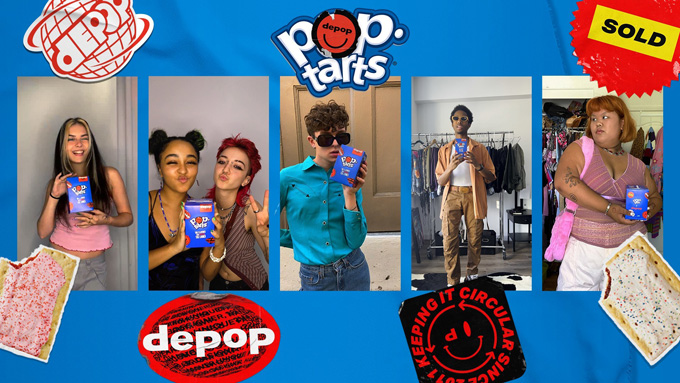 From fruity and frosted to sweet and sprinkle-coated, the Pop-Tarts that inspired each collection are as famed as their collaborators.
That means no matter which flavors fans love the most, fashion-and-food-lovers can now go all-in on their go-to Pop-Tarts through these one-of-a-kind looks.
The best part?
Items from The Collection are size-inclusive, gender-inclusive and priced at just the cost of a box of Pop-Tarts – only $3.59 – making it accessible for any and all toaster-pastry-fashion fans.
The flavor collections will be available on the official Pop-Tarts Shop on the Depop app and Depop.com.
Along with the apparel Collection, the brands created a limited-edition Pop-Tarts x Depop Box which for the first-time ever, will feature a random assortment of iconic Pop-Tarts flavors.
The Box was inspired by the one-of-a-kind magic that happens when shopping for thrifted or vintage finds.
Just like when browsing items on Depop's fashion marketplace, opening up a Pop-Tarts x Depop Box will lead you to an unexpected discovery – and you know it will be crazy good.
These limited-edition boxes will be included with the purchase of any item from The Collection on the Pop-Tarts Shop as well as through a giveaway on the Pop-Tarts Instagram channel.
The first three pieces from each flavor collection are now available on the Pop-Tarts Shop on Depop.com and within the app.
Subsequently, throughout the week, each creator will drop their full flavor collection at 12pm ET / 9am PT:
Friday, September 23 – Emma Rogue x Frosted Strawberry Collection
Monday, September 26 – Grey & AJ x Frosted Brown Sugar Cinnamon Collection
Tuesday, September 27 – Jake Fleming x Frosted Blueberry Collection
Wednesday, September 28 – Kai McPhee x Frosted S'Mores Collection
Thursday, September 29 – Amanda Quach x Frosted Cherry Collection
Plus, on Saturday, September 24 from 12-5pm ET, Emma Rogue's famous shop in New York City – Rogue – will be transformed into Frosted Strawberry Pop-Tarts Palace, where fans can discover her flavor-inspired collection in real life and enjoy free giveaways, ice cream, live airbrushing and pieces from emerging local NYC designers and tastemakers.
As part of this partnership, Pop-Tarts is giving a $10,000 financial grant to be invested in Depop's "Now Next" initiative that educates and inspires the next generation of sellers, particularly from underrepresented communities.
To discover all the crazy good drops, visit depop.com/poptartsus.
To stay up to date on all things Pop-Tarts, follow the brand on Instagram, Twitter and Facebook.