Philly Pretzel Factory, the nation's largest Philly-style pretzel brand, tips-off March Madness with the first-ever "Salty 16" Bracket Contest.
The pretzel-themed tournament will give VIP (Very Important Pretzel) Club Members the chance to build their own pretzel-dip bracket by March 31 for a chance to win an assortment of fun prizes.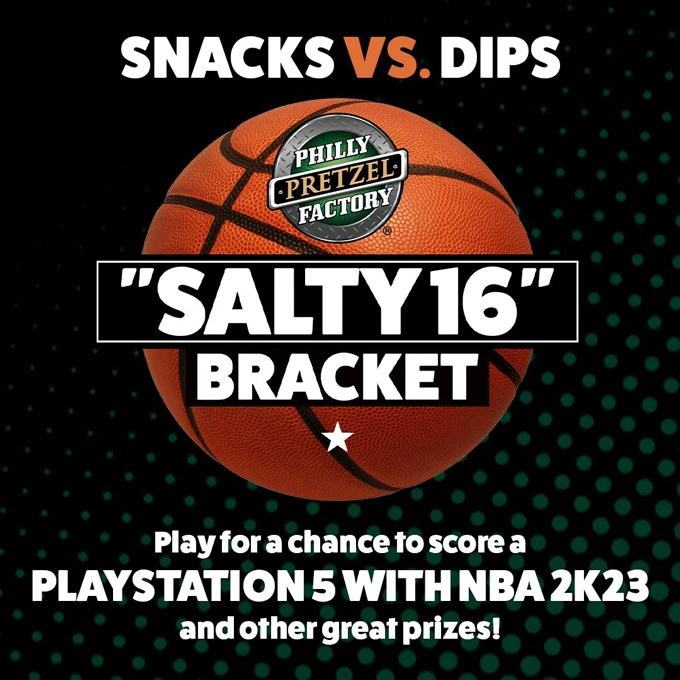 The contest opened on March 16 and participants can enter by visiting www.phillypretzelfactory.com/salty16/.
Contestants must join Philly Pretzel Factory's FREE VIP Club to submit their Salty 16 bracket, where snacks and dips will face off to determine the winning fan favorites! Brackets must be submitted by March 31 at 11:59 PM EST in order to participate.
Bracket results will be posted on April 4, and all winners will be notified with prize info via text message by April 7.
To create your bracket, you will go through four rounds – the first round is selecting which pretzel snacks and dips should advance to the next round and it continues from there.
Choices for pretzels include Mini Pretzels, Cinnamon Rivets, Pretzel Dogs, etc., as well as dips including Yellow Mustard, Nacho Cheese, Butter Cream, Cinnamon, Brownie Batter, and more. When you enter the final round, you will select vote for a supreme menu item.
Prizes
Playstation 5 with NBA 2K23
SoundLink Revolve+ II Bluetooth® speaker
$100 NCAA Store Gift Card
Apple Watch SE (any color aluminum case with a standard band; no upgraded bands)
Philly Pretzel Factory Party Trays
AirPods (3rd generation) with Lightning Charging Case
HomePod Mini (in any available color)
SIQ Smart Basketball + mobile app
Some of your favorite basketball teams will be hitting the hardwood for the NCAA tournament, but you can't watch the big games without something to snack on.
As the world's largest Philly-style bakery, Philly Pretzel Factory bakes fresh and delicious soft pretzels served to customers "hot outta the oven."
You can't go wrong with any party tray and dip option, which are the perfect indulgent snacks for watch parties.
Each pretzel, made from a mix of only the finest and freshest ingredients, is hand twisted to ensure quality and authenticity.
Party trays come in a variety of options with customers being able to choose from rivets, mini pretzels, and mini dogs.
Some of the yummy dip choices include Cinnamon, Buttercream, Brownie Batter, Nacho Cheese – and a flavor-explosion of mustards including Yellow, Honey, Spicy Brown, and more.
With over 145 franchised locations, both traditional and nontraditional, Philly Pretzel Factory is currently the largest Philly-style pretzel franchise in the world and is continuing to grow its footprint across the country.
To learn more about Philly Pretzel Factory and the contest rules visit www.phillypretzelfactory.com/salty16/ and you can download the Philly Pretzel Factory mobile app on the App Store or Google Play.