Let the nugget wars begin! Kentucky Fried Chicken® is introducing new, 100 percent white meat Kentucky Fried Chicken Nuggets – hand-breaded with KFC's Original Recipe® – to menus nationwide in the US starting March 27.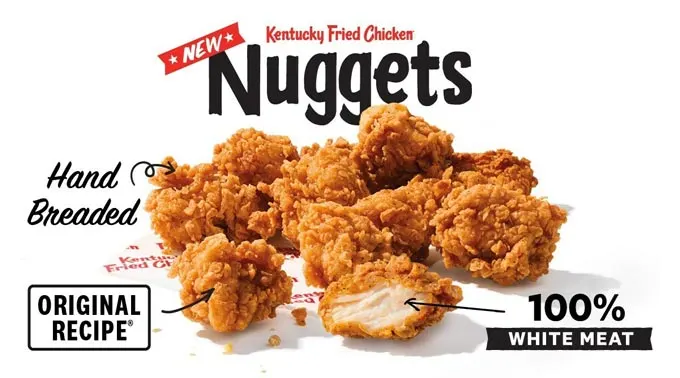 After a wildly successful test run in 2022 and years without a nugget made with the signature taste of KFC on menus, new Kentucky Fried Chicken Nuggets are making their way to KFC's permanent menu at participating locations – and these chicken nuggets pack a powerful pop of flavor that can be enjoyed nationwide seven days a week.
Made with 100 percent white meat and hand-breaded with KFC's unique Original Recipe of 11 herbs and spices that made the fried chicken chain famous, the Kentucky Fried Chicken Nuggets can be enjoyed as a full meal, a snack on-the-go, complement to the bucket meal or even as an appetizer on the way home!
Colonel Harland Sanders spent years perfecting his secret seasoning blend that creates the unmistakable, world-famous taste of KFC's Original Recipe fried chicken.
And starting March 27, it's making its way to nuggets like you've never had before. With the new KFC Nuggets, KFC is inviting those who love chicken nuggets to fall in love with KFC's famous Original Recipe.
People have been living in a nugget blandemic and settling for the same mediocre nuggets for far too long.
The fried chicken experts are empowering America to break up with bland and end it with cookie-cutter shapes and open their hearts and mouths to Kentucky Fried Chicken Nuggets.
Starting at $3.49, KFC Nuggets are available as a 5-, 8-, 12- or 36-piece at participating restaurants nationwide.
Combo options are also available, featuring Secret Recipe Fries, a biscuit and a medium drink.*
Each juicy KFC nugget is bursting with so much flavor it doesn't require dipping, though that doesn't mean you can't!
The new nuggets can be paired with any of your favorite KFC sauces, including KFC Sauce, Honey BBQ, Classic Ranch, Honey Mustard or Buffalo Ranch.
$5 Mac Bowls Are Back Starting April 3. Another beloved menu item, the KFC Mac & Cheese Bowl will return to nationwide menus for only $5 for a limited time starting April 3**, now with new KFC Nuggets and KFC's rich and creamy cheddar mac & cheese, all topped with a three-cheese blend – talk about un-BOWL-ievable value.
As if launching a nugget war wasn't enough heat, KFC is bringing back its spicy, smoky Nashville Hot sauce for a limited time only, for the $5 Spicy Mac & Cheese Bowl featuring the new KFC Nuggets.
Fans of KFC's beloved Famous Bowls will be overjoyed to hear KFC Famous Bowls® will now be packed with even more original flavor and topped with the new KFC Nuggets.
In addition to upgrading the Famous Bowls, new KFC Nuggets will also be available in kids' meals at participating KFC restaurants starting March 27.
Order in-store or skip the drive-thru line by ordering through KFC's Quick Pick-Up option on the KFC mobile app or KFC.com*** – convenient for families and busy people on the go.
The recent launches of Kentucky Fried Chicken Wraps, the return of the Double Down, and now the introduction of Kentucky Fried Chicken Nuggets are all part of KFC's continued commitment to serve everyone joy with KFC's Original Recipe and Finger Lickin' Good food.
*Prices and participation may vary.
**Prices and participation may vary. Tax, fees and tips extra. Offer not available on third party ordering websites/apps.
***Prices, participation, and items may vary. Mobile ordering and delivery available at participating locations. Tax, tips, fees extra.