Here's a Mother's Day Seattle 2021 guide covering special menus for brunch, lunch, and dinner. Mother's Day 2021 is happening on May 9.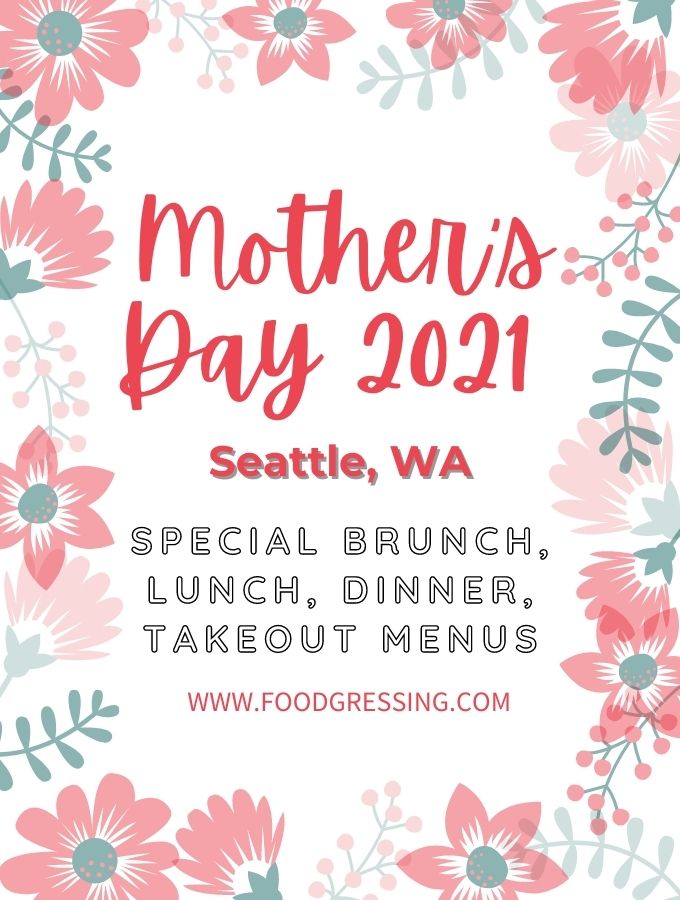 This list is updated as information becomes available. Please reach out to me [email protected] or @foodgressing on social media (Instagram, Facebook, Twitter, TikTok) for any suggestions.
Any support to local businesses is appreciated in these times. Holiday celebrations can take on different forms from traditional, fusion to modern.
Please use this list as an inspiration for ideas on how to put together your own Mother's Day celebration.
If you like this post, please share with your friends and family. This would help support the website and for me to continue doing these roundups.
Mother's Day Seattle 2021 restaurant/catering offerings
The Whale Wins
The Whale Wins is offering a Mother's Day Dinner to go. They have partnered with their friends at Scribe to create a special menu to pair with their wonderful wines and feature the SVS (Scribe Viticultural Society) Spring release of 2020 Estate Sylvaner.
Priced at $60 per person and available for pickup from May 7 – 9 from 5 PM – 7:45 PM.
Sugar snap peas and radish, Scribe verjus, poppyseed, creme fraiche dressing
(ready to be dressed and enjoyed)
Roasted halibut with pea vines, Scribe peppers and aioli
(ready to be roasted and served)
Strawberries, soft cream, and biscuits
Tanuki Izakaya
Tanuki Izakaya is offering a Mother's Day Bento Box for pickup on May 8 at 1 PM.
Appetizers:
Mentaiko Potato
Kani Salad
Seafood Nabe Hotpot Bento:
(needs to cook at home, soup base provided)
(Abalone, Hotate, Hokkigai, assorted mushrooms& Vegetable)
Fried Dish Bento
(Corn tempura, skate wing tempura, spicy shrimp)
Grilled Bento
(Saba, Corn cheese stuffed chicken wing, Shishito pepper)
9 Slot Jewel Box
(Sake, Maguro, Hamachi, Hotate, Uni, Hokkigai, Amaebi, Abalone, Toro)
Seared Sake Don
Bateau
Bateau is offering a Mother's Day basket priced at $130 and serves 2 people. Raise a glass toasting Mom with a Lillet Martini cocktail (for two) from Renee's new book "Getaway."
Snack on Hama Hama oysters, our famous Bateau salad, house made potato chips and dip, chocolate budino and meringues.
Includes a floral arrangement by Jamie Irene and a handwritten note. Available for pickup on May 7 & 8 from 5 PM – 8 PM.
Goldfinch Tavern
Goldfinch Tavern is offering a Mother's Day Box for pickup on May 8 & 9 from 11 AM – 3 PM.
Begin the day with a toast to Mom, followed with a Floral Arrangement Kit created by Sal Floral Design. Enjoy sweet and savory bites from Goldfinch Tavern and finish the day sipping on Rishi Tea reminiscing on your memories together.
Mini Bellini Kit
Floral:
Vase, Stems (roses, tulips, orchids, hydrangeas), Tape, Clippers
Tea Sandwiches:
Chicken & Red Rhubarb
Cucumber & Mint
Smoked Salmon and Dill
Classic Egg
Petit Fours:
Lemon Cream Pâte à Choux
Matcha White Chocolate Cake
Butterfly-Pea Flower Blueberry Vanilla Mousse
Orange Scented Scones
Tea:
Iced Peach Blossom
Patagonia Super Berry Lemonade (caffeine free)
Willmott's Ghost
Willmott's Ghost is offering a Mother's Day Brunch Take Home Kit ($65 and serves 2 people).
Treviso, giardiniera vinaigrette, ricotta salata, purgatorio beans
Frittata, celeriac, braised kale raab – Your choice of cured coho salmon, or house cured speck
Colin's mini sourdough loaves, whipped butter, rhubarb jam
They have delicious additions including bottles of wine, cocktail kits with instructions, ready to drink cocktails already mixed, fresh burrata, cured meats, and even flowers.
Canlis
Canlis is offering the Ultimate Mother's Day Brunch-in-a-Box Kit ($180, serves 2 – 4). Available for pickup on May 8 from 11:15 AM – 2 PM.
Mimosa fixings: full bottle of Sparkling Wine & Fresh Squeezed Orange Juice
Buttermilk & Poppy Seed Scone Kit (all the ingredients and a recipe) to bake warm that morning, with Cherry Valley butter and homemade jam from Sidhu Farms
Sundays at Canlis Frittata Kit: One dozen farm fresh eggs, one bunch of organic asparagus, & Lost Peacock Creamery goat cheese with simple-to-follow instructions.
Cheesy Hashbrown Casserole all ready to bake & pull hot from the oven.
1 lb of "Bagel Shed" breakfast sausage
Fresh Strawberries with Canlis Devonshire cream (our most popular dessert from the 50's is still a Canlis family favorite
Kamonegi
Kamonegi is offering Mother's Day Sets:
Ikura Oroshi Bukkake Soba ($38, serves 2 people): housemade uncooked soba noodles, housemade zaru sauce, house cured ikura, daikon oroshi, daikon sprout, cucumber, kizami nori, shiso leaf, wasabi, radish, tempura flakes.
Okonomiyaki Brunch Set ($58, serves 3 – 4 people): Okonomiyaki Savory Pancakes for brunch featuring Okonomiyaki flour, bonito flakes, ginger, aonori, tempura flakes, house made okonomiyaki sauce. kewpie mayo, cabbage, shio koji cured pork belly, dash water with egg, scallion.
The Extra Ingredient
The Extra Ingredient is offering a beautiful gift box for mom ($60) which includes a bottle of Vega Median sparkling wine, TEI orange currant scones, spring floral bouquet, mini chocolate asst.
Available for pickup on May 8 from 10 AM – 11 AM.
Super Six/Marination
Super Six/Marination is offering a Mother's Day Brunch for 2 for pickup on May 9 from 8 AM – 3 PM.
Say "mahalo" to the mom(s) in your life with a continental-style brunch full of sweet and savory pastries and other delicious breakfast items.
A pound of sunrise granola
Ellenos Greek Yogurt with guava jam
Ginger scones with pineapple curd for dipping or frosting
A savory galette to share. Choice of ham or veggie!
16oz of our POG juice (passion, orange, guava)
Frank's Oyster House & Champagne Parlor
Frank's Oyster House & Champagne Parlor is offering a Mother's Day Brunch Kit for Four ($140, serves 4 people).
Bacon, egg, and local ramp bread pudding, fontina cheese
Baked oatmeal, d'anjou pear, cardamom crème anglaise, pecan-coconut crumble
Huckleberry Waldorf, apples, walnuts, garden greens, cider vinaigrette, goat cheese
Breakfast potatoes, Israeli za'atar, tarragon crema
Burrata, grilled asparagus, prosciutto, gold raisin
Coffee cake, fennel streusel, rhubarb jam
Mother's Day quotes to make your mama smile
We all know moms are everything and rely on moms for love and support daily. There's so much to say to them, so here are the best Mother's Day quotes to make your mama smile.
About Mothers's Day
Have you ever wondered how Mother's Day came to be? Perhaps you are looking for some ideas on the perfect gesture for the maternal figure in your life? Check out my general Mother's Day 2021 guide.
Free Mother's Day Cards
If you're looking to send an Easter greeting card, check out Canva.com (referral link) for free Mother's Day card templates and start designing.
I have been using Canva for years and if you're new to Canva, please feel free to use my Canva referral link to sign up for free.
It's a great graphic design platform used to create social media graphics, presentations, posters, documents and other visual content.