KitchenAid has redesigned the Bowl-Lift Stand Mixer. The new Kitchenaid Bowl-Lift Stand Mixer model will make you rethink what a Stand Mixer can do — giving makers more possibilities to make the everyday extraordinary in the kitchen.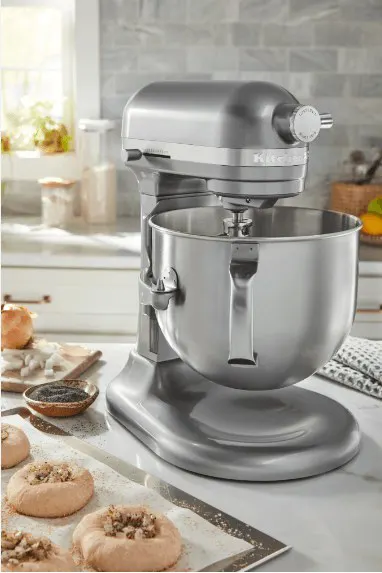 Designed for folding, the new 1/2 speed gently adds delicate ingredients, like blueberries and egg whites, into recipes without overbeating.
Additionally, the new double-sided, flex-edge beater increases contact with the bowl and reduces the need to stop and manually scrape stray ingredients clinging to the sides2.
The KitchenAid Bowl-Lift Stand Mixer is designed to combine form and function to take it all on.
Whether you're cooking for a crowd or with lots of ingredients, this mixer makes it easy with its power and large capacity.
It's versatile enough for nearly any task or recipe, whether you're stirring wet and dry ingredients together, kneading bread dough or whipping cream.
The redesigned 7 Qt Bowl-Lift Stand Mixer is available for purchase on KitchenAid.com for MSRP $649.99.