As Canada's winter season and fireplaces go together like an iconic KFC bucket of chicken and gravy, you'll be excited to know that KFC's famous fried chicken-scented 11 Herbs & Spices fire log is now available in Canada.
Inspired by the Colonel's very own Secret Recipe, the limited edition KFC fire log from Enviro-Log will be sold at Canadian Tire stores across the country and online.
It's the comfort of a warm fire and the delicious aroma of KFC that makes The KFC 11 Herbs & Spices Firelog a truly hearth-warming and hunger-inducing experience for all.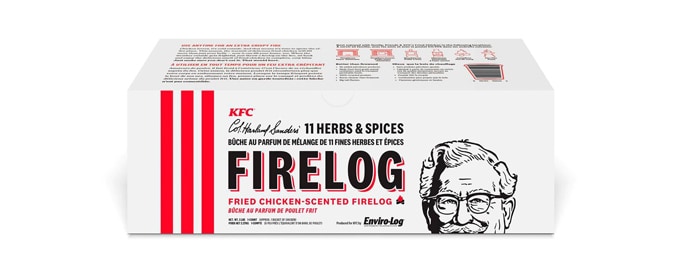 2020 is the first year KFC's 11 Herbs & Spices Fire Log will be available in Canada.
After launching in the United States in 2018 and returning in 2019, the 11 Herbs and Spices Fire Log became a viral hit, selling out in mere hours after going on sale.
In Canada, Canadian Tire will be selling the KFC fire logs for $19.99 while supplies last.
KFC fire log 2020 is designed and manufactured by Enviro-Log, an eco-friendly, consumer products and recycling company headquartered in Fitzgerald, Georgia.