For more than 10 years Canadians have been demanding the return of KFC's best-selling sandwich of all time: the KFC Double Down.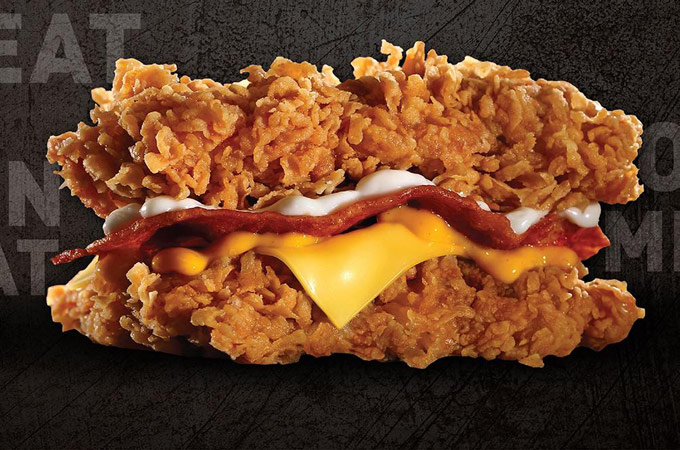 Ingredients
Renowned as the world's first-ever bun-less sandwich, the KFC Double Down boasts crispy bacon, Canadian Monterey Jack cheese and finger lickin' good sauce, all sandwiched between two deliciously seasoned, hand-breaded, extra crispy chicken fillets.
While other sandwiches hide in their buns, the Double Down lives its truth as the ultimate checkmate in the chicken sandwich wars.
History
Making its first debut on the KFC Canada menu in October 2010, the Double Down was an instant success, selling over 250,000 sandwiches in its first two weeks on the market.
The special edition menu item made a lasting impression and left Canadians hungry for another go.
Noble iterations — mini, zinger, waffle — helped fill a void, but calls for an original comeback persisted, with fried chicken lovers taking to social media — daily — to make their cries heard.
Is the Double Down still available 2021?
The Double Down makes its official return to Canada on Monday, October 4, with early access starting September 29.
You can order the sandwich alone, the combo (with individual fries and your choice of drink) or the ultimate box meal (with individual popcorn chicken, individual fries, individual side, and your choice of drink).
Before the official launch date, the KFC Double Down is known as the "If You Know you Know."

How many calories are in a KFC Double Down?
The KFC Double Down has 610 calories.
Nutrition
Weight (g): 250
Calories: 610
Total Fat (g): 40
Saturated Fat (g): 9.0
Trans Fat (g): 0.5
Cholesterol (mg): 150
Sodium (mg): 1530
Carbohydrates (g): 17
Dietary Fiber (g): 2
Sugars (g): 4
Protein (g): 46
Vitamin A: 4
Vitamin C: 0
Calcium: 20
Potassium: n/a
Iron: 20
How much is the Double Down at KFC?
Below is a sampling of the Double Down price based on Vancouver, BC pricing at the 147 Davie Street location.
Sandwich: $11.49
Combo: $13.49
Ultimate Box Meal: $15.99
Please check your local KFC for most accurate pricing.
KFC Double Down Customization Options
For the Sandwich: None available
For the Combo:
Sandwich
Fries, Mega Fries (+$0.50), Poutine ($2.00)
Beverage: 355 mL Pepsi, 355 mL Diet Pepsi, 355mL 7Up, 355 mL Brisk Iced Tea, 591 mL Pepsi (+$1.00), 591 mL Diet Pepsi (+$1.00), 591 mL 7 Up ($+1.00), 591 mL Brisk Iced Tea (+$1.00), 591 mL Water, 450 mL Dole Orange Juice ($+1.00), 450 mL Dole Apple Juice ($1.00)
For the Ultimate Box Meal:
Sandwich
Individual Popcorn
Fries, Mega Fries (+$0.50), Poutine ($2.00)
Side: Original Recipe Seasoned Corn, Macaroni Salad, Potato Salad, Coleslaw Salad
Dip: Sweet N Smokey BBQ, Carolina Honey Mustard, Southern Plum, Buttermilk Ranch Dip, No Dip Cup
Beverage: 355 mL Pepsi, 355 mL Diet Pepsi, 355mL 7Up, 355 mL Brisk Iced Tea, 591 mL Pepsi (+$1.00), 591 mL Diet Pepsi (+$1.00), 591 mL 7 Up ($+1.00), 591 mL Brisk Iced Tea (+$1.00), 591 mL Water, 450 mL Dole Orange Juice ($+1.00), 450 mL Dole Apple Juice ($1.00)