Roman numerals are ancient history.
However, while they've been obsolete since the 13th century, year after year, they are a Big Game constant that never fails to confuse and bewilder fans.
Ahead of this year's LVII (a-hem 57th) game, HEINZ sets the record straight and provides clarity amidst the confusion – in a way and year only HEINZ can – with its iconic 57.
Today, the brand launches "LVII Meanz 57," rallying viewers to drop the Roman numerals and call the Big Game what it really is: 57.
Last year, hundreds of people took to social media during the Big Game to share their frustration and confusion over the use of Roman numerals.
To help these passionate fans have their voices heard, HEINZ launches www.LVIIMeanz57.com where people can vote on whether the time has finally come to retire the Roman numerals.
HEINZ also encourages fans to share their thoughts on social media using #LVIIMeanz57.
In commemoration, HEINZ unveils limited-edition, specialty-labeled ketchup bottles sporting "LVII Meanz 57" where the iconic 57 has proudly stood on its label for over 100 years.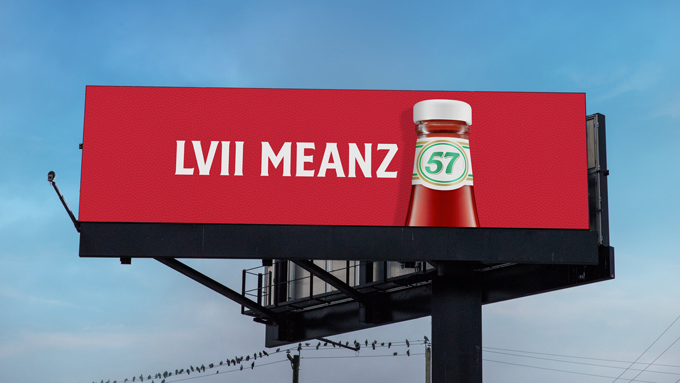 Fans who vote in the poll, regardless of their point of view, have a chance to win one of their very own.
HEINZ put passerbys' knowledge to the test (Heinz US and Heinz CA) and the results are clear: Roman numerals are as outdated as the abacus!
From puzzling symbols to unclear subtraction rules, fans across the board are sent into a spiral of uncertainty.
To cast a vote and for more details and official rules and restrictions, visit www.LVIIMeanz57.com. Fans have until Feb. 12 to vote and are encouraged to follow @Heinz and @Heinz_ca on Instagram and @Heinz_us and @Heinz_ca on TikTok to keep up with all things HEINZ.