Halloween in New Orleans is the kind of night when you may encounter a vampire, a zombie, or a pirate. When it comes to creating inventive and outrageous costumes, people are New Orleans are sinisterly brilliant. No other city in the world celebrates Halloween like they do.
There's something for everyone in New Orleans on and around All Hallows' Eve, from the youngest trick-or-treaters to the biggest party goers. Here's a look at Halloween in New Orleans 2022: Events, Parades. Activities.
Krewe of Boo! Halloween Parade
Krewe of BOO! is New Orleans' Official Halloween Parade and since then has grown to be a spooktacular weekend of Halloween-themed events, combining the magnitude of Mardi Gras with the macabre theatrics of All Hallow's Eve.
This year's Halloween parade will begin at 6:30 p.m. on Saturday, Oct. 22, and will go from the French Quarter to the Warehouse District.
The Halloween parade features 3-D fiberglass and papier-mâché extravaganza of werewolves, ghosts, vampires, and other Halloween-themed monsters, the Krewe of BOO! floats are very child-friendly, so bring the whole family
Costumes are encouraged, so parade-goers are welcome to wear your favorite family-friendly Halloween gear as you catch plenty of toys, candy, beads and Halloween-themed throws.
LGBTQ Halloween New Orleans
Halloween New Orleans is back for the 39th year, taking you on a wild journey to a magical world of adventure. Follow them down the rabbit hole and through the looking glass to 3 amazing events packed full of unforgettable experiences and endless possibilities.
The weekend of events include the famous Lazarus Ball, the main costume party on Saturday night and a Sunday brunch and French Quarter second line parade.
Their mission is to provide funding for Project Lazarus, a home in New Orleans for men and women with AIDS, so that they may provide healthcare and support services for their residents.
Boo at the Zoo
The Audubon Zoo is turned into a Halloween paradise for three nights during Boo at the Zoo from Friday, October 21 through Sunday, October 23!
This Halloween spectacular is a safe, entertaining event for children up to 12 years old, with trick-or-treating, animal encounters, a haunted house, games, and more. Games and goodies, excluding concessions, are free with entry.
Some of the activities include:
Animal experiences
Hauntingly festive décor along the mysterious paths of Audubon Zoo
Extinct Species Graveyard where you can pay your respects to species that are no longer with us and learn how to prevent extinctions from happening in the future
Festive and seasonal treats
Themed photo opportunities
Air tattoos
Halloween crafts
Halloween costumes are encouraged for all guests
Non-members $30 (children and adults). Members are $8 for adults and $5 for children.
Boo Carre Halloween Haunt
The French Market District is hosting the annual Boo Carre Halloween Haunt in Dutch Alley on Saturday, October 15, 2022.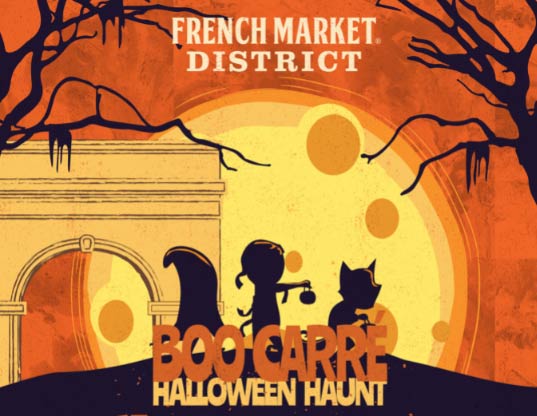 The free one-day kid-centric event encourages costumes for all ages and will feature live music, children's activities, a spooktacular Spooky Second Line, and trick-or-treating.
Children wearing a costume are eligible to receive a free Boo Carre tote bag for trick-or-treating in the French Market District.
One bag per child, while supplies last. This event is free and open to the public.
3rd Block Depot Kitchen + Bar
3rd Block Depot Kitchen + Bar is offering a Spooktacular Drag Brunch on October 29. The show begins at 11:30 am, followed by more performances between then and 2:30 p.m. The Drag Brunch is a two-course package, priced at $29-$36. Bottomless Bellini's for Drag Brunch $25 per person.
They are also offering a Murder Mystery Dinner priced at $97.75 per person on October 30.
Haunted Houses
The Mortuary Haunted Mansion is an icon of old New Orleans at the very dead end of world famous Canal Street. Less than 3 miles from the French Quarter on the cemetery streetcar line, this magnificent mansion was originally built in 1872 and operated for about 80 years as an actual mortuary. General admission prices start at $25.
The Haunted House of Horrors is a creepy, scary multi-scene haunted house open on October 31 from 6 pm – 9 pm. It is a family friendly, fun, and safe environment.
Halloween Neighbourhood Decor
In pretty much every NOLA area, you'll see homes decorated in a festive (and spooky) manner.
The Skeleton House (6000 St. Charles Ave.) is a perennial favorite for its spooky decor.
The Ghost Manor on Magazine Street (2502 Magazine St.) goes all out with a haunting electronic light display.
Due to its appearance on the popular FX series American Horror Story, The Buckner Mansion (1410 Jackson Ave.) is another popular Halloween destination. Dress up to take some pictures in front of its gates.
To view the magnificent St. Charles Avenue houses with beautiful decorations, be sure to stroll through the Garden District and Uptown.
Frightening Attractions
The New Orleans Pharmacy Museum and the Museum of Death are two Halloween-appropriate activities that will undoubtedly give you the chills.
In the French Quarter, there is the New Orleans Pharmacy Museum, a historic apothecary showcasing superstitious cures and early 19th century medicine.
The Museum of Death exhibits various gory exhibits, including corpse bags, a collection of skulls, information on the history cannibalism, crime scenes, and more.
Haunted Tours
Start your Halloween adventure in NOLA with one of the numerous ghost tours of the French Quarter or another eerie part of town.
New Orleans has world-famous cemeteries, where the dearly departed are interred in aboveground tombs.
New Orleans is a city rich in haunted history with hundreds of stories of how the spirits reveal their presence – some of which have been recorded and visually captured.
New Orleans Ghosts, Haunted History Tours and Unique NOLA Tours are some of the companies offering haunted tours.
Voodoo Shops
There are a number of Voodoo stores in the French Quarter that you may visit to learn more about the history of these centuries-old spiritual rituals. The spirit of Marie Laveau, the High Priestess of 19th century New Orleans, may still be felt in some of these stores. You could even pick up a few spells and incantations.
Believe it or not, there are stores that cater particularly to vampires. Some of these stores will be doing special Halloween activities, so be sure to stop by and join in the fun.
Reverend Zombie's House Of Voodoo, Voodoo Authentica and Marie Laveau's House Of Voodoo are some of the most popular voodoo shops in New Orleans.
Costume Shops
If you don't have a costume for Halloween, one of the city's numerous costume stores will be pleased to outfit you for the event. You can get anything from cat ears, bat wings, and vampire fangs to the most outrageous ensembles you've ever seen, including feather boas, rainbow wigs, and masks for those who want to go all out.
Fifi Mahony's, Dark Garden Corsetry, and Boutique du Vampyre are some popular places to check out.
And, after you're dressed up, you may be able to locate an open party or bar that's really getting into the Halloween spirit.
On Halloween night, many pubs, stores, and restaurants encourage customers in costume and the celebration doesn't end at midnight. It lasts until the dawn over the neighboring Mississippi River in several areas.