Here's a look at what is on for Halloween Events Vancouver 2022 and nearby areas (Fraser Valley & Squamish) as well as Halloween features by local eateries.
Fright Nights (Vancouver)
This October, prepare to scream your face off, because Fright Nights at Playland once again will transform into a terrifying Halloween-themed experience with seven haunted houses, 15+ rides, creepy décor, roaming monsters and live performances.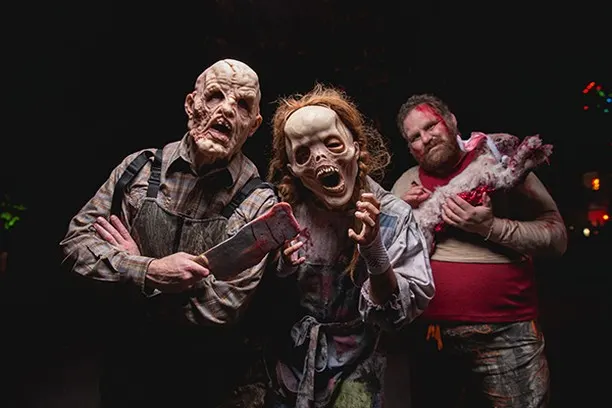 New this year: an opening "scaremony", new haunted house props, an early admission pass, and new spooky season food items.
Fright Nights is open on select nights from October 7 until October 31. Wednesday to Saturday: 6pm-12am. Sundays: 6pm-11pm.
Admission starts $45-$54 depending on date.
Guildford Town Centre
Guildford Town Centre is bringing Secrets of the Haunted Bog between October 17th to 31st, a delightfully spooky family-friendly experience. Secrets of the Haunted Bog is a world where dangers, scary creatures and more lie in wait for the unsuspecting traveller. This free spooktacular experience is perfect for bringing your little boos and ghouls into the Halloween spirit, and we encourage you to share your spooky experience on social media!
To support the Surrey Food Bank, Guildford Town Centre encourages guests to donate a non-perishable food item, and as a bonus, they will match the donation with $2 per item donated for a maximum cash donation of $5,000 to the Surrey Food Bank. Additionally, anyone who completes this spooky experience will get a chance to enter for a chance to win a $1,000 gift card to Guildford Town Centre.
Bear Creek Park (Surrey)
Get ready for Halloween fun at Bear Creek Park. They are offering a Pumpkin Train and Halloween Scream Train.
Pumpkin Train: ​open from October 9 – 31 (daily) from 10 am – 4:30 pm. $11.50 person and free for under the age of 2. This includes a train ride through the decorated forest, treat and a pumpkin. First come first serve (no online tickets for day train).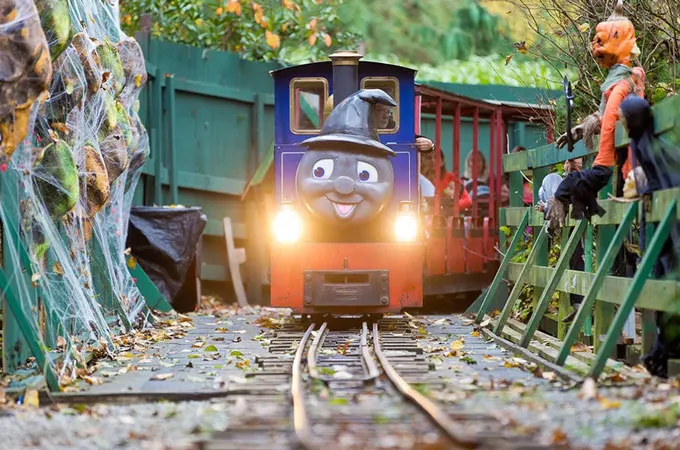 Halloween Scream Train: open from October 14 – 31 from 6:30 pm – 10 pm (every night). Dare to come through the haunted forest with creepy scary actors. Don't let chainsaw Charlie get you! Priced at $15.75 per person. This train ride is recommended for ages 12 and up. Book your tickets online to experience the scariest ride you have ever been on.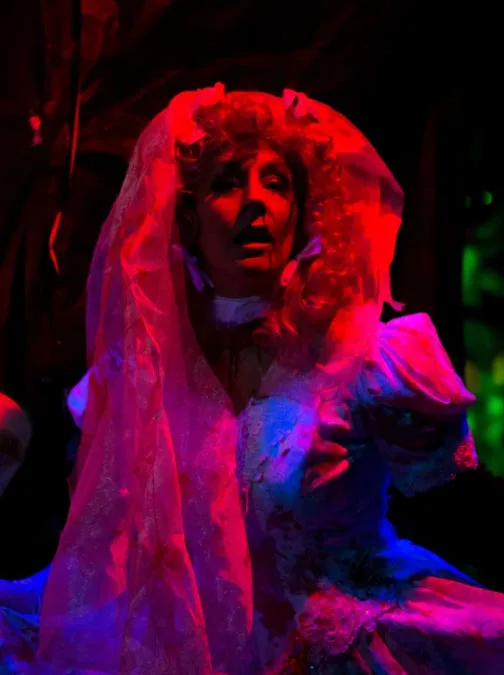 Pumpkins After Dark (Burnaby)
Pumpkins After Dark at Burnaby Swangard Stadium takes place from September 22 – October 31, 2022. Featuring over 6,000+ hand-carved pumpkins, this one-of-a-kind walk-through experience is the must-see event of the fall season.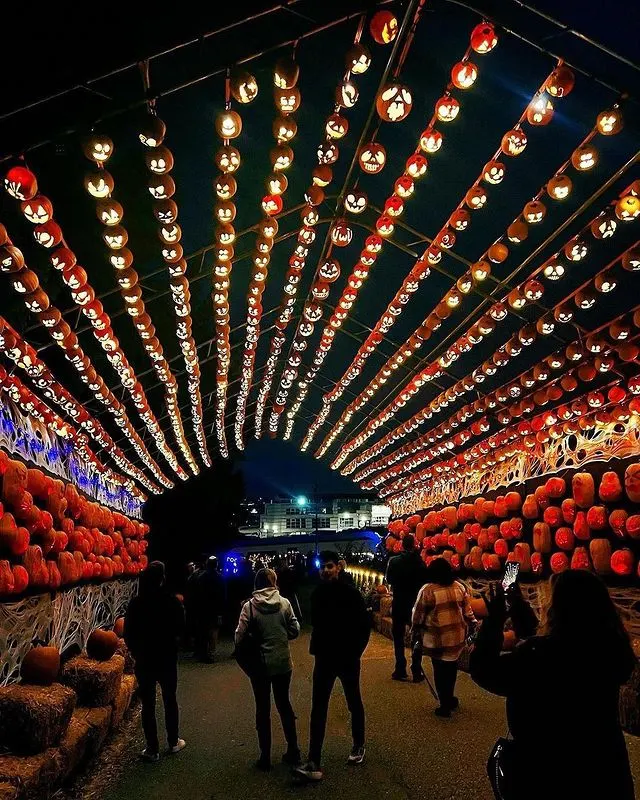 Explore the magical pathway of lit pumpkin sculptures and displays, with music, sounds and special effects.
With classic Halloween characters, dinosaurs and dragons, movie and pop culture icons – this family friendly event has something for everyone. Make Pumpkins After Dark your new annual tradition!
Burnaby Village Museum (Burnaby)
Burnaby Village Museum will once again transform into a magical world bathed in breathtaking colour with the return of Eerie Illusions taking place October 20-30 from 5:30 pm – 10:30 pm (closed October 24).
Priced at $10 for adults and $5 for children 2 – 12 years old.
This popular event will captivate visitors with new displays, costumed staff, live performances and surprises hidden in the shadows.
This self-guided family friendly Halloween experience is suitable for all ages.
Visitors are encouraged to come in costume and explore Burnaby Village Museum's 10 acre venue.
Utilizing state-of-the-art lighting, projections, soundscapes and special effects, Eerie Illusions will thrill and amaze.
Food trucks will also be available with offerings from: Green Coast Coffee, Reel Mac and Cheese and Cravings Kettle Corn.
Britannia Mine Museum (Britannia Beach)
Halloween adventurers will be battening down the hatches with three weekends of spooktacular fun at the Britannia Mine Museum.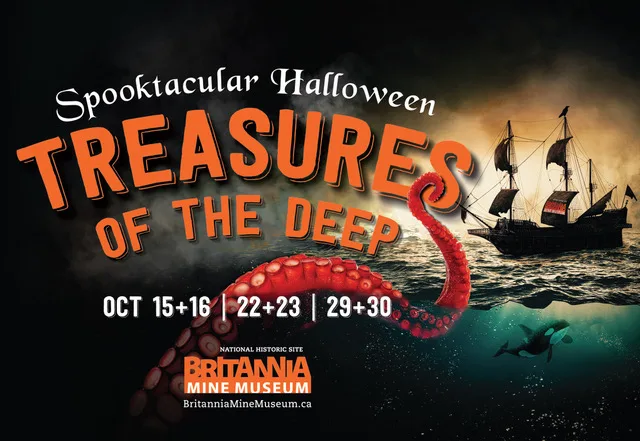 This year, the Museum is running a tight ship with a "Treasures of the Deep" themed Halloween" full of seafaring festivities, including a colourful sunken shipwreck fantasy world inside the Machine Shop, and a real bone-chilling killer whale skeleton display inside the "Terror" Lab.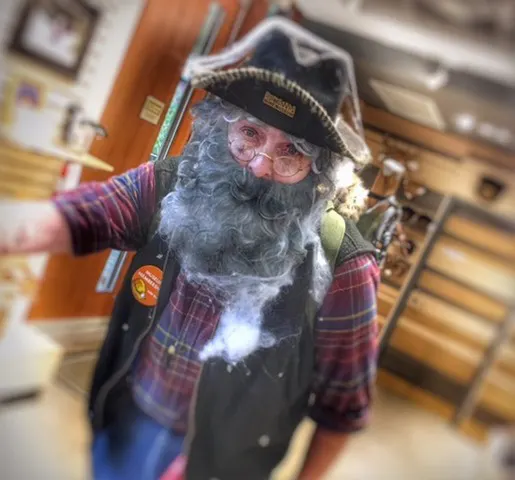 Running the weekends of October 15 and 16, 22 and 23, 29 and 30 from 10 a.m. to 3 p.m., visitors will go on a "Treasures of the Deep" underground train odyssey in search of hidden bounties, navigate a scavenger hunt for ore samples, and go overboard with "Science of the Seafloor" experiments where they'll learn about how mineral deposits are formed under water.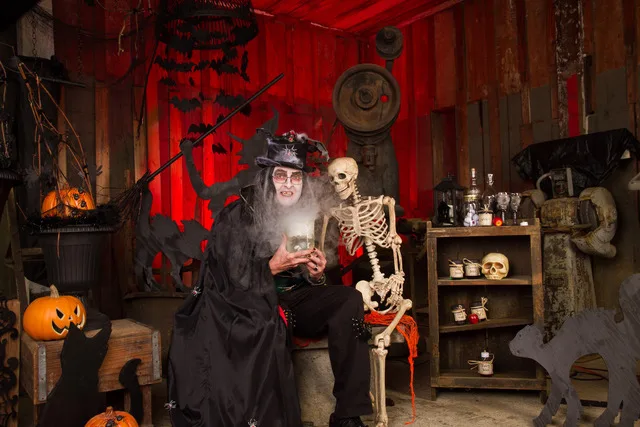 In 2021, the UNESCO's Man and the Biosphere (MAB) Programme named the Howe Sound/ Átl'ka7tsem region as Canada's 19th UNESCO Biosphere Region.
Inside the "Terror" Lab for the months of October and November, the Museum is also bringing back "Ore and Orcas: The Remediation of Howe Sound/ Átl'ka7tsem", a dynamic visual exhibit showcasing the O120 Orca bone display and other marine specimens, to shine the light on the remediation of the Howe Sound marine ecosystem.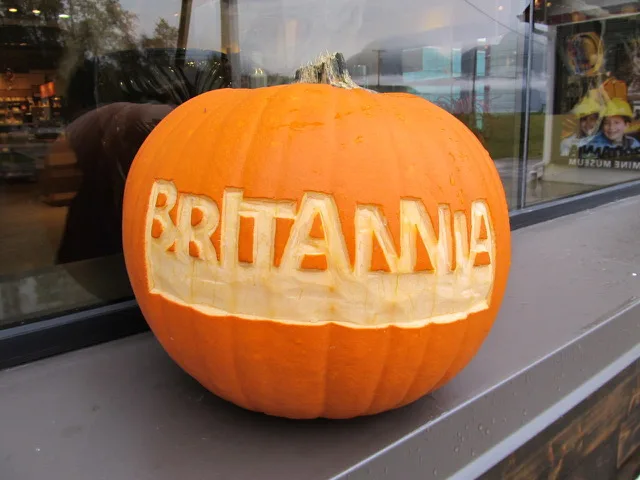 The O120 Orca bone display is the only travelling killer whale skeleton in the country and the only offshore killer whale used for educating people about marine conservation and the plight of whales in B.C. waters.
The "Ore and Orcas" exhibit is an educational partnership with the Strawberry Isle Marine Research Society (SIMRS), the Beaty Biodiversity Museum and the Porpoise Conservation Society.
The exhibit will educate visitors on the mine's history – including the impacts of pollution and subsequent remediation, recovery and protection with the EPCOR Water Treatment Plant – through the lens of its impact on the Howe Sound food chain.
Located 45 minutes north of Vancouver on the picturesque Sea-to-Sky highway, the Britannia Mine Museum provides unique and memorable experiences that engage visitors of all ages.
Visitors can enjoy fun exhibits and crowd favourites like the underground mine train, gold panning, the historic 20-storey concentrator Mill building and its BOOM! special effects show, the Terralab STEAM learning space, the minerals and gem gallery, and the Beaty Lundin Visitor Centre.
The Halloween "special event" rate is $25 for youth and adults, and $20 for kids ages three to twelve, which includes the Halloween activities, "Treasures of the Deep" underground odyssey, museum exhibits, and gold panning.
The Ore & Orcas exhibit is available between October 1st and November 30th with regular admission, including all Halloween dates.
The Museum is still offering the traditional guided underground tours and the BOOM! Mill show via regular admissions.
Advanced ticket purchase and reservation is recommended as special events are often sold out.
Check the Museum's website for specific tour times and to purchase tickets in advance.
Maan Farms (Fraser Valley – Abbotsford)
Experience and enjoy the horror attractions in Maan Farms. They offer 4 attractions. Pricing depends on number of attractions.
Homestead: An immersive limited entry haunt full-contact experience where you are greeted as a guest at a decrepit AirBnB, one you will never leave. Guests will experience an enhanced, highly detailed, and elevated horror attraction with one-of-a-kind immersion that will leave them begging to check out.
Slaughterhouse: The Scariest Corn Maze in Canada returns with a blood-soaked vengeance. Through a field of screams, guests will run for their lives as the flesh eating pigs are unleashed to feast upon those who fall behind.
The Way Down: a first ever hooding haunt! This journey through hell will see guests pushed to their limits, experiencing a unique multidimensional assault on the senses where darkness grabs you! This is a touch haunt! Upon arrival, all guests must place a fabric hood on their heads before entering. As you journey through the fiery wrath of the underworld you may be touched, held back or separated from your group! Will you be brave enough to keep your hood on as you venture down into the fires of darkness?
The Midway: The carnival never leaves MF Haunts, and this year the lights of the circus flare into the night sky as our Midway Street Theater surges with ghoulish screams and cotton candy dreams. With live actors skilled in the arts of fire, improv, and entertainment, this 4th attraction will be filled with fun laughter and good music for all to enjoy.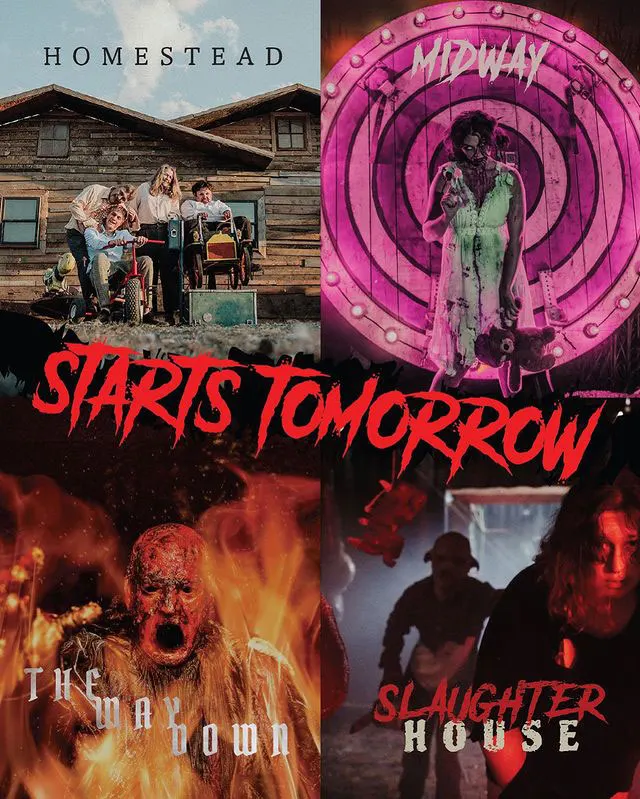 Haunted Halloween Adventure (Burnaby)
This Halloween, your fate is in your own hands. Spend 2-hours fully immersed in a fantasy
open-world filled with haunted quests with The Empty Chest. Which path will you take? Will you help solve the
mystery of the missing villagers, fight the incoming barrage of orcs, or simply play games
and toast to your victory with the tavern Vikings?
With the provided bow and arrows in hand, journey into medieval villages to fight a barrage
of orcs, defend the villagers from monsters, break the thief out of jail, and return a dragon's
egg to its mother. Then visit the tavern for a delicious Steamworks Ale!
Location: Warner Loat Park, Burnaby, BC V5A 3B4
Dates: October 20 – 31, 2022
Timeslots: 5 – 10pm
Buttermere Patisserie (Vancouver)
Known for their whimsical vision and presentation, Buttermere Patisserie's Halloween creations are no different.
Combining the mysteriousness and dark nature of the supernatural along with charming details of fictitious characters, Buttermere is offering two cakes and a two-bite treat for a family-friendly Halloween.
The Witch Cauldron cake is a beautifully-hued butterfly pea flower and strawberry sponge cake composed of crunchy and creamy textures of a Poprock feuilletine layer, Zephyr caramel mousse, blueberry jelly, and topped with a crispy witch chocolate silhouette. Priced at $70, this iridescent cake is magically mesmerizing for the senses.

A literal take on how a young one would envision Halloween, the Boo Bash cake is a black and orange themed cake made with black velvet sponge and Kabocha namelaka decorated with shortbread, swiss buttercream, and meringue Halloween symbols. This $68 cake is simply spooktacular.

This year, Buttermere has also created chocolate lollipops for trick-or-treaters and those looking for a simple treat for the occasion. Shaped like a skull and a mummy in a coffin, these chocolate lollipops are on offer at $4.50 each.

With limited quantities available, orders can be made online on Buttermere Patisserie's website starting October 15th until quantities last. Cake pick up and delivery will be available October 24th to 31st.
Ophelia (Vancouver)
Vancouver diners are invited to indulge in a supernatural south-of-the-border feast on Thursday, October 27th as Ophelia sets the stage for a one-night-only Día de los Muertos (Day of the Dead) dinner service.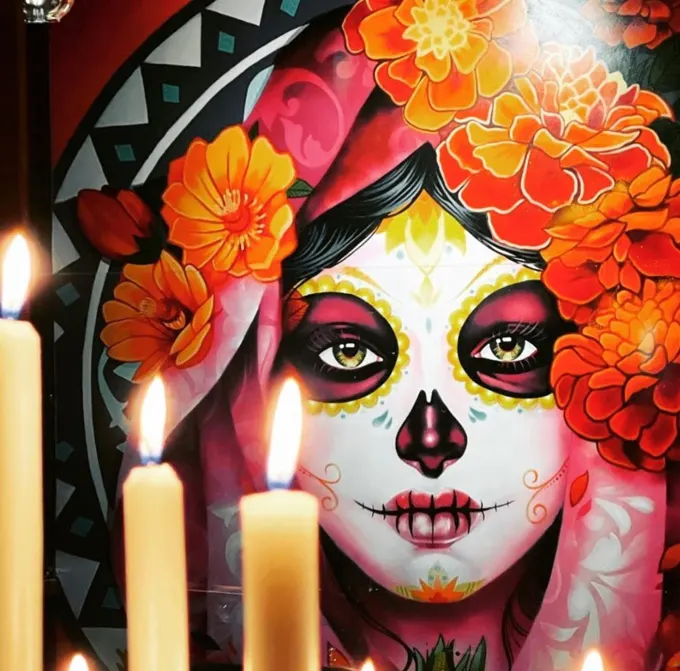 A storied holiday observed throughout Latin America, Día de los Muertos is a traditional and much revered holiday celebrated in Mexico. The multi- day holiday involves family and friends gathering to pray for and remember friends and family members who have died. It is commonly portrayed as a day of celebration rather than one of mourning. The festivity has become a national symbol and as such is taught in the nation's school system, typically asserting an indigenous origin. In 2008, the tradition was inscribed in the Representative List of the Intangible Cultural Heritage of Humanity by UNESCO.
Ophelia will be transformed into a mystical space with flickering candles and vibrant decorations. Staff will create an enchanting ambiance for diners by painting their faces with traditional calavera (skull) makeup and curating a soundtrack of Mexican folk music.
This special dinner will start at 6:30PM with first course served at 7PM, guests will be invited to take a seat in the dimly lit dining room and indulge in a decadent multi-menu (see below) prepared by Ophelia's Executive Chef Francisco Higareda and his team.
Reservations are available for Ophelia's Día de los Muertos dinner must be made via email at [email protected] and secured with a credit card, with full payment taken at the table.
Diners are encouraged to dress up! For more information about Ophelia, visit opheliakitchen.ca
CoCo Fresh Tea & Juice
CoCo Fresh Tea & Juice is excited to release a whimsical & yummy drink to bubble tea lovers in Richmond & Surrey, just in time for a spooky and delicious Halloween for 2022.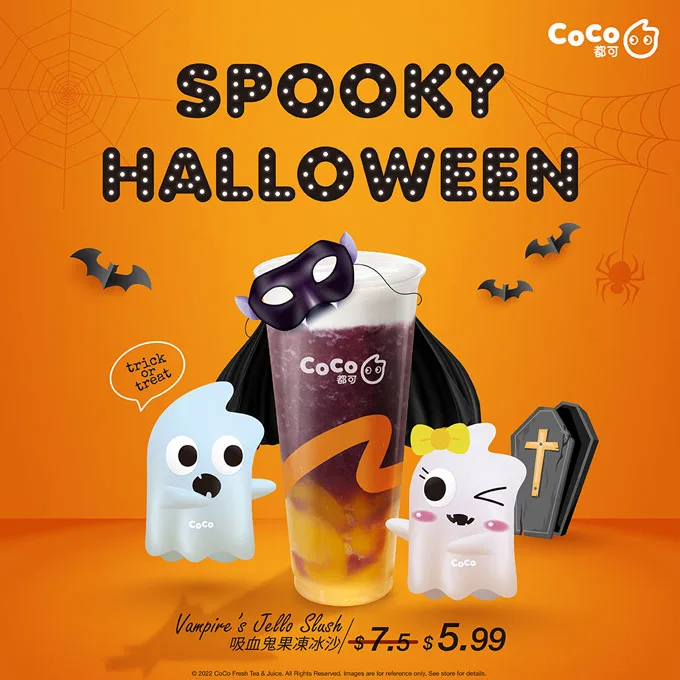 The Vampire Jello Slush is mixed with the vibrant concord grape slushie and luscious salty cream, both featured in this summer's hit, Purple Crystal Dream, as well as CoCo's famous passion fruit jelly and soothing green tea, making it visually spectacular and super tasty!
For a limited time, the Vampire Jello Slush is ON SALE at $5.99 (originally priced at $7.50) through October 31.
CoCo Tea YVR locations:
Blundell Centre: 140-8100 No.2 Rd, Richmond, BC
Continental Shopping Centre: 2116-3779 Sexsmith, Richmond, BC
Richmond Oval (soft opening): 115 – 6699 River Road, Richmond, BC
Guildford Town Centre: 2655-10355 152th Ave, Surrey, BC
Central City: 512-10153 King George Blvd, Surrey, BC
South Surrey: 910-15355 24 Ave, Surrey, BC
Alaïa's Celestial Halloween event (Richmond)
On Friday, October 28, Club Versante unveils Alaïa, the latest addition to its collection of dining destinations, during an enchanting evening of dancing, dress-up, and imbibing. The Halloween-inspired occasion is the first in a series of monthly event concepts to be hosted in the penthouse lounge.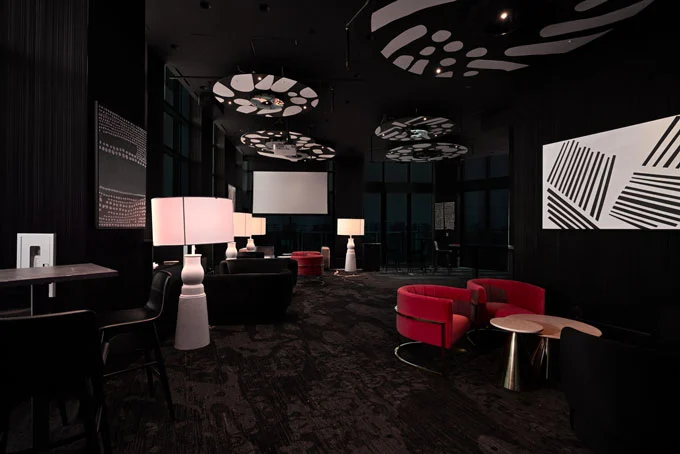 Alaïa's Celestial Halloween event kicks off at 9pm and features a live DJ and dancers, caviar by Royal Caviar Club, champagne, sake, and more. An elevated experience is available (at an additional charge) for those who wish to receive private table service and order from an exclusive tasting menu developed by Executive Chef William Lew
After dancing the night away at Alaïa, retreat to one of Versante Hotel's artfully-decorated guestrooms by booking the Celestial Halloween overnight stay package. This offer includes two tickets to attend Alaïa's Celestial Halloween event, an exclusive room rate (starting at $254), and complimentary valet parking. Each contemporary room features in-app room controls and spa-like bathrooms with freestanding soaker tubs, rainforest showers, Dyson hair dryers, and Red Flower wellness products. Other Versante Hotel highlights include a heated rooftop pool and jacuzzi, and 24-hour fitness studio with Peloton bikes and MIRROR workout technology. Take advantage of this limited-time offer to experience TripAdvisor travellers' top choice for accommodations in Richmond, BC: versantehotel.com/offers.
Joseph Richard Group
Joseph Richard Group (JGR) will be hosting local After Dark events across the Lower Mainland.
The After Dark Event series will involve a series of spooky parties at several JRG locations from Friday, October 28 and Saturday, October 29. You can find the full list HERE.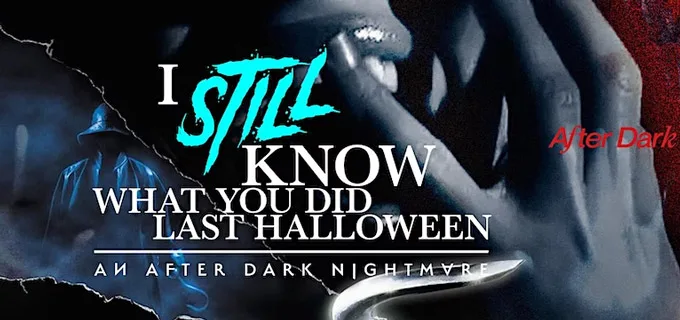 Temper Pastry (West Vancouver)
Temper will help homeowners make their Halloween houses the talk of the block with Chocolate Lollipops (milk or dark chocolate, $4.50), assorted bite-sized Frictures in ghost, tombstone and skull shapes ($9.50 per 125g bag); and Skull or Carved Pumpkin Showpieces available in milk or dark chocolate with edible accents and filled with miniature chocolates ($39).
Mon Paris Pâtisserie (Burnaby)
Mon Paris Pâtisserie resurrects seasonal favourites, tempting trick-or-treaters with sinfully delicious hallowed chocolates. Shop in-store or online for irresistible milk chocolate Jack-o'-lantern lollies ($4) filled with bewitching pumpkin spice caramel, and charming Jack-o'-lantern statues ($25) enchanted with a howling wolf silhouette and a signature caramel truffle. These spellbinding chocolate showpieces are haunting the shelves of this Burnaby shop for a limited time.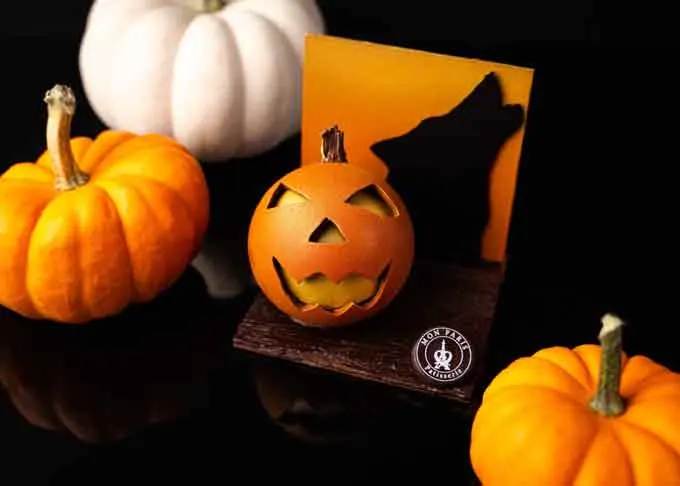 Mon Paris Pâtisserie's 2022 Halloween offerings are available now at Mon Paris Pâtisserie (4396 Beresford St., Burnaby). Orders for spooky treats, plus cakes, macarons, and chocolate boxes can be placed online at monparis.ca/monparis-shop, in person at 4396 Beresford St., Burnaby, or by phone at 604-564-5665.
Halloween baking is full steam ahead at Kafka's. Pastry chef Adi Kesslemen has unleashed her inner cookie-monster once again, priming Kafka's for a sweet and spooky season. Dressed up as bats, pumpkins, and ghosts, classic sugar cookies awaken your Halloween spirit, while scream-worthy Alfajores veiled in dark chocolate cobwebs add a touch of black magic to your coffee break. Snatch up these charming cookies before they vanish from Kafka's three locations (Great Northern Way, Gastown, and The Park Downtown); they're available now through October 31.
Kafka's (Vancouver)
Halloween baking is full steam ahead at Kafka's. Pastry chef Adi Kesslemen has unleashed her inner cookie-monster once again, priming Kafka's for a sweet and spooky season. Dressed up as bats, pumpkins, and ghosts, classic sugar cookies awaken your Halloween spirit, while scream-worthy Alfajores veiled in dark chocolate cobwebs add a touch of black magic to your coffee break. Snatch up these charming cookies before they vanish from Kafka's three locations (Great Northern Way, Gastown, and The Park Downtown); they're available now through October 31.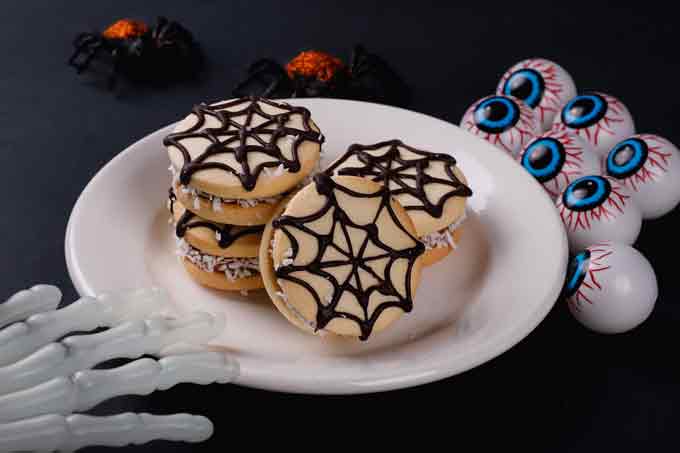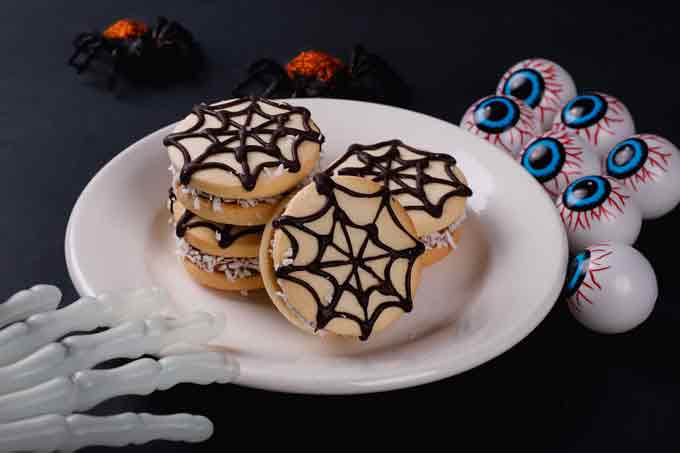 Odd Society (Vancouver)
The Odd Society Spirits gang has plenty of tricks and treats up their sleeves from October 27 to 30, including a Halloween edition of their monthly Odd Thursday music night.
Wickedly delicious cocktails will be featured all week/weekend long, and include spellbinding Black Heart Manhattan Slushies, Last Word Shots, Fear Martinis, and a share-if-you-dare Nightmare Punch made with candy corn infused East Van Vodka.
On Thursday, October 27, bar manager Mia Glanz will be stirring up spirits behind the bar, while DJ's Chachou and Elio Agvaz slay beats in the lounge. Slash October 27 on your calendar, come dressed to impress—there will be prizes—and be prepared for a real scream of an evening!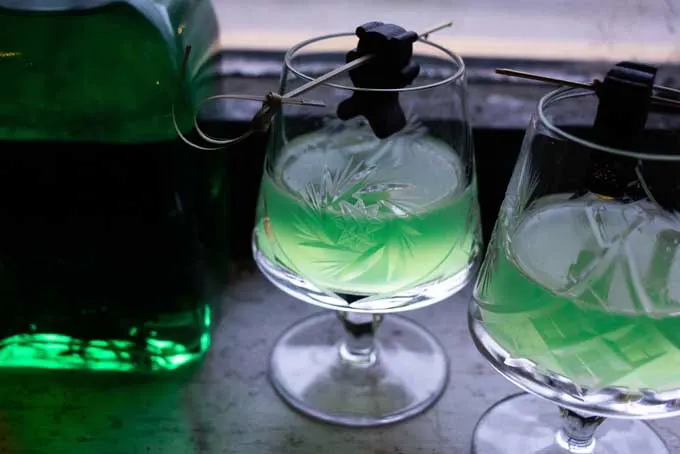 Alimentaria Mexicana Unveils Pan de Muerto
In time for Día de los Muertos coming up on November 2, Alimentaria Mexicana will be baking up pan de muerto every day from Saturday, October 29 until Wednesday, November 2.
El Día de los Muertos is a Mexican holiday celebrated to honour and pay respects to lost loved ones, and pan de muerto is traditional Mexican sweet bread customarily made at this time of year to eat and leave at homemade altars as an offering (ofrenda) for departed friends and family. Alimentaria Mexicana also invites the community to leave an ofrenda for their loved ones at their Día de los Muertos altar located in their Mercado.
How to Order: Only available by pre-order through Tock, with pick-up at Alimentaria Mexicana (1596 Johnston Street on Granville Island). Each order costs $11 and includes four freshly-baked individual-sized pan de muerto, with notes of orange and a sugar top, in a characteristic shape that resembles a Calavera.