H2 Rotisserie & Bar at the Westin Bayshore has a number of festive offerings this holiday season one of which is the Festive Sunday Brunch Series taking place every Sunday until December 22 from 12 pm – 3 pm.
The buffet included breakfast favourites, seafood, salads, cheese & charcuterie, dim sum, turkey carving station, and sweet treats. The price is $69 per adult and $30 for children aged 6 – 12.
I had the opportunity to try out the Festive Brunch Buffet. Here's a look at the deliciousness.
---
Breakfast Favourites
Seasonal sliced fruits; selection of croissants, danishes and scones (with honey, jams, and butter); warm cinnamon buns; an assortment of healthy nuts and seeds; and mango chia pudding.
Seafood
The seafood display was amazing and featured Lobster Bisque, West Coast Seafood (like Snow Crab Legs, Citrus Poached Prawns, Manila Clams, Salt Spring Island Mussels, and Candied and Smoked Salmon). Seafood Ceviche "Martini", Ling Cod Kokoda and Calamari Salad rounded out the seafood selection.
Salads
Organic Mixed Greens (with an assortment of dressings); Trio of Beets, Pea Shoots, Feta Cheese, Pumpkin Seeds with Blanco Balsamic Glaze; Winter Kale Salad with Farro and Goat Cheese; and Quinoa Salad.
Cheese and Charcuterie
An assortment of international cheese and charcuterie with traditional accompaniments
Asian
Har Gau and Sui Mai
Entrees
Traditional eggs benedict; Belgian waffles; Baked Salmon, and Potato Hash. Sides included Turkey Sausage, Double Smoked Bacon, Roasted Root Vegetables, Bayshore Honey Glazed Brussels Sprouts.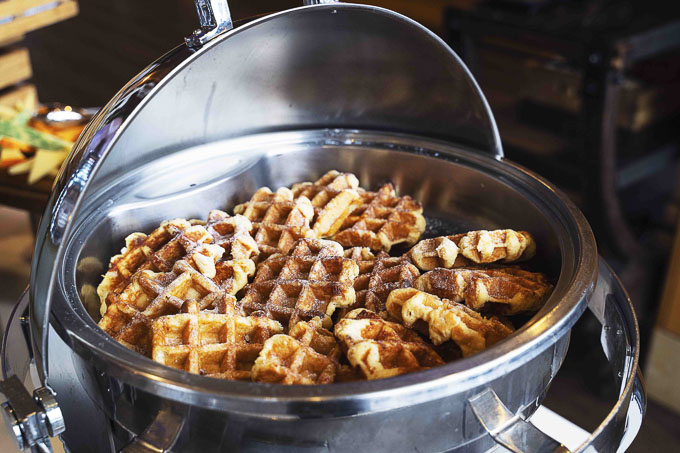 Action Station
Roasted Fraser Valley turkey breast with traditional stuffing, turkey gravy, and cranberry sauce.
Sweets
Also impressive was the decadent array of sweet treats including Festive Yule Log, Classic Shortbread Eggnog, Cranberry Cheesecake Apple-Cinnamon Cake, Chocolate-Pecan Flan, Mincemeat Tarts, and assorted candy.
My favourites were the Lobster Bisque, West Coast Seafood Selection, Seafood Ceviche Martini, Mango Chia Pudding, Winter Kale Salad, Roasted Fraser Valley Turkey Breast, Baked Salmon, Mincemeat Tarts, and Eggnog & Cranberry Cheesecake.
Be sure to check out the lineup of festive events at H2 this holiday season.