On our road trip to Alberta earlier this month, we stayed one night in Golden, BC. Using Hotels.ca, which is my usual online accommodation booking site, I found Travelodge Golden Sportsman Lodge.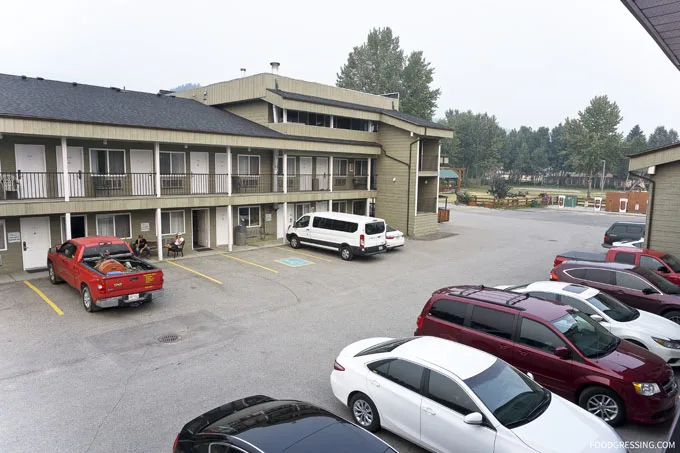 Note: This hotel stay was not sponsored and the review is done anonymously. This post contains affiliate links.
Good Ratings
Travelodge Golden Sportsman Lodge is a 2.5 stars motel with a good rating on Hotels.ca (3.4/5) and a comparable rating from TripAdvisor (3.5/5). I also saw that there were a good number of reviews (400+ on Hotels.ca and 200+ on TripAdvisor) which makes the data more reliable. I paid $213 (with free cancellation) for one night in July, which is quite a bit considering the location and the fact that it is just a 2.5 stars motel.
Location
Travelodge Golden Sportsman Lodge was pretty easy to find as it is located just off the Trans-Canada highway and 10 minutes from Kicking Horse Mountain Resort. There are many restaurants and a cold beer and wine store within distance.
Amenities
The motel is famous for their salt water pool with waterslide. Also available is a hot tub and sauna. There is an adjacent park featuring some benches, a kid's playground, a firepit, and a tipi. In-room amenities include a kitchenette (coffee/tea maker, microwave, and small fridge). Guests can enjoy the free wireless internet, free parking, and free continental breakfast. The motel has two floors and no elevators. TIP: Apparently, if you want a ground level room, you need to make a request in advance. Perhaps a comment in your online reservation would do and phone in to make that request. If you drive a Tesla, this would be a great place to stay as the motel has a charging station.
How Did I Enjoy The Stay?
Starting off with the arrival, the check-in process was fast and easy. Unfortunately, our room was on the second level and there are no elevators so we had to carry our luggage up the stairs.
Our room with two queen beds was generally clean and acceptable for a one-night stay. The air-conditioning was a bit noisy but otherwise, the noise level from outside was practically non-existent for a nearly full motel. There is no traffic noise whatsoever. The bed and pillows were reasonable in terms of comfort. The number of towels was provided were sufficient. Wifi speed was reasonable as well.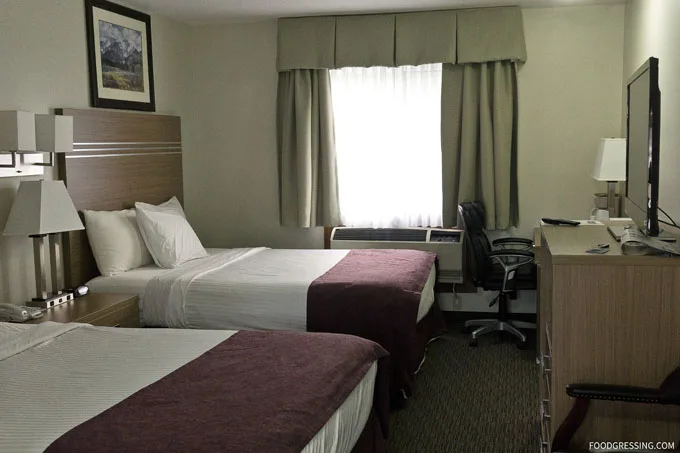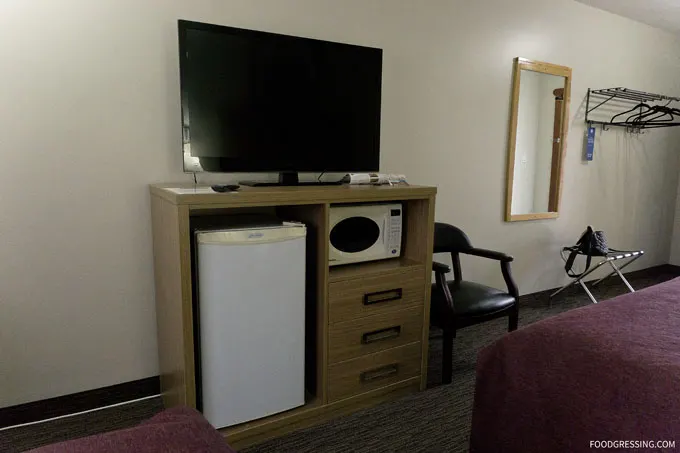 There was just one larger yellow stain on the left side of the sink but otherwise the room was clean.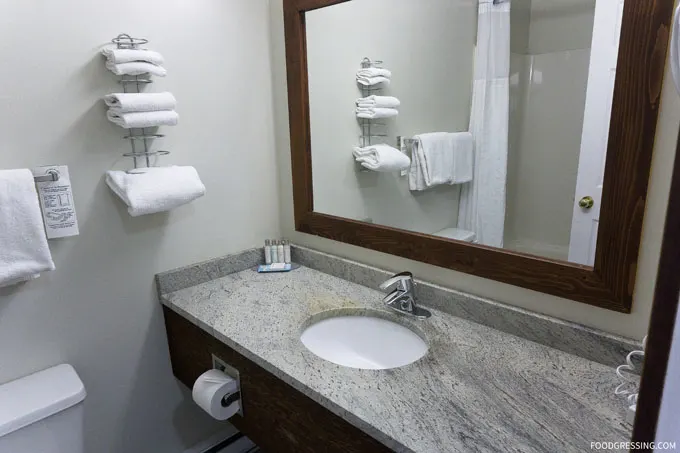 As for the breakfast, it was standard with self-service waffles, pastries, coffee, juice and more. There are no hot items like sausages and eggs. My family and I didn't take advantage of the pool but I saw that it was busy. However, I quite liked the open recreation area they have next to the motel. We enjoyed some pizza from local pizzeria Red Tomato Pies there (see review here).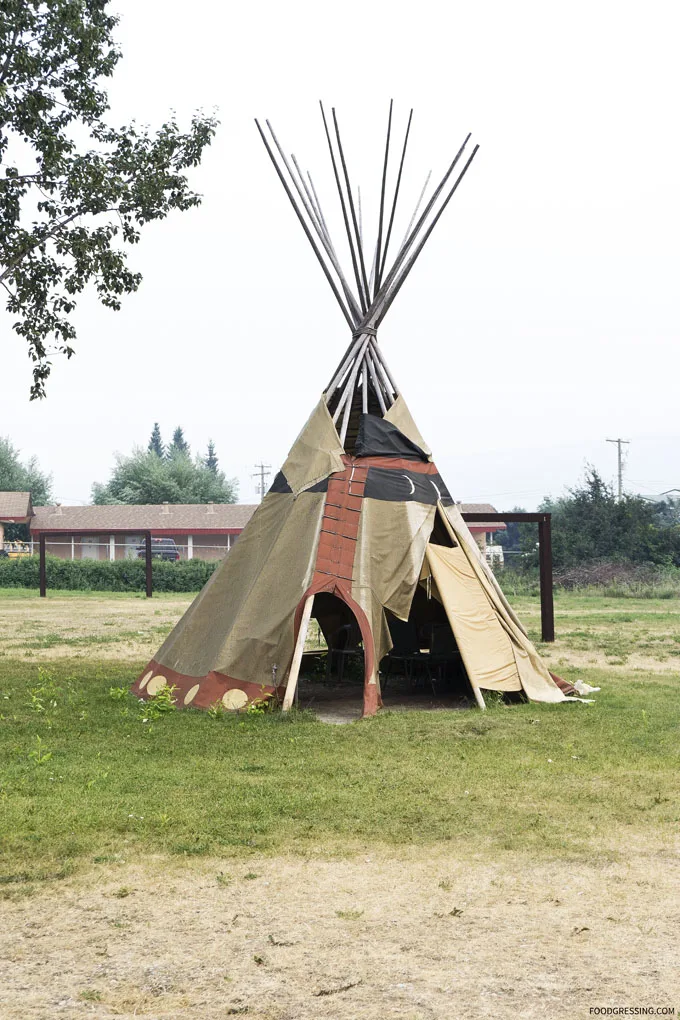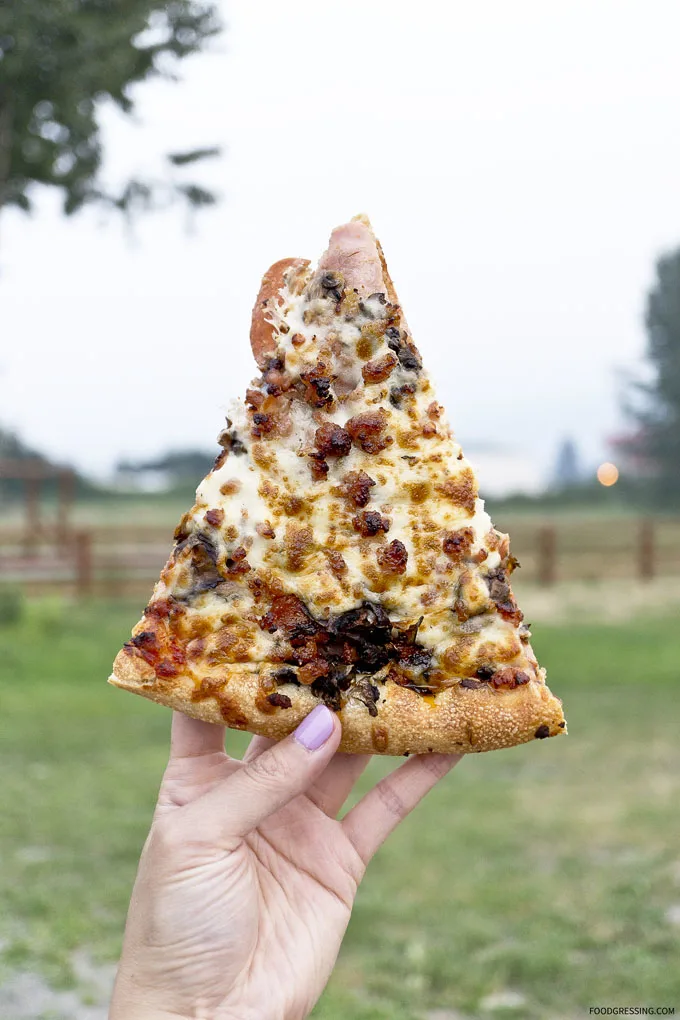 In terms of safety, I felt pretty comfortable at the motel. There were many families there and it seemed like a good number of the guests that evening were from a Chinese bus tour.
Overall Impression of Travelodge Golden Sportsman Lodge
Staying in Golden is expensive as it is a resort town; there wasn't much value in our accommodation because of that. Reviews on Tripadvisor are consistent with my thoughts that staying in Golden during the summer was pricey. However, Travelodge Golden Sportsman Lodge met my basic needs with a few perks like free parking and free continental breakfast. Rating: 3/5
Travelodge Golden Sportsman Lodge
Address: 1200-12th Street North, Golden, BC
Website: https://ca.hotels.com/ho269515/travelodge-golden-sportsman-lodge-golden-canada/