Here's a roundup of Easter West Palm Beach 2022 celebration ideas featuring special menus by local restaurants for Easter brunch, Easter lunch, Easter dinner plus desserts and treats.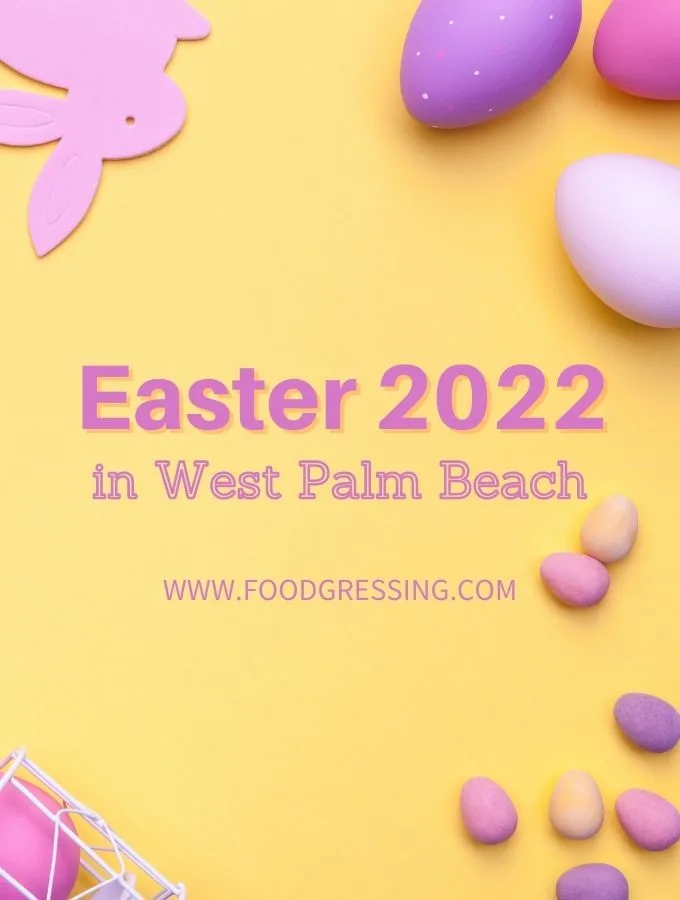 Easter Friday is April 15, 2022 and Easter Sunday is April 17, 2022.
Please reach out to me [email protected] or @foodgressing on social media if you are a restaurant that wants to be featured. Provide all the details of your holiday offering in your message. For faster processing, please provide a ready to copy and paste excerpt in paragraph form in a similar format to the restaurants featured below.
This list is not exhaustive and is updated as information becomes available. I try to feature as much as I can but certainly this is not all that is out there. If your favorite restaurant is not on the list, contact them to see what they are offering.
Easter West Palm Beach 2022: Brunch, Lunch, Dinner, Restaurants
Tropical Smokehouse
When finished hiding eggs, hide the recipes because Tropical Smokehouse has got you covered for Easter.
All menu items come ready to heat, so clever cooks have the option to claim the food as their own or give kudos to Chef Rick Mace, South Florida's proclaimed BBQ King.
Either way, family and friends alike will be clearing their plates for second helpings.
For Easter, Tropical Smokehouse is serving up Smoked Heritage Ham ($75) and Tender Braised Prime Certified Angus Brisket Half ($80) / Whole Brisket ($150). Sides which serve 2-4 people include Sweet Corn Pudding ($22), Mac & Cheese ($22), House Salad ($20) and Tropical's Heavenly Cornbread ($20).
Make sure to save room for dessert because Chef Rick's Carrot Cake with pineapple, pecans and cream cheese frosting ($25) is the epitome of excellence.
All menu items are ready to heat. Tropical Smokehouse is also offering a Family Meal (serves 4-6 people) for $145 consisting of Heritage Ham, Sweet Corn Pudding, Mac & Cheese, House Salad, Cornbread and Carrot Cake.
All menu items are ready to heat. Orders must be placed by Wednesday April 13th and will be available for pickup Saturday, April 16 & Sunday, April 17 between 11:30AM-4:30PM.
Paddock Restaurant
Paddock Restaurant is taking reservations for April 17. They will be offering an Easter brunch buffet at $49.95 per adult, $25.95 per kid for children ages 4-12 and kids under 3 are free. Buffet is from 10 am – 2 pm.
Included in price is admission to the Family Fun Fair on the Track. Pony rides available for $5.00 (for kids under 55lbs). Family fun Fair on the Track includes: Petting Zoo, Face Painting and Balloon Artist Karl Koppertop.
Pistache French Bistro
Pistache French Bistro is taking reservations for April 17. They will be offering an Easter brunch at $85 per person from 11 am – 3 pm.
Chef Mike Burgio has prepared a special three course prix fixe menu, full of Pistache classics and seasonal favorites.
The Regional
The Regional is taking reservations for April 17. They will be offering an Easter brunch buffet at $75 per adult and $25 per kid from 10 am – 3 pm. Chef Lindsay Autry has prepared her acclaimed buffet spread with menu favorites like Tomato Pie, Fried Chicken, Easter Ham, Prime Rib and much more.
Check back later as new offerings are added to this list.