Here's a roundup of Easter Vail 2022 celebration ideas featuring special menus by local restaurants for Easter brunch, Easter lunch, Easter dinner plus desserts and treats.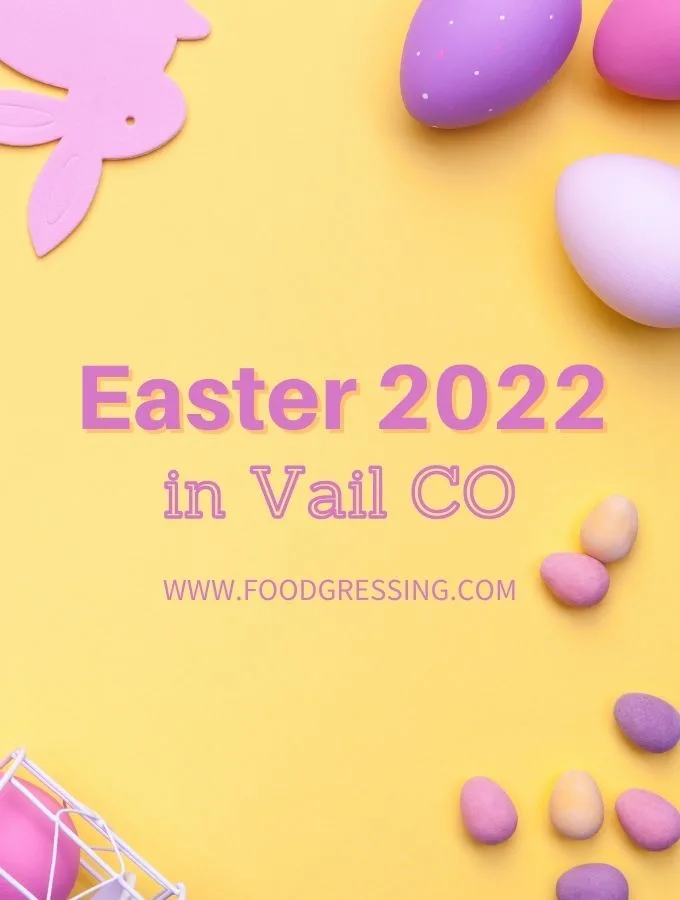 Easter Friday is April 15, 2022 and Easter Sunday is April 17, 2022.
Please reach out to me [email protected] or @foodgressing on social media if you are a restaurant that wants to be featured. Provide all the details of your holiday offering in your message. For faster processing, please provide a ready to copy and paste excerpt in paragraph form in a similar format to the restaurants featured below.
This list is not exhaustive and is updated as information becomes available. I try to feature as much as I can but certainly this is not all that is out there. If your favorite restaurant is not on the list, contact them to see what they are offering.
Easter Vail 2022: Brunch, Lunch, Dinner, Restaurants
Vintage
Vintage is taking reservations for April 17. They are offering a three-course Easter Brunch buffet.
Priced at $65 for adults, $45 for children 12 and under. Bottomless mimosas are not available.
Ludwig's
Ludwig's is taking reservations for April 17. They are offering a Special Brunch Menu including a Chef-attended Seafood Omelet Station, Carving Station with Black Angus Beef Ribeye & Roasted Colorado Leg of Lamb, Raw Bar, Soup, Salad, & Bagel & Lox stations as well as traditional brunch items.
Priced at $115 for adults, $57 for children ages 6 to 12, and children 5 and younger are free.
Tax, gratuity, and beverages are not included. Seating times are 10 am 12 pm, & 2 pm for 1.5 hours a seating.
Gessner
Gessner is taking reservations for April 17.
They are offering Bottomless Mimosa Brunch, a special Easter Bunny appearance, and an Easter Egg hunt. Brunch featuring Black Truffle Egg White Frittata, Savory Chicken & Waffles, Chef's favorite Carnitas Benedict, Prime Rib, an assortment of homemade cakes and pastries, and more.
Priced at $90 per person, $100 per person for Bottomless Mimosa Brunch.
Leonora
Leonora is taking reservations for April 17.
They are offering a variety of specialty items from Executive Chef Kevin Erving.
From mimosas to benedicts to specialty French toast, as well as, many breakfast favorites like bacon, sausage, potatoes, specialty eggs, omelets, breakfast pastries, sliced seasonal fruits + berries, yogurt, artisanal cured meats + cheeses, cold-smoked salmon, and garnishes.
Strawberry Rhubarb Baked French Toast whipped cream and maple syrup. Traditional Eggs Benedict with Canadian bacon and hollandaise sauce. Honey Glazed Spiral Ham with mustard jus. Priced at $48 for adults and $32 for kids and under.
Check back later as new offerings are added to this list.