Here's a roundup of Easter Vancouver 2022 celebration ideas featuring special menus by local restaurants for Easter brunch, Easter lunch, Easter dinner plus desserts and treats.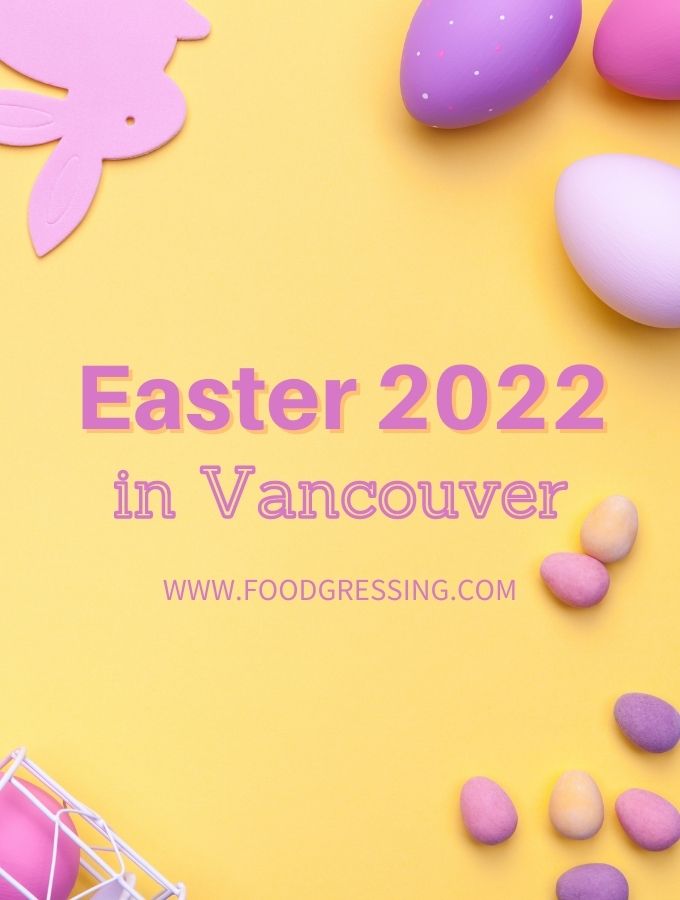 Easter Friday is April 15, 2022 and Easter Sunday is April 17, 2022.
Please reach out to me [email protected] or @foodgressing on social media if you are a restaurant that wants to be featured. Provide all the details of your holiday offering in your message. For faster processing, please provide a ready to copy and paste excerpt in paragraph form in a similar format to the restaurants featured below.
This list is not exhaustive and is updated as information becomes available. I try to feature as much as I can but certainly this is not all that is out there. If your favorite restaurant is not on the list, contact them to see what they are offering.
Easter Vancouver 2022: Brunch, Lunch, Dinner, Restaurants
Edge Catering
Kick back, relax and order up Easter Dinner or brunch (or both!). Whether you're feeding two or 12, Edge Catering's to-go feasts will make "every bunny" in your house very happy. For the traditionalists Chef Jasmin Porcic has a beautiful Canadian ham paired with classic comfort sides. For those who want to break out from the tried and true, there is a mouth-watering Sous Vide Garlic + Rosemary Lamb option, and of course delectable desserts.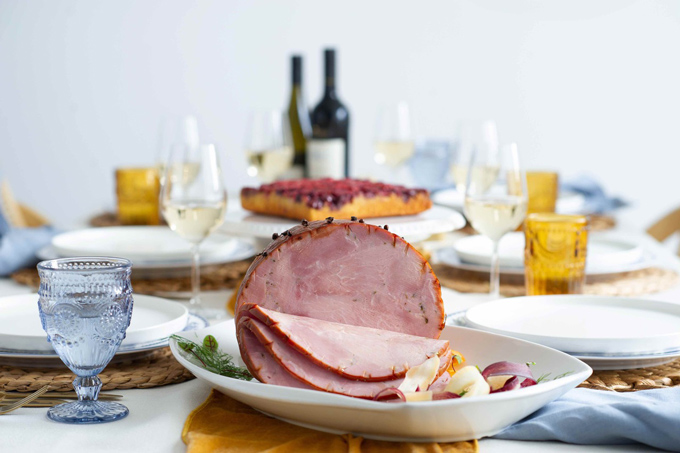 Edge Easter Ham Dinner – 2 People: $80 / 6 People: $215
Canadian maple glazed ham (pre-sliced)
Port infused fig mostarda
Spring greens, arugula, fruits, and berries
Celeriac potato pave
Asparagus and heirloom rainbow carrots
Strawberry galette with Chantilly cream OR
Raspberry rhubarb upside down cake, vanilla anglaise
Includes chocolate Treat
Lamb Easter Dinner – 2 People: $100 / 6 People: $275
Sous-vide grilled garlic and rosemary lamb shoulder (pre-sliced)
fresh mint pesto
Spring greens, arugula, fruits, and berries
Celeriac potato pavè
Asparagus and heirloom rainbow carrots
Strawberry galette with Chantilly cream OR
Raspberry rhubarb upside down cake, vanilla anglaise
Includes chocolate Treat
Easter Brunch – from $50
Rustic Quiche (each order is 2 of same type)
Double smoked bacon and gruyere or
Roasted butternut squash, asparagus and chèvre (vegetarian)
Caprese Salad – pearl bocconcini & cherry tomato
Orange poppyseed loaf
Blue Hat Bakery-Cafe at Pacific Institute of Culinary Arts
The chefs at Blue Hat Bakery-Café will be cooking up a traditional Easter Feast To-Go that's fit for you to enjoy with your family and friends.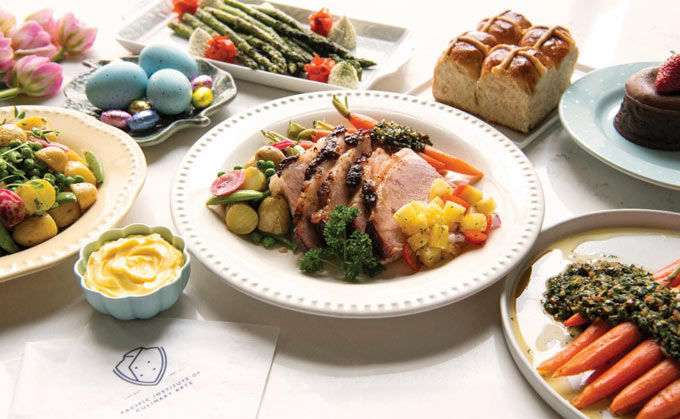 The star of this Easter holiday menu is a succulent and juicy Maple-Pineapple Glazed Ham and accompanied by Chef's famous Potato Parmigiano Pavé, asparagus, and roasted baby carrots along with two delightful desserts – it's a real first taste of spring!
EASTER MENU – $109/2 servings
STARTER
Beet Salad
Whipped Goat Cheese, Harissa and Rose Vinaigrette, Arugula, Orange, Granola
MAIN
Roasted Ham Glazed with Maple + Pineapple
– Potato Pavé, Parmigiano Reggiano
– Asparagus, Brioche, Lemon Crunch
– Roasted Carrots, Caraway, Butter, Lemon
DESSERT
Apricot-Orange Chocolate Sacher Torte
Strawberry Rhubarb Cobbler with Mascarpone Chantilly
*Hot Cross Buns available as add-on $15 for 6
**Wines by the bottle also available
Place your pre-order by 5pm Wednesday, April 13. Orders will be available for pickup between 11am – 4pm on Saturday, April 16 & Sunday, April 17. Upon check out, please specify the day and time you will be picking up your order. Available while quantities last.
They will also offer their take on the old Easter favourite Hot Cross Buns — pillowy soft, sweet buns studded with dried and candied fruits — for $15 per half-dozen order beginning Friday, April 1. The Hot Cross Buns are also available as an optional add-on for all Easter Dinner Packages, along with wines such as Sea Star Ortega ($52.50), Zanatta Damasco ($36.75), Zanatta Pinot Nero ($42) and Black Sage Cabernet Franc ($68.25).
Showcase Restaurant & Bar
Showcase Restaurant & Bar is offering a breakfast buffet and Easter Specials including Broken Yolk Breakfast Sandwich and Easter Bunnies Carrot Cake. Featured cocktails; Easter Egg Mudslide and Mimosa flight. For the kids; 0 Proof Easter Basket.
Buttermere Patisserie
Due to popular demand, Buttermere Patisserie is bringing back their 7-inch tall egg surprises for Easter. This year, they've chosen to go the bold and are introducing 4 special Easter egg treats. For $58 each, all eggs come with assorted dragées and a miniature hammer.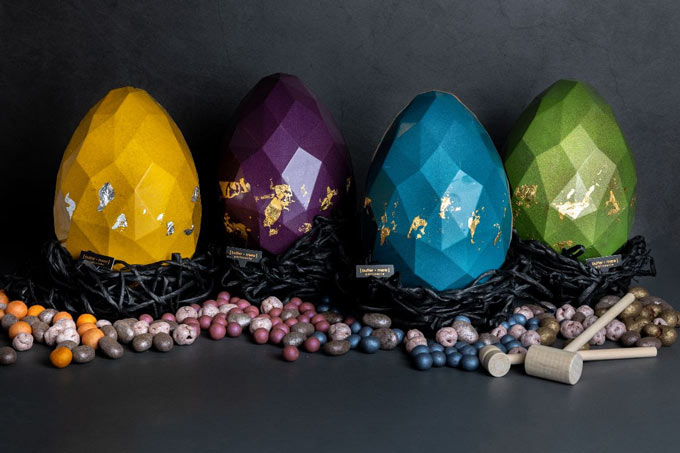 Yellow Topaz
Ivoire 35% white chocolate shell
Purple Amethyst
Fleur de Cao 71% dark chocolate shell
Turquoise
Zéphyr™ caramel chocolate shell
Green Sphene
Alunga™ 41% milk chocolate shell
Like last year, each egg will be filled with an assortment of housemade dragées, nuts and freeze-dried fruits coated with chocolate or sweet confections that resemble colourful miniature eggs, including:
Zephyr caramel hazelnut
Fleur de Cao 71% chocolate almond
Blueberry banana
Cherry pineapple
Cranberry strawberry,
Cashew chocolate cookies
Limited quantities available for pre-order now and available for delivery or pick up at Torafuku (958 Main Street) from April 1st to 16th.
Dockside Restaurant & Brewing Company
Dockside Restaurant & Brewing Company is offering Easter Sunday Bottomless Brunch Tasting Plates. Once again Dockside is offering their Bottomless Holiday Brunch with stunning views, food & service! Enjoy a selection of baked goods, traditional breakfast entrees & sweets! $69.95 per person plus taxes and auto gratuity.
Carlino
Carlino will be offering a feature Easter brunch all weekend long bringing back a limited amount of their highly anticipated brunch board that's fit for the occasion. Reservations are encouraged and can be made at www.carlinorestaurant.com/reserve. Available Friday, April 15 – Monday, April 18. Brunch Hours: 11:30 a.m. – 2:30 p.m.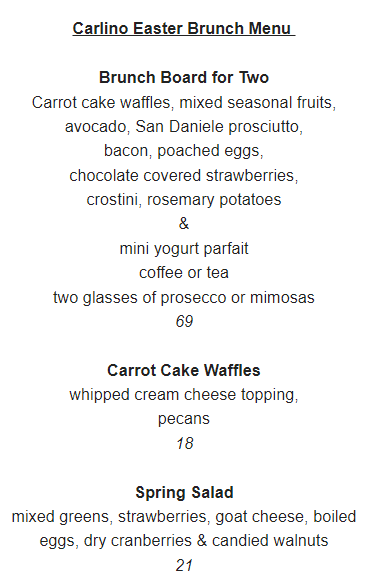 Ask for Luigi
Ask for Luigi will be offering a special brunch and dinner to mark the occasion this month.
Brunch will include a Seafood Frittata with Prawns, Scallops, Crab, Mussels and Clams and Dinner will include and Antipastiof English peas, Fava beans, Honey Ricotta, Ricotta Salata and Artichokes, a Main of Lamb ragu, Smoked Caciocavallo and a Tiramisu for Dessert.
Brunch is available Saturday, April 16 and Sunday, April 17 and dinner is available Saturday, April 16 – Monday, April 18.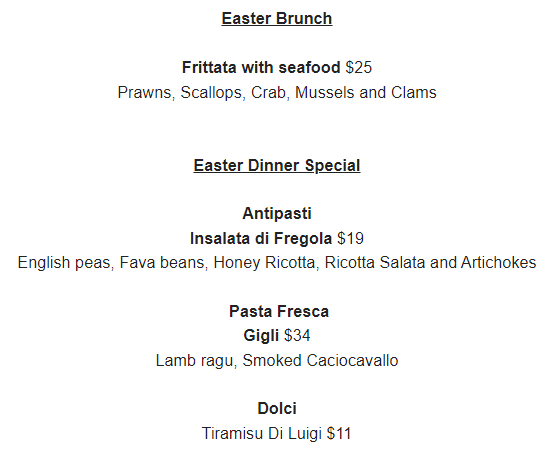 Mon Paris Patisserie
Mon Paris Pâtisserie Easter Collection features brightly coloured chocolate eggs and adorable chocolate chicks and ducks.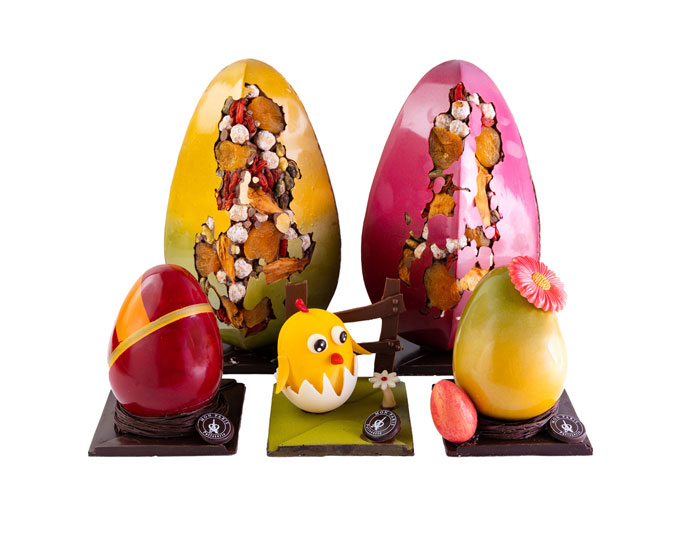 Chocolate Duckling Lollipop, $4: milk chocolate filled with strawberry caramel on a stick.
Chocolate Easter Egg, $20: four-inch milk or dark chocolate Easter eggs with a colourful chocolate coating, adorned with a choice of a spring-time flower or stripe design, and filled with one surprise white and milk Easter chocolate.
Fruit and Nut Easter Egg, $27: large eight-inch tall milk or dark chocolate Easter egg with a smooth vibrant coloured chocolate shell, and filled with caramelized nuts and dried fruits.
Little Chick, $27: handcrafted chocolate character made entirely of white and milk chocolate.
Easter Combo, $31.50: Mon Paris' signature chick character and two chocolate duckling lolli-pops.
Easter treats, pastries and cakes are now available for takeout at Mon Paris Pâtisserie (4396 Beresford St., Burnaby), and can be ordered in advance for pickup online at Monparis.ca/monparis-shop/.
Pourhouse Easter Dinner
Pourhouse will be offering a feature Easter Dinner for the entire weekend (Saturday, April 16 – Monday, April 18) along with a special seasonal dessert. Reservations are encouraged and can be made at pourhousevancouver.com/reservations
Fairmont Hotel Vancouver
Overlook Vancouver's skyline, and enjoy a lavish Easter Brunch Buffet served in The Roof – the hotel's newly renovated 15th-floor historic venue.
Gather the family to indulge in classic brunch favorites like eggs benedict, a chef-attended carving station featuring prime rib and maple glazed ham, decadent desserts from our in-house pastry shop, and much more.
There will be a special appearance by the Easter Bunny during Brunch.
Pricing $104.55 for adults and $52.28 for children 6-12 years old.
Pricing includes food, non alcoholic beverages, taxes and gratuities. Please note there is a 2 hour seating time for all reservations.
Fairmont Hotel Vancouver is also offering an Easter Afternoon tea at $69 per adult and $34.5 per child (not inclusive of tax and gratuities). Sittings are at 10 pm, 12:30 pm and 3 pm from April 15 – 17.
Featuring delectable savory, scones and sweets. If your tiny tot is joining, they offer a Children's Tea that includes kid-friendly finger sandwiches, cookies, scones and other delicious treats.
The Easter Bunny will be hopping in with a basket full of chocolate treats for younger guests attending.
Fairmont Hotel Waterfront
Hop on over for all your bottomless brunch favourites plus the ultimate chocolate fix. Available Easter Sunday and Monday from 9am – 1:30pm, this brunch spread at ARC Restaurant features more than a dozen unlimited tasting plates and a decadent Belgian Chocolate fondue with banana bread, mini donuts, coconut macaroons, and fruit for dippings. Priced at $69 per adult / $34 per child age 6-12.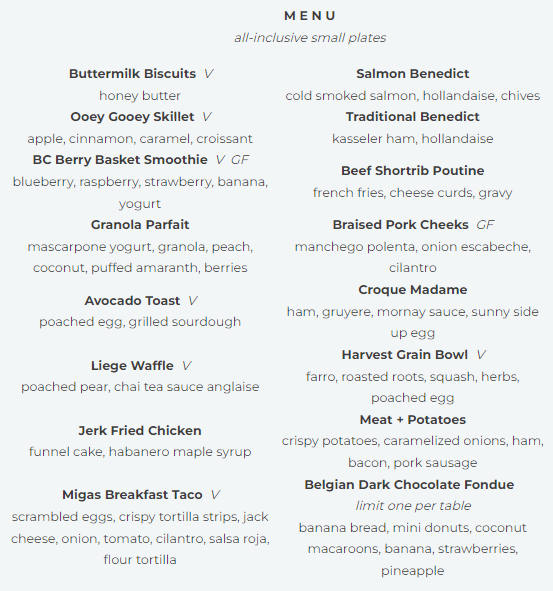 Set within Fairmont Vancouver Airport, you'll enjoy floor-to-ceiling views of the North Shore Mountains, and YVR's active runways – which are always captivating for young diners. Easter Afternoon Tea boasts a delicious selection of finger sandwiches, scones with jam and Devonshire cream, and a tempting array of Easter-themed sweet treats brought to you by Pastry Chef, Annie Liao. Priced at $79 per adult, and $49 per child (ages 6 -12), exclusive of taxes and gratuity. Reserve here.


Pinnacle Hotel at the Pier
Pinnacle Hotel at the Pier (North Vancouver) is offering an Easter Sunday Brunch Buffet from 11 am -2:30 pm. Seatings at 11:00 am, 11:30 am ,12:00 pm and 12:30 pm. Adults $68, Children 6 – 12 $34, Children 1 – 5 $20 plus 20 pct service charge and Eventbrite fee.
Bacchus Restaurant & Lounge
Join Bacchus Restaurant for Executive Chef Montgomery Lau's Easter Sunday Three-Course Brunch menu featuring Pan-Roasted Saddle of Lamb; Salmon Crab Cake Benedict; Gently Pan-Seared Haida Gwaii Halibut and more. Adults $72, Children 12 and under $40. Reservations for April 17 from 10:30 am – 2 pm.
The Wild Fig – Executive Plaza Hotel Coquitlam
The Wild Fig – Executive Plaza Hotel Coquitlam is offering an Easter Sunday Brunch featuring pastries, salads, and smoked salmon, pancakes, eggs benedict, fried potatoes and sausages, live roast beef, omlette station, fruit and a selection of desserts. Also included are juices, coffee and tea. The cost is $59 for adults and $29 for children ages 6 to 12.
CAVU Kitchen & Bar Richmond
On Sunday, April 17 from 11AM-3PM, guests can enjoy Executive Chef Alex Hancock's newest creation at CAVU Kitchen & Bar Richmond, massive Easter Brunch Boards for two.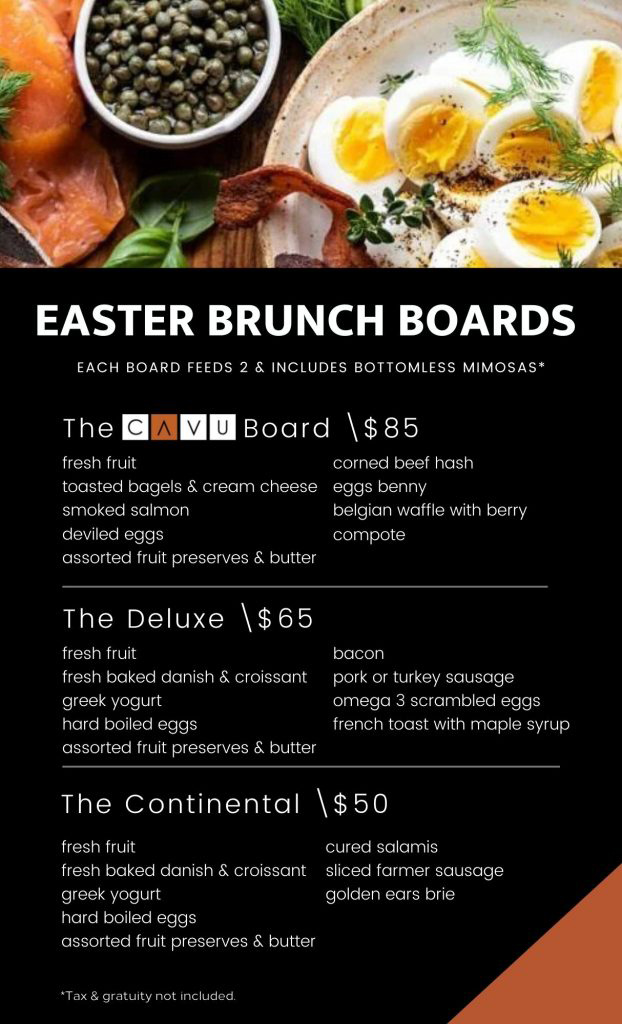 Choose from three different board options: The CAVU Board ($85), the Deluxe Board ($65) or The Continental Board ($50), all of which include bottomless mimosas.
Each Brunch Board feeds two people generously, and comes with signature brunch staples like Eggs Benedict, fresh Belgian Waffles, deviled eggs and so much more. Guests have the flexibility to add various enhancements to satisfy every palate, making each board suitable for adults and kids alike.
Railtown Catering
Railtown Catering is offering Easter To-Go packages, available for pickup or delivery on April 17 and 18. These traditional multi-course packages make for an effortless Easter dinner; simply reheat and serve.
Easter To-Go Menu
honey glazed bone-in ham with housemade caraway mustard (pre-sliced)
organic spring greens with asparagus, haricots vert, grape tomatoes, marinated artichokes, toasted almonds and sherry vinaigrette
cucumber salad with fresh dill and sour cream dressing
scalloped potatoes with gruyère cheese
buttered sweet peas and baby carrots with mint
braised red cabbage
roasted root vegetables with caramelized shallots, mushrooms and white asparagus
hot cross buns with whipped butter
classic rhubarb crumble with house-made vanilla ice cream
The chef-curated packages are available in both small (feeds 4-6) and large (feeds 8-10) sizes for $239.00 and $379.00 plus tax, respectively. Hot, ready-to-eat packages are also available for an extra charge of $50.00. Additional side dishes are available on an a-la-carte basis.
Opportunities to enhance the spring feast include a Rosemary-Crusted Lamb Leg. The lamb leg is available in two sizes, small (feeds 4-6, for $79.00), and large (feeds up to 10 for $129.00).
All orders must be placed by 10:00 am on April 13. Packages are available for pickup at Railtown Cafe's flagship location, 397 Railway Street in Vancouver, on April 17-18, from 11:00 am – 5:00 pm. Delivery will be available throughout the Lower Mainland for an additional charge.
Early Bird Offer
Railtown Catering will be offering a special early bird offer; those that reserve a package before March 25, will receive a $40.00 Railtown Cafe gift card. Both small and large package orders are applicable to receive the early bird incentive.
As with all of Railtown's holiday offerings, a portion of the proceeds from the sale of each Easter To-Go package will be donated directly to Mission Possible, a non-profit charity providing street-level care for those with immediate and critical needs in Vancouver's Downtown Eastside neighbourhood.
Truffles Fine Foods
Truffles Fine Foods is offering Easter heat packages including Honey-glazed ham with apricot chutney, braised lamb shank with red wine jus and a plant based feature with a Leek and Artichoke Pie.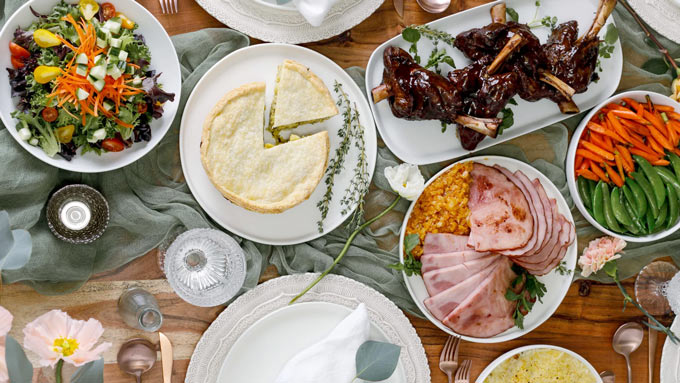 All orders must be placed by Friday April 8th, 2022 and they're offering free pick-up at our South Vancouver Commissary Kitchen 8286 Sherbrooke, Vancouver or local delivery (limited spaces available) with a fee on Saturday April 16th .
Here is this year's menu:
Honey-Glazed Ham with Apricot Chutney 180$ for 4
Honey-Glazed Ham
Apricot Chutney
Scalloped Potatoes
Roasted Baby Carrots and Sugar Snap Peas with Olive Oil and Fresh Herbs
Spring Greens
Peanut Chocolate "Snickers" Cake OR Lemon Chiffon Cake with Fresh Berries
Braised Lamb Shank with Red Wine Jus 260$ for 4
Braised Lamb Shank
Red Wine Jus
Scalloped Potatoes
Roasted Baby Carrots and Sugar Snap Peas with Olive Oil and Fresh Herbs
Spring Greens
Peanut Chocolate "Snickers" Cake OR Lemon Chiffon Cake with Fresh Berries
Leek & Artichoke Pie with Miso Gravy 180$ for 4
Leek & Artichoke Pie
Scalloped Potatoes
Baby Carrots and Sugar Snap Peas
Spring Greens
Scalloped Potatoes
Roasted Baby Carrots and Sugar Snap Peas with Olive Oil and Fresh Herbs
Spring Greens
Peanut Chocolate "Snickers" Cake OR Lemon Chiffon Cake with Fresh Berries
Botanist
Botanist at Fairmont Pacific Rim is offering a three course brunch on Saturday, April 16 & Sunday, April 17, 2022 from 11:00am – 2:00pm. Chef Hector Laguna and his culinary team have a trio of carvery offering including prime rib, roast ham and lamb leg, as well as Botanist brunch favourites such as crab & avocado benedict and salmon tartine. Priced at $78 per person.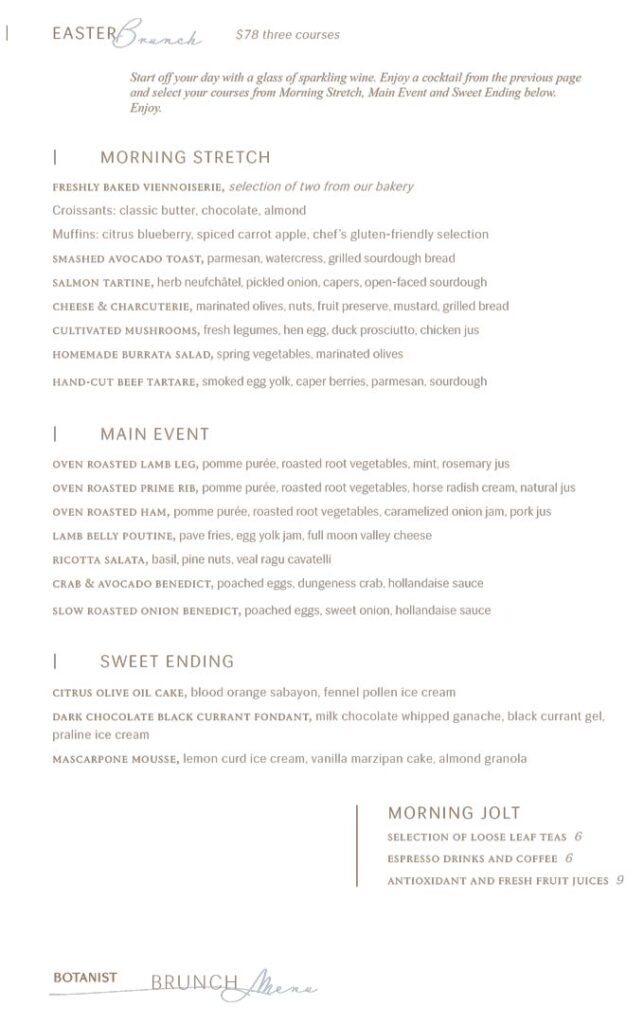 Winston
Winston in North Vancouver will be featuring some special Easter items during the Easter Weekend (Friday, April 15th to Monday, April 18th), all made in-house by Chef Douglas Lee:
Shokupan: Personal milk bun loaf
Donuts: Cream of Oreos or Mythical Pink
Pie: Strawberry Streusel, Triangular Lemonade or Bacon Mac n Cheese
And during brunch, here are the brunch special:
Tostada: Navy Bean, Spiced Avocado, Jalapeno Relish, Cave Aged Gruyere, Two Sunny Eggs – $14
Cavatelli: Poblano Pistou & Crispy Spiced Sunflower (VE) or Beef Sugo Sauce – $20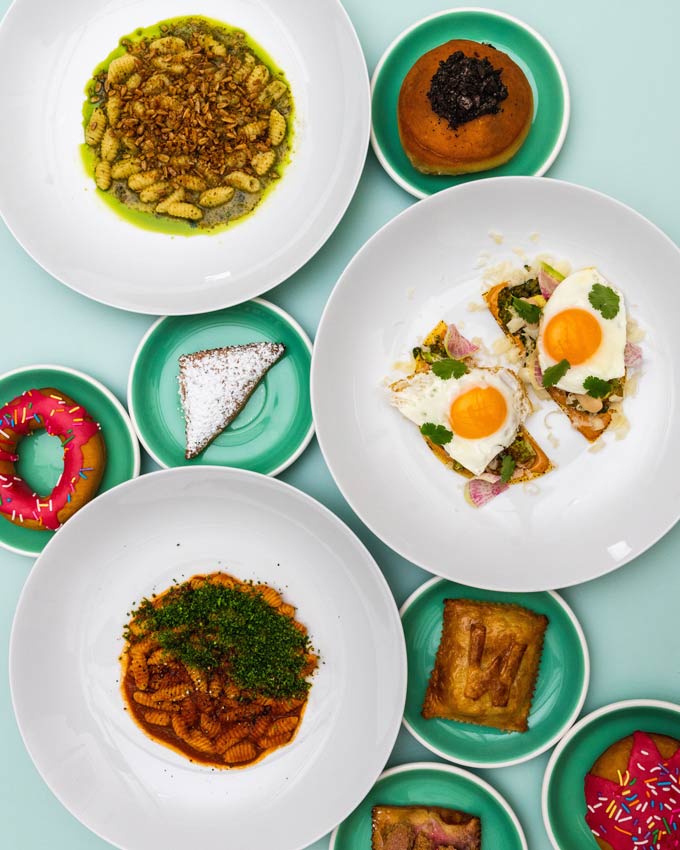 Easter Brunch
Make Easter a family affair by celebrating over an elaborate feast at Bruno (Richmond). Two special brunch features were created for this occasion: Confit Duck & Foie Gras Benedict and Carrot Cake French Toast. Regulars need not fret as the tower of oysters, prawns, mussels, Tuna & Crab Poke, Burrata Salad and more are still featured. Available April 16 and 17 for $59 per person.
P2B Bistro & Bar
P2B Bistro & Bar is offering a three-course brunch at $55 per person on April 17 from 10 am – 2 pm. Featuring signature breakfast favourites, fresh seafood, freshly carved maple ham and more.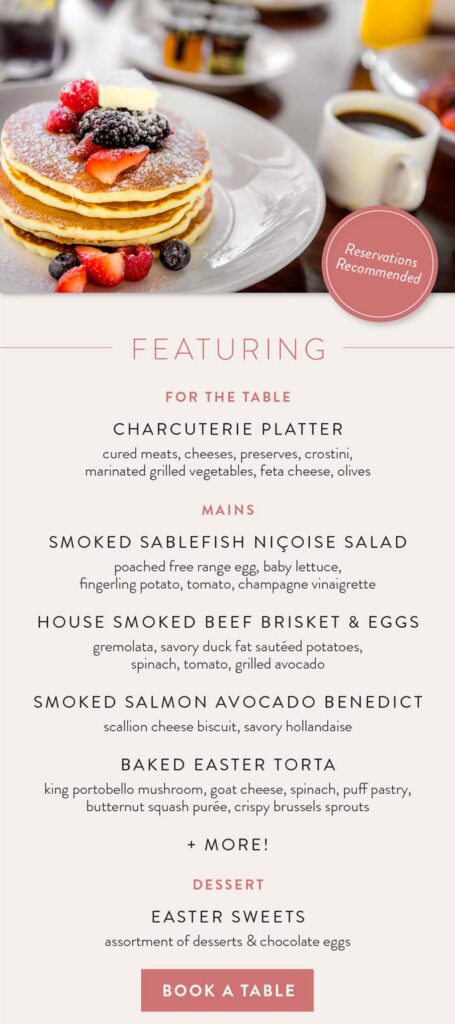 Pat Quinn's Restaurant
Pat Quinn's Restaurant is offering an Easter Brunch Buffet on April 17. Priced at $46 Adults | $23 Children 12 & Under.
Marché Mon Pitou
Marché Mon Pitou is offering Easter Dinner for 2 ($120) and 4 ($150) for pickup on April 17.
House-made apple cider glazed pork hocks, served with creamy mashed potatoes, oven roasted carrots, creamy broccoli coleslaw and pillowy garlic & herb buns with whipped butter. This fabulous dinner also includes a festive lemon coconut cake to share.
They are also offering half a dozen hot cross buns! Dating back to the 12th century, these rolls are lightly spiced and sweet making them the perfect long weekend treat.
They also have a festive lemon coconut cake topped with a coconut birds nest filled with mini eggs.
forage
forage is offering the following Easter specials:
Easter Weekend Dinners (to go) that are ready to eat. $65 per person. Available for pickup on April 16 and 17.
Course one: Baby Kale and Arugula Salad, belgian endive, rosé vinaigrette, roasted walnuts, and aged cheddar
Course two: JD farms specialty turkey and trimmings, BC roasted pork, turkey chorizo and local mushroom stuffing, garlic butter pomme puree, gluten free gravy, Spicebox whisky cranberry sauce, roasted vegetables. **Vegetarian options available upon request
Course three: Sticky toffee pudding, whisky caramel, Chantilly cream
Easter Weekend Whole Turkey & Trimmings (to go) available for pickup April 16 and 17 (hot and ready to eat!). Order the day before pickup. $350 per package.
JD Farms Specialty Turkey
Whole roasted 8 KG JD Farms Specialty turkey ready to carve!
Stuffing: Turkey chorizo and local mushroom stuffing
Gravy: Gluten free pan gravy
Cranberry Sauce: Spicebox whisky cranberry sauce
Potatoes: Garlic butter pomme purée
Temper Chocolate & Pastry
This April, the team at Temper Chocolate & Pastry (West Vancouver) is helping people fill their Easter baskets to the brim with an array of uniquely decadent and whimsically delicious treats from the beloved West Vancouver café, bakery and chocolatier.
Created by owner and lead chef Steven Hodge and his talented team of chocolatiers, Temper's latest collection of Easter-themed confections features stunning showpieces, egg-themed treats full of surprises to discover, adorable bounding bunnies in milk, dark and white chocolate varieties, Temper's crowd-favourite Hot Cross Buns available in fresh or frozen varieties, and more.
The full lineup of Easter offerings from Temper includes:
Easter Showpieces — colourfully decorated designs that include a chicken or carrot ($39) or a graffitied egg and an egg carton ($35), all adorned with milk, dark and white solid chocolate eggs;
Easter Eggs — filled with an assortment of delicious mini eggs, bunnies, chocolate bars and lollipops, available in large ($75) and extra-large ($150) varieties;
Bounding Bunnies — oh-so-cute Easter bunnies ready to leap into your heart in small ($10) and large ($45) sizes;
Hot Cross Buns — the traditional Easter classic: pillowy soft sweet buns available individually ($4) or in half-dozen ($23) or dozen ($45) sizes, in fresh or frozen varieties;
Assorted Easter Basket Treats — pick and choose your favourite basket fillers, including 150g bags of mini eggs ($15); lollipops ($3.95 ea); peanut butter chocolate eggs ($4.25 ea); and egg peppermint patties ($5.25).
Temper's signature Easter creations and confections will be available for purchase online and in store at the Dundarave neighbourhood café until Sunday, April 16 or while quantities last, and can be pre-ordered for advance pickup by calling the café at 604-281-1152.
As the lineup of Temper Easter treats are being handcrafted in limited supply, guests are encouraged to order or shop early to avoid disappointment.
Temper Chocolate & Pastry is located at 2409 Marine Drive and is open Tuesdays through Saturdays from 7 a.m. to 4 p.m. and on Sundays from 8 a.m. to 3 p.m.
Popina Cantina
Perfectly timed for Easter, the celebrated quick-service eatery is bringing back its most popular Puffcream to date: the Mini Egg Puffcream. For a limited time only, Popina's freshly baked cream puffs, filled with a swirl of original-recipe Birchwood Dairy vanilla soft-serve ice cream, will be loaded with Mini Eggs. Each one of Popina's signature Puffcreams is priced at $8 ($6 for kids) and made with antibiotic-free, hormone-free Fraser Valley milk. Now available at both Popina Canteen (Granville Island Public Market) and Popina Cantina (Granville Island Net Loft)—but only until Easter and then it's gone!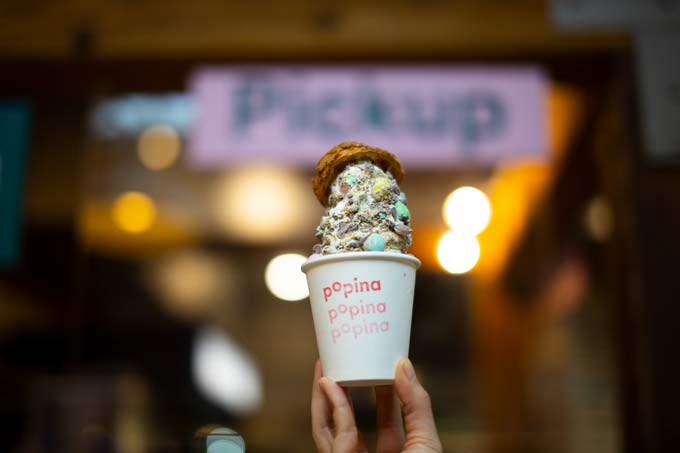 Earls Kitchen + Bar – Robson – Vancouver
Earls Kitchen + Bar – Robson – Vancouver is open extended brunch hours on Good Friday through Sunday.
Grain Tasting Bar
Grain Tasting Bar is offering an Easter Brunch Buffet on April 17 from 11 am – 2 pm with all you can eat endless choices like eggs benny, carving station with prime rib and more. Priced at $59 per person.
Tap Restaurant
Tap Restaurant (Surrey) is offering an Easter Take and Bake for pickup on April 16. Priced at $35 per person.
Sliced Brined Turkey Breast
Honey-Glazed Ham
Yukon Gold Mashed Potatoes
Sage & Brown Butter Focaccia Stuffing
Lemon & Olive Oil Broccolini
Cauliflower-Carrot Casserole
Cinnamon Anise Cranberry Sauce
Roasted Turkey Gravy
Apple Strudel with Vanilla Anglaise
Easter Things to do Vancouver 2022
Purdys Chocolatier
For those looking to instill Easter fun in their homes, Purdys Mini Foiled Eggs and Barnaby Bunny are sure to be a hit.
Beloved Canadian chocolatier, Purdys, has always been passionate about supporting Canadians and giving back to their community. This Easter, Purdys is crafting joyful memories for the children at Lions Gate Hospital with an interactive Easter egg hunt. Purdys believes that kids everywhere should be able to experience childhood moments—even when they're away from home.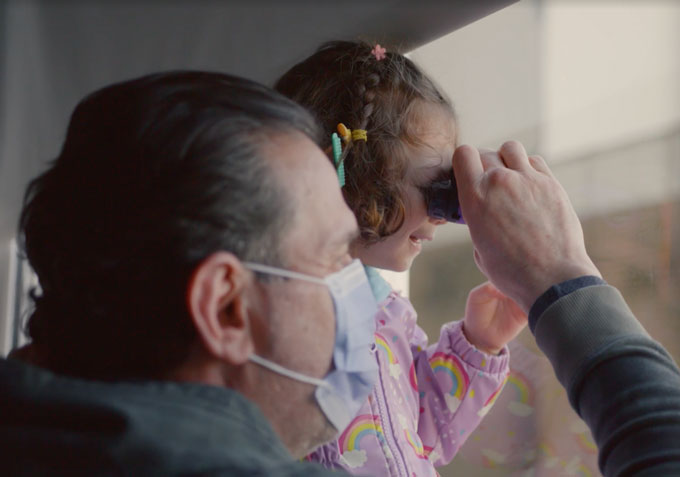 This isn't your average egg hunt; Purdys has set up 12 two-dimensional eggs around the hospital grounds (some up to 5 feet tall) and have provided the children with an Easter box containing binoculars and instructions on how to find these extravagant eggs. Once the hunt is over, each child will receive Purdys' Easter chocolates to celebrate a successful hunt.
In addition to the Easter Egg Look Out, Purdys is donating $20,000 to Lions Gate Hospital Foundation to help support life-enhancing and life-saving care. Learn more here.
Many hospitalized children don't get to experience the fun of searching for chocolates on Easter morning and aren't given the opportunity to build important core memories with their families. Purdys wants to be a part of delivering an unforgettable and magical experience where they get to feel like a kid again.
PICA Easter Cooking Decorating Class
Pacific Institute of Culinary Arts is offering an Easter Cooking Decorating Class on April 9.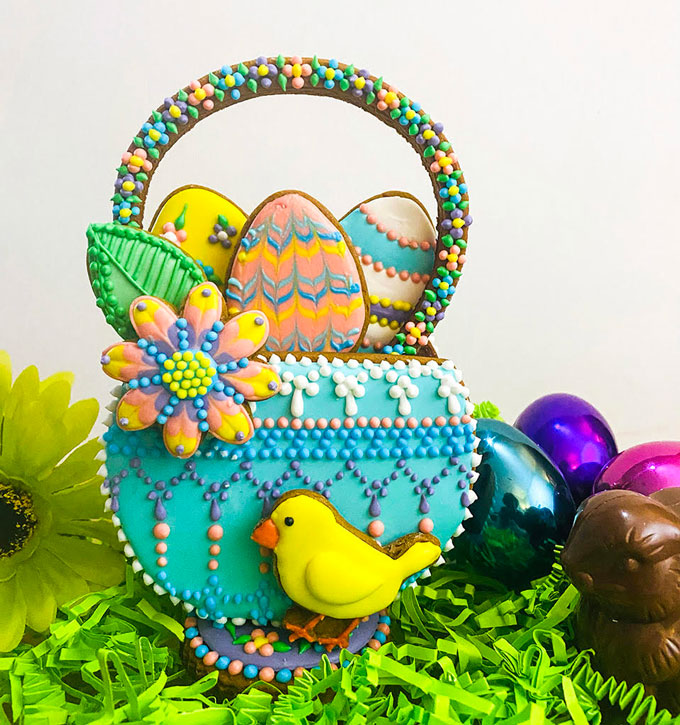 Chef Michelle Borne (who competed on the Food Network's The Big Bake Halloween 2021) is returning once again to her old stomping grounds to teach the fine art of cookie decorating. For the Easter edition of this class, each student will learn how to decorate and assemble a completely edible Easter egg basket showpiece!
Each student will get to take home their assembled showpiece, with hands-on instruction on the techniques for flooding, piping and decorating each cookie down to the smallest detail. There are limited seats available.
Check back later as more offerings are added to this list.