Here's a roundup of Easter Calgary 2022 celebration ideas featuring special menus by local restaurants for Easter brunch, Easter lunch, Easter dinner plus desserts and treats.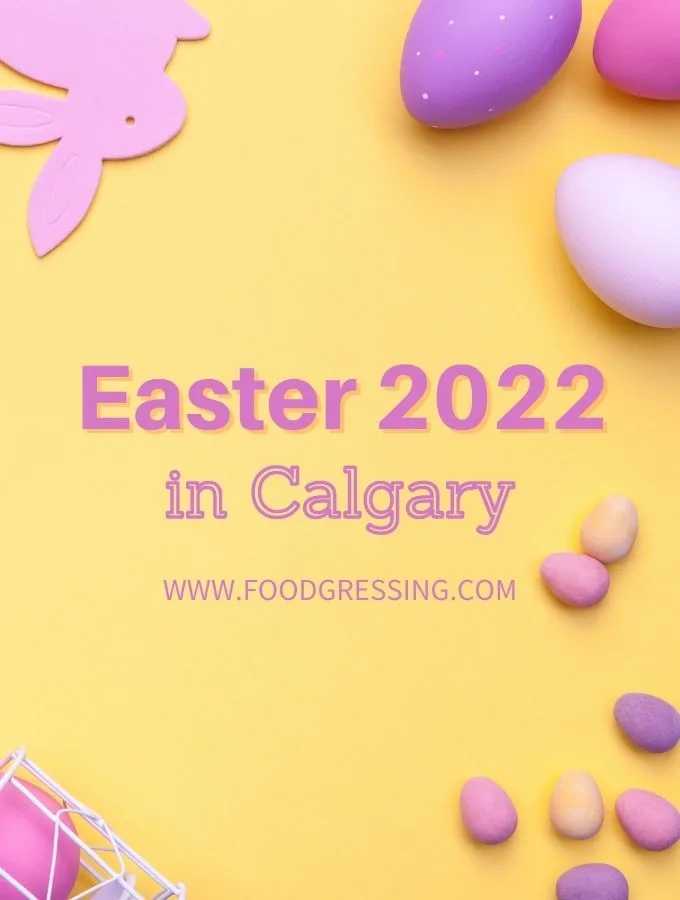 Easter Friday is April 15, 2022 and Easter Sunday is April 17, 2022.
Please reach out to me [email protected] or @foodgressing on social media if you are a restaurant that wants to be featured. Provide all the details of your holiday offering in your message. For faster processing, please provide a ready to copy and paste excerpt in paragraph form in a similar format to the restaurants featured below.
This list is not exhaustive and is updated as information becomes available. I try to feature as much as I can but certainly this is not all that is out there. If your favorite restaurant is not on the list, contact them to see what they are offering.
Easter Calgary 2022: Brunch, Lunch, Dinner, Restaurants
Fairmont Palliser
Fairmont Palliser is hosting an Easter Sunday Brunch on April 17 from 10 am – 4 pm. $99 per person, not including tax. $49 per child 12 and under, not including tax.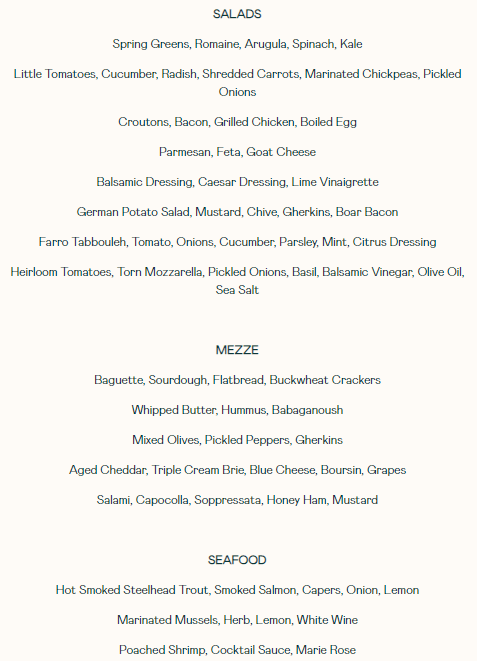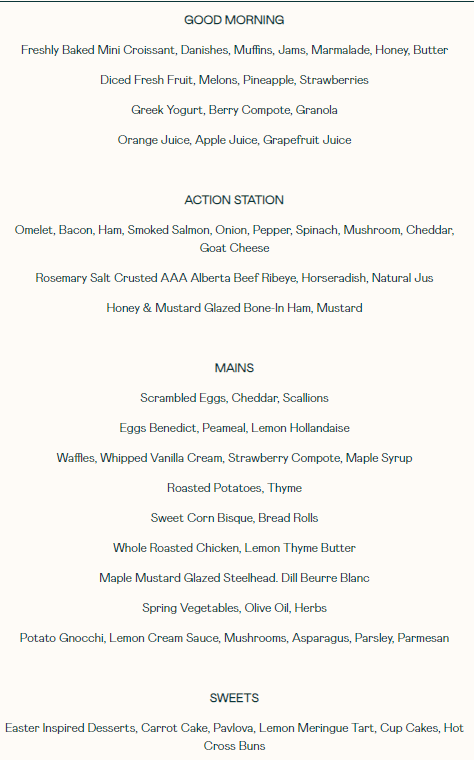 The Calgary Zoo
The Calgary Zoo is offering an Easter Brunch on April 16 and 17 with seating at 9:00 a.m., 11:30 a.m. or 2:00 p.m. seating.
Enjoy a special Easter themed brunch including Easter décor, a specialty menu and desserts, and fun Easter crafts for the kids!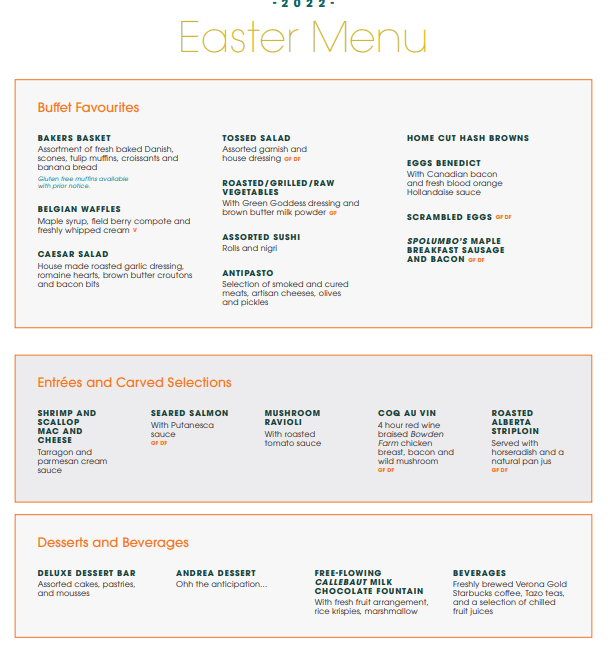 Non-members (includes admission): Adults $49.95; Seniors $46.95; Child 3 – 15 $31.95.
Members: Adults $39.96;. Seniors $37.56; Child 3 – 15 $25.56.
Simply Elegant
Simply Elegant is proud to present an outstanding 3-course dinner prepared by their executive chef Bruce Breadner at $89 per person and available for pick-up or delivery.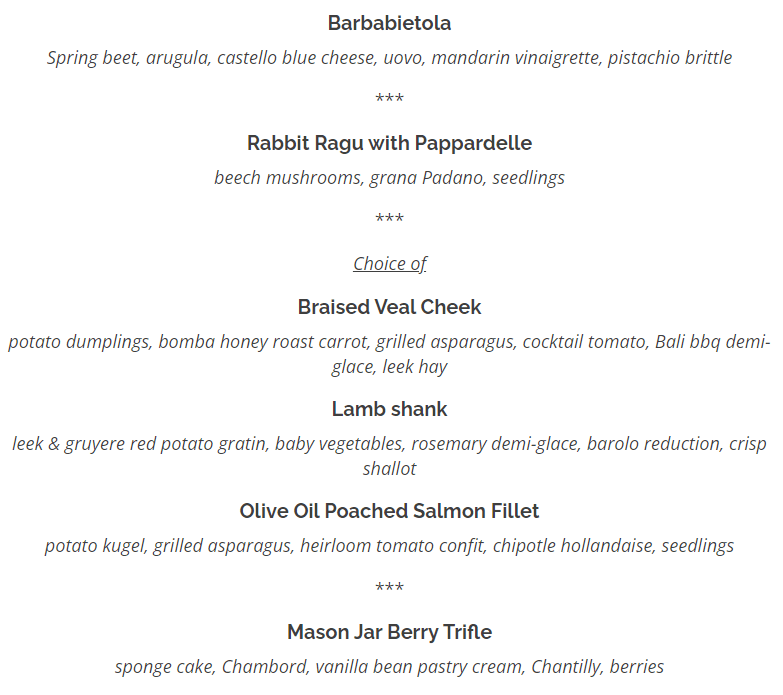 Order pick-up is available from their location: #7 3600 19th Street NE Calgary, Alberta T2E 6V2. Call if you have questions: +1-403-242-0598.
Flower & Wolf
Flower & Wolf is offering a one of a kind Easter Brunch experience comprising of family style shareables to start, your choice of entrée to satisfy, a bottomless fresh pressed juice bar to quench and endless selection of sweets from our decadent dessert bar to end.
Reservations for Sunday, April 17th from 10 AM – 2 PM, children age 12 & under $28, tax, and service charge not included.
Yellow Door Bistro
Enjoy classic brunch favourites and a twist on the regular with Yellow Door Bistro's Easter Sunday Brunch. Priced at $49 Per Person; Kids 16 & Under $30; Kids Under 3 Eat Free (not including tax or gratuity).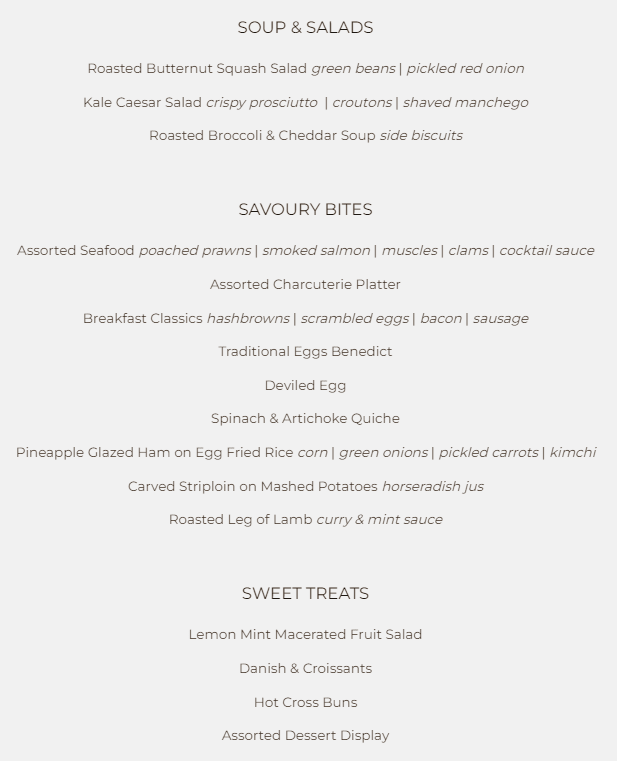 The Glenmore Inn & Convention Centre
The Glenmore Inn & Convention Centre is offering Easter Sunday Brunch at 10 am and 12:30 pm (Adults $35, Seniors $30, Youth ages 11 – 17 $30, Children ages 4 – 10 $15).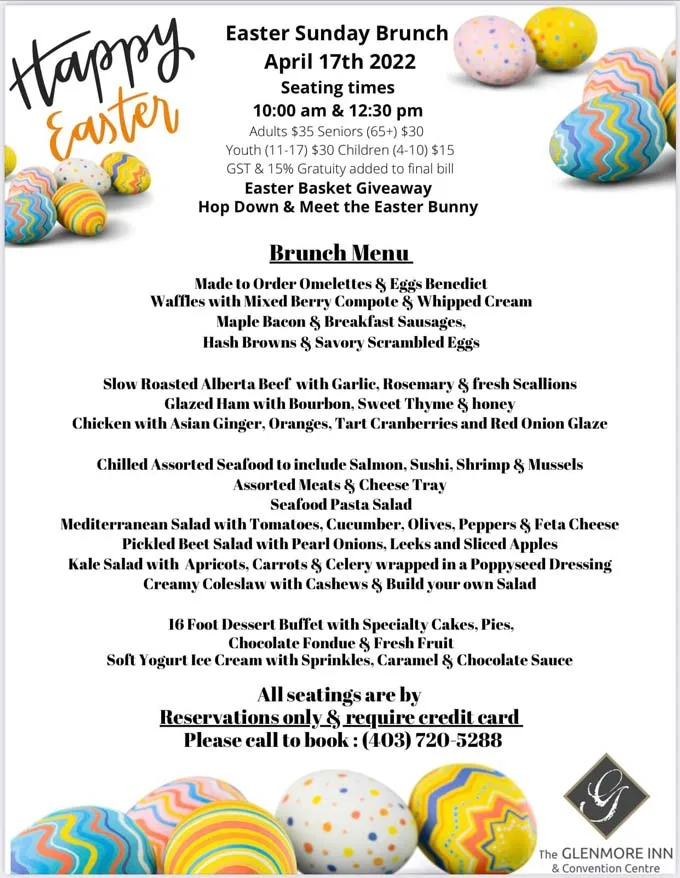 They are also offering Easter Sunday Dinner at 5 pm and 6 pm (Adults $30, Seniors $25, Youth ages 11 – 17 $25, Children ages 4 – 10 $15).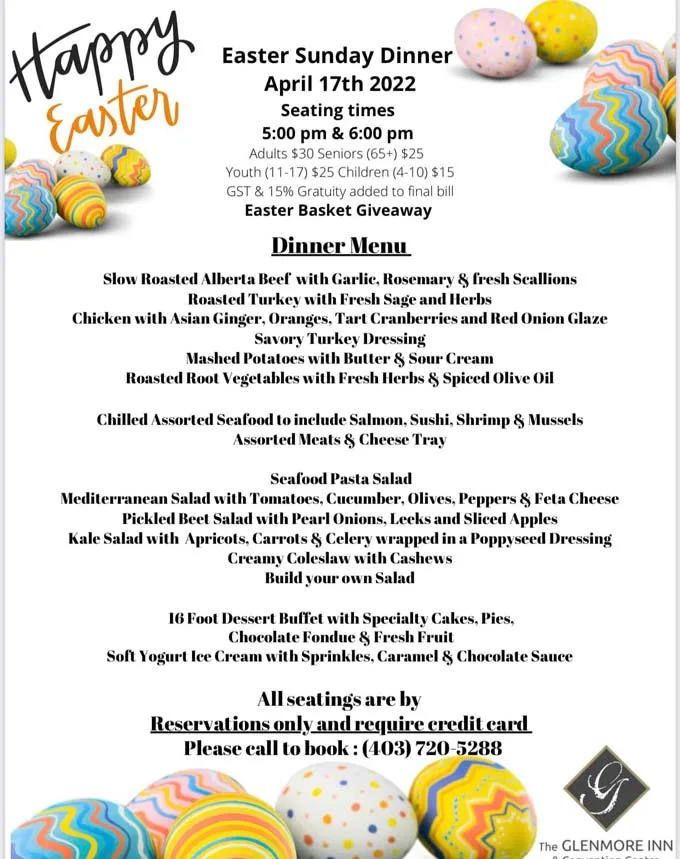 Deerfoot Inn & Casino
Deerfoot Inn & Casino is offering a special Easter Brunch buffet featuring their famous Sunday favourites. Enjoy a buffet of fresh eggs, bacon, French toast, crêpes, fruit, roasted potatoes, prime rib, slow-roasted ham, a seafood table, lunch table, and more. Their dessert station will satisfy your sweet tooth… There's even a Kids' Sundae Bar!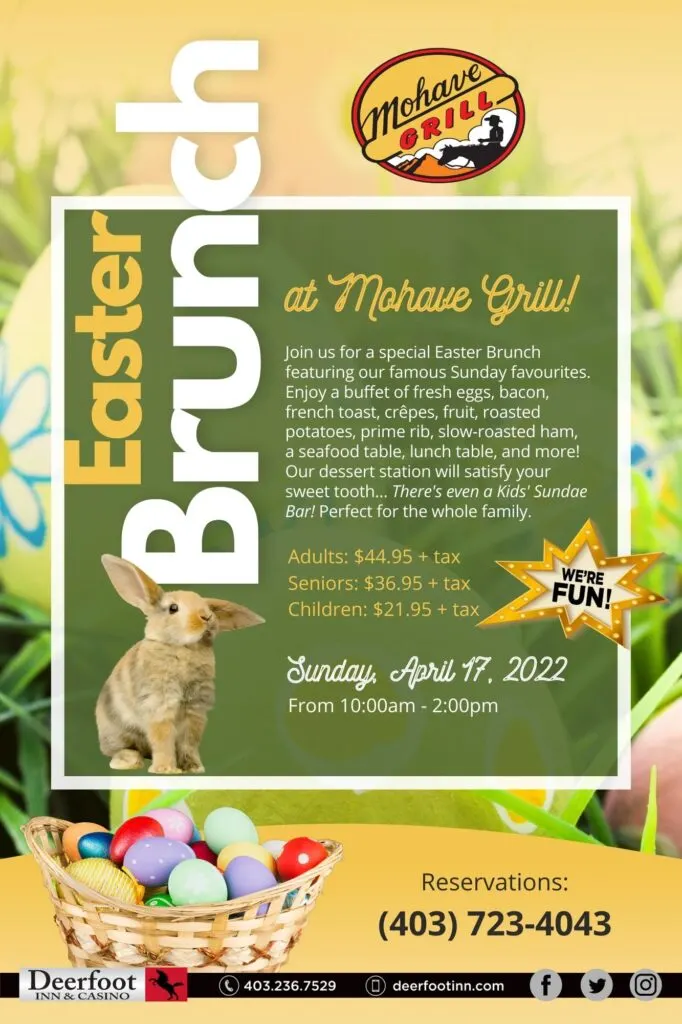 Reservations for April 17 from 10 am – 2 pm.
Prices: Adults: $44.95 + tax; Seniors: $36.95 + tax; Children: $21.95 + tax
Carriage House Hotel & Conference Centre
Carriage House Hotel & Conference Centre is offering Easter dine-in, Sunday breakfast buffet, and dinner to-go.
Easter Sunday Brunch Buffet is on April 17 from 10 am – 12:30 pm. Adults $37, Children ages 4 – 10 $19.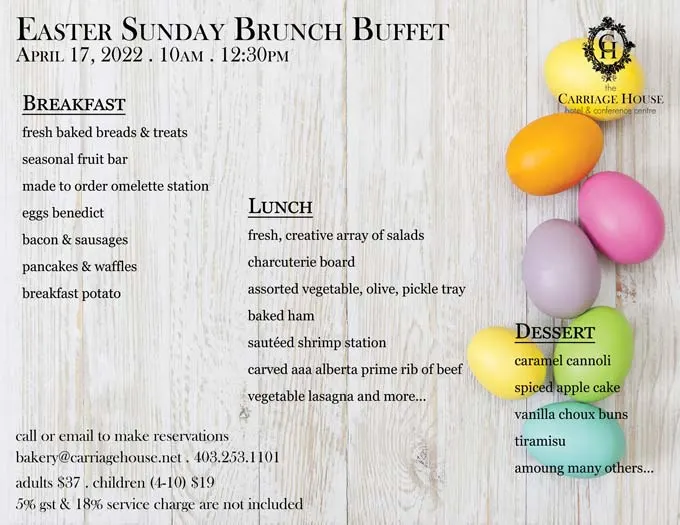 Easter dinner priced at $50 per adult and $25 for children ages 4 – 10.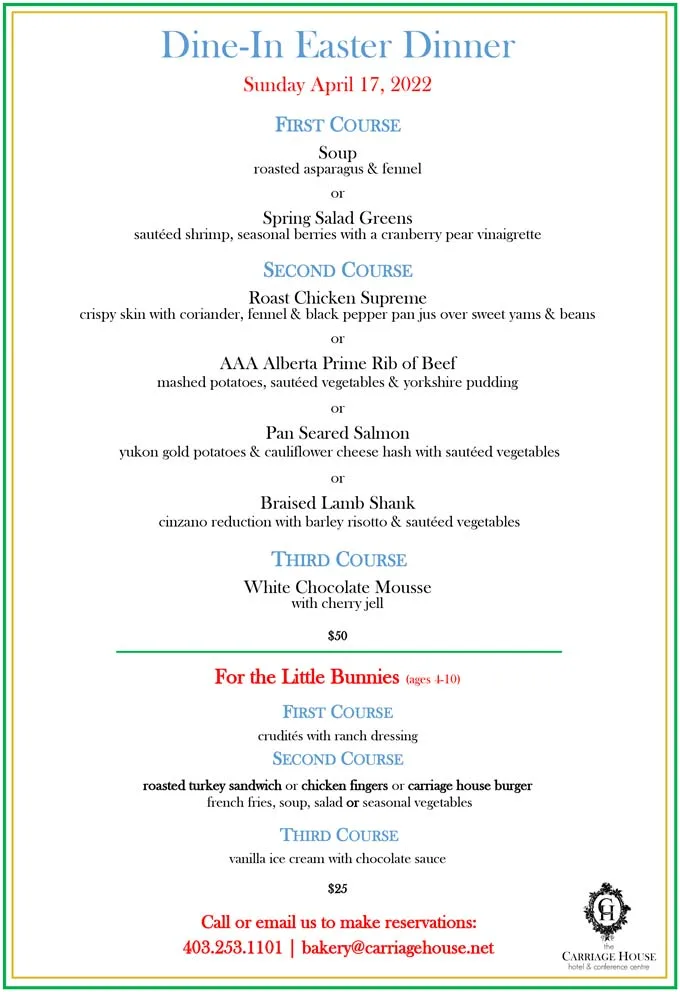 Easter to go available for pickup on April 16 – 18 between 2 – 5 pm. Preorder by April 13 at 5 pm.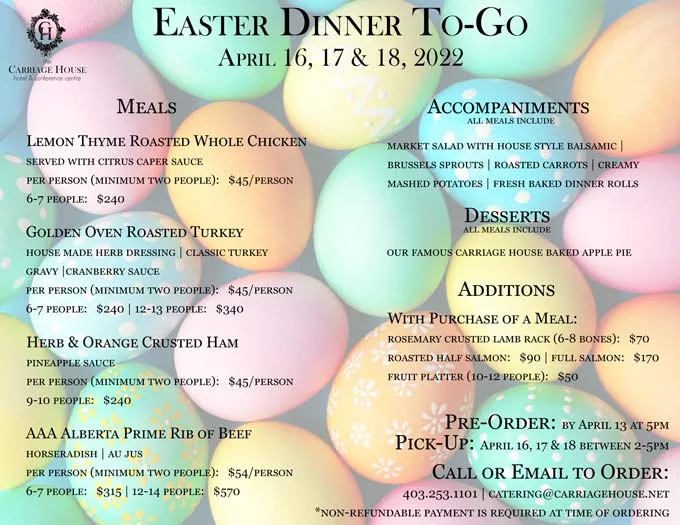 Thomsons Kitchen & Bar
Celebrate Easter Sunday with Thomsons Kitchen & Bar's Easter Brunch Buffet on April 17. The spread includes eggs benedict, french toast, spring salads, soup, charcuterie, carving stations, seafood, dim sum, and dessert. The carving station features a sea salt-crusted roast Alberta beef with peppercorn jus, horseradish and grainy mustard. The dessert station includes blueberry cheesecake, lemon meringue tartlets, carrot cake, mini eggs cupcakes, and an assortment of candy. Sprog & Sprocket will be providing a soft play area for children.
Price
$75 per person
$32 for children
Complimentary for children under 5
Seating Times
10:00 AM – 12:30 PM
1:00 PM – 3:30 PM
Hotel Wainwright
Hotel Wainwright is hosting Easter Brunch on April 17 with seatings at 9 am, 10 am, 11 am, 12 pm, 1 pm and 2 pm. Adults $34.95, Children ages 3 – 15 $19.95

Hotel Arts
Hotel Arts is offering a Take-Home Easter 3-course dinner priced at $55 per person. Pick up on April 16th or 17th from 11am – 3pm. Order by April 14th at 5pm. Limited Quantities Available.
House Made Roll Brioche Pull-a- Part Roll with Roast Garlic Whipped Butter
Spiced Grilled Carrot & Deep Water Farms Greens Salad – GF, V
Brown Sugar Glazed House Smoked Ham – DF, GF
Avonlea Cheddar Scallop Potatoes – GF, V
Mixed Roast Root Vegetables – GF, DF, V
Truffle Mustard – DF, GF, V
Hot Cross Bun Sticky Toffee Pudding, Toffee Sauce, Mini Eggs
Deane House
Deane House is offering a Take-Home Easter 3-course dinner for pickup on April 16 and 17. Two options available. Priced at $130 for 2.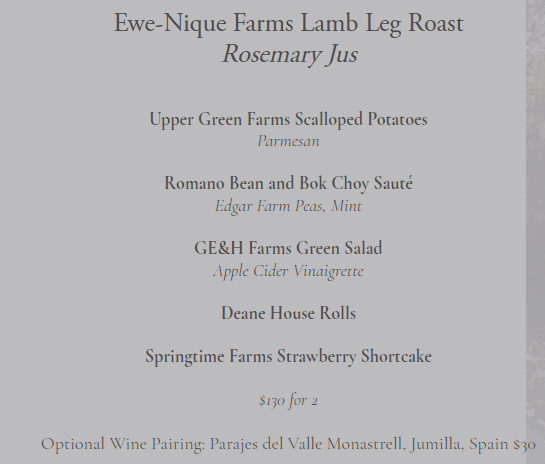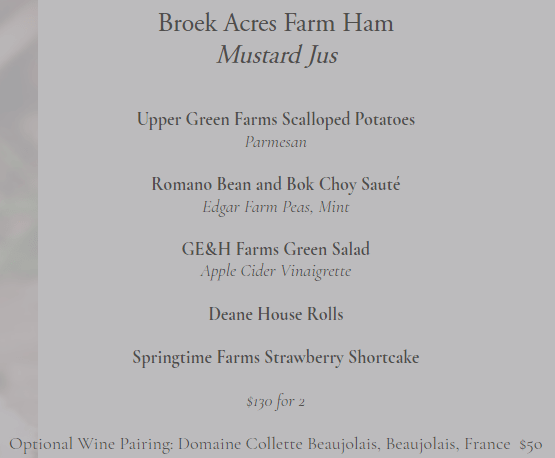 Rouge Restaurant
Rouge Restaurant is offering an Easter Feast to go for pickup on April 15 and 16 from 2 pm – 4 pm. $130 per package (serves 2).
Butternut Squash Velvet Soup | Compressed Apple | Charred Artichoke
Purple Potato Gnocchi | Goat Cheese Cream | Wild Mushrooms | Cherry Tomatoes
Kasseler Pork Loin | Garlic Rosemary Jus | Twice Baked Potato | Creamed Napa Cabbage | Roasted Brussel Sprouts and Carrots
Lemon Pound Cake | Lemon Curd | Macerated Strawberries | Chantilly Cream
Century Downs Racetrack and Casino
Century Downs Racetrack and Casino is offering Easter Brunch on Sunday, April 17 in the Homestretch room from 10:00 a.m. to 1:00 p.m.
$35 for Adults
$15 for Children 6-12
Children under 5 are free
Cold Buffet
Seasonal fruit platter
Various baked goods
Muffins, Croissants, Hot Cross Buns
Cheese Board
Smoked Salmon & Panzanella Salad
Mediterranean Easter Salad
Greek Orzo Pasta Salad
Spring Greens with assorted dressings
Hot Buffet
Eggs Benedict
Alberta red potato hash with sausages & fried egg
Penne tossed with Marquez lamb sausage
Breakfast Taco filled with eggs, bacon, guacamole, pico de gallo, potato, habanero aioli, cilantro & lime
Easter Ham
Sugar Waffles with fresh whipped cream
Pancakes with syrup and fruit compote
Dessert
Carrot Cake
Cupcakes
Mini Apple Strudel with warm vanilla sauce
Gluten-free tiramisu
Triple chocolate fudge cake
Easter candy station
The Restaurant at Lougheed House
Specialty Afternoon Tea Saturday April 16th from 2pm to 4pm. Kids pricing available. Easter Brunch Sunday April 17th from 10am to 2pm. Reserve here.
Please check back later as new offerings are added to this list.