Easter Holiday 2021 is happening Sunday, April 4. Here's an Easter Baltimore 2021 guide covering things to do during Easter weekend; restaurant offerings and special menus; desserts and treats and more.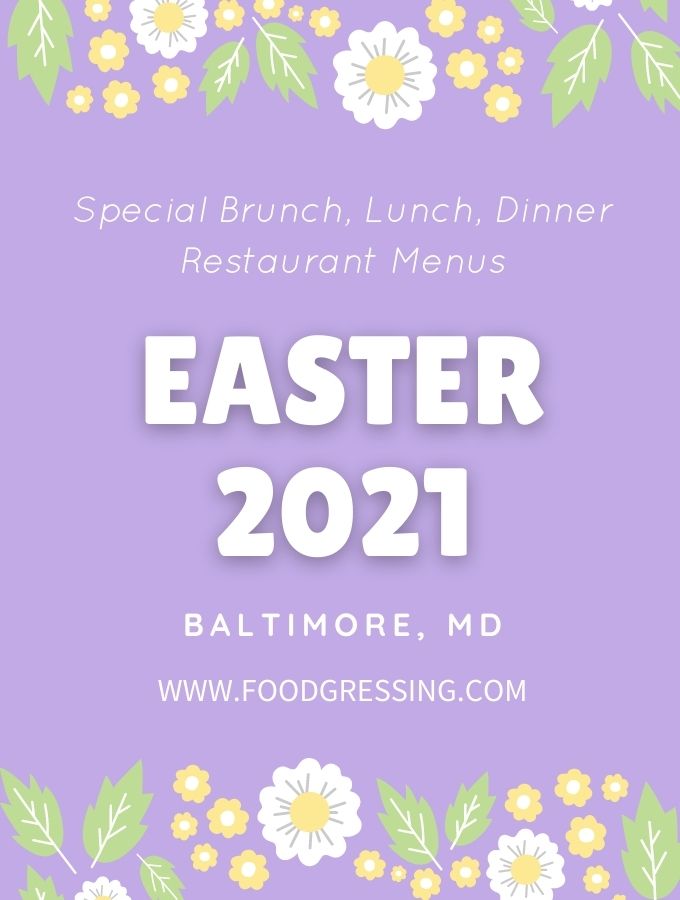 This list is updated as information becomes available. Please reach out to me [email protected] or @foodgressing on social media (Instagram, Facebook, Twitter, TikTok) for any suggestions.
Any support to local businesses is appreciated in these times. Holiday celebrations can take on different forms from traditional, fusion to modern.
Please use this list as an inspiration for ideas on how to put together your own Easter celebration.
Easter Baltimore 2021 Restaurant Offerings
13th Floor at the Belvedere
13th Floor at the Belvedere is offering Easter Brunch ($34 per person) on April 4.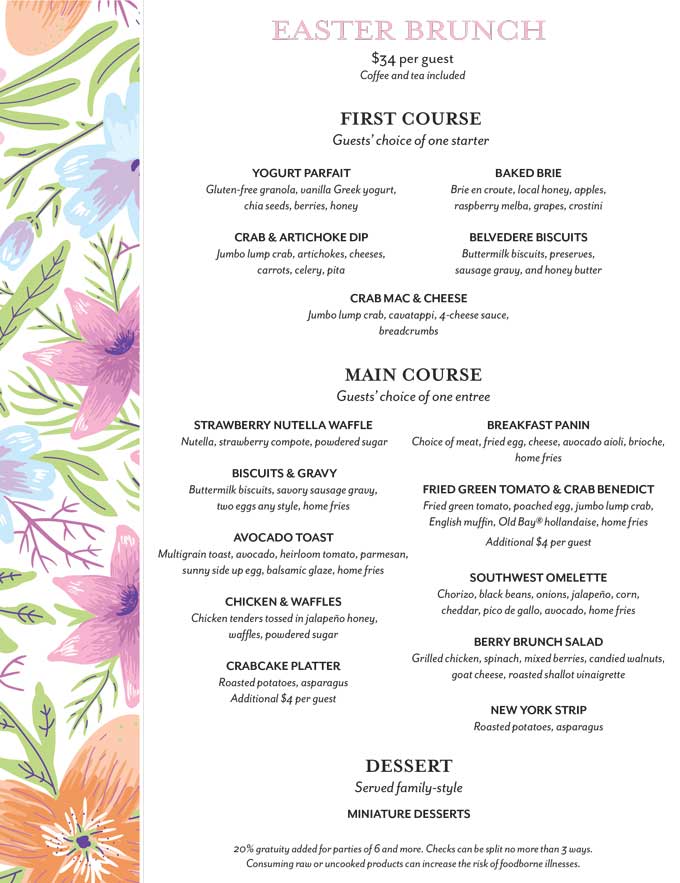 Four Seasons Hotel Baltimore
Four Seasons Hotel Baltimore is offering Easter Brunch to Go ($75). The menu includes:
Choice of Baked Goods

Hot Cross Buns
Pastry Assortment: Cherry chocolate scone, bacon and scallion scone, mini danish and croissant

Choice of Entree

Roasted Carrot and Ricotta Quiche
Caramelized Onion and Ham Quiche
Oven Roasted Glazed Ham

Choice of Three Sides

Hardwood Smoked Bacon
Old Bay Potatoes
Hashbrown Croquettes
Roasted Asparagus
Baby Kale Salad
Roasted Baby Spring Vegetables

Choice of Dessert
Kona Grill
Kona Grill has Easter Weekend specials: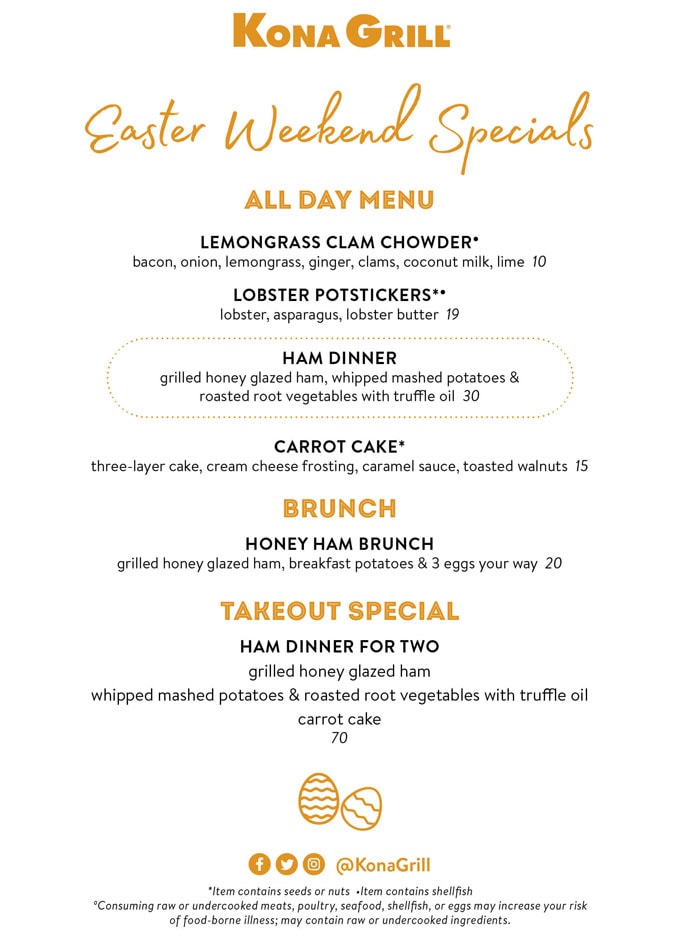 NiHao
NiHao is offering Easter Dine-In Brunch. Guests are offered the option to reserve the Dim Sum menu or order a la carte. Reservations available for April 3 and 4 from 12 PM – 2:30 PM.
They also have an Easter Dim Sum To Go ($90, serves 2 – 3 people). Available for pickup April 3 and 4 from 12 PM – 3 PM.
Includes 6 types of Dim Sum (2 pieces each):
Lamb Meatballs
Char Siu Pull-aparts
Soy Deviled Eggs
Lobster Shu Mai
Pan Fried Dumplings
Prawn Toast

3 Dishes to Share:
Stir Fry Greens
Cantonese Shrimp & Eggs
Tea Smoked Duck Breast

Dessert:
2 Mandarin Donuts
Fogo de Chao
Fogo de Chao (Lone Tree) is offering Easter Baltimore 2021 Brunch (11 AM to 2 PM) or Dinner (2 PM to 9 PM). Dinner price all day. Fogo Churrasco Experience for Children 6 & under is complimentary. Children 7 to 12 are half price. Easter To-Go package is also available for pre-order.
La Tavola
La Tavola will be having 2 traditional Easter specials: Locally raised Leg of Lamb roasted with fresh herbs and mirepoix vegetables & Whole Mediterranean SeaBass butterflied, deboned and baked.
Rusty Scupper
Rusty Scupper is offering their Annual All-You-Can-Eat Buffet. Guests will be able to enjoy a variety of traditional holiday items as well as some of our signature items. Adults are $58.95 per person. Reservations are required. To reserve your table, please call 410 727 3678.
Cafe Gia Ristorante
Cafe Gia Ristorante will be open from 12 PM – 4:30 PM on Easter Sunday. Delicious offerings such as lamb shank with risotto, grilled branzino and veal chops will make their way onto our weekend menu. An abbreviated version of our dinner menu will also be offered.
Sam's on the Waterfront
Sam's on the Waterfront (Annapolis) has a prix-fixe menu ($37 per person).
Citron
Citron (Towson) is open on April 4 from 11 AM – 8 PM. Full menu will be available all day with special Easter brunch offerings available up to 2 PM. Reservations at Open Table or Citronbaltimore.com. Call 410-363-0900 for any reservations of 7 plus.
About Easter Holiday: Dates, Food Traditions, Easter Egg Origins
Have you wondered how Easter actually became a holiday, or where its trademark bunnies and eggs came from?
Check out my Easter Holiday post which looks at the origins of Easter, some of the traditions and a few fun facts on Easter Eggs and the Easter Bunny.
Easter Quotes, Wishes and Captions
Whether your Easter is all about fun, or a bit of fun mixed with the holiday's religious significance, here is a roundup of some Easter quotes, wishes and captions for that holiday Instagram post or greeting card.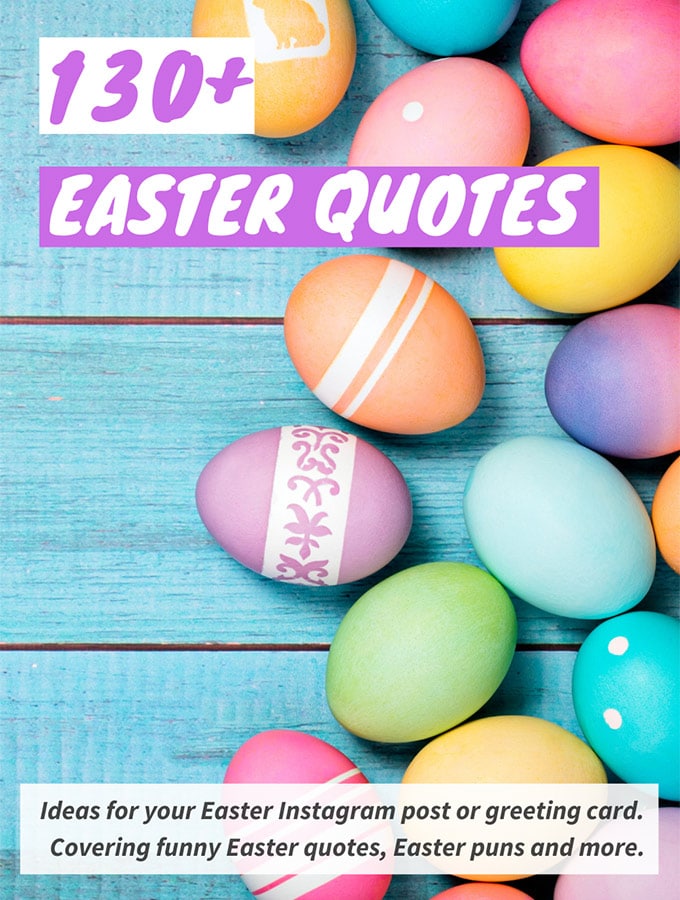 Some of the quotes I have in the post include:
Filling my basket with love and joy… and also chocolate. Lots of chocolate.
Biting the head off my chocolate bunny, but I won't bite you!
There's nothing better than a friend… except a friend with chocolate.
Free Easter Greeting Cards
If you're looking to send an Easter greeting card, check out Canva.com (referral link) for free Easter card templates and start designing.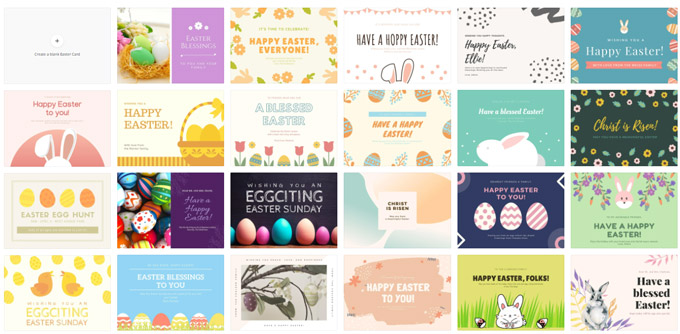 I have been using Canva for years and if you're new to Canva, please feel free to use my Canva referral link to sign up for free.
It's a great graphic design platform used to create social media graphics, presentations, posters, documents and other visual content.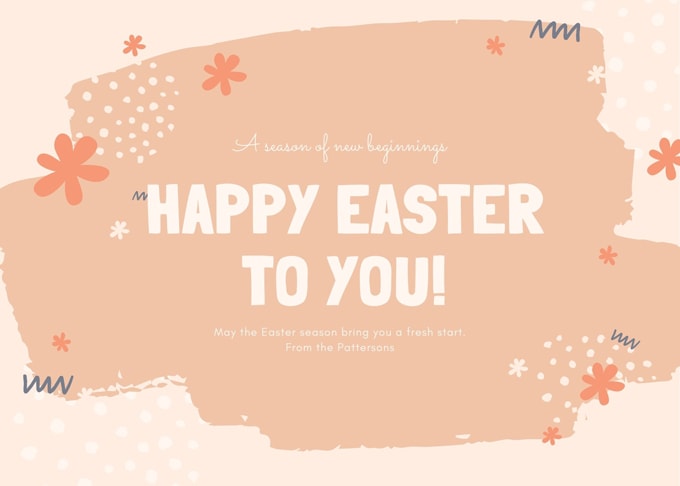 Even though there is a premium version, you can do A LOT on the free version.