Easter Holiday 2021 is happening Sunday, April 4. Here's an Easter Austin 2021 guide covering things to do during Easter weekend; restaurant offerings and special menus; desserts and treats and more.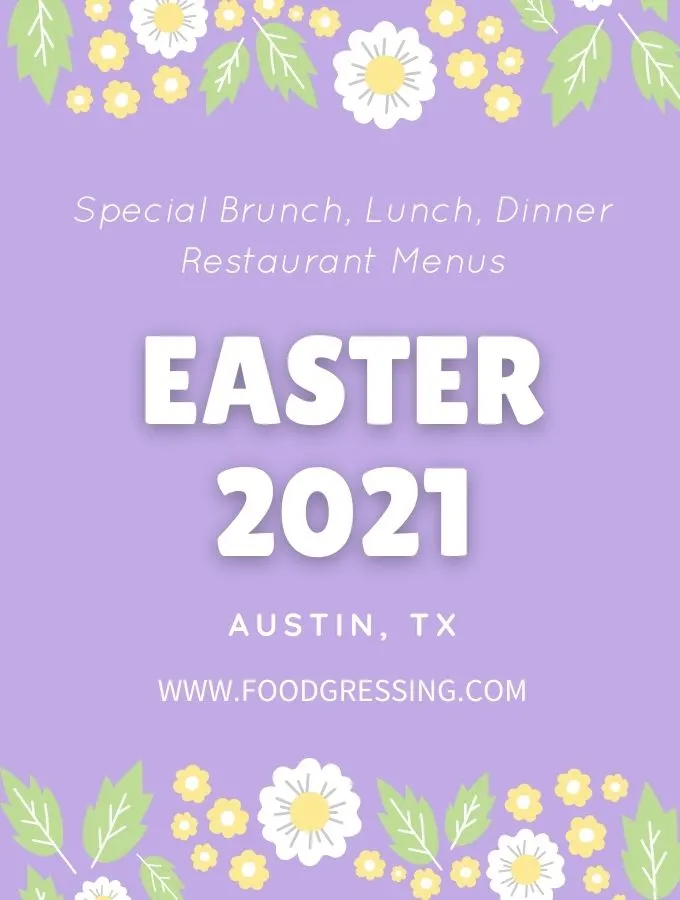 This list is updated as information becomes available. Please reach out to me [email protected] or @foodgressing on social media (Instagram, Facebook, Twitter, TikTok) for any suggestions.
Any support to local businesses is appreciated in these times. Holiday celebrations can take on different forms from traditional, fusion to modern.
Please use this list as an inspiration for ideas on how to put together your own Easter celebration.
Easter Austin 2021 Restaurant Offerings
Aba
Aba is open for dine-in and they have an Easter to Go menu (priced at $54.95 per person). Available for pickup April 3 and 4 from 11 AM – 3 PM.
The menu includes:
Spicy Hummus w/ crudite & house bread
Village Salad
Za'atar Roasted Chicken
Beef Tenderloin Kebab with Lemon Dill Rice
Brussels Sprouts
Isot Double Chocolate Cake
Add on specialty items like Charred Oregano Lamb Chops with roasted potatoes, cocktail kits, kids meals and sommelier-selected bottles of wine.
Hotel Ella
Hotel Ella is offering Easter Brunch at Goodall's on April 4 from 10 AM – 3:45 PM.
Highlights include choice of smoked ham or prime rib, served with classic family-style sides like deviled eggs, potato turnip salad & corn pudding casserole. Reservations are available from 10am-5pm.
Round out the afternoon of Easter festivities with a visit from adorable petting zoo by Tiny Tails to You on the Hotel Ella lawn from 12-3pm.
$70 for adult tickets, $25 for children's tickets.
House Wine
House Wine is offering build your own party package with wine and appetizers for the perfect Easter spread.
Please select a pick-up date and you may pick up anytime between 3 pm and 9 pm on your scheduled date between March 26 – April 4.
Fresh Seasonal Vegetable Platter (for four)
Fresh seasonal vegetables with two servings of Pine Nut Hummus and two servings of Spinach and Artichoke Dip ($32)
Charcuterie Board (for four)
Selection of Salami, Coppa, and Prosciutto, 1 Large Scoop of Tuscan Olive Cheese Spread, Marinated Olives, Pickled Green Beans, House Spiced Nuts, and French Baguette ($34)
Fruity Cheese Board (for four)
Brie, Manchego, Sharp Cheddar, and Smoked Gouda with Seasonal Fruit and Preserves, Dark Chocolate, Honey Glazed Pecans, Gluten-Free Crackers, and French Baguette ($32)
Honey Smoked Salmon (for four)
Two Pieces of Honey Smoked Salmon, 2 Large Scoops of Tuscan Olive Cheese Spread, Smoked Gouda, House Spiced Nuts, and Rosemary-Sea Salt Crackers ($38)
2 Dine 4 Catering
2 Dine 4 Catering is offering a three course brunch & Easter Egg Hunt in Swoop Garden. Adults $45, Kids $20. Reservation for April 4 at 11 AM.
1st Course – Field Greens, Crispy Prosciutto, Burrata, Caramelized Figs + White Balsamic
2nd Course – Crab Cake Benedict OR Roasted Lamb Chops
3rd Course – Peach Crisp with Vanilla Ice Cream
Kids menu- Honey Baked Ham w/ Hashbrown Casserole, Scrambled Eggs + Biscuit)
Swedish Hill
Swedish Hill is offering a regular brunch and dinner menu with Easter specials available for dine-in and to-go.
Celebrate the holiday at home with special Easter to-go items that will feed the whole family. Pickup April 3 and 4 from 12 PM – 5 PM.
Highlights include Cheese and Charcuterie Boards, Roasted Boneless Legs of Lamb, Scalloped Potatoes, Parker House Rolls, Hot Cross Buns, Strawberry Shortcake, and Dark Chocolate Mousse Cake.
Clark's Oyster Bar
Preorder Clark's Oyster Bar's fried chicken and biscuits for April 4:
Josh's Fried Chicken Bucket(4pc)
Josh's Fried Chicken Bucket(8pc)
Fresh Baked Biscuits and Country Ham
Jumbo Shrimp Cocktail
Launderette
Launderette is offering an Easter package to go available for pickup on April 3 from 2 PM – 5 PM.
ARCTIC CHAR – $78
(serves 2)
Meal includes: Arctic Char with Confit Lemon & Herb Salad // Ricotta Pound Cake & Mixed Berries // Deviled Eggs // Haricots Verts (w/ almond gremolata, citrus tahini dressing) // Heirloom Carrots (w/ butternut squash puree, figs, mint) // Honey Wheat Rolls // Mint Chutney
PINE NUT CRUSTED LAMB LOIN – $78
(serves 2)
Meal includes: Lamb Loin with honey, dijon & jus // Ricotta Pound Cake & Mixed Berries // Deviled Eggs // Haricots Verts (w/ almond gremolata, citrus tahini dressing) // Heirloom Carrots (w/ butternut squash puree, figs, mint) // Honey Wheat Rolls // Mint Chutney
DESSERTS:
CARROT CAKE – $40
6" cake with cream cheese frosting
LEMON YUZU TART – $40
with whipped crème fraiche & fennel pollen
Dai Due
Dai Due has the following Easter items for pre-order:
Easter Bunny: A Dai Due Easter tradition. A whole rabbit, partially deboned and stuffed with cream, sweetbreads, bacon, mushrooms, brandy, thyme and breadcrumbs and then tied. Gently brown and braise this bunny, slice and serve with mashed potatoes. Approx 2.5 lbs.
Marinated Leg of Lamb: A lamb leg, coated in fresh rosemary, thyme, mint, garlic, olive oil and dried satsuma. This fully seasoned roast is oven/smoker/grill ready and can be cooked medium-rare and pink, or slow cooked until very tender. Approx. 3 lbs.
Parker House Rolls
Kolache Pack: Strawberries & Cream Kolaches (2) and Lamb, Cotija and Spring Greens Klobasneks (2)
Paul Martin's
Paul Martin's will be open early for Brunch at 9 AM on April 4.
Enjoy your choice of brunch entrée, organic dark roasted coffee, and a hand-crafted cocktail or juice for just $32 per person.
BRIOCHE FRENCH TOAST
vanilla bean cream, maple-bourbon syrup, served with brown sugar spiced bacon
STEAKHOUSE BENEDICT
tender sliced steak, arugula, poached eggs, hollandaise, toasted English muffin, with smashed potatoes
CRAB CAKE BENEDICT
crab cakes, arugula, poached eggs, hollandaise, toasted English muffin, with smashed potatoes
PAUL'S OMELETTE
applewood smoked bacon, mushrooms, tomatoes, spinach, red onions, white cheddar cheese with avocado toast and smashed potatoes
MIMOSA
fresh squeezed orange juice, Le Grand Courtâge Blanc de Blancs Brut
CHAMPAGNE LEMONADE
house-infused Meyer lemon vodka, lemonade, fresh basil, Zonin Prosecco
BLOODY MARY
New Amsterdam Vodka, tomato juice, lemon, Tabasco, Worcestershire, olives, tomato, celery, salt rim
SANGRIA
Ketel One Botanical Peach & Orange Blossom, Domaine de Canton Ginger Liqueur, cranberry juice, seasonal fruit, choice of red or white wine
SIDECAR
Evan Williams Bourbon, Cointreau, lemon juice
Easter Dinner is a 3-course menu available from 2 PM – close. Enjoy a seasonal house salad, a choice of either Alaskan Halibut or Slow Roasted Prime Rib, and New York Style Cheesecake for dessert. $40 per Guest.
A limited version of our main menu with Paul Martin's favorites will also be available.
The Russian House
The Russian House is offering an all-you-can-eat-buffet on April 4 from 11 AM – 4 PM. Adults $35, Kids 5-11 $17.50, Under 5 Free. Unlimited mimosa +$7.
Fogo de Chao
Fogo de Chao is offering Easter Brunch (11 AM to 2 PM) or Dinner (2 PM to 9 PM). Dinner price all day. Fogo Churrasco Experience for Children 6 & under is complimentary. Children 7 to 12 are half price. Easter To-Go package is also available for pre-order.
Fleming's Steakhouse
Fleming's Steakhouse is offering 3 courses featuring their hand-cut Filet Mignon paired with your choice of Crab-Stuffed Shrimp or Lobster Tail Scampi.
They are open at 11AM on Saturday, April 3 and Easter Sunday, April 4. Dinner Menu and Children's 3-course available all day.
Perry's Steakhouse & Grille
Perry's Steakhouse & Grille is offering expanded hours on April 4: 11 AM – 9 PM dine-in with full dinner menu and off menu brunch inspired features.
Perry's 3-Course Pork Chop Sunday Supper is available 4 PM – 9 PM for dine-in or to go.
Celebrate at home with Perry's Easter Feast for 4 to-go available April 2 – 4 from 11 AM – close.
About Easter Holiday: Dates, Food Traditions, Easter Egg Origins
Have you wondered how Easter actually became a holiday, or where its trademark bunnies and eggs came from?
Check out my Easter Holiday post which looks at the origins of Easter, some of the traditions and a few fun facts on Easter Eggs and the Easter Bunny.
Easter Quotes, Wishes and Captions
Whether your Easter is all about fun, or a bit of fun mixed with the holiday's religious significance, here is a roundup of some Easter quotes, wishes and captions for that holiday Instagram post or greeting card.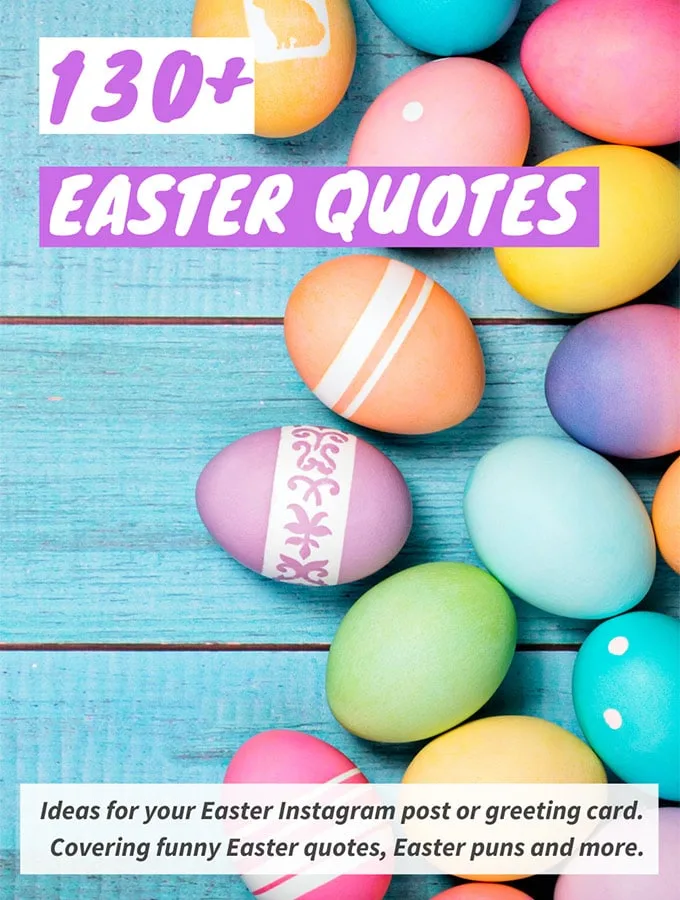 Some of the quotes I have in the post include:
Filling my basket with love and joy… and also chocolate. Lots of chocolate.
Biting the head off my chocolate bunny, but I won't bite you!
There's nothing better than a friend… except a friend with chocolate.
Free Easter Greeting Cards
If you're looking to send an Easter greeting card, check out Canva.com (referral link) for free Easter card templates and start designing.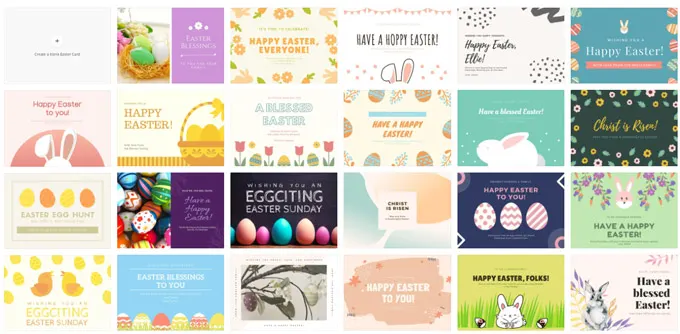 I have been using Canva for years and if you're new to Canva, please feel free to use my Canva referral link to sign up for free.
It's a great graphic design platform used to create social media graphics, presentations, posters, documents and other visual content.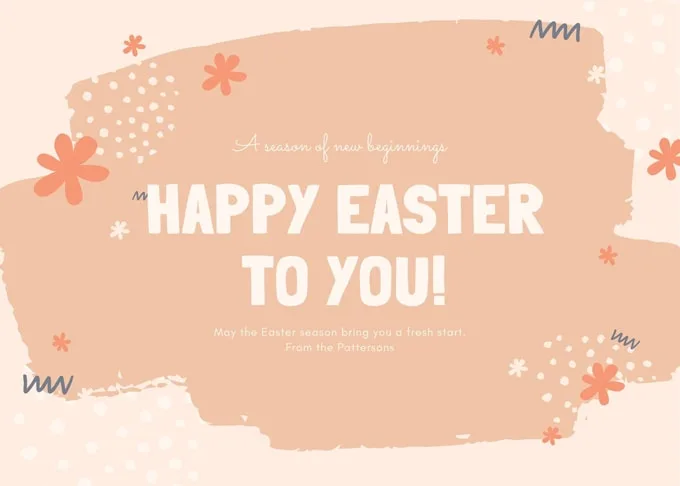 Even though there is a premium version, you can do A LOT on the free version.