Cup Noodles, the original instant ramen in a cup, is unveiling a Noodle Bar experience that pairs its premium Cup Noodles Stir Fry and Cup Noodles Stir Fry Rice with Noodles product lines with craft beer selections just in time for Oktoberfest.
Through a partnership with Advanced Cicerone Mandy Naglich, the brand created a Noodles + Brews Pairing Guide that thoughtfully matches each product flavor with a craft brew style based on the vibrant tasting notes and ingredients found in each cup.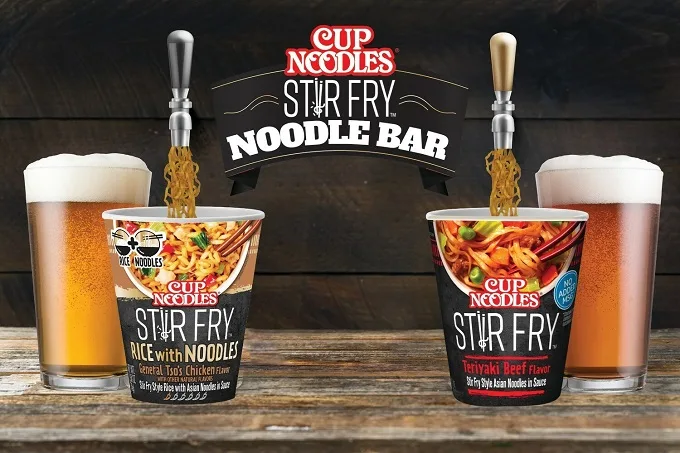 These fun pairings make it easy to wow your friends and family at home in less than 5-minutes.
Cool off from the Korean Spicy Beef heat with an American Wheat Ale or indulge in a cup of General Tso's Chicken alongside a Hazy IPA that perfectly complements the product's sweetness and earthy flavors of green onion, bok choy and bell pepper.
Noodle fans in LA or Dallas can take it one step further by attending the brand's Noodle Bar pop-ups.
These brewery activations are taking place starting at noon on Saturday, September 30 at Angel City Brewery in Los Angeles, CA and Deep Ellum Brewery in Dallas, TX.
These pop-ups will offer the ultimate pairing experience, combining premium Cup Noodles Stir Fry ramen products alongside expertly paired craft brews, open for sampling and enjoyment along with other fun like a custom photo booth.
Great flavor combinations have always been a cornerstone of the Cup Noodles brand.
In honor of Cup Noodles' 50th anniversary, Nissin Foods launched its first noodles with sauce offering, Cup Noodles Stir Fry.
Then, the brand took it up a notch later that following year, introducing Cup Noodles Stir Fry Rice with Noodles in October 2021, which blends bite-sized, stir fry-style noodles and rice together.
These products combine timeless Asian-inspired recipes with the convenience of instant noodles.
And, whether you like spicy, savory or sweet, Nissin is encouraging everyone to leverage the Noodles + Brews Pairing Guide to find the perfect beer pairing that compliments each Cup Noodles Stir Fry and Cup Noodles Stir Fry Rice with Noodles flavor.
Cup Noodles Stir Fry and Cup Noodles Stir Fry Rice With Noodles are available online and in-stores at retailers nationwide, including Kroger and Albertsons.
To learn more about Nissin Foods and its wide range of products, visit NissinFoods.com.