On my last visit to a Crepe Delicious, I found that it was more worthwhile to order the sweet crepes rather than the savoury ones.  The savoury crepes that I tried just didn't have much of a wow factor compared to the sweet crepes in terms of overall quality, taste and presentation.  Crepe Delicious in Richmond had a Groupon a few months ago, and I decided to get the voucher to try a few other items that I was interested in.  I invited a friend who has a sweet tooth for this sweet outing.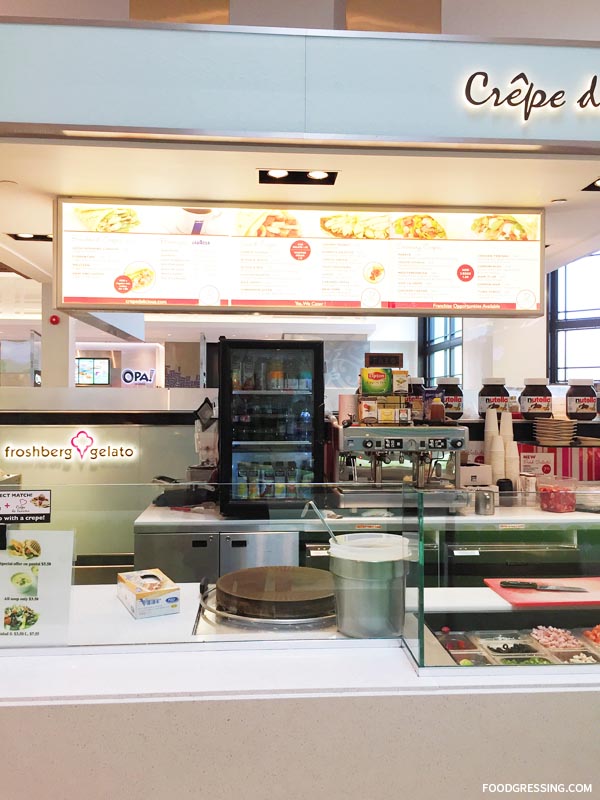 Richmond Centre Food Court
Did you know that Crepe Delicious is Canada's largest mall-based creperie?  The Crepe Delicious in Richmond is located in the middle of the Richmond Centre Food Court and is the food stall next to the elevator.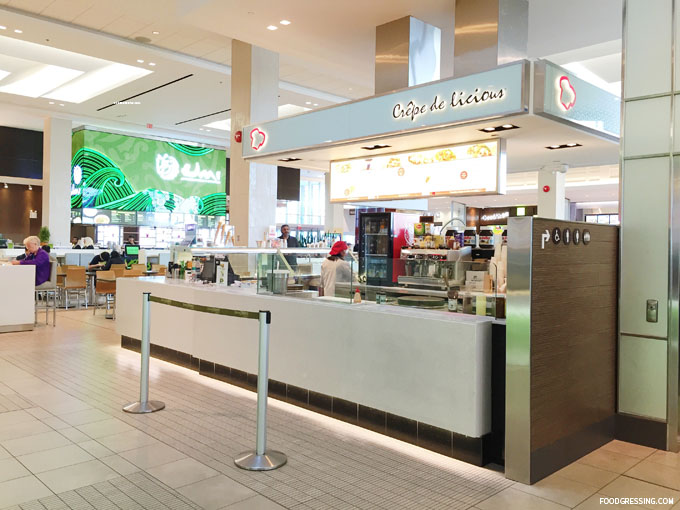 On one side of the stall, there is a display case that is filled with gelato and sorbetto.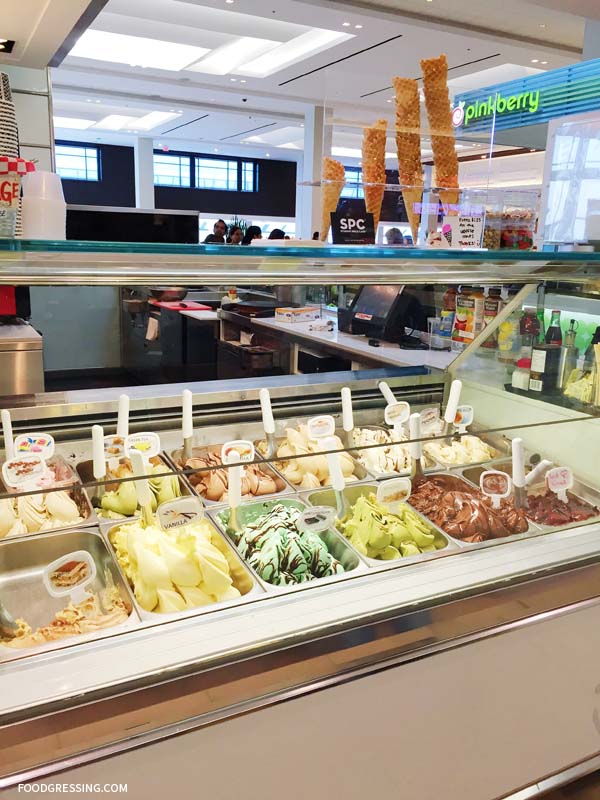 The other side has a clear panel which allows you to observe the making of the crepe on the grill.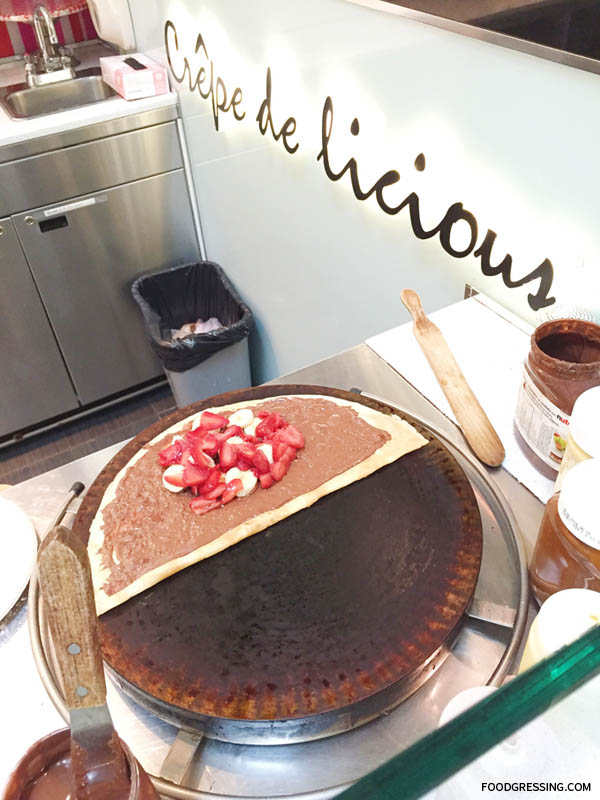 Crepe Delicious Menu
Their menu consists of breakfast crepes, savoury crepes, sweet crepes, salads, panini, gelato, smoothies, and coffee.  The sweet crepes range from $5 to $12, while the savoury are mostly around $8.
What We Tried

We started off by sampling a few gelato.  There is a maximum of five samples, though we did want to get that many.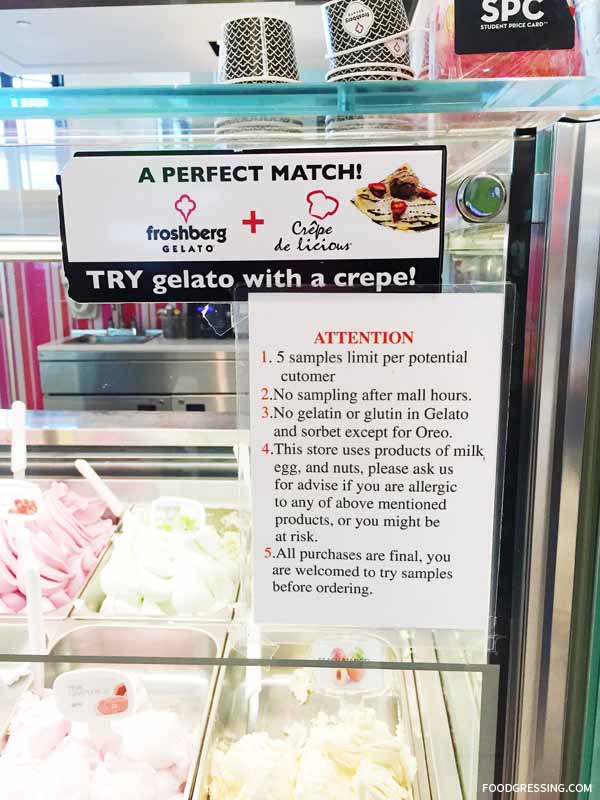 One item we ordered was the Tuttie Fruitti dessert crepe which had fresh bananas, strawberries and Nutella and powdered sugar on top ($8.10).  It was a typical sweet crepe but we noticed that the fruits were fresh and that there were reasonable portion of fruits.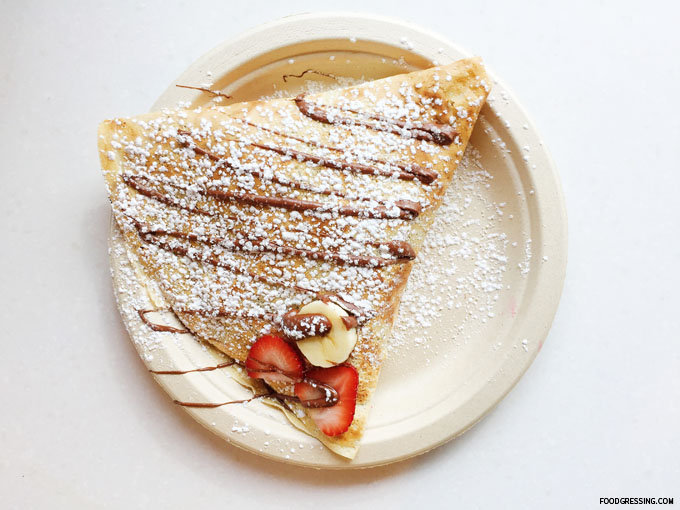 We also had the sundae crepe ($7.25) which had two scoops of choice gelato, whipped cream and strawberries wrapped inside the crepe with whip cream, chocolate sauce and strawberries, and powdered sugar on top.  As you can see from the pictures, it was a fully loaded crepe.  A customer behind us commented that the crepe was huge!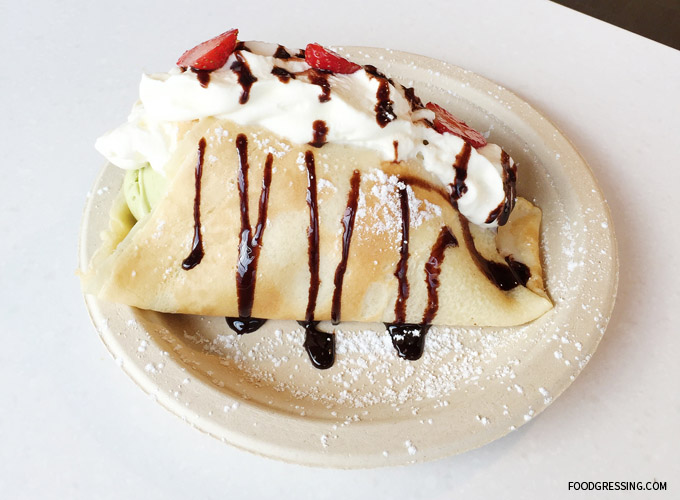 The gelato flavours we chose were pistachio and crème brûlée.  Both were rich, smooth and subtly sweet flavours, but the pistachio was a home run with me with its wonderfully nutty flavour.  The crème brûlée was very good and did not have an overwhelming caramelized taste.  It did feel more like a vanilla flavour.  I also got extra walnuts inside the crepe for $0.75, but there did not seem to be that much added.  I wouldn't recommend the extra topping.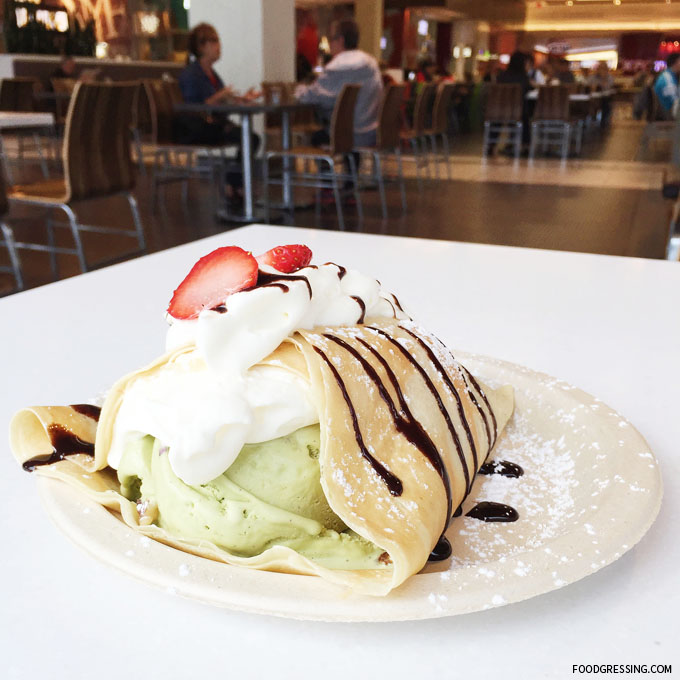 I also had a large shot of espresso ($2.55) which came in a paper cup.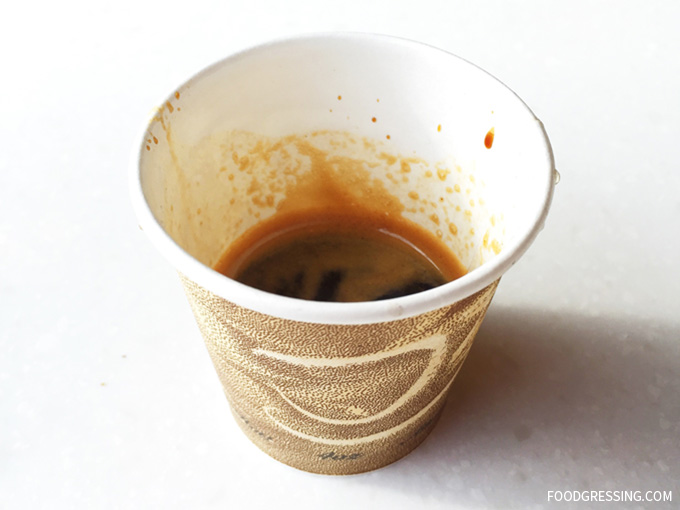 Overall Impression of Crepe Delicious
The sweet crepes we had from Crepe Delicious were tasty for a food court creperie.  The sundae crepe was a fully loaded crepe with gelato, whip cream, strawberries and chocolate sauce.  It was even cheaper than the Tuttie Fruitti sweet crepe and seemed like a better deal given the amount of ingredients.  Although extra walnuts were added to the sundae crepe, the amount did not seem worth the extra cost.  Rating: 3/5
Website: http://crepedelicious.com/
Facebook: @CrepeDelicious
Twitter: @Crepe_Delicious
Instagram: @crepedelicious