You better brie-lieve it! The Cheese Advent Calendar 2020 is now available in Canada.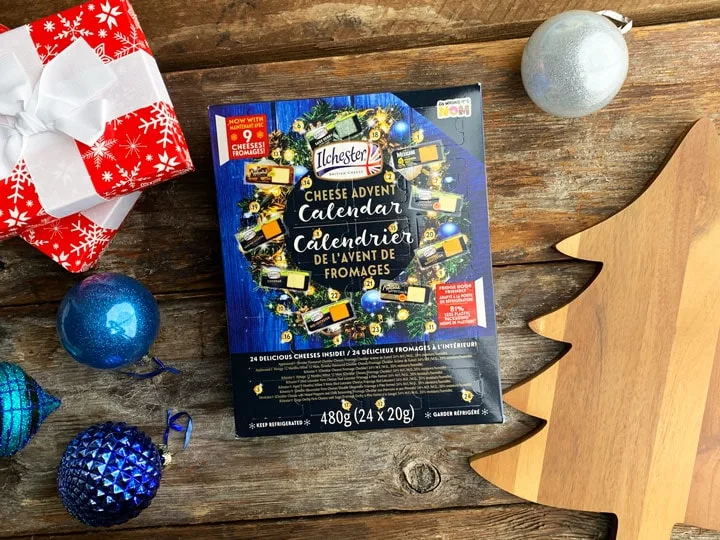 The original Cheese Advent Calendar from So Wrong It's Nom is now in stores, and it's GRATER and smaller than ever before.
The 2020 selection includes five NEW Ilchester cheeses: vintage, aged, PDO, Double Gloucester and Sage Derby.
The Cheese Advent Calendar also has reduced plastic packaging with 81% less plastic but no less cheese.
What's in Cheese Advent Calendar 2020 Canada?
The Calendar contains 24 individually wrapped portions of delicious cheese, encased in a fully recyclable, fridge door-friendly cardboard calendar.
The entire box weighs 480 grams and each of the 24 pieces of cheese weigh 20 grams.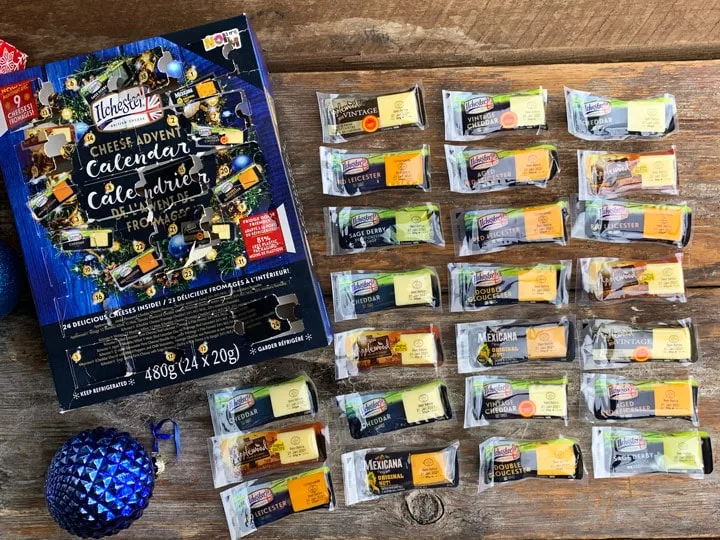 Here are the 9 cheese types in the Cheese Advent Calendar:
● Applewood – A real English treasure, Applewood is made in the West Country from British cheddar and has a delicate smoky flavour and a lovely smooth texture, all finished with a sprinkling of paprika.
● Applewood Vintage PDO Aged for 12 months – This delicious cheese is made from traditional hand-turned farmhouse Cheddar. It has a predominant smoky flavour with an exquisitely smooth, rich creaminess that melts in the mouth. Creamy yellow in colour, with a sprinkling of paprika.
● Ilchester Derby with Sage – Derby is one of England's oldest and most famous cheeses. Finely chopped sage was added to this wonderful cheese as early as the 17th century, as it was thought to carry health benefits.
● Ilchester Mature Cheddar – Ilchester's Cheddar is made in the West Country, close to where Cheddar originated in the Mendip Hills. Take a bite and let the creaminess melt into your mouth, with its earthy tangy notes.
● Ilchester Vintage PDO Cheddar – Carefully matured, this cheddar is made in the West Country near the Mendip Hills. With a drier texture to standard cheddar due to the maturing process, there are sometimes crunchy calcium crystals in it.
● Ilchester Double Gloucester – This is a hard cheese with a savoury, mellow flavour. You may know it as the famous cheese that is rolled down Coopers Hill annually in May for the UK's most extreme cheese race!
● Ilchester Red Leicester – Smooth and nutty! Add a splash of colour to your cheese board with this traditional English cheese, based on a classic Cheddar recipe.
● Ilchester Aged Red Leicester – This traditional English cheese has been carefully matured for a minimum of 9 months giving it a distinguishable smooth, tangy and nutty taste.
● Mexicana – This cheese combines a fiery mix of bell, jalapeño and chilli peppers, carefully blended with a British Cheddar and a secret mix of Mexican spices.
The PDO (protected designation of origin) label is a type of geographical indication that means that a cheese was made in a specific region according to traditional methods.
How to Store
The Cheese Advent Calendar is to be kept refrigerated and is refrigerator door friendly.
Where is the Cheese Advent Calendar made?
The Cheese Advent Calendar is a product of the UK and imported into Canada.
Nutrition
Each of the 9 types of cheeses is 80 calories. The cheeses are suitable for lacto-ovo vegetarians.
Price
A unique alternative to standard chocolate advent calendars, the Cheese Advent Calendar retails for $20 – $30.
Where to Buy
The Cheese Advent Calendar is available from big retailers like Sobeys, Safeway, Federated Co-op, Save on Foods, Longos, Denningers, Vincenzo's and other smaller independents.
[ninja_tables id="79285″]