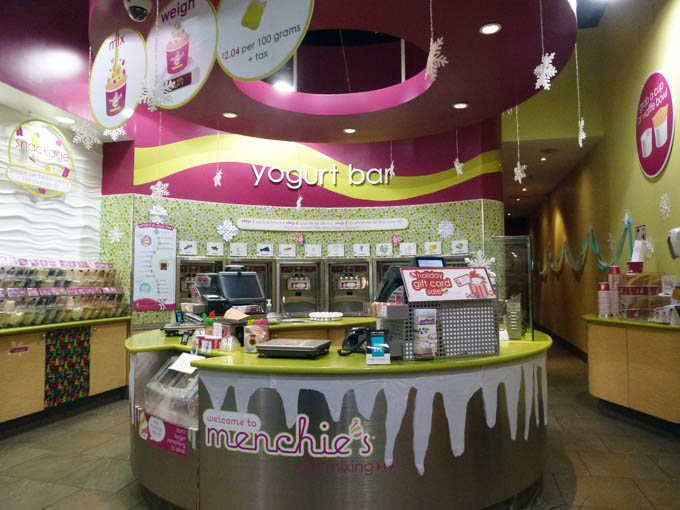 As I stepped inside Menchie's Frozen Yogurt on Cambie, I felt like I had arrived into a yogurt wonderland.  Menchie's clean and bright space was a huge contrast to the hard rain outside.  It was around Christmas time that I had visited Menchie's for the first time.  I felt a bit overwhelmed at first as stared into the space; I questioned where to even start.  A friendly staff person greeted me and introduced me to the Menchie's yogurt experience.
Menchie's Flavours
Being that it was Christmas, they had a lot of festive-inspired flavours including festive egg nog, frozen hot chocolate, and cocoa minty cookie.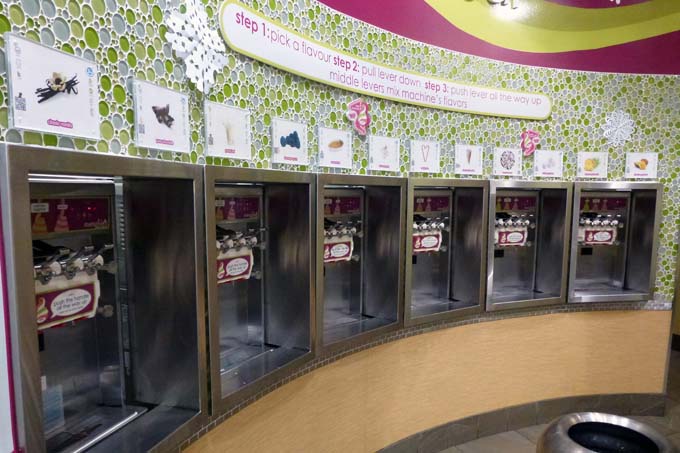 Toppings Galore
There is no shortage of choices in toppings: yogurt chips, gummy bears, toasted coconut, oreos etc.  All the toppings containers were well stocked.  Go ahead and indulge yourself!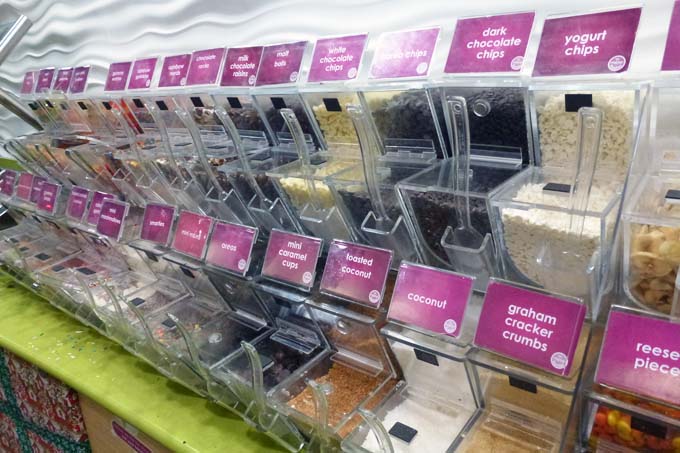 There are some healthier options for toppings as well including fruit: strawberries, pineapple, raspberries etc.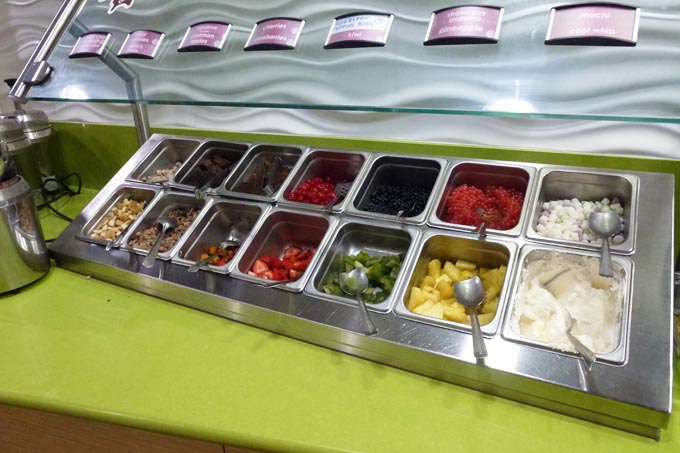 Top your frozen yogurt off with some sauces.  How about chocolate, peanut butter or strawberry?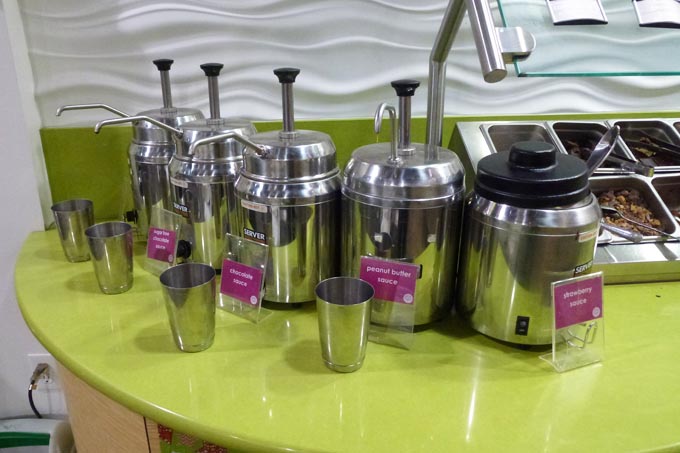 There were some nice tables for you where you can sit down and enjoy your creation.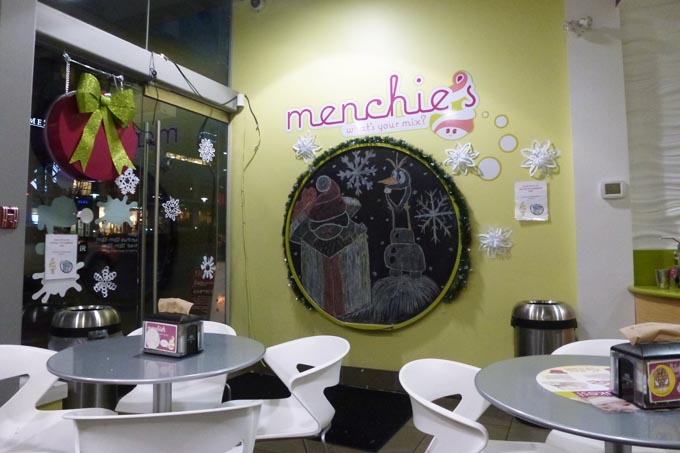 Frozen Yogurt Art
They call it frozen yogurt, but I call it *art*.  Gummi bears, rainbow sprinkles, peanuts, coconut, cheesecake pieces, sugar free chocolate sauce, peanut butter sauce, strawberry sauce, festive eggnog yogurt, and cocoa minty cookie yogurt make up this creation.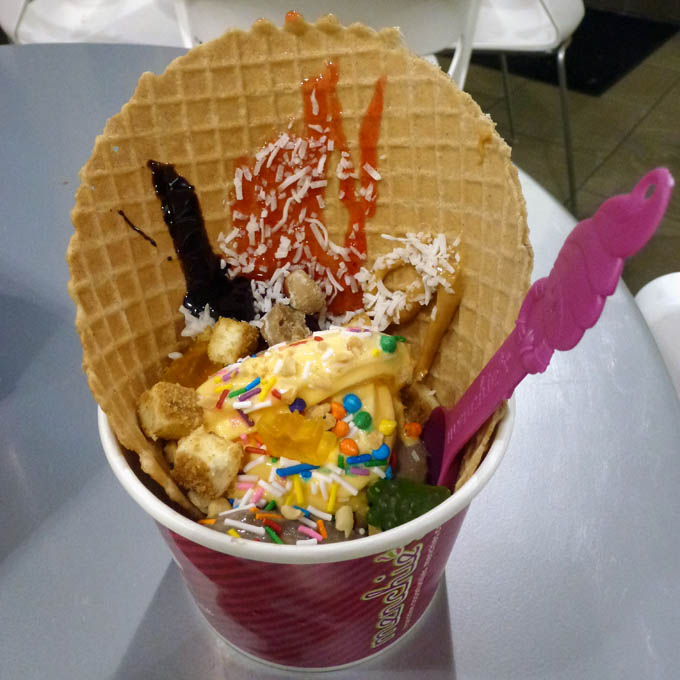 My husband went for something more conservative: purely and blue raspberry tart frozen yogurt mix with cheesecake, and walnuts.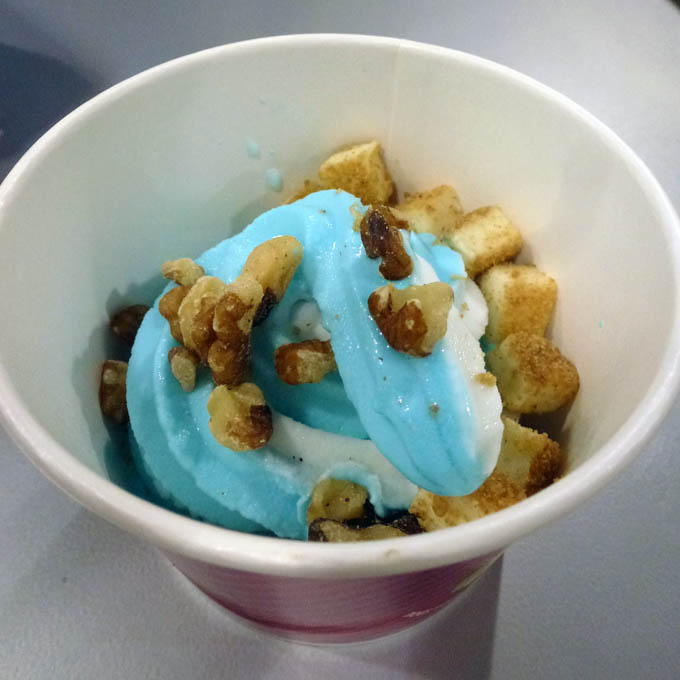 The cost of the frozen yogurt is by weight and on average it is about $5.  I enjoyed the yogurt experience as I was able to express myself creatively through my yogurt creation.  Afterall, food is an art, right?
Menchie's Website: http://www.menchies.ca/
Menchie's Cambie Facebook: https://www.facebook.com/pages/Menchies-Cambie-Street