For the 14th year in a row, Latincouver is holding Carnaval del Sol 2021 and Latin American Experience from August 12th to 29th to celebrate the richness and diversity of the Latin American cultures.

Carnaval del Sol 2021
Carnaval del Sol 2021 will happen as a petite but unique outdoor festival this summer from August 12th to 15th, kickstarting with a Latinx Pride Day on August 12th, featuring some of the most relevant Latinx LGBTQ2S+ acts in the province in partnership with Latinos y Amigos LGBTQ2+.
During the four days, Carnaval del Sol will feature a fantastic selection of delicious Latin American food, ice-cold local and Mexican beer, and outstanding artists like Rumba Calzada, Tugstar & Mad Riddim, Farnaz Ohadi, Sambacouver, Rudegang Entertainment, MNGWA, and many more.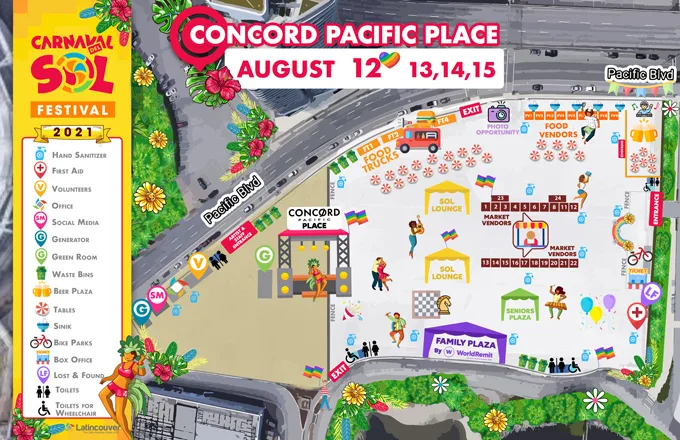 The festival will bring special activities for the whole family like face painting, Zumba classes in the morning, and contagious and warm energy from 10 am to 10 pm (except Thursday, which starts at 3 pm).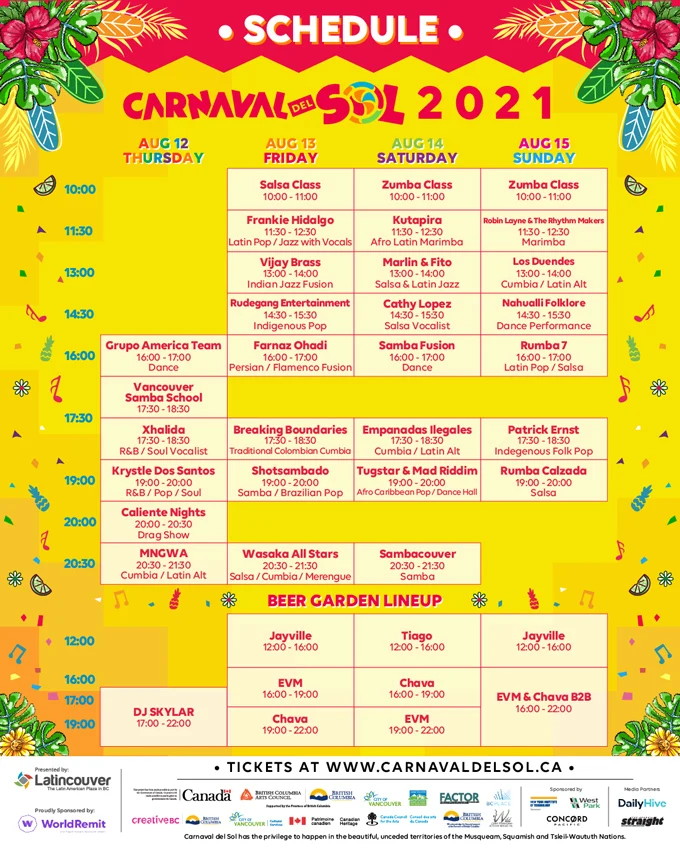 Following the guidelines given by BC's Provincial Government, City of Vancouver, and Vancouver Coastal Health, the Carnaval del Sol in-person activities will keep capacity limits to 50% and adhere to all health and safety protocols to ensure a comfortable, safe and enjoyable environment for everybody.
Buy your tickets, check the full lineup, and schedule at www.carnavaldelsol.ca
Latin American Experience
The celebration will continue with the Latin American Hybrid Experience from August 20th to 29th.
The Latin American Experience will be a series of limited-capacity live events and hybrid workshops in The Vancouver Playhouse and Performance Works, as the Stand Up Comedy & Magic in Spanish, and the unforgettable concert, The Latin Jazz Extravaganza! which will showcase some of the most relevant Latin Jazz standards, improvisation, and Salsa by Goma Dura Orchestra & Juan Encinales Quartet.
The sights, sounds, and rhythm are part of the Dance and Music experience, including a one night of Flamenco, Tango & Wine and series of Sounds of Latin America like Cumbia, Samba, and Salsa.