Taiwanese-based bubble tea chain, Comebuy, opened up a location in Crystal Mall last year. Comebuy was founded in 2002 and is a smaller chain compared to Chatime and Gong Cha with just 200 stores worldwide. Most recently, they opened up a second location in Metro Vancouver in the Kerrisdale neighbourhood. On a recent shopping trip in Burnaby, I decided to visit Comebuy Crystal Mall for some refreshments.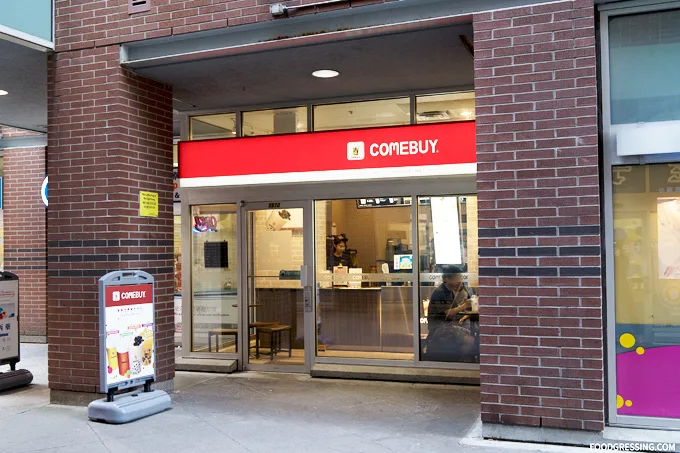 Note: None of the drinks in this review was complimentary. This review was done anonymously.
Comebuy Menu
Comebuy Crystal Mall's menu is fairly small compared to other bubble tea places in Vancouver. Their series includes Teapressos, Lattes, Milk Teas, Teaccino, Coffees, and other seasonal specials. The prices are comparable to other bubble tea houses in Vancouver. Drinks can be customized for sugar and ice level.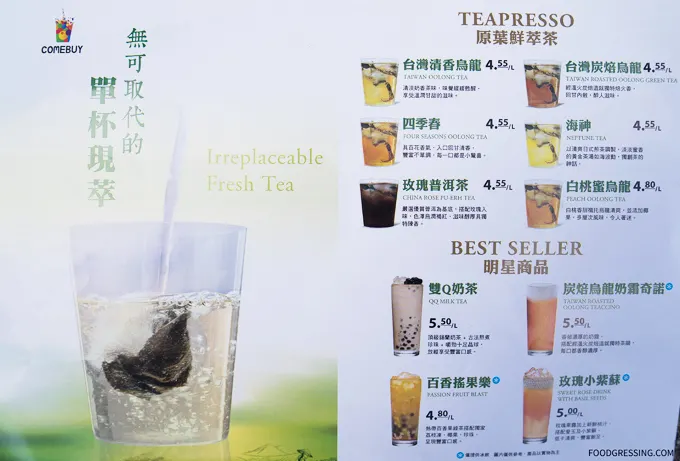 Some of the more unique topping choices they offer include Crystal Jelly, Purple Rice, Lychee Jelly, Basil Seeds and Creamcinno.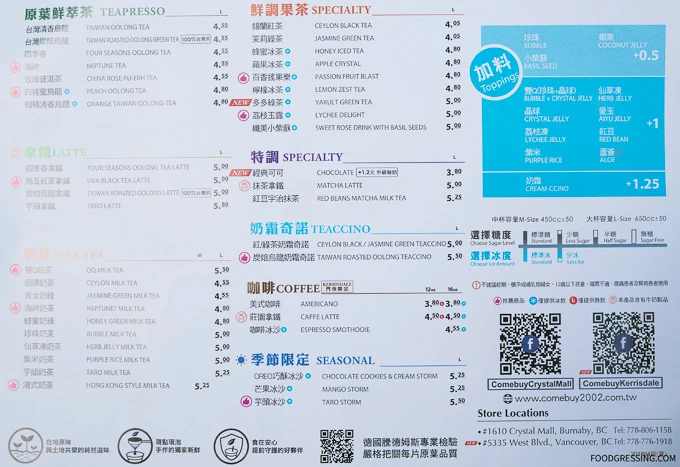 What I Tried
I tried one of their best sellers, QQ Milk Tea, and one of their Teapressos, Peach Oolong Tea. Both drinks actually exceeded my expectations with great tea flavour and tasty toppings.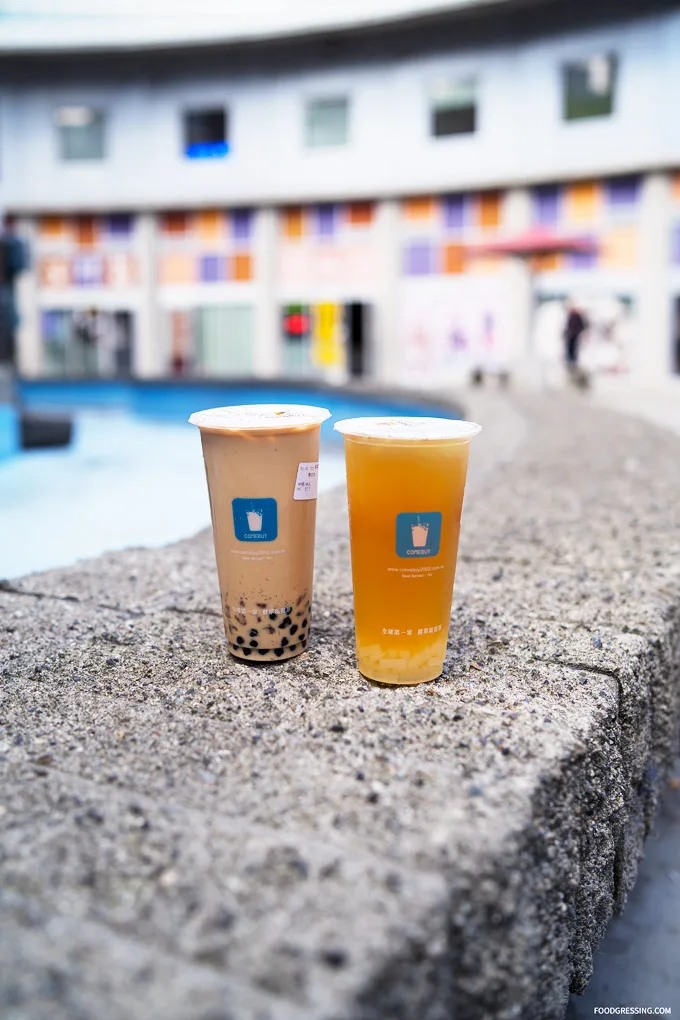 The QQ Milk Tea comes with two types of toppings: tapioca pearls as well as the Konjac jelly. The tapioca pearls were good: smooth and slightly soft on the outside, but chewy through to the middle with a slightly increased level of firmness. The standout for me was the Konjac jelly, which are "white pearls" that are firmer and more bouncy than regular pearls. They added a nice textural contrast to the regular tapioca pearls.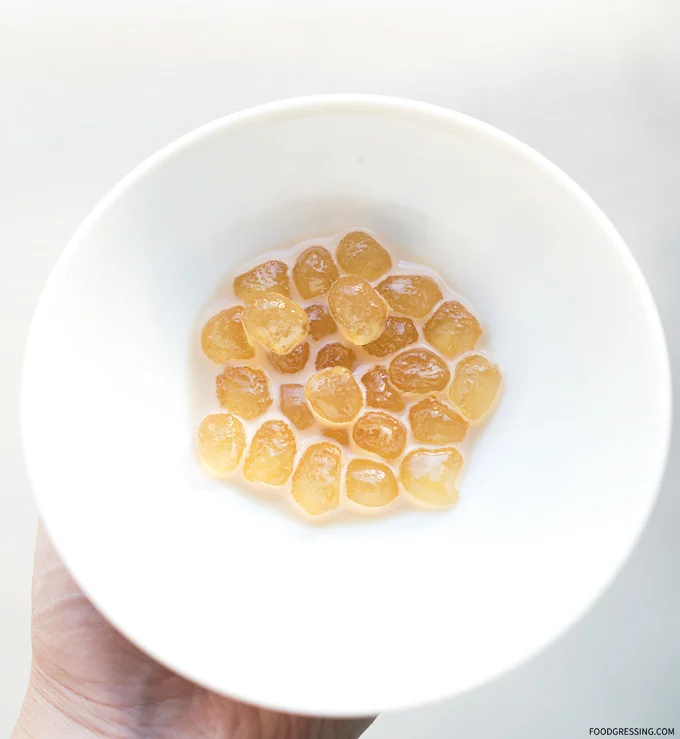 The Peach Oolong Teapresso was ultra-refreshing and had a wonderful balance between fruit and tea flavours. This drink came with coconut jelly, which went well with the drink. I would love to have this again.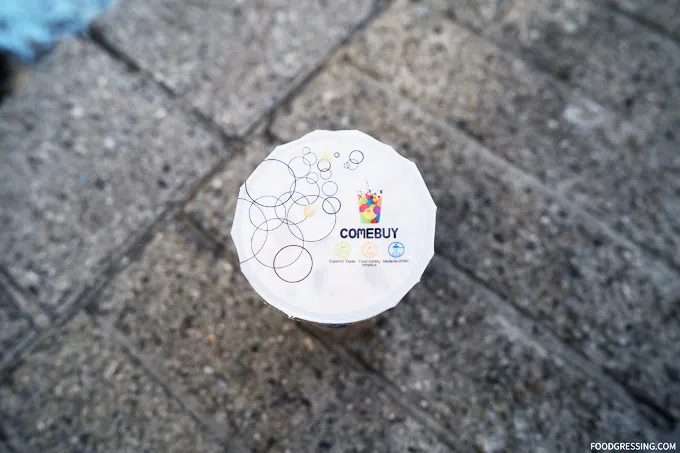 Overall Impression of Comebuy Crystal Mall
I enjoyed both drinks I tried from Comebuy and would be interested in trying more of their menu in the future. I recommend the Konjac jelly as a topping. Rating: 4/5
Comebuy Crystal Mall
Address: 1610 – 4500 Kingsway, Burnaby, BC
Website: www.facebook.com/ComebuyCrystalMall‎