When I was researching for places to eat in Penticton, Burger 55 came out as one of the top choices. Famous for their build-your-own gourmet burgers, Burger 55 was showcased in Season 2 of "You Gotta Eat Here." At the same time, I also noticed that they were offering a Groupon deal ($11 for $20 worth of takeout). And so one day during our week-long Okanagan road trip, we stopped by Burger 55 to give them a try.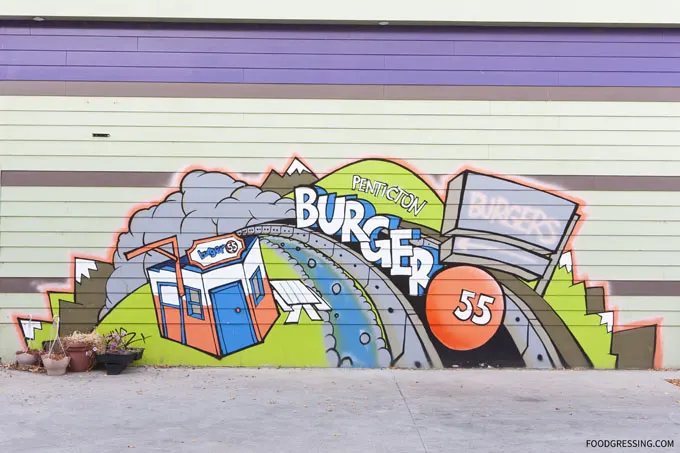 1946 Garage
Burger 55 has quite a retro feel – in fact, it operates out of a renovated 1946 garage. The interior is spacious with several picnic tables or you can enjoy your meal outside on the patio.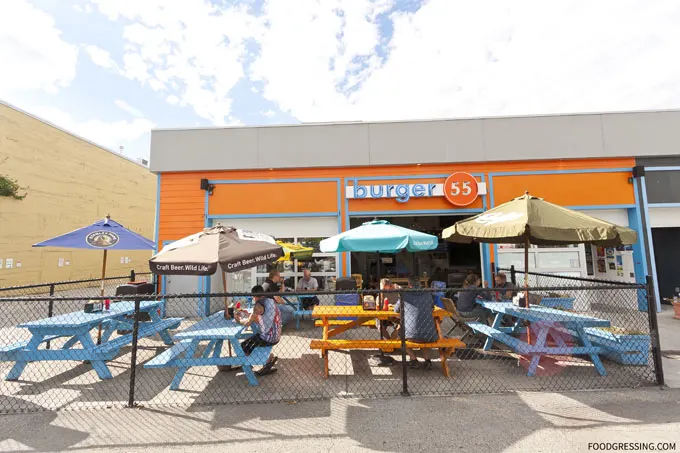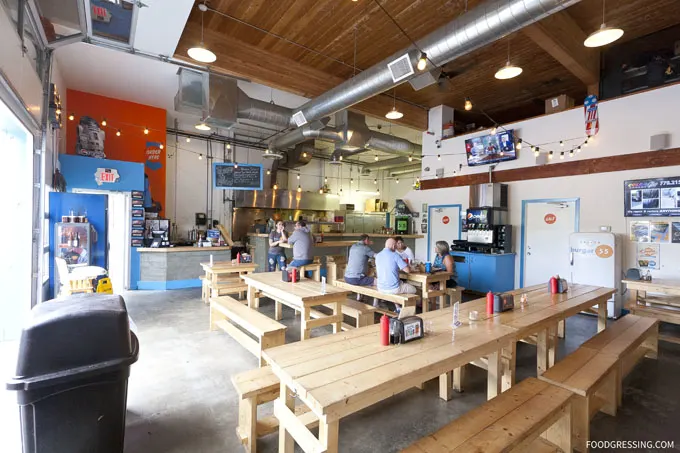 Burger 55 Menu
At Burger 55, it's about enjoying your dream burger with handmade patties and fresh toppings. How it works is you fill out a form on a clipboard and tick away at numerous boxes to select what you want. This is the kind of place where you can be all creative in building your burger because they offer some unique ingredients. Think peanut butter and grilled peaches and be adventurous!
Custom built burgers start at $7.25 with a standard AAA angus patty. Other patty options include grilled chicken, portabella mushroom, lamb, bison, Oceanwise salmon and even ahi tuna. Choose your type of bun, toppings (4 included) and sauces to complete the burger. For a premium burger experience, you can add cheese, premium sauces (like fig jam, curry sauce and peanut butter) and premium toppings (like smoked bacon strips, Montreal smoked meat). They also have signature options including the 55 Cheeseburger, Signature Burger, Hot n' Spicy, Diner Burger and the infamous Hero Burger which was featured on "You Gotta Eat Here."
Side options are aplenty and include fresh cut fries, sweet whiskey onion rings, maple bacon baked beans and more. You can even build your own poutine – sounds like the perfect side to me! Wash it all down with a beer or wine, and for dessert you might want to indulge in a milkshake or banana cream pie.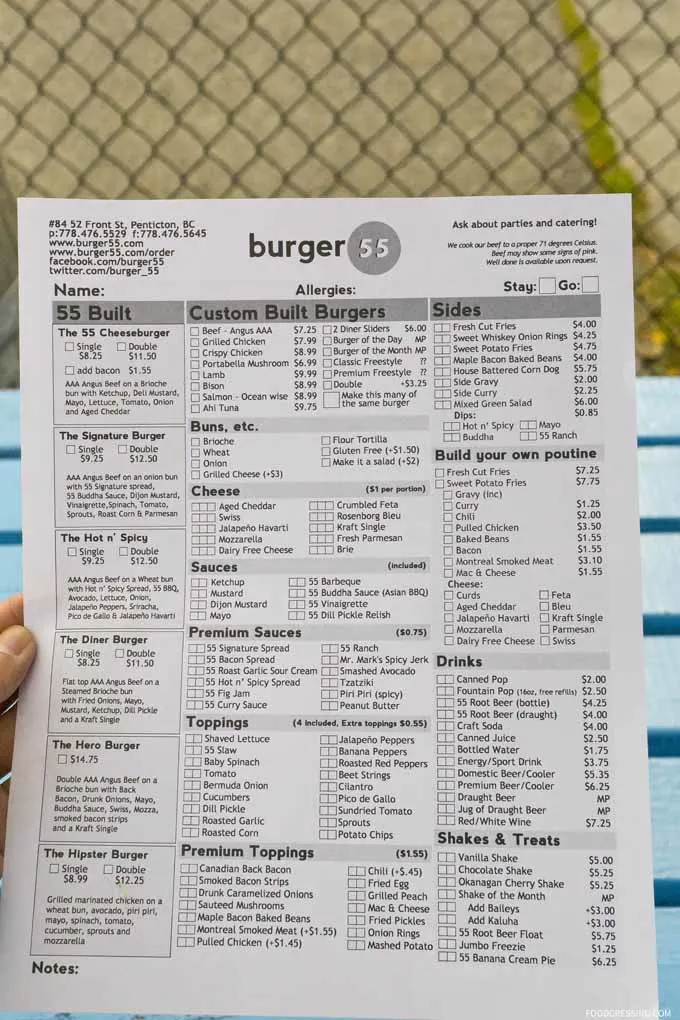 Burger 55 also offers a Kids Menu featuring mini burgers, chicken tenders, quesadilla, mac & cheese, and grilled cheese. These come with fries or salad.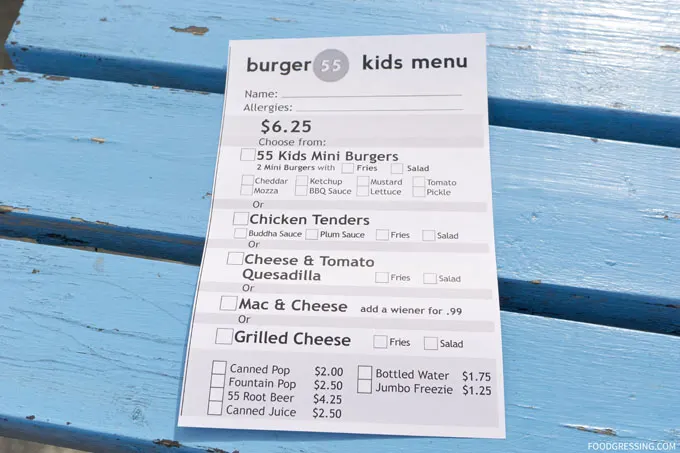 What We Tried
We ordered the Hero Burger ($14.75) and a kid's cheese and tomato quesadilla ($6.25). My husband and I shared the monstrous burger which had two AAA angus beef patties, back bacon, drunk onions, mayo, buddha sauce, swiss cheese, mozza cheese, smoked bacon strips, and a Kraft single on a brioche bun. It was a burger-porn worthy, hot, cheesy, meaty, juicy handful of a mess that was decently tasty. Perhaps not a burger to be had on a regular basis but a definite once-in-a-while sort of thing.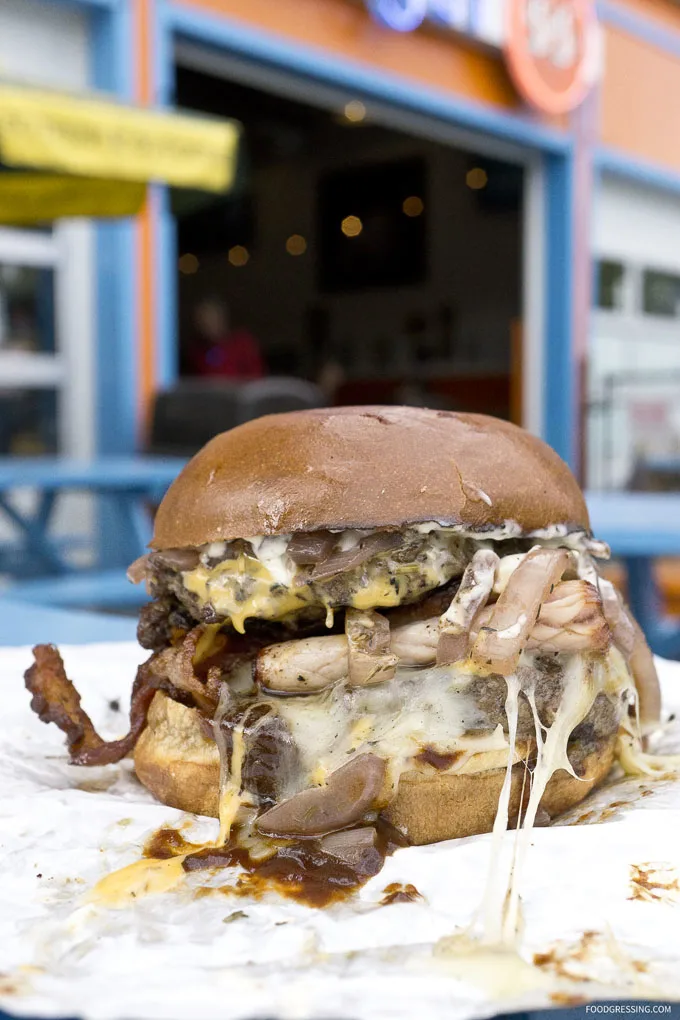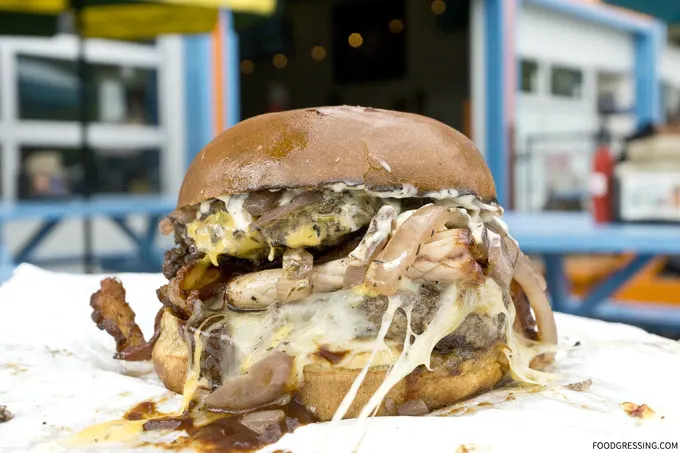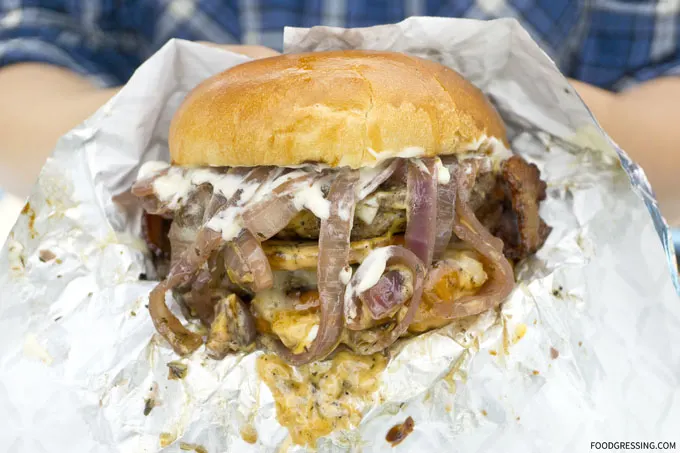 My son had the cheese and tomato quesadilla which was also very cheesy. Fries were crispy but don't seem like they were hand-cut.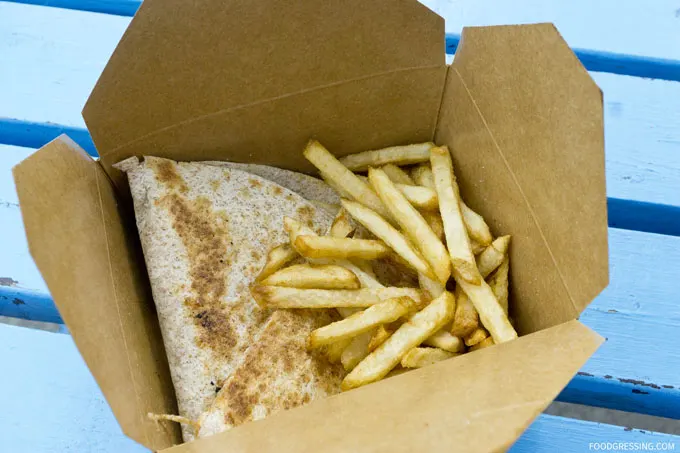 Overall Impression of Burger 55
It was an overall fun, reasonable burger experience at Burger 55. The Hero Burger was good though something to indulge in from time to time. I would probably make a custom burger if I ever visited them again. Rating: 3.5/5
Website: www.burger55.com