After opening its first Metro Vancouver outpost in Richmond last year, Blackball Taiwanese Dessert has now opened a second location on Kingsway.
Blackball is known for their award-winning grass jelly
Founded in 2006 in Taipei, Taiwan by the Tang brothers, the brand is known for their award-winning grass jelly, "Xian Cao."
Grass jelly, which is not made from grass at all, is a popular dessert ingredient in China, Taiwan and throughout Southeast Asia.
It comes from the plants of Chinese mesona – a member of the mint family – which is boiled to prepare a liquid that turns into a black gem-like jelly once it has cooled.
Its cool temperature and silky and smooth texture make it an ideal dessert to help beat the heat during the hot, summer weather.
Blackball Taiwanese Dessert Kingsway Menu
Blackball has elevated the classic grass jelly dessert by pairing it with toppings like boba, Taro Q, Yam Q, and red beans.
Taro Q and Yam Q are little mochi-like balls made with taro and yam respectively. Each dessert can be served hot, warm, cold or iced.
Classic dessert bases at BlackBall include Matcha (premium green tea powder) and Aiyu Jelly – made from the seeds of a type of fig.
In addition, BlackBall offers shaved ice desserts, mochi waffles, and a variety of Taiwanese tea beverages (like hot lattes, original leaf teas, milk teas, salt cheese teas and so forth).
My favourite Blackball Items
I have been to Blackball Richmond a few times and here are some of my recommendations:
Blackball Grass Jelly with Taro Q, Yam Q, Peanuts, Red Beans, Konjac Jelly, and Grass Jelly Flavored Ice
Aiyu Jelly with Taro Balls, Sweet Potato Balls, Crystal Pearls, Nata Coco, Aloe Vera, Winter Melon Flavored Ice
Matcha Shaved Ice with Matcha Jelly, Rice Balls, Taro Balls Mini, Sweet Potato Balls Mini, Matcha Balls Mini, Sesame Balls Mini, Red Beans, Matcha Pudding
Blackball Supreme with Taro Q, Yam Q, Taro Balls, Sweet Potato Balls, Pearls, Red Beans, Konjac Jelly, Crystal Pearls, Grass Jelly, Grass Jelly Flavored ice
This is my top recommendation! Such great value at $25 and you really get to try a bit of everything.
Wintermelon Tea with Mini Taro Q and Yam Q
Fresh Milk With Purple Rice & Mini Balls
This drink is so good! I just love the chewy and nutty flavours of the purple rice.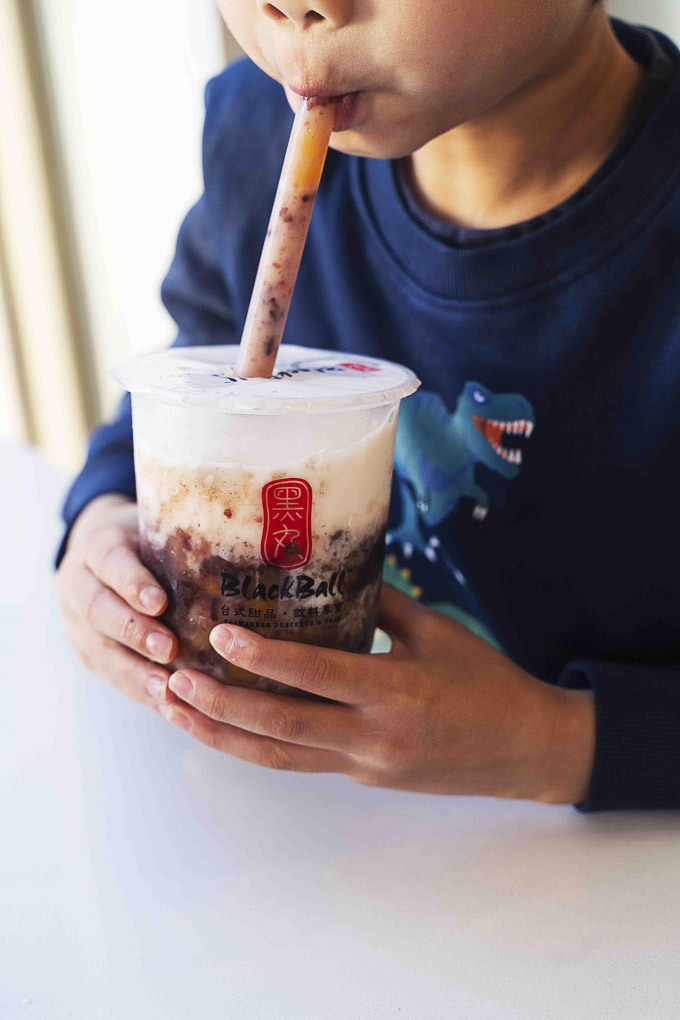 Blackball Taiwanese Dessert is currently open for takeout and delivery.
Blackball Taiwanese Dessert Kingsway
3377 Kingsway #1, Vancouver, BC
blackball.com.tw/index.php?lang=en