In this Birthday Cake Vancouver roundup, I share with you the best birthday cake Vancouver options for your celebration.
This post includes a wide variety of birthday cakes in Vancouver ranging from unique flavours, artistic presentation to ones that can be made to accommodate dietary preferences (including vegan, gluten free, nut free, and dairy free).
Buttermere Patisserie
Buttermere is a local contemporary pastry shop and cafe in Chinatown known for combining traditional confectionery techniques with Asian flavours and modern concepts.
Specializing in pairing unique and seasonal flavours, Buttermere is the place to go for aesthetic desserts, cakes, and pastries symbolizing Vancouver's diverse and vibrant scene where West meets East and flavours transcend cultures.
Some highlights of her cake offerings include a number cake as well as Matcha Lava and Black Mist Volcano cakes for a fun factor.
636 Main St, Vancouver, BC
Remi Patisserie
Another great place to get a birthday cake in Vancouver is at Remi Patisserie.
Owned and operated by Chef Remi Ho, you can expect Asian-flavoured cakes prepared with French Technique.
He currently offers cakes in 5″, 6″, and 7.5″ in Thai Tea, Matcha Black Sesame, Blueberry Cheesecake and Mont Blanc flavours. You will need to check his social media to see what he is offering.
511 W 7th Ave #109, Vancouver, BC
Blue Hat Bakery & Cafe
Blue Hat Bakery & Cafe at Pacific Institute of Culinary Arts offers custom cakes to order in various sizes—from 8-inch to 16-inch, round or square. These are professionally made and not by the students.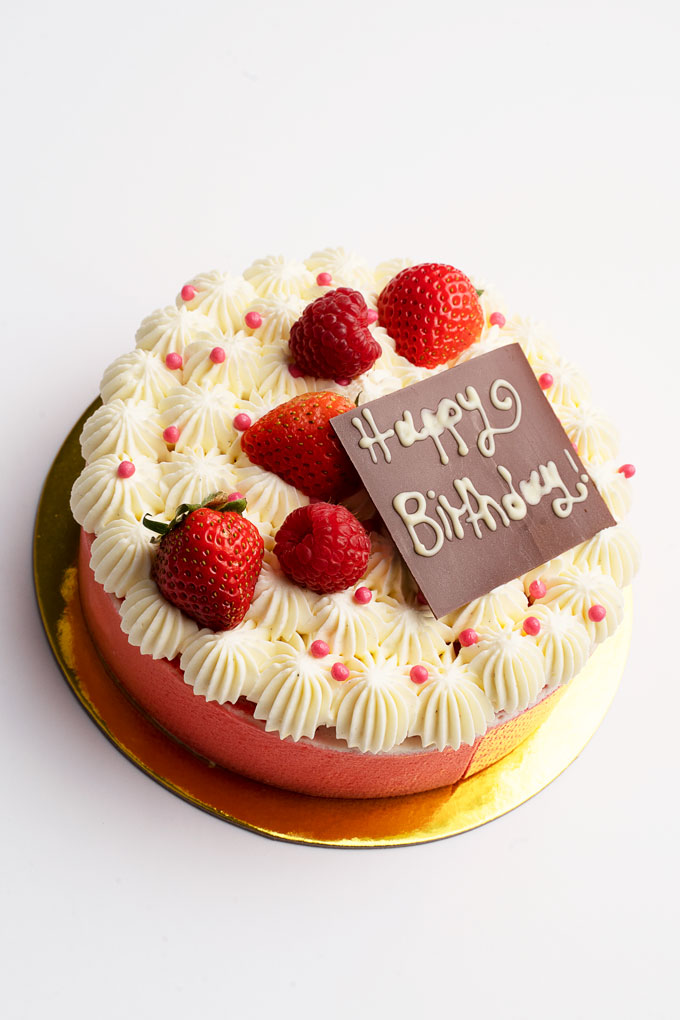 Some options include Strawberry Shortcake; Funfetti Cake and Carrot Cake.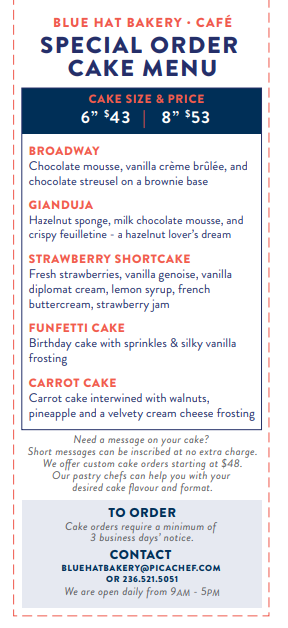 Level V Bakery (Vegan Options)
Looking for a vegan birthday cake Vancouver? Level V Bakery is the way to go.
Co-located with Whisk Matcha Cafe in Mount Pleasant, Level V Bakery is a dedicated plant based bakery.
Monica is the head baker, cake artist, and owner of Level V Bakery.
You'll find beautiful and delicious vegan cakes in flavours like Double Chocolate; Crunchy Chocolate Peanut Butter; Tiramisu; Earl Grey; Matcha; Hojicha Opera Cake and more.
They need 3 days notice for preorders.
39 Kingsway, Vancouver, BC
Gluten Free Epicurean (Gluten Free, Nut Free, Vegan, Dairy Free Options)
For a gluten free birthday cake Vancouver, check out the Gluten Free Epicurean in Fraserhood.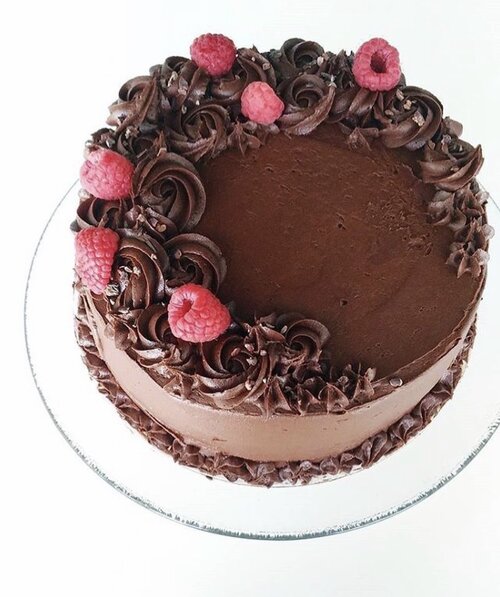 They offer 8″ cake double layer round in flavours like Lemon Lavender; Birthday Cake (literally); Triple Lemon; London Fog; Raspberry Earl Grey and more.
If you have other dietary preferences aside from gluten-free, they can also accomodate as their flavours can be dairy-free, vegan, and nut-free. Below is a screenshot of some of their flavour offerings.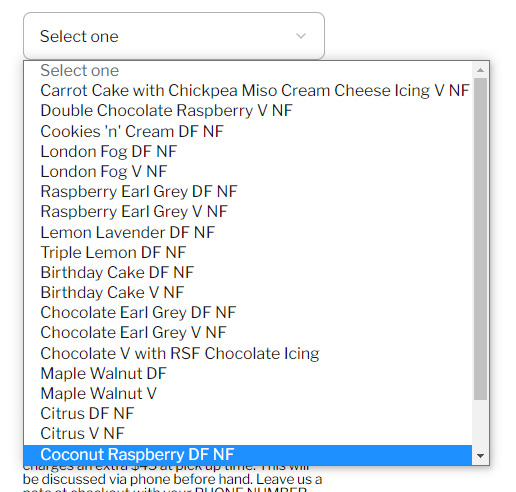 633 E 15th Ave, Vancouver, BC
Oh Sweet Day! Bake Shop
Oh Sweet Day! Bake Shop on Commercial Drive has a variety of delicious cakes ranging from cheesecakes, layer cakes, mousse cakes, thematic cakes and more.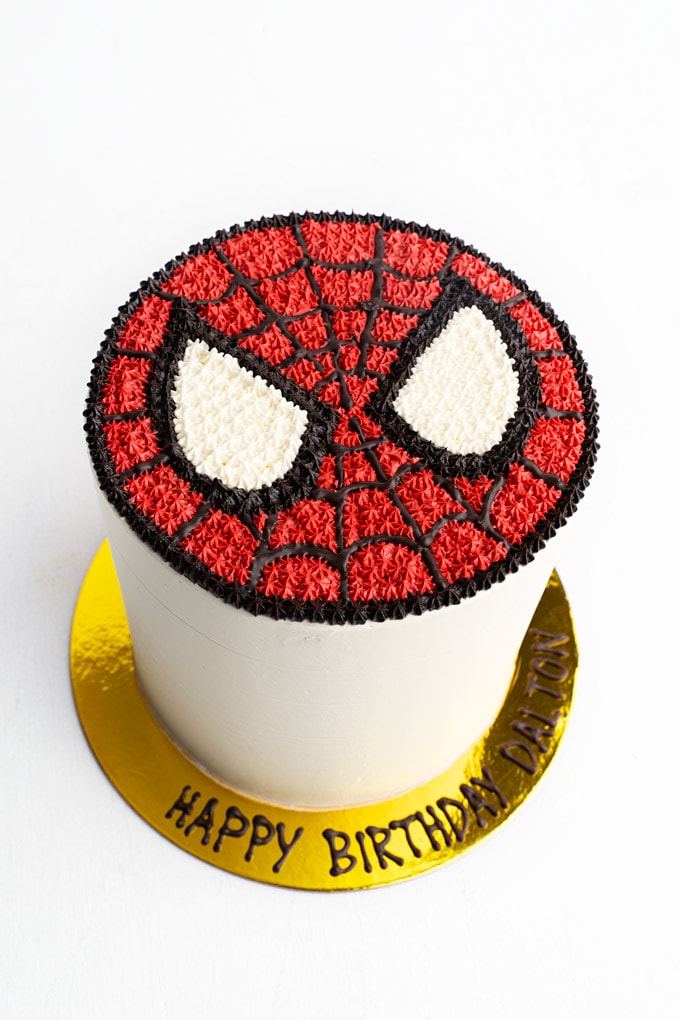 Owned and operated by Fanny Lam, you'll find tantalizing flavours like Banana Hazelnut; Passion Fruit Hazelnut; Confetti Cake; Salted Caramel Carrot Cake; Vanilla Salted Caramel Cake and more.
1706 E 1st Ave, Vancouver, BC
Yandoux Patisserie
Yandoux Patisserie is a modern bakery in Olympic Village is where you can a beautiful, artistic birthday cake in Vancouver.
Some of the flavours they offer include Dark Chocolate Cheese Cake; Vanilla Passion Fruit; Raspberry and Lychee with Mascarpone Cheese; Pineapple Cheesecake and more.
1731 Manitoba St, Vancouver, BC
Ganache Patisserie
Yaletown-based Ganache Patisserie is known for their stunning wedding cakes which have been featured in the top wedding magazines in the country.
However, Chef-owner Peter Fong does a lot of custom cakes, birthday cakes, and kids cakes as well.
You can choose from a variety of French-inspired flavours like Chocolat Velouté (70% dark chocolate mousse, dark chocolate crème brûlée); Foret Noire (hocolate cake, vanilla Chantilly cream, chocolate Chantilly cream, Kirsch-soaked cherries); Passion et Chocolat (Passionfruit mousse, mango-papaya gelée, milk chocolate mousse, flourless chocolate sponge) and more.
1262 Homer St, Vancouver
Breka
You forgot that it was someone's birthday and you need a cake right away. Where do you go?
Check out Breka at one of their 6 locations in Vancouver for a some delicious slices of cakes.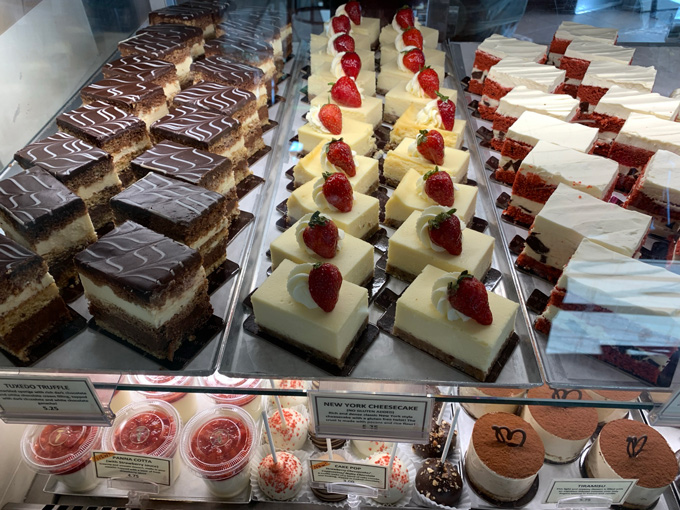 Thank goodness that Breka is open 24 hrs a day, 7 days a week. Truly a great late night food in Vancouver spot!
But if you are able to plan in advance, Breka prepares whole cakes if you order two days in advance.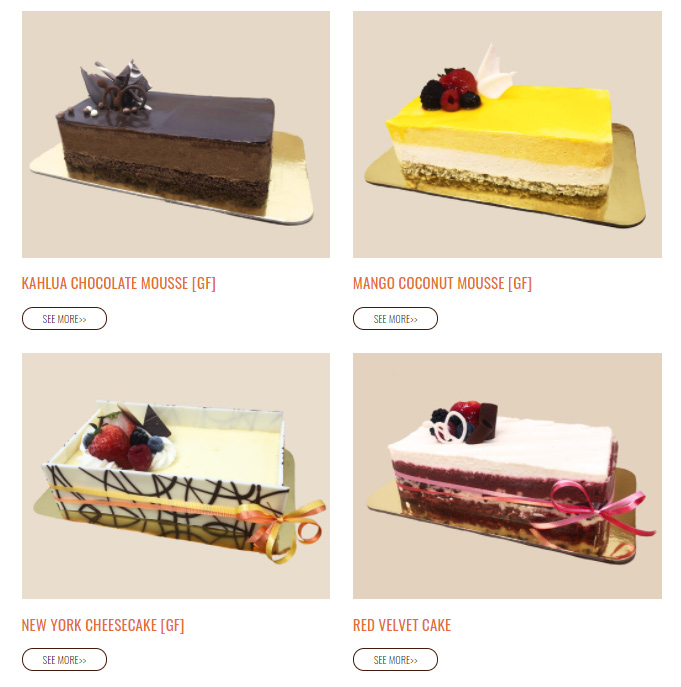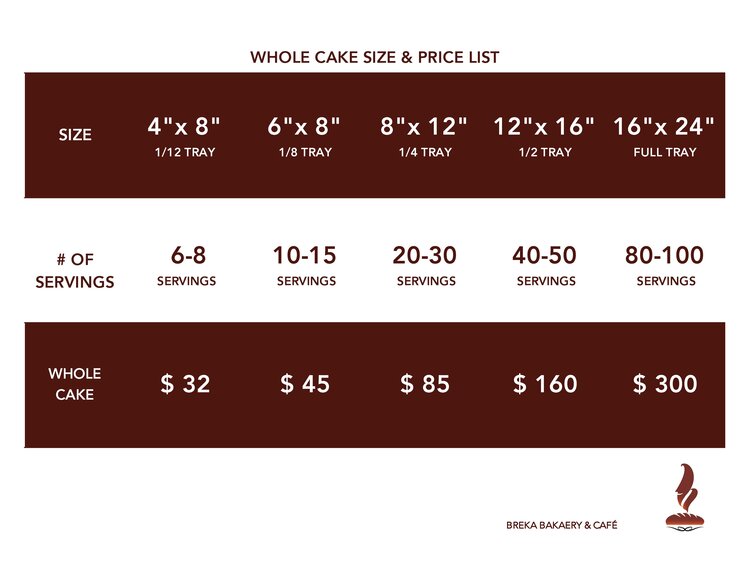 Some of their cake flavours include Kahlua Chocolate Mousse; Mango Coconut Mousse; New York Cheesecake; Red Velvet Cake; Strawberry Cake and so forth.
And perhaps if you luck out they might have a whole cake on display for you to take home.
4554 Main Street, Vancouver
821 Denman Street, Vancouver
818 Bute Street, Vancouver
855 Davie Street, Vancouver
6533 Fraser Street, Vancouver
3750 W 4th Ave, Vancouver
You might also like my post here on where to get a custom kid's birthday cake in Vancouver.