Whether you want a cozy date night at home or a glamorous night on the town, Atlanta abounds in romantic eateries with fantastic food. From Italian cuisine to classic American fare, read on to discover the best romantic restaurants in Atlanta GA.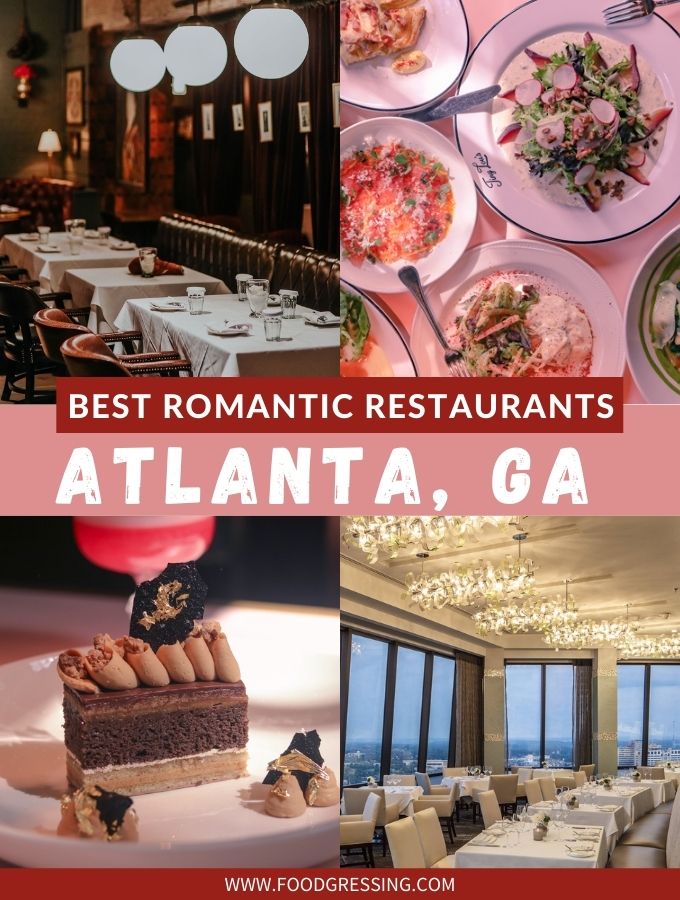 These restaurants are listed in no particular order.
Marcel
Whether you are sitting in an intimate booth or enjoying the lavish bar area, Marcel (1170 Howell Mill Rd) is a fantastic place for a romantic evening.
The golden table lamps near every seat at the bar give this section an enchanting glow.
Distinctive chandeliers and candlelit tables throughout the rest of Marcel will create a lovely experience no matter where you sit.
Marcel's simple menu offers a selection of prime steaks, simple plates (like Chicken Paillard and Veal Parmesan), and more.
Make sure you save room; one of the main highlights at Marcel is the Baked Alaska dessert, a chocolate cake topped with malted milk ice cream, salted caramel, and salty brown butter almonds.
Nikolai's Roof
Looking for a romantic rooftop restaurant in Atlanta?
On the 30th floor of the Hilton Hotel, you can enjoy stunning views of the city from Nikolai's Roof (255 Courtland St NE).
This contemporary French restaurant provides a dining experience with three, four, or five courses with wine pairings.
The a la carte menu features entrees like Beef Tenderloin, Garganelli Pasta, and Herb-Crusted Lamb Chops.
White linens, beige leather seating, and floor-to-ceiling windows make this space feel elegant, but still comfortable.
Tiny Lou's
Dim lighting, a colorful bar area, and snug leather booths make Tiny Lou's (789 Ponce De Leon Ave NE) a cozy spot for your next date night in Atlanta.
Located downstairs at the Hotel Clermont, the restaurant was named after a popular 1950s dancer in the Clermont Motor Hotel's "Gypsy Room."
This French-American brasserie specializes in comfort food like Steak Frites, Lobster Risotto and Berkshire Pork Chops.
Don't forget about dessert.
Le Salon 1965 will make the perfect ending to your meal. Layers of almond cake, chocolate stout cake, coffee buttercream ganache, white chocolate, hazelnut mousse, and ice cream create a downright decadent (but delicious) masterpiece.
Canoe
With a luxurious garden setting overlooking the Chattahoochie River, an evening at Canoe (4199 Paces Ferry Rd SE) will make for a lovely and serene date night.
The surrounding, peaceful gardens feature a variety of outdoor seating, waterfront views, and lush greenery.
Enjoy exposed brick, earthy tones, and comfortable seating if you sit indoors.
Settle into into an overstuffed booth or a table in the warm, rustic environment.
Look up and you will find an inventive ceiling that resembles the inside of a canoe.
This farm-to-table New American restaurant is open for brunch, lunch, and dinner.
Indulge in dishes like the Grilled Bay of Fundy Salmon; Gulf American Red Snapper; or Garam Masala Rubbed Lamb Sirloin.
Finish off with their famous Popcorn Ice Cream Sundae with Canoe's Peanut Cracker Jack and Chantilly.
Come here on a Wednesday evening for local live music in the summer.
Aria
Unique lighting fixtures and classic decor make Aria (490 East Paces Ferry Rd NE) feel elegant and romantic.
Inside, you will find white tablecloths, warm lighting, and cozy colors.
Outside is a picturesque patio, laid with red bricks, surrounded by a garden, and lit up with twinkly lights.
Aria is known for their inventive menu of New American fare paired with an award-winning wine list and distinctive cocktails.
The daily changing menu feature real ingredients and simple preparations.
Start off with appetizers like Crisped Berkshire Pork Belly, Black Truffle Burrata or Ruby Red & Golden Beets salad.
Next, enjoy entrees like Pan-Seared Sea Scallops, Mountain Trout, and Butter Braised Maine Lobster.
Finish off with a delectable dessert like Peanut Butter & Caramelized White Chocolate Mousse Cake or Upside Down Maple Caramel Nut Cake.
An additional seven-course tasting menu is available for the entire table every night in addition to the a la carte menu.
Bones Restaurant
With leather seating, wooden tones, and an abundance of picture frames on every wall, Bones Restaurant (3130 Piedmont Rd NE) is a longstanding steakhouse in Atlanta with an old-school vibe.
Open for lunch and dinner, Bones' menu features prime beef and seafood dishes inspired by the restaurant's Southern heritage.
They source local ingredients from farms, gardens and coastlines across Georgia and the Southeast.
Highlights of the menu include filet mignon, broiled lobster, and dry-aged bone-in ribeye.
The vast wine list at Bone's features many varieties of old and new world wines. These were hand-picked to pair perfectly with the restaurant's signature menu items.
Excellent service, high-quality cuts, and a retro atmosphere make Bones Restaurant the spot for an authentic steakhouse experience.
La Grotta Ristorante
La Grotta Ristorante (2637 Peachtree Rd NE) is one of the best romantic restaurants in Atlanta to visit on a summer night.
They're also one of the best, longstanding Italian restaurants in Atlanta having opened since 1978.
This Northern-Italian restaurant specializes in a variety of pasta, seafood, and risotto, but the real winner at La Grotta is the famous tiramisu.
La Grotta's lush patio, filled with blooming plants and string lights, feels like an enchanting oasis.
You will find an upscale environment in the indoor dining room, showcasing white linens, rich colors, and old-world charm.
BoccaLupo
Next on this list of best romantic restaurants in Atlanta is BoccaLupo's (753 Edgewood Ave NE).
Simple decor, wooden materials, white tones, and natural light, means that the real focus is on the food.
This low-key, intimate Italian restaurant focuses on fresh ingredients and authentic Italian flavors.
Start off with Spicy Tuna Crudo With Crispy Rice, Ginger & Calabrian Chilies; or Fried Shishito Peppers With Bread Crumbs, Frico & Avocado.
You'll find pasta dishes like "Cacio e Pepe" Pepper Mafaldine With Garlic, Corn & Pecorino; Handmade Garganelli WIth Smoked Chicken, Crispy Kale & Pole Beans; Black Spaghetti With Hot Calabrese Sausage, Red Shrimp & Scallions; and more.
St. Cecilia
High ceilings, black and white hues, and marble tables make St. Cecilia (3455 Peachtree Rd NE) feel extra glamorous.
During the day, this restaurant is filled with natural light through the many floor-to-ceiling windows; in the evening, warm light makes the space feel trendy and chic.
St. Cecelia specializes in classic Italian fare.
Menu favorites include the cacio e pepe, beef cheek agnolotti, and the charcuterie board.
Babette's Cafe
Since opening in 1992, Chef/Owner Marla Adams of Babette's Cafe (573 North Highland Avenue Northeast) has been devoted to delicious, uncomplicated food and wine, presented in an inviting setting.
The restaurant is located in a converted cottage with major European cafe vibes.
The menu is inspired by Modern French, Italian and Spanish Cuisines.
Some highlights of the menu include Herb Crusted Colorado Lamb Loin Chops; Slow Roasted Pork with Pearl Onion and Plum Compote; and Baked Sea Bass with Mustard Vinaigrette.
A quaint bar, white linen tablecloths, and colors like pink and yellow will make you feel as though you have been transported to France.
Kevin Rathbun Steak
What was once a run-down warehouse is now Kevin Rathbun Steak (154 Krog St NE STE 200), an ultra-chic steakhouse that makes this roundup of romantic restaurants in Atlanta.
This restaurant's high ceilings, brick walls, eccentric lighting, and candlelit tables give the space a trendy and upscale atmosphere.
On a warm evening, sit outside on the charming patio, where you can enjoy the outdoor fireplace and plush seating. Kevin Rathbun prepares excellent cuts of meat, including ribeye, wagyu shell steak, and filet mignon.
Ecco Midtown
Ecco Midtown (40 7th St NE) is a modern, sleek, European-inspired restaurant open for dinner and drinks.
As one of the best romantic restaurants in Atlanta, Ecco Midtown has a quaint patio for an evening outdoors, or sit inside for a warm, comfortable, and upscale atmosphere.
Ecco's menu is constantly changing based on the seasonality of the ingredients, but some highlights include the very popular fried goat cheese drizzled with honey; award-winning wood oven flatbreads; inspired pastas and inventive European-inspired mains.
Miller Union
With lots of natural light, black and white tones, and wooden tables, Miller Union (999 Brady Ave NW) has a country-modern flare.
This joint's southern-inspired menu includes grilled pork chops and seafood chowder.
Because Miller Union works with local farmers, the menu changes seasonally.