With chefs and restaurants that are influenced by the bounty of the ocean, shoreline and forest, Tofino is a great place to go on a foodie adventure. If you're wondering what to do in Tofino, I recommend eating your way through town! Check out this list of Best Restaurants in Tofino 2021 (in my opinion) for your inspiration.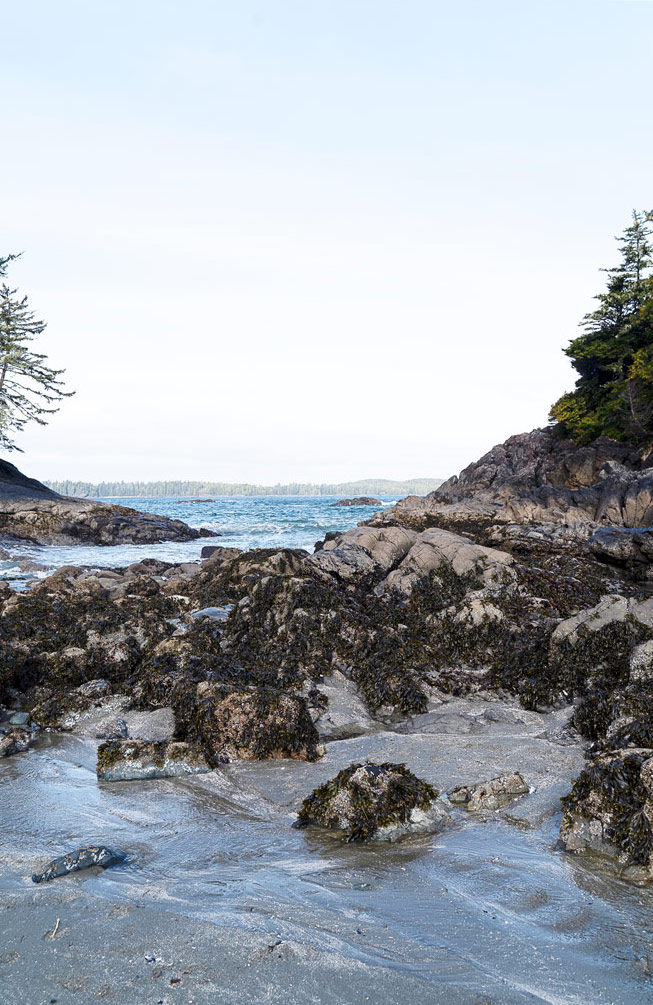 The restaurants are listed in no particular order.
Best Restaurants in Tofino 2021
Wolf in the Fog
Wolf in the Fog has been named one of the best restaurants in the country on Canadas Best 100 list for several years now.
It's definitely a quintessential entry in this list covering Best Restaurants in Tofino BC 2021.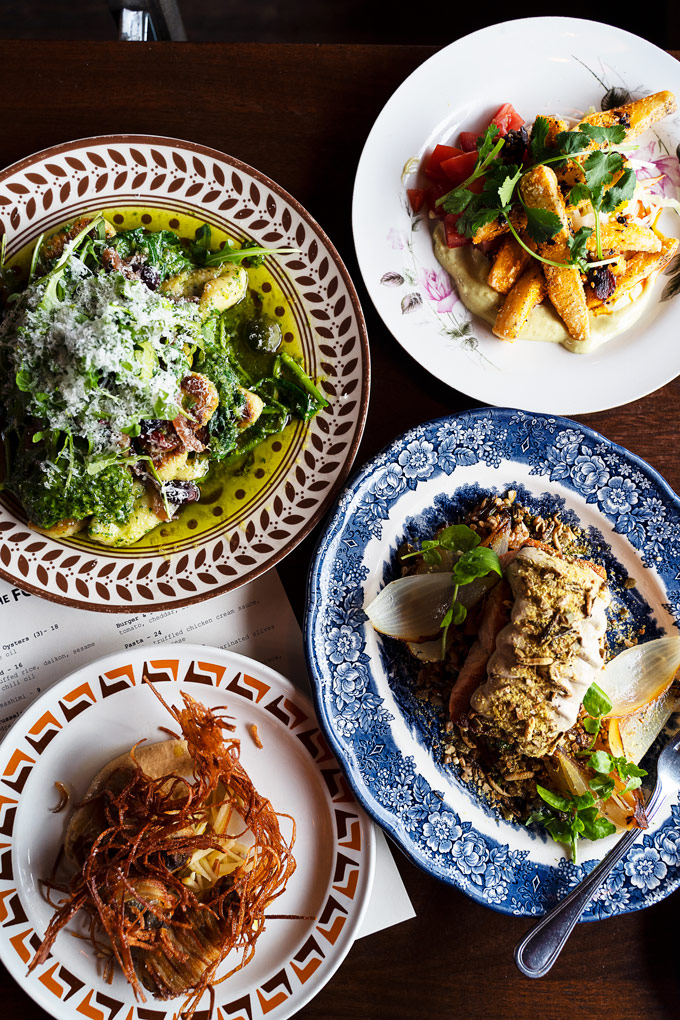 The menu exudes ingredient-driven Tofitian cuisine inspired by the ocean, shoreline and forest. fresh seafood, season ingredients, and some locally foraged from the forest.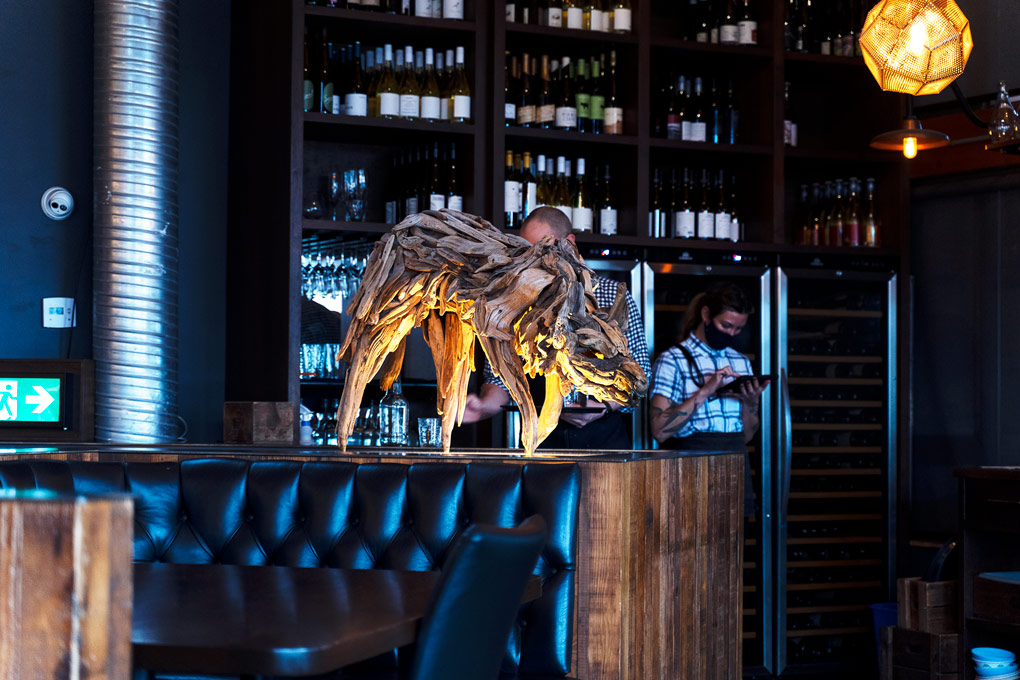 Do try the smoked oysters doused in truffle oil and wrapped in fried potato strings.
The main changes seasonally but you could expect dishes like Fried Humboldt Squid; Pan Roasted Trout; Potato Gnocchi and more.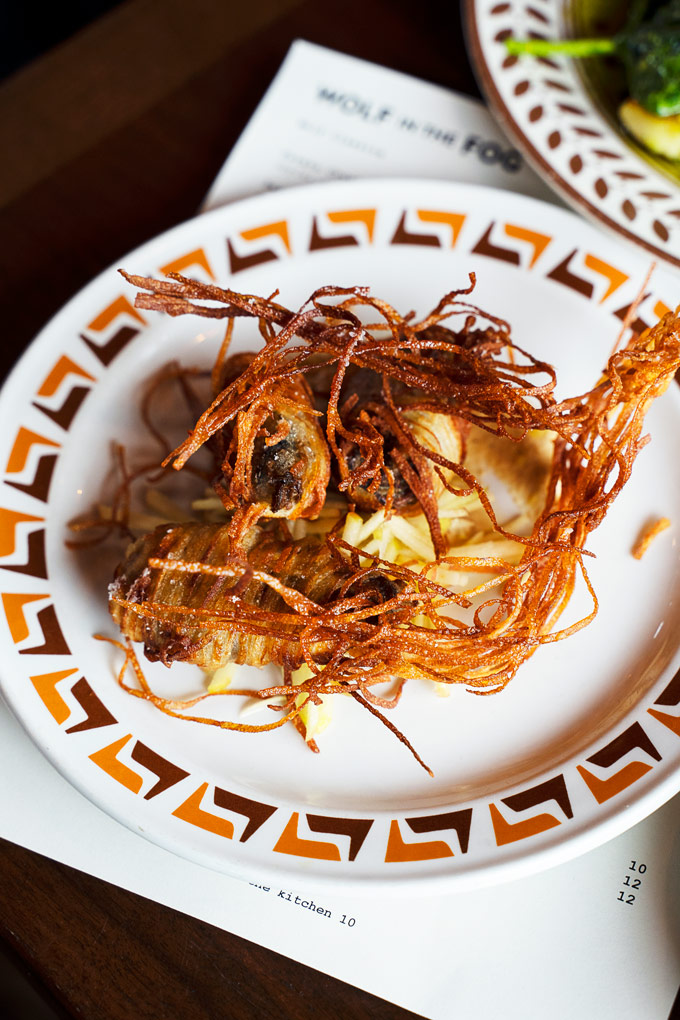 150 Fourth St, Tofino, BC
wolfinthefog.com
Shelter Restaurant
Shelter is the type of place where you might want to make a reservation in advance due to its popularity.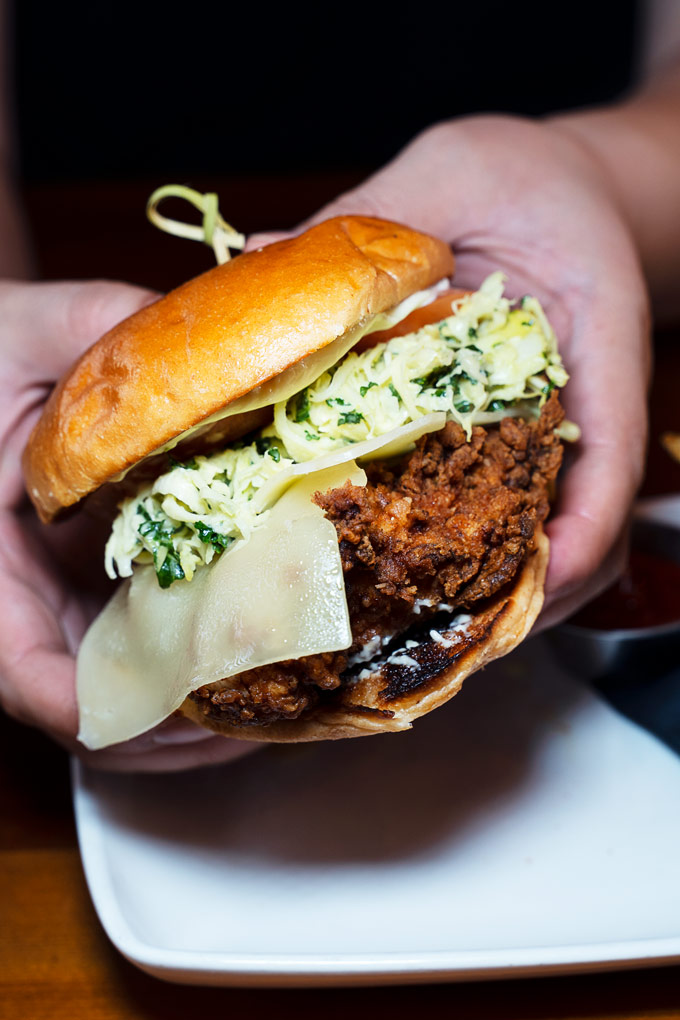 They are a casual restaurant where you mind dishes prepared with local, organic ingredients and ethically raised, all-natural meats whenever possible.
The salmon, halibut and prawns are caught by local fisherman while the poultry is free run and farmed on Vancouver Island.
They use hormone free, grass-fed beef, as well as anti-biotic and hormone free pork, including bacon from the Fraser Valley.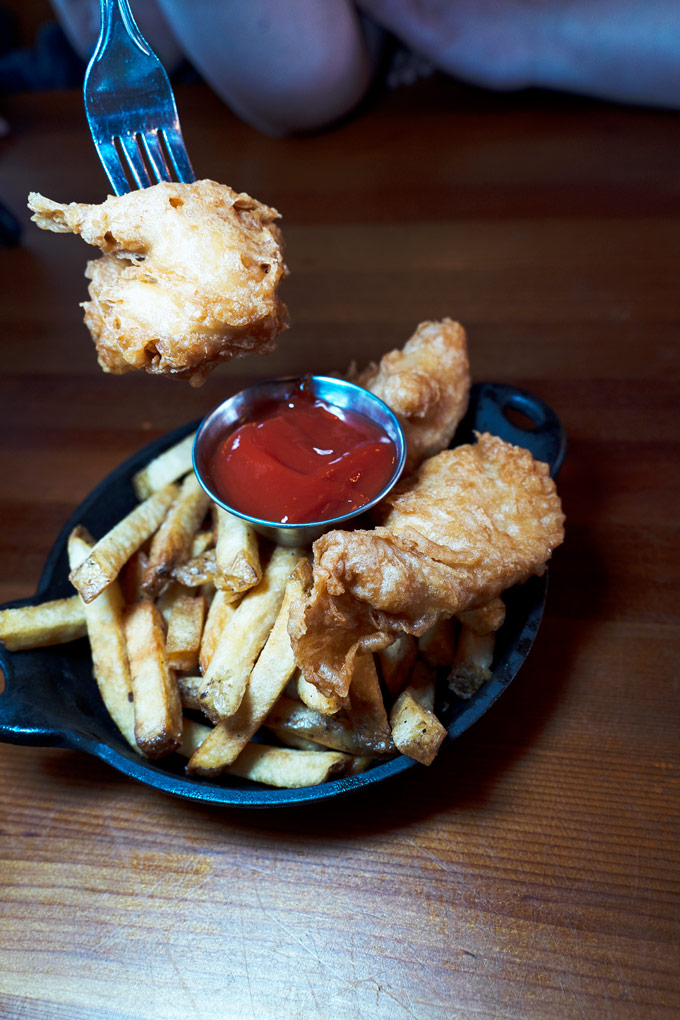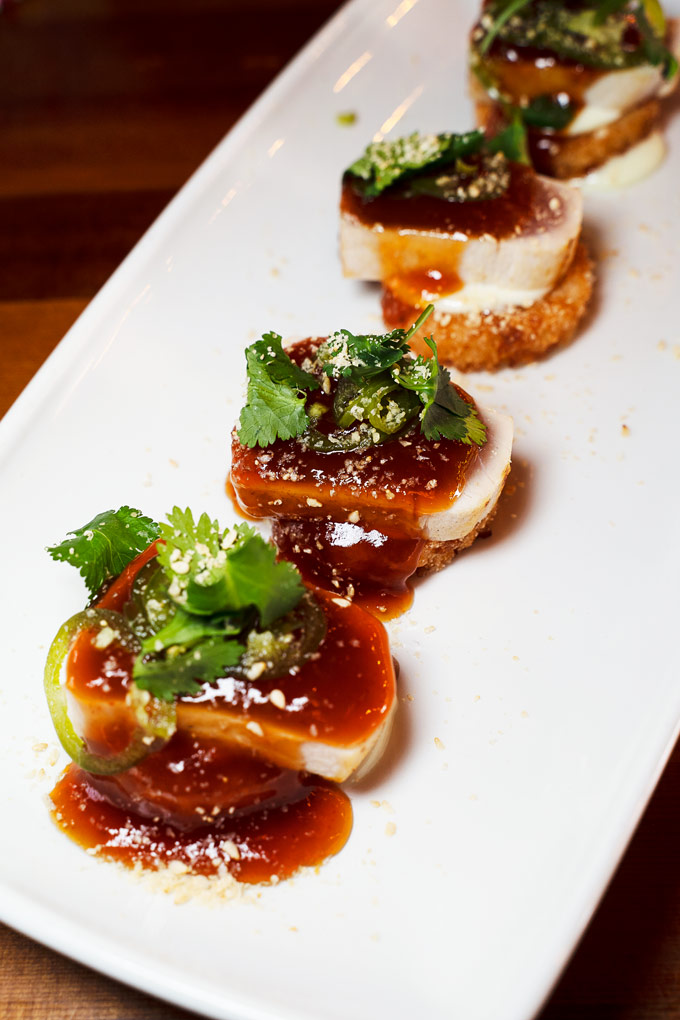 Starters include Farmhouse Chicken Wings; Meares Island Chowder Cup; Baja Fish Tacos and more.
Mains include Farmhouse Chicken Burger; Char Grilled Tuna; Side Strip Shrimp & Mussel Fettucine; Salmon Surf Bowl and more.
Finish off with a Chocolate Trio; Dark Chocolate Truffle to name a few.
601 Campbell St, Tofino, BC
shelterrestaurant.com
1909 Kitchen at the Tofino Resort and Marina
1909 Kitchen at the Tofino Resort and Marina offers a menu that reflects hyper-local, seasonal and ingredient-driven cuisine and the essence of the rugged and bountiful West Coast.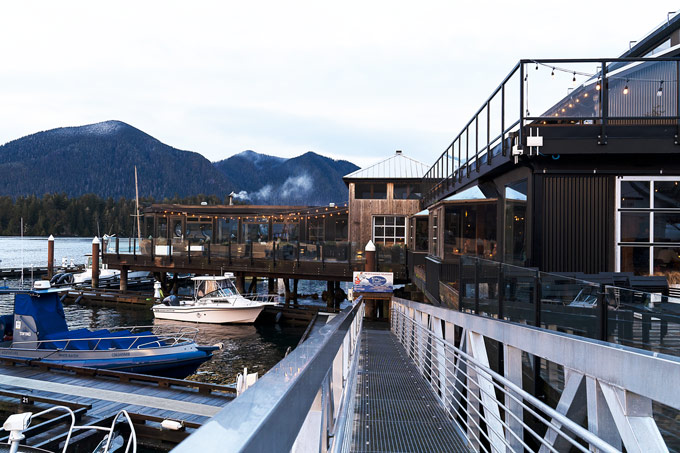 You'll find many seafood items featuring freshly landed catch.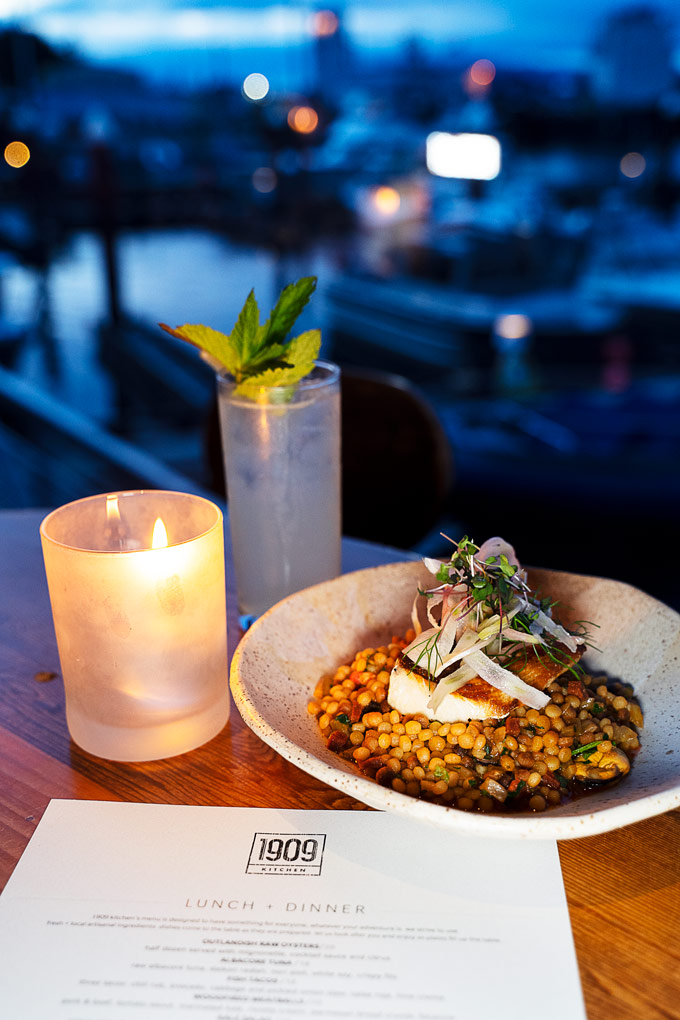 The adjacent Hatch Waterfront Pub also serves the same menu at 1909 as the restaurants are connected.
That space is every more relaxed and casual being a social hub.
The horseshoe-shaped bar is the centerpiece of the pub.
Enjoy the sweeping views of the Tofino inlet while sipping on local craft beers and classic cocktails.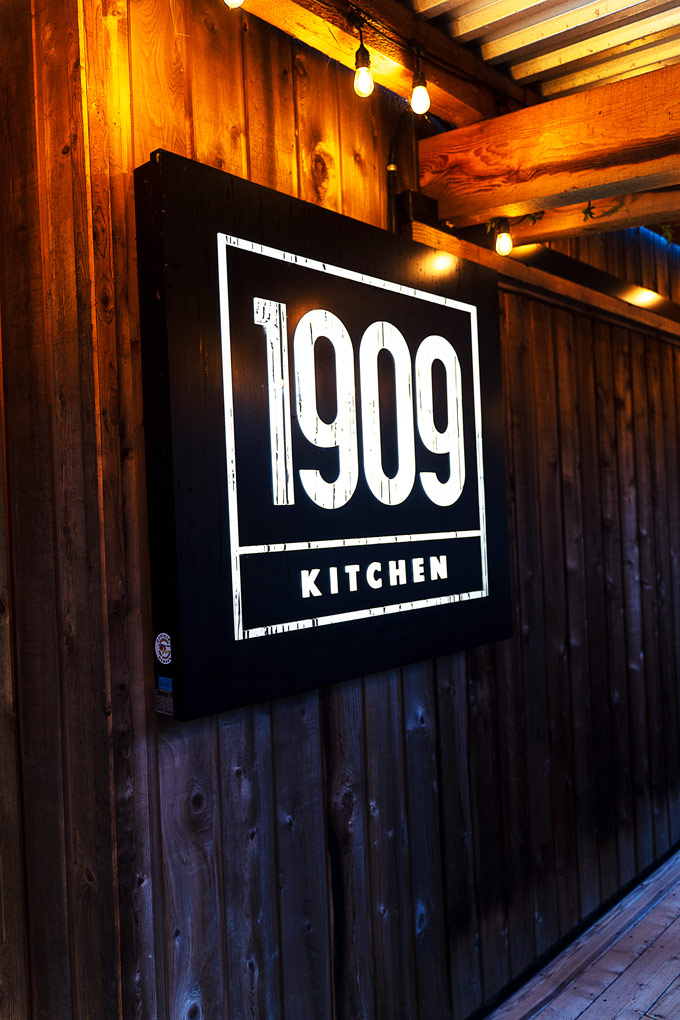 Menu highlights include crispy panko lingcod and house-cut fries, an organic burger with house-made bun, or health conscious options including jicama summer rolls and a crispy kale salad.
Small plates include outlandish raw oysters; calamari fritti; salmon seaweed crisps and more.
For larger plates, try the herb crusted halibut; seared tenderloin; or house made gnocchi with confit gingerling potato and basil pesto.
They also have a selection of wood fired pizzas include a New York Pepperoni; Funghi; Neo Margherita and more.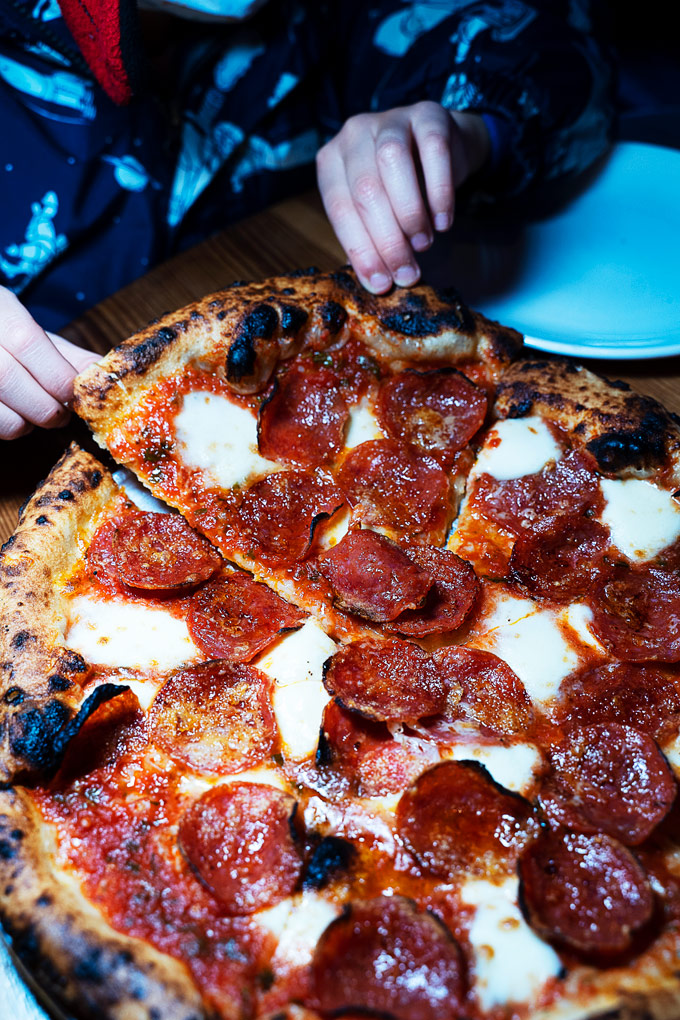 Those of you travelling with little ones, you will find a kid's menu featuring house made spaghetti; grilled cheese sandwich; and pizzas (cheese or pepperoni).
For dessert, there is the Strawberry Rhubarb Crosata; Lemon Panna Cotta and Flourless Chocolate Cake.
634 Campbell St, Tofino, BC
tofinoresortandmarina.com/restaurant/1909-kitchen
Roar Tofino at Hotel Zed
From the outdoor fire pits, wood-fire grill and charcoal grill, Roar Tofino takes food back to its simplest form – fresh, local ingredients being cooked over live fire.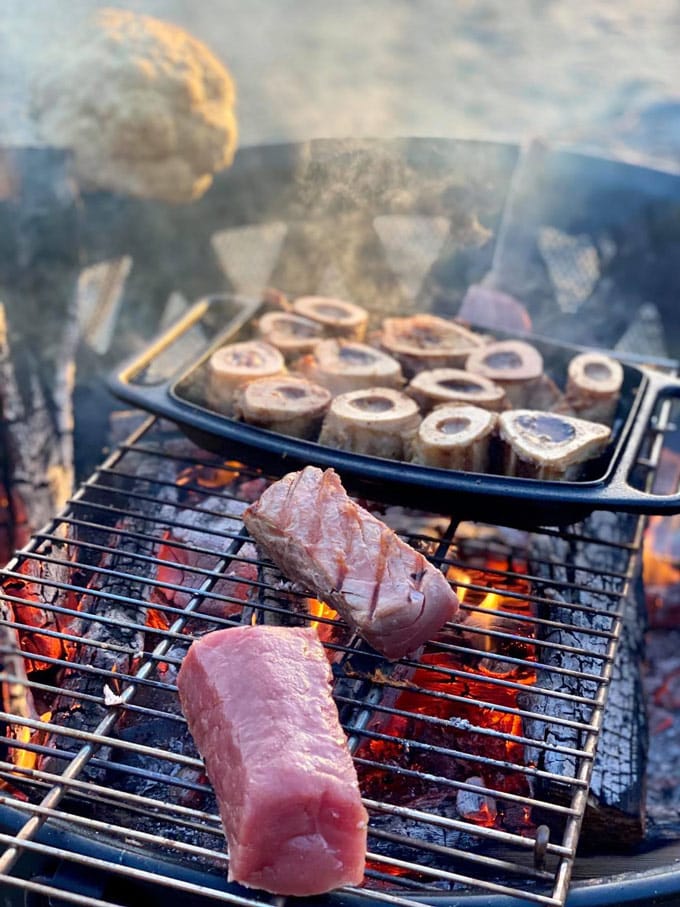 A nod to Tofino's geography, Roar harnesses the roar of the ocean and the roar of the fire in an out-of-the-ordinary restaurant space.
Upon entering Hotel Zed Tofino, guests walk through the totally-70's avocado green shag-rug sunken living room past the mini disco and the psychic's den and then into the bar and restaurant of Roar.
1258 Pacific Rim Hwy, Tofino, BC
www.hotelzed.com/zed-tofino
The Pointe Restaurant at the Wickaninnish Inn
The Pointe Restaurant at the Wickaninnish Inn is where you will find inspired West Coast cuisine and attentive service with 240 degree views of the Pacific Ocean, surrounding islands and wildlife.
They have an extensive wine list, recognized yearly by Wine Spectator magazine, which showcases BC's finest selections with a broad range of international bottlings.
500 Osprey Ln, Tofino, BC
https://thepointerestaurant.ca/dining/
The Great Room At Long Beach Lodge Resort
Located at Long Beach Lodge Resort, The Great Room is where you will find a menu that showcases farm fresh ingredients and seafood bought daily direct from the fisherman.
The restaurant boasts uninterrupted views of the ocean while the modern furnishings, wood accents and fireplace features provide a cozy, warm feeling like a living room.
1441 Pacific Rim Highway, Tofino, BC
http://www.longbeachlodgeresort.com/site/cuisine.html
Kuma Tofino
Kuma Tofino has been a town favourite and local staple since 2014.
They serve wholesome Japanese style comfort food based on heritage recipes in a welcoming, warm environment.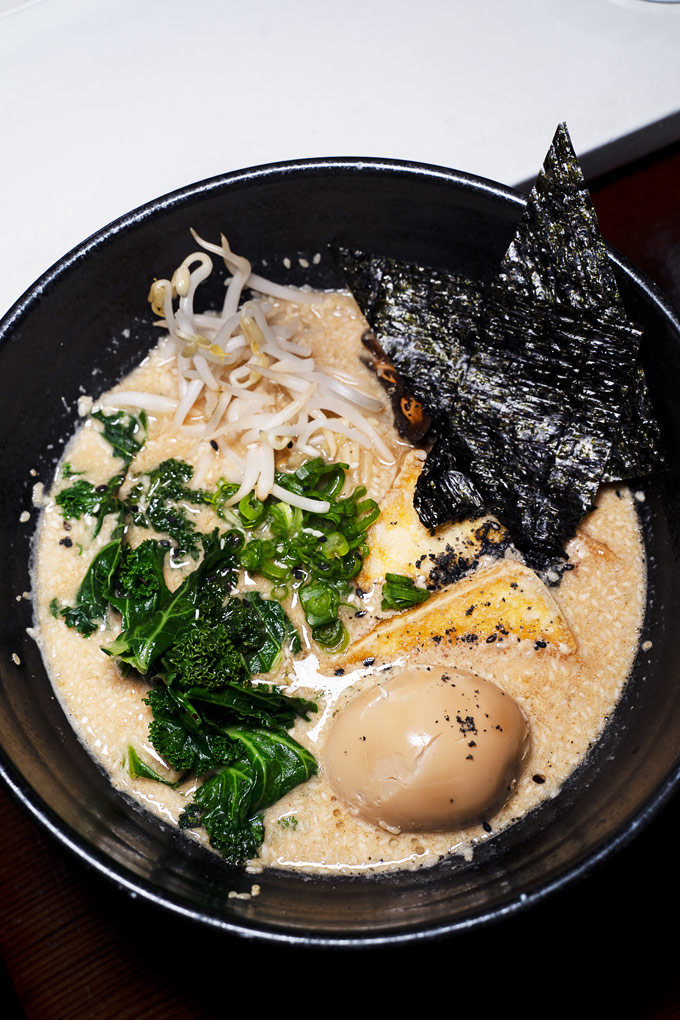 You can enjoy hearty bowls of ramen after a day surfing or hiking and other comfort food dishes like Okonomiyaki (a Japanese pancake) and more.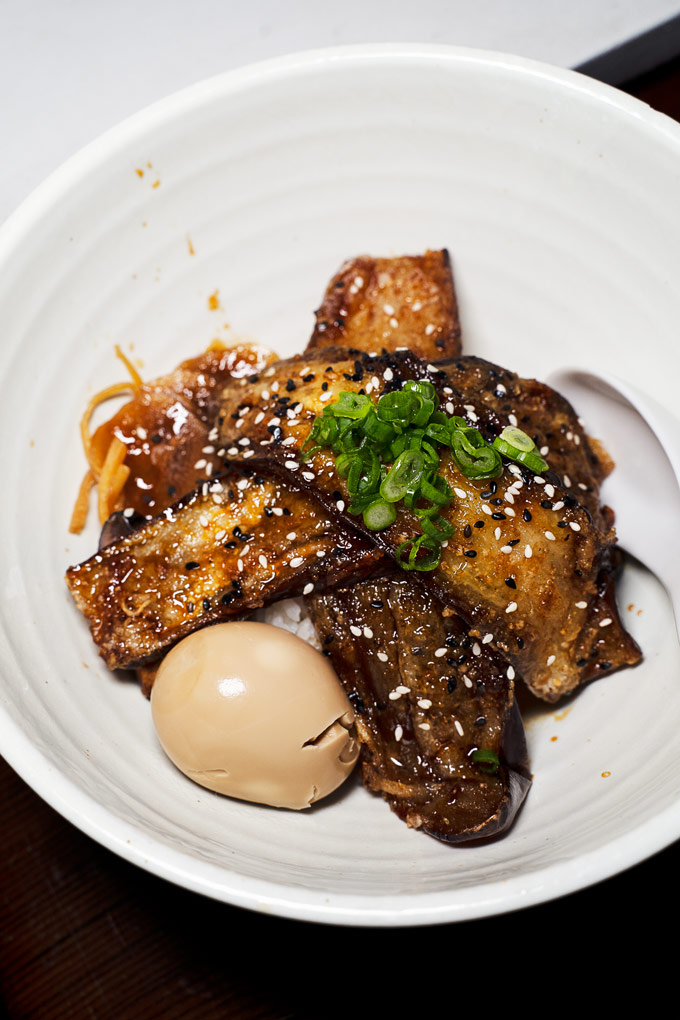 101 Fourth St #120, Tofino, BC
kumatofino.com
Bravocados
Bravacados is a small, humble eatery in a strip-mall serving hearty vegan comfort cuisine & salad bowls with worldly fusion flavours. They are Tofino's only dedicated vegan restaurant.
Their entire menu is vegetarian, with most items vegan or having a vegan option at the very least.
They also offer many gluten-free choices as well.
You'll find appetizers (like Kimchi Poutine, Cauliflower Wings), Bowls (like Burrito Bowl, Super Bowl), Burgers, Burritos, an All-Day Breakfast, Fresh Pressed Juice and an extensive beer menu.
1% gratuity is added to each bill to help the Tribal Parks do their good work in the Tla-O-Qui-Aht First Nations territories.
368 Main St, Tofino, BC
https://bravocadosbistro.ca/
Best Casual Eats in Tofino 2021
Tacofino
While Tacofino has expanded with many food trucks and brick-and-mortar shops in Vancouver, their story started on the Pacific Rim in Tofino.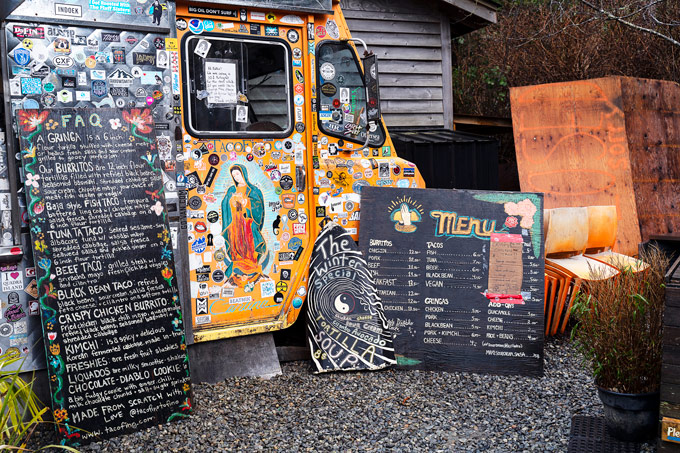 Tacofino Tofino food truck is where you find Mexican-inspired but West Coast influenced fish tacos, big burritos, fresh drinks, all for under twelve dollars.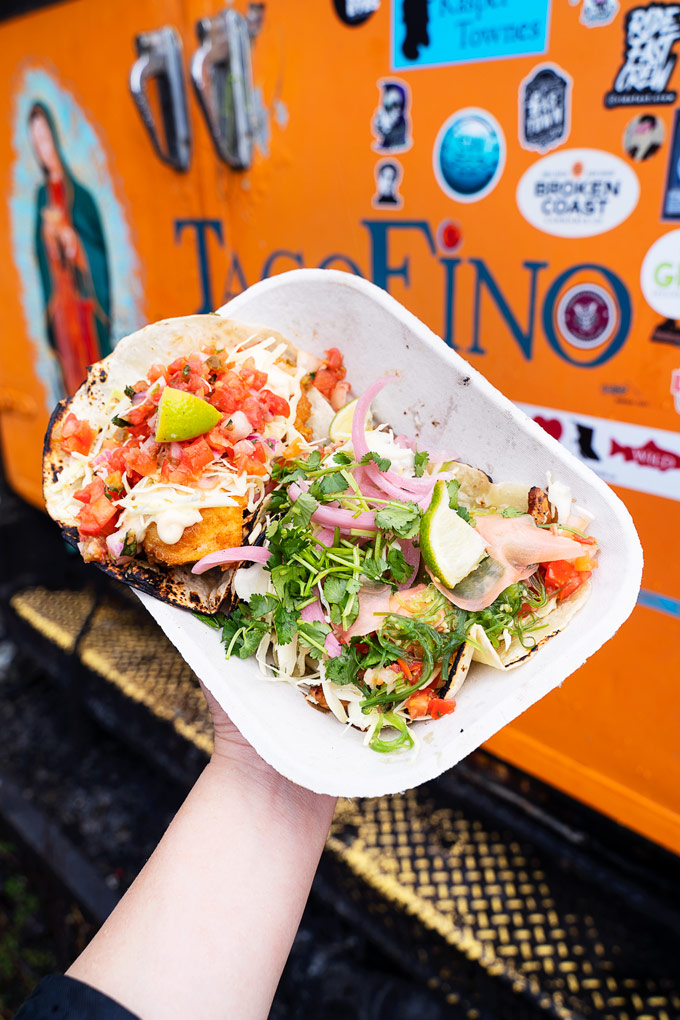 1184 Pacific Rim Hwy, Tofino, BC
www.tacofino.com/location/tofino-original-truck
Chirpz Chicken
Chirpz Chicken Tofino is where you'll find fried chicken samiches, waffles, and vegan gluten free dishes with their own unique Tofino twist.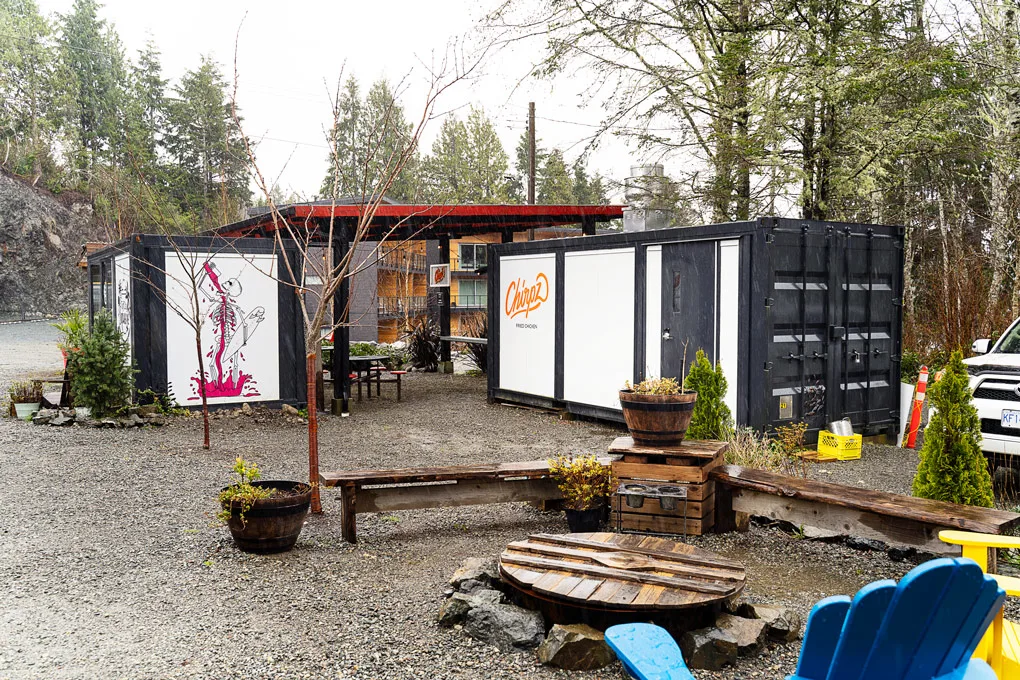 They offer a few different styles including Classic, Korean, Buffalo Hot, Nashville Hot and more.
Chirpz Chicken also serves wings in different flavours and waffles fries.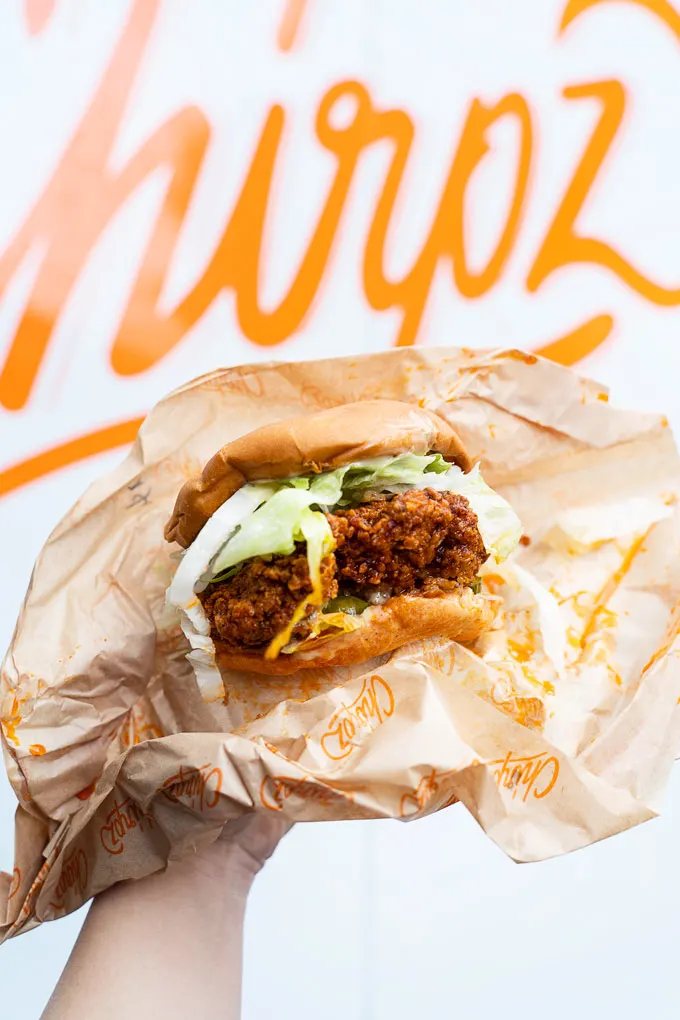 You'll find Chirpz Chicken Tofino located in the shipping container marketplace where local food vendors operated out of retrofitted shipping containers. Located at the very end of Campbell street.
PO Box 1026, 220 Campbell St, Tofino, BC
www.instagram.com/chirpzchicken/
Shed Tofino
Shed Tofino is known for their burgers, bowls and brews with a West Coast atmosphere.
Start off with the classic Shed Burger; snack on Britney's Spears (crispy dill pickles); enjoy the Tsunami Salad; and wash it down with a beer or cider.
461 Campbell St, Tofino, BC
https://www.shedtofino.com/
Best Coffee Shops and Cafes in Tofino 2021
Rhino Tofino
Rhino Tofino is Tofino's go-to for breakfast, lunch and mouth watering donuts.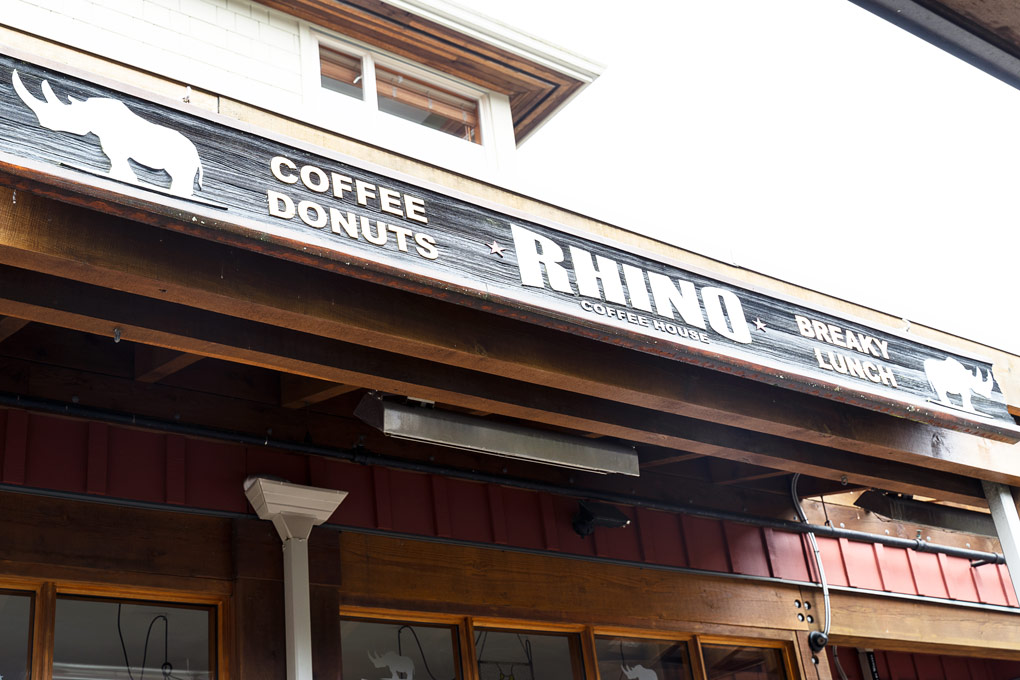 They have been open since 2013 serving the community fresh brewed coffee and baking up fresh donuts daily.
Every cup is locally brewed making it a delicious representation o the region. It's a neighbourhood spot where the locals and tourists visit alike.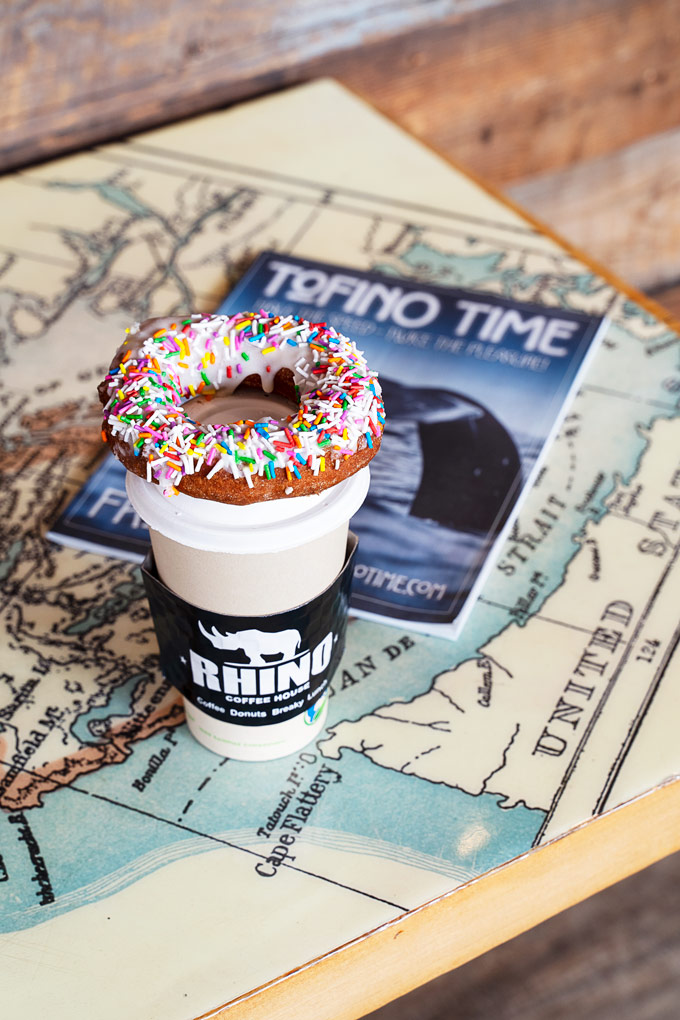 On the menu are housemade sandwiches, wraps, bagel sandwiches, bowls and more.
Donut flavours include cinnamon sugar, sprinkle, Boston cream, apple fritter, and more. The lineup can long but it's fast moving.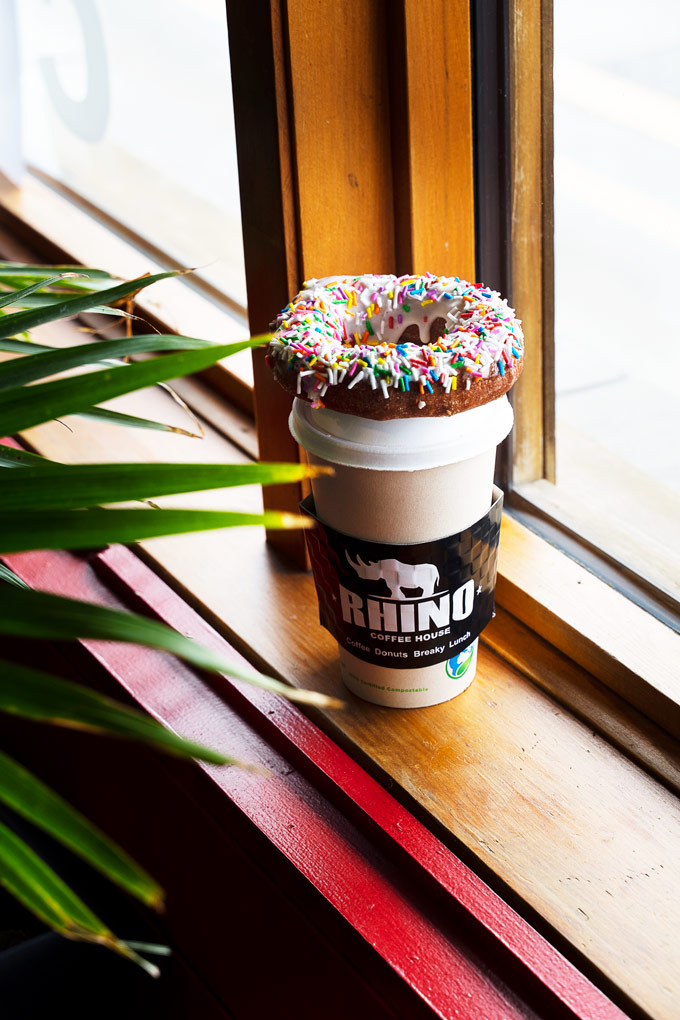 430 Campbell St, Tofino, BC
rhinocoffeehouse.com
Tofitian Cafe
Tofitian is another local coffee shop in Tofino offering delicious coffee and a selection of in-house gourmet baked goods.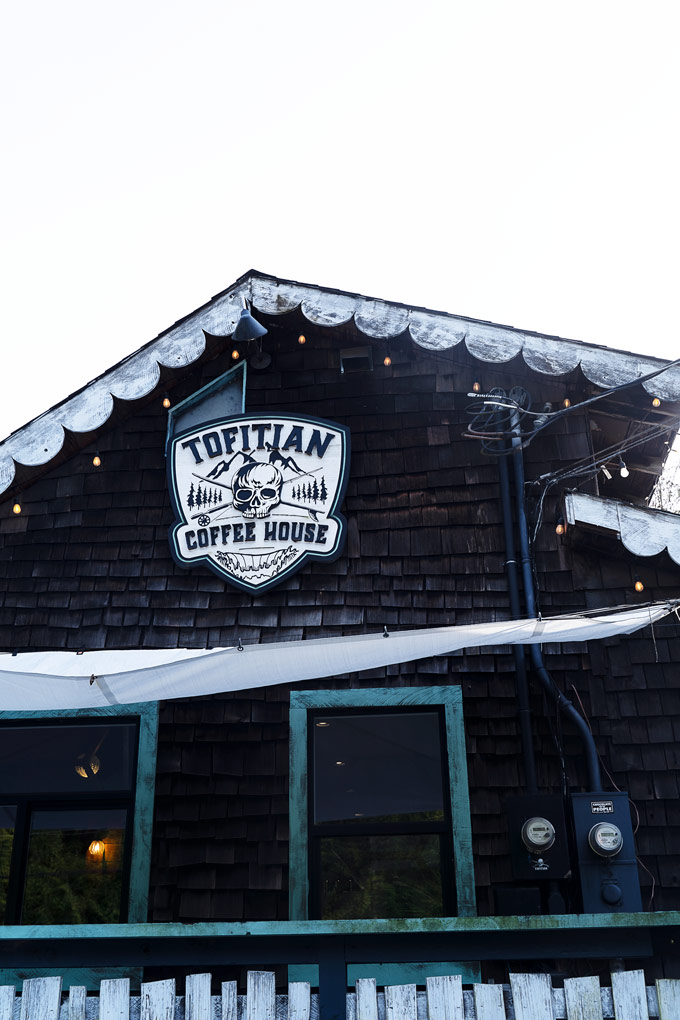 Top quality ingredients go into their sweet and savoury offerings.
On the menu are muffins and scones, breakfast sandwiches and sausage rolls, cookies and cakes and so much more. There are daily rotating gluten free and vegan items.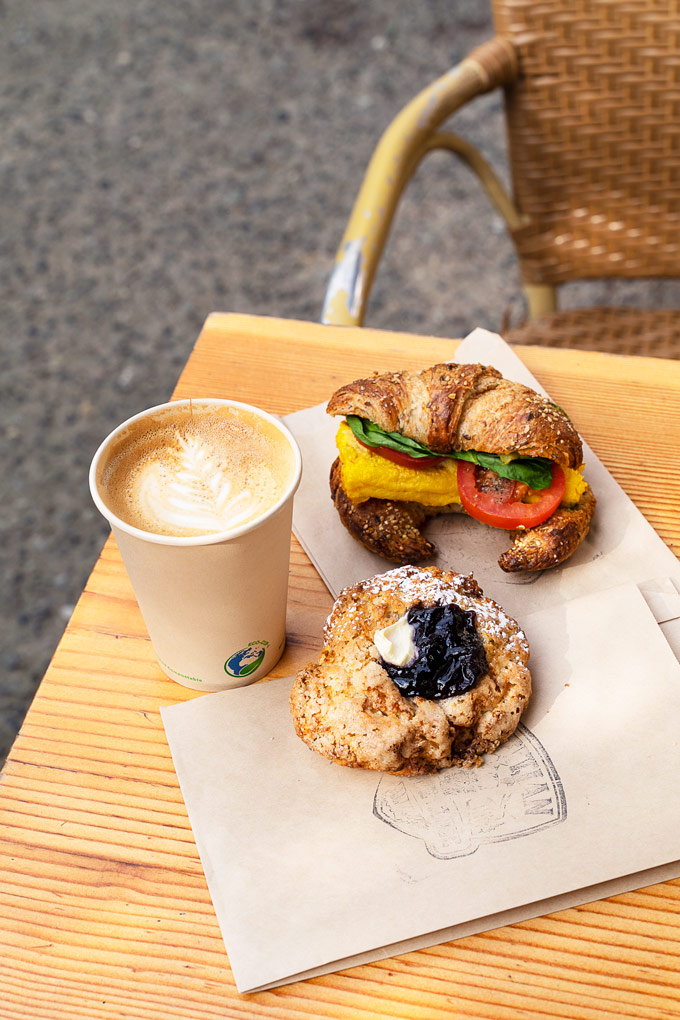 1180 Pacific Rim Hwy, Tofino, BC
tofitian.com
Darwin's Cafe
Located inside the Tofino Botanical Gardens, Darwin's Cafe happily serves a variety of drinks including espresso drinks, teas, juice, wine, cold drinks from Tofino Kombucha and Tofino Brewing Company, and house made baked goods, sandwiches, and soups.
Garden admission or membership is not required to enjoy the café. Their patio has a lovely view of the Botanical Gardens and is often visited by their free range chickens who love attention from guests.
1084 Pacific Rim Hwy, Tofino, BC
https://tofinobotanicalgardens.com/darwins-cafe/
Best Dessert Spots in Tofino 2021
Chocolate Tofino
Chocolate Tofino is where you find hand-crafted chocolates and homemade, artisan gelato and sorbet – all made fresh locally on site.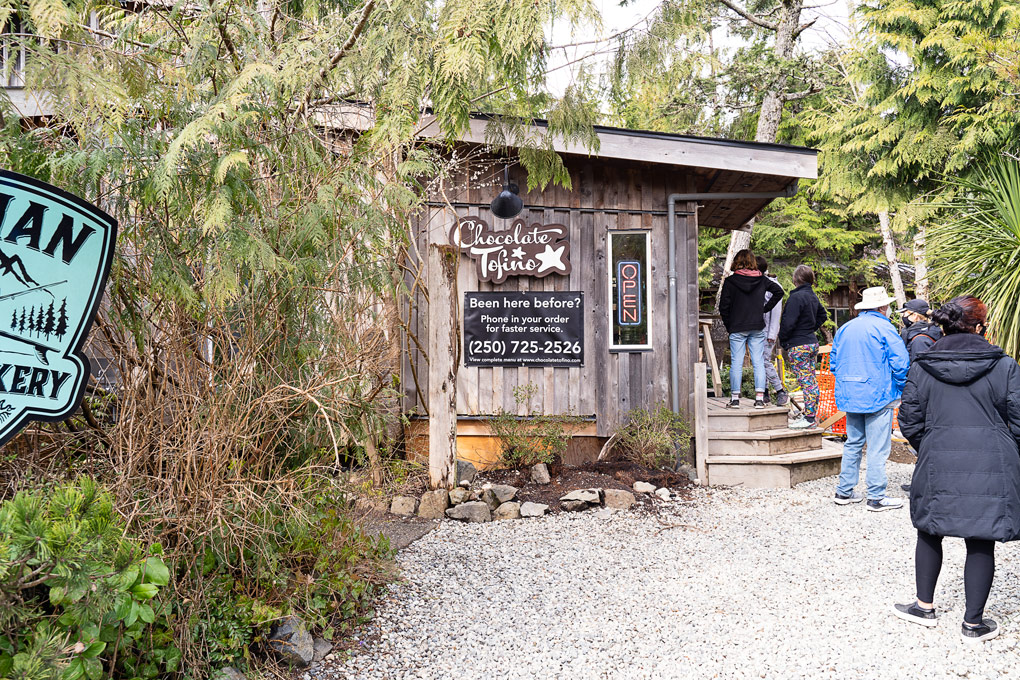 They take pride in their hand-crafted chocolates being made fresh with high quality ingredients without artificial flavours, colours or preservatives. They aim to incorporate organic and local flavors into our artisan chocolates.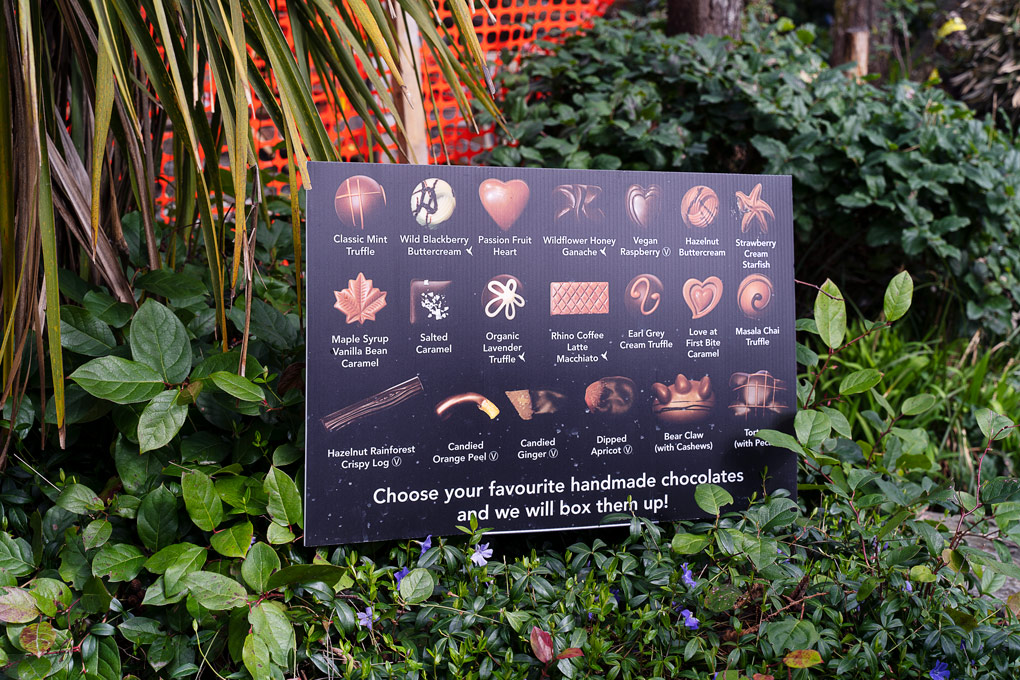 Their local specialities include Salt Spring Island Organic Lavender Truffle, Wildflower Honey Ganache and Clayoquot Blackberry Buttercream.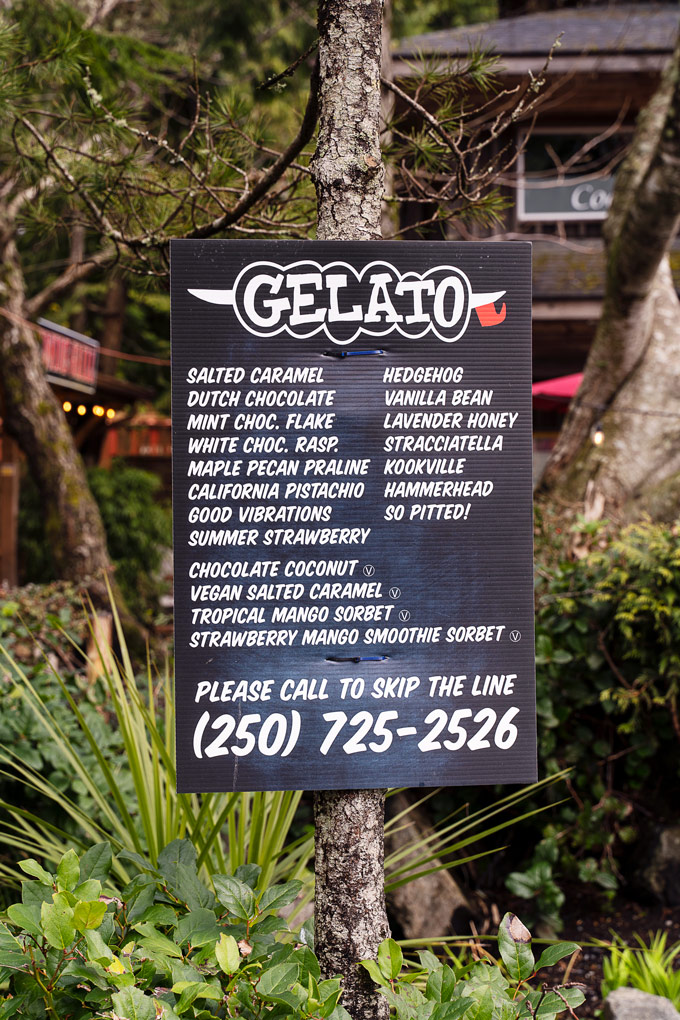 To cool off from the heat, check out their selection of fresh-housemade gelato and sorbets.
These flavours are churned in house from whole ingredients blended with natural flavours. Gelato flavours include Dutch Chocolate; Summer Strawberry; Maple Pecan Praline and more.
There are vegan options like Chocolate Coconut; Tropical Mango Sorbet; and Strawberry Mango Smoothie Sorbet.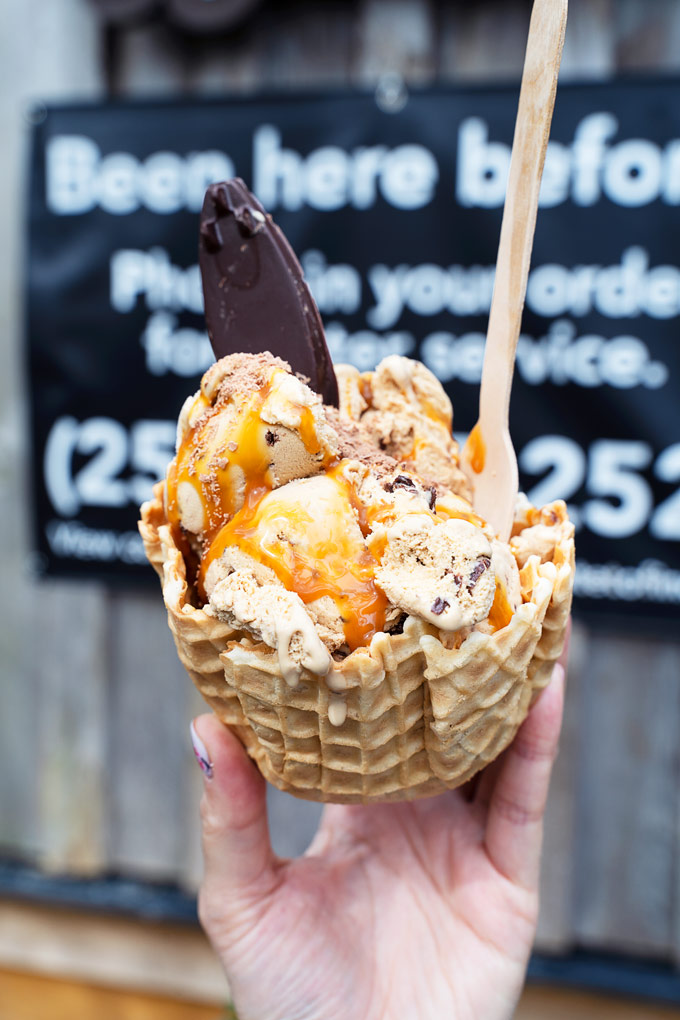 1180A Pacific Rim Hwy, Tofino, BC
chocolatetofino.com
Tofino Licks
Tofino Licks offers Italian soft serve vanilla ice-cream and frozen yogurt made in house using local BC organic milk.
They collaborate with local restaurants and cafes for a truly locally sourced product. Whether it's Tacofino's Diablo Cookie, Sobo's famous key lime pie or any one of our delicious toppings, Tofino Licks gives you a taste of the best treats Tofino's world-class culinary scene has to offer.
220 Campbell St, Tofino, BC
https://www.facebook.com/Tofino-Licks-205066930001330
Ouest Artisan Patisserie
For a taste of Paris in Tofino, check out Ouest Artisan Patisserie Tofino.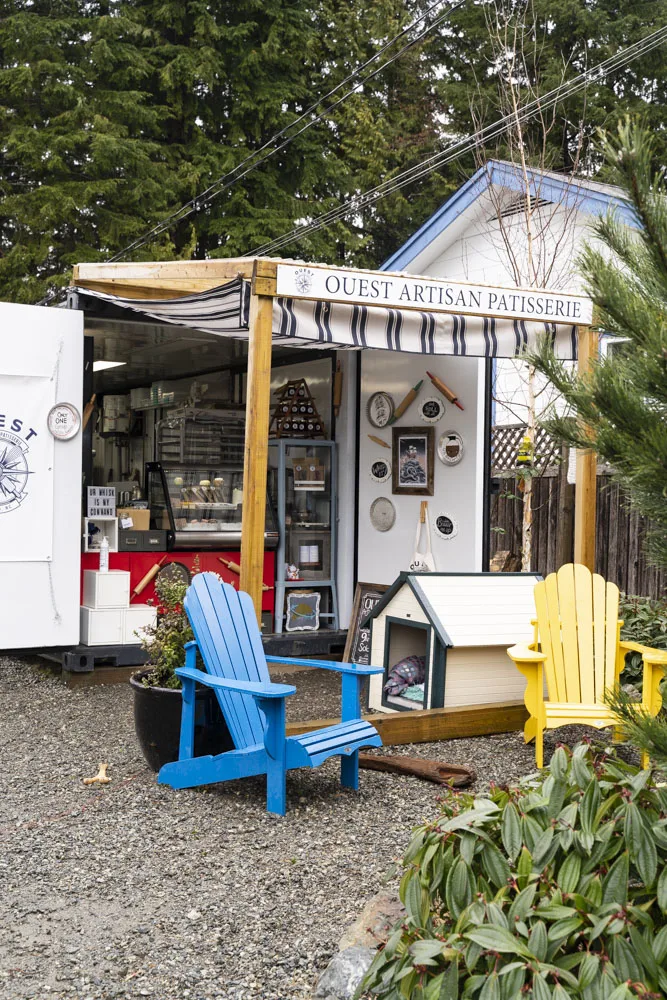 Owned and operated by Pastry Chef Stephen Nason and Jessyca Fulsom, Ouest Artisan Patisserie is where French style pastries, cakes, croissants, macarons, and more. All small-batch made.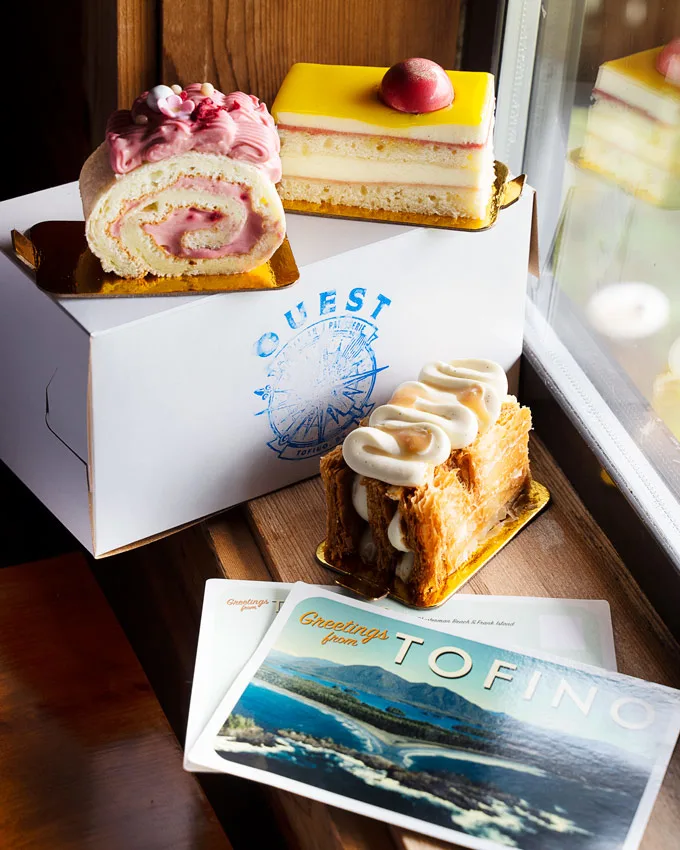 220 Campbell St #1454, Tofino, BC
facebook.com/ouestpatisserie
Best Restaurants in Tofino BC 2021 with a view
The Pointe Restaurant at Wickaninnish Inn has panoramic vistas from the westernmost point of Tofino's idyllic Chesterman Beach.
1909 Restaurant has a seaside location with breathtaking views of the Tofino Inlet.
You can also see the water in the distance from Shelter Restaurant.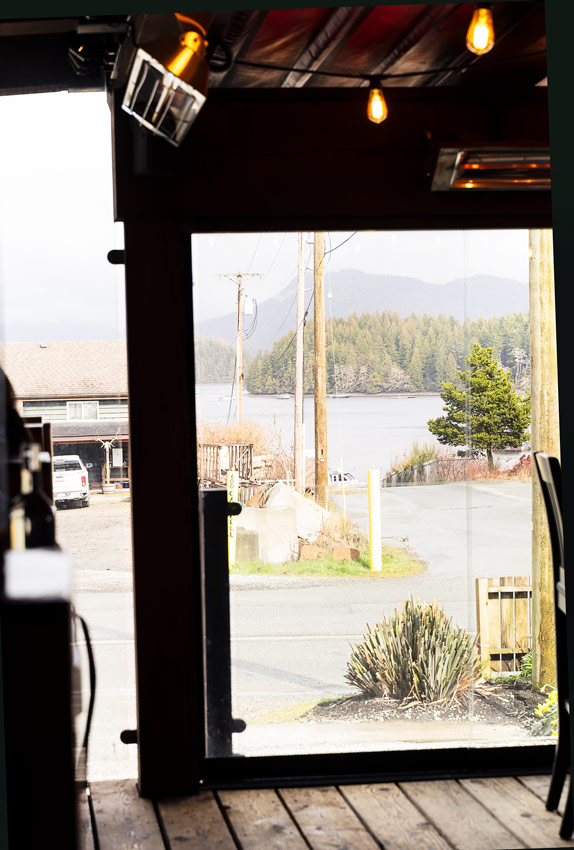 Wolf in the Fog is on the second level of the building and has a beautiful view of the sea.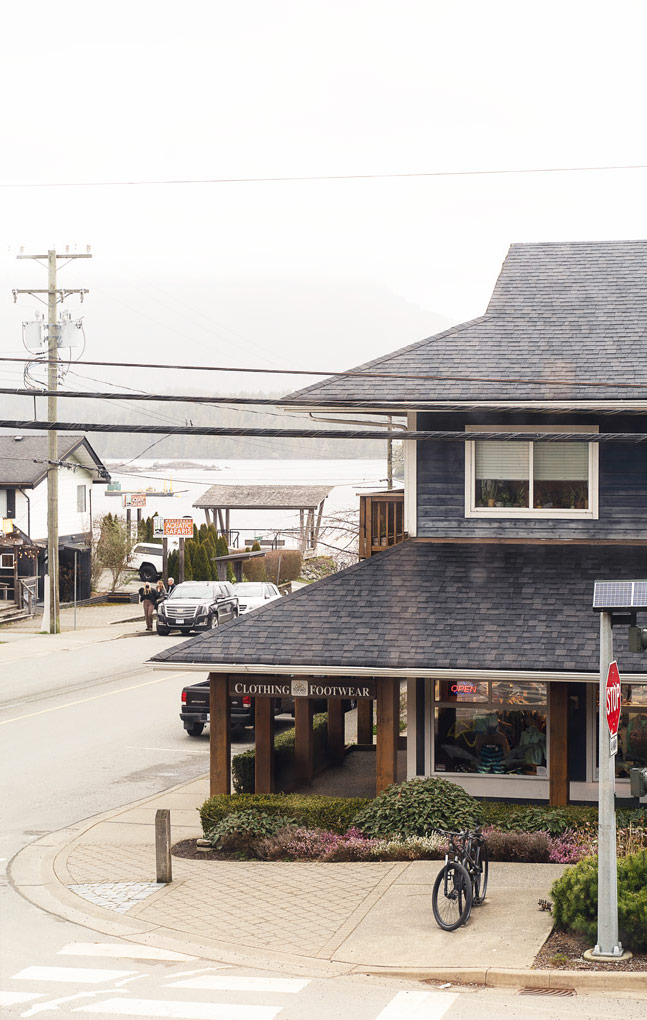 The Great Room at Long Beach Resort offers breathtaking views of the ocean.
Best Tofino restaurants that are kid-friendly
Here are some family-friendly restaurants in Tofino which have dedicated kid's menus:
1909 Kitchen
Shelter Restaurant
Shed Tofino
The Pointe Restaurant at the Wickaninnish Inn
The Great Room at Long Beach Resort
Where can I get breakfast in Tofino?
1909 Kitchen, Roar Tofino, The Pointe Restaurant, and The Great Room are places where you can enjoy a sit-down breakfast in a beautiful setting. These are all attached to a hotels so that is why you will find them open for breakfast.
For a more casual, grab-and-go or café style breakfast, visit Rhino Tofino and Tofitian. Bravocados also has an all-day breakfast menu.
Best Tofino restaurants for vegans
Bravocados is a dedicated vegan restaurant in Tofino. Tofitian has rotating vegan items. The Pointe Restaurant has vegan menu items for brunch, lunch and dinner.
Best Tofino restaurants for vegetarians
Bravocados has vegetarian/vegan items on their menu.
The Pointe has vegetarian labelled dishes for brunch, lunch and dinner. They also have a vegetarian tasting menu.
Best Tofino restaurants for gluten-free
You can find gluten-free menu items at Bravocados and Tofitian. For other restaurants, you might need to check with them specifically.
Best Tofino ice cream spots
For your ice cream fix, check out Chocolate Tofino, Shed, and Tofino Licks.
Best Tofino restaurants for seafood
Most restaurants in Tofino serve fresh seafood which are caught locally.
My top recommendations for a delicious seafood-centric meal would be from 1909 Kitchen, Wolf in the Fog, Tacofino food truck, The Pointe, and Roar at Hotel Zed.
The lunch and dinner menus rather than breakfast or brunch would have more seafood items.
Where can I buy groceries in Tofino?
Tofino Co-Op Food Store is a complete store with Bakery, Deli, Grocery, Meat and Produce. They are open seven days a week and only closes for Christmas and New Years day. 140 1st Street, Tofino, BC.
LA Grocery has your basic grocery needs. 131 First St, Tofino, BC.
Best Tofino restaurants with a patio
I know that Wolf in the Fog, Shelter, 1909 Kitchen, Kuma and Bravocados have patios.
The SandBar Bistro at The Long Beach Resort is an outdoor, beach-side patio, offering casual table or to-go dining & licensed beverage service with incredible ocean view sunsets around the warmth of a fire.
Best Tofino fine dining restaurants
With a surfing culture and laid back vibe, there aren't really fine dining restaurants in Tofino.
However, the Pointe Restaurant could be considered fine dining as their menu is more upscale and they have an extensive wine list. The Pointe also offers tasting menus.
Where should I eat dinner in Tofino?
For a memorable experience, visit The Pointe Restaurant for their elevated dishes, breathtaking views, exceptional views and award-winning wine list.
Also make a reservation for Wolf in the Fog, named one of Canada's best restaurants. I would also recommend 1909 Kitchen.
Where should I eat lunch in Tofino?
For some casual eats, grab some bites at Tacofino, Shelter, Shed and Bravocados.
Where can I buy wine and spirits in Tofino?
The Maq Beer and Wine Store is the only privately owned liquor retail store in Tofino. We are proud to offer our customers a wide variety of local and imported products. 120 First Street, Tofino, BC
Visit Tofino Distillery for their lineup of Organic Spirits iincluding Small Batch Vodka, Jalapeño Vodka, Espresso Vodka, "Beach Fire" Cinnamon Spirit, Psychedelic Jellyfish Absinthe and more. 681 Industrial Way, Tofino, BC
Why is Tofino so popular?
Tofino is a small coastal village located within the traditional territory of the Tla-o-qui-aht First Nation, at the heart of the Clayoquot Sound UNESCO Biosphere Region.
People are drawn to the beauty of the ocean, the coastline, the rainforest, as well as the laidback vibe in Tofino.
Is it worth going to Tofino?
Most definitely! Immerse yourself in the natural beauty of Tofino.
There's something for everyone whether you prefer to be active (hiking, surfing, whale/bear watching) and enjoy the local cuisine which ranges from casual to elevated.
For more travel ideas, check out my post on Top Things to do Tofino BC 2021 + Where to Stay & Eat in Tofino.
You might also like my list of Best Restaurants in Ucluelet here.