Dining in Kelowna? Talk about restaurants with a view. Not only is this lakeside city spoilt with lush pine forests, mountains, and close proximity to British Columbia's rich coastal bounty, but Kelowna is also one of the largest cities in Canada's wine-producing Okanagan Valley. Whether you're looking for a cozy bistro or an elevated table for two at a winery restaurant, Kelowna has a dynamic food scene with a restaurant for every palate. Here is a roundup of the best restaurants in Kelowna (and West Kelowna) that you need to try.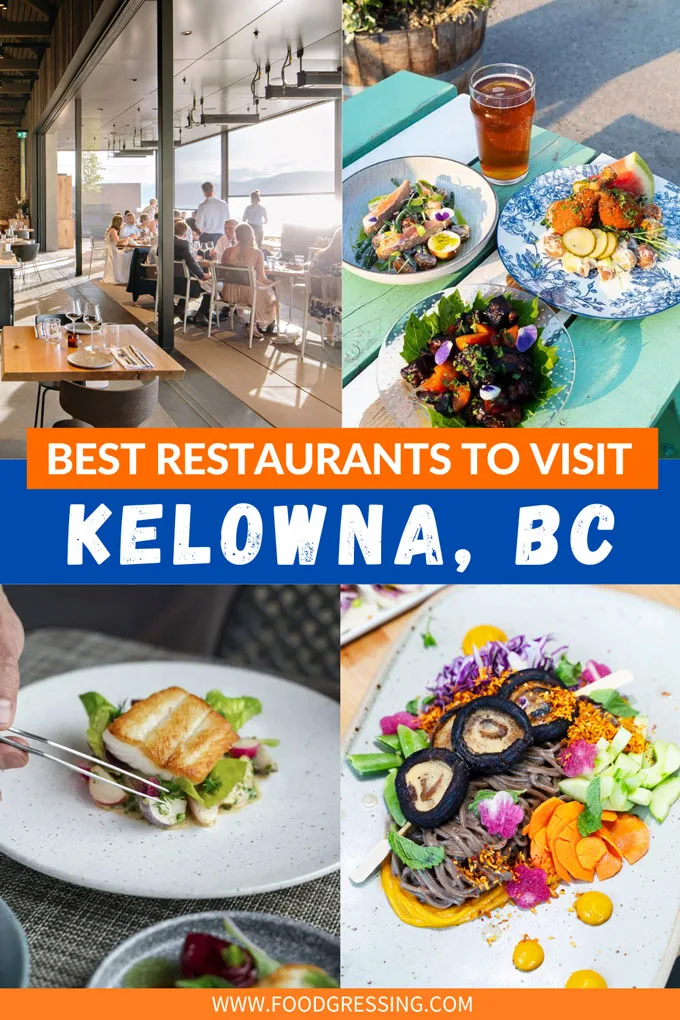 Home Block at CedarCreek Estate Winery
Home Block at CedarCreek Estate Winery is a distinctly unique dining experience where modern chic ambiance meets onsite winery and farm-to-table cuisine.
The open concept kitchen, locally driven menu, and incredible wine list make it a local favourite and a must-stop for anyone new to the Okanagan food and wine scene.
The restaurant features a contemporary style farmhouse with floor-to-ceiling windows overlooking Okanagan Lake and Home Block Vineyard, the restaurant's namesake as part of CedarCreek Estate Winery.
Their organic cool climate wines are estate-grown, harvested, and made on-site.
Furthermore, the approach to dining at CedarCreek, starts with the wine.
Executive Chef Neil Taylor creates each dish to showcase the best in its corresponding CedarCreek wine.
These ever-evolving pairings are as thoughtfully crafted as the wine themselves.
The culinary team works with some of the most dedicated farmers, ranchers, fishers, and foragers, sourcing for quality and seasonality.
The dishes are prepared with natural cooking methods and a wood-fired grill to capture the rich earthy flavors.
While the menu changes according to the season, expect elevated home-style dishes like the wood grilled flat iron steak with parmesan potatoes (paired with 2018 estate Cabernet Merlot), or cod wrapped in pancetta (paired with 2019 Platinum Block 3 Riesling).
5445 Lakeshore Rd, Kelowna, BC
Terrace Restaurant at Mission Hill
Mission Hill Family Estate's Terrace Restaurant is not one of the only best restaurants in Kelowna but one of Canada's most acclaimed winery restaurants.
They are also one of the best restaurants in West Kelowna with a view. It's an al fresco oasis overlooking sweeping views of Chardonnay and Pinot Noir vineyards that extend toward the shores of Okanagan Lake.
Executive Chef Patrick Gayler's ever-changing lunch and dinner menus are built upon the core tenets of locality, seasonality, simplicity and resourcefulness.
In fact, many of the ingredients that guests enjoy as part of their meal at Terrace – from fruits and vegetables to proteins and honey – are sourced from the estate's own grounds.
Every dish is made to be paired with one or more of Mission Hill's award-winning wines.
Better still, Terrace frequently offers diners an early opportunity to experience new releases from the estate's cellars.
Enjoy dishes like Smoked & Seared Pole Caught Ahi Tuna (paired with 2021 Border Vista Rosé) or Bison Aged on Varietal Garden Flowers (paired with 2016 Compendium).
Mission Hill Family Estate, 1730 Mission Hill Rd, West Kelowna, BC
Frankie We Salute You
One of the best vegetarian and vegan restaurants in Kelowna is Frankie We Salute You.
There you'll find plant-based food sourced from local farmers and growers, regional wine, craft beer, and seasonally inspired cocktails.
Their goal is to make plant-based eating tasty and inspiring for meat eaters and vegetable aficionados alike – full of heart, healthy, and (most importantly) fun.
Everyone is welcome in their relaxed, earthy atmosphere.
Enjoy dishes like Baja Root Tacos; Grilled Shiitake Yakitori Soba Noodles; Vegan Sushi and more.
All the dishes at Frankie We Salute You were bright, beautiful and colourful but also very flavourful and nourishing.
1717 Harvey Ave #6, Kelowna, BC
19 Okanagan Grill + Bar
19 Okanagan Grill + Bar is your go-to casual fine dining restaurant in Kelowna.
The enormous totem poles outside their entrance are hard to miss, gesturing guests through the hand carved doors and into the elegant dining room.
From inside, enjoy sweeping views of Okanagan Lake and the greenery of the surrounding golf course.
You'll also find cozy spots to dine on the outdoor patio which is the largest in the region and has fireplaces to keep you warm in the cooler months.
Whether you're inside or out, expect expertly cooked meals, fresh local ingredients, and top-notch service.
Stop by for a glass of wine and a taste of their signature New York striploin sandwich topped with rosemary jus and served on toasted sourdough.
3509 Carrington Rd, West Kelowna, BC
Basil & Mint
Basil & Mint is one of the best restaurants in Kelowna for casual dining featuring a fresh-grown menu of local and global plates.
Each dish in Chef Peter McGeown's kitchen is inspired by West Coast culture and perfectly paired wines from their very own cellar.
A staple is the "fresh catch of the day", but you also must try the clams and mussels with an oven-roasted tomato broth, or the truffled mushroom risotto–they are mouthwateringly delicious!
In addition to a perfectly executed menu, Basil & Mint has a full bar offering up your favorite beers and an assortment of cocktails.
Make sure to finish off your meal with a sweet treat from the dessert menu; we recommend the vanilla crème brûlée!
3799 Lakeshore Rd, Kelowna, BC
Raudz Regional Table Restaurant
Raudz Regional Table is a popular Downtown Kelowna restaurant known for offering Pacific Northwest cuisine dishes with fresh, local and seasonal ingredients.
The restaurant is located inside an old heritage building in Downtown Kelowna with exposed brick walls.
Enjoy dishes like First of the Season Haida Gwaii Halibut; Apple Brined Pork Tenderloin; and Panfried Handmade Parmesan Gnocchi,
Not to be missed is the RauDZ Signature Dessert featuring double chocolate mashed potato almond brioche, raspberry sorbet, warm chocolate sauce, cocoa tuile.
1560 Water St, Kelowna, BC
Sprout Bread
Sprout Bread is one of the best artisan bakery and café in Kelowna.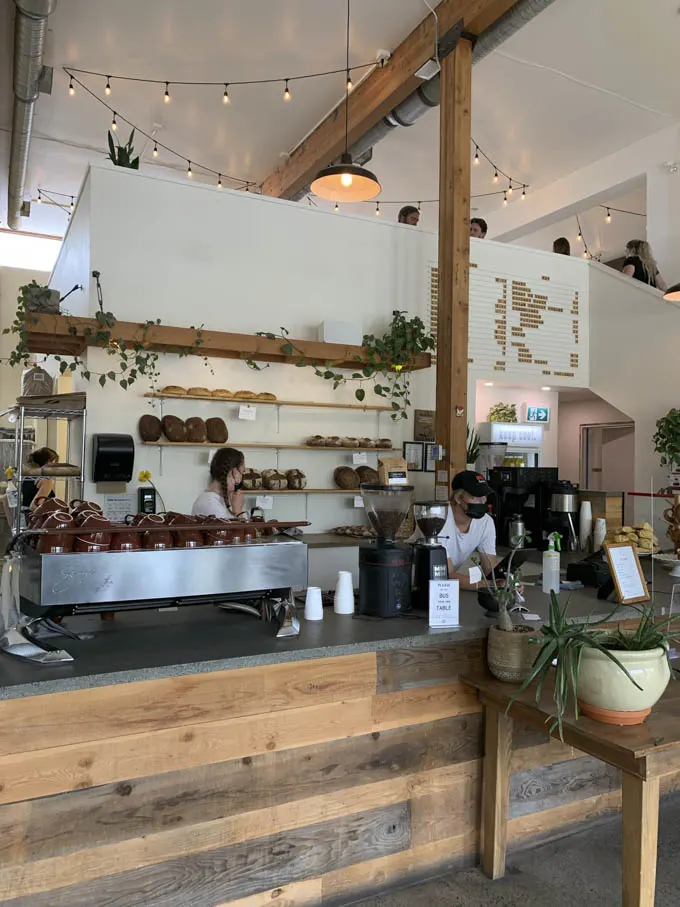 There you'll find handmade, naturally-fermented bread, specialty coffee, indulgent pastries, and simple but delicious dishes.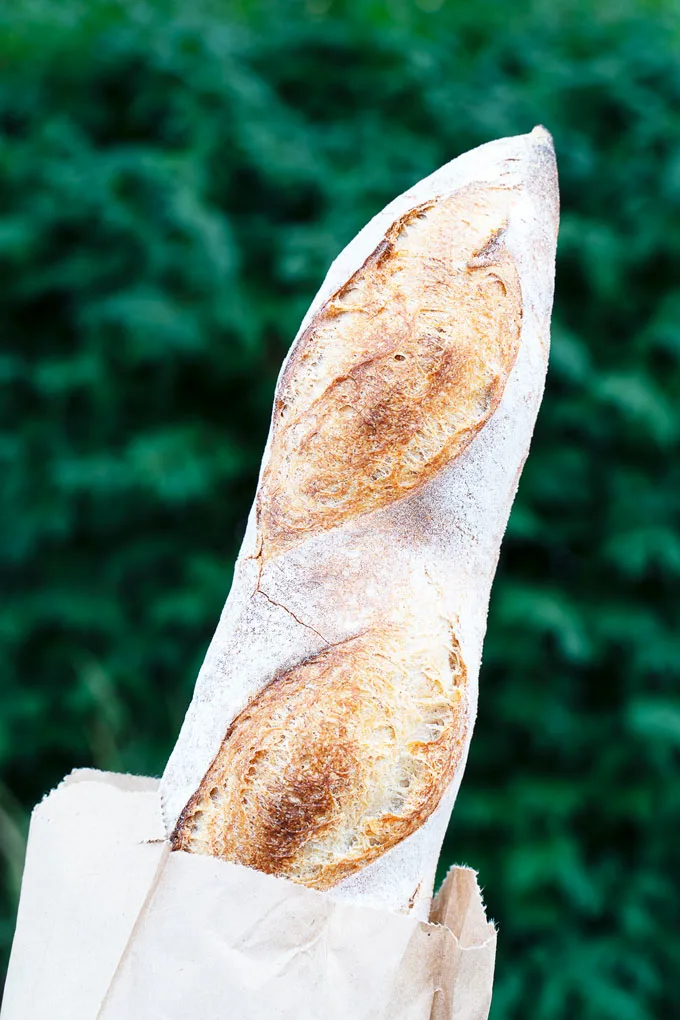 Some of their offerings include Sourdough Toast with toppings like honey; orange marmalade; raspberry rose jam; vegan cashew "cheese" and more.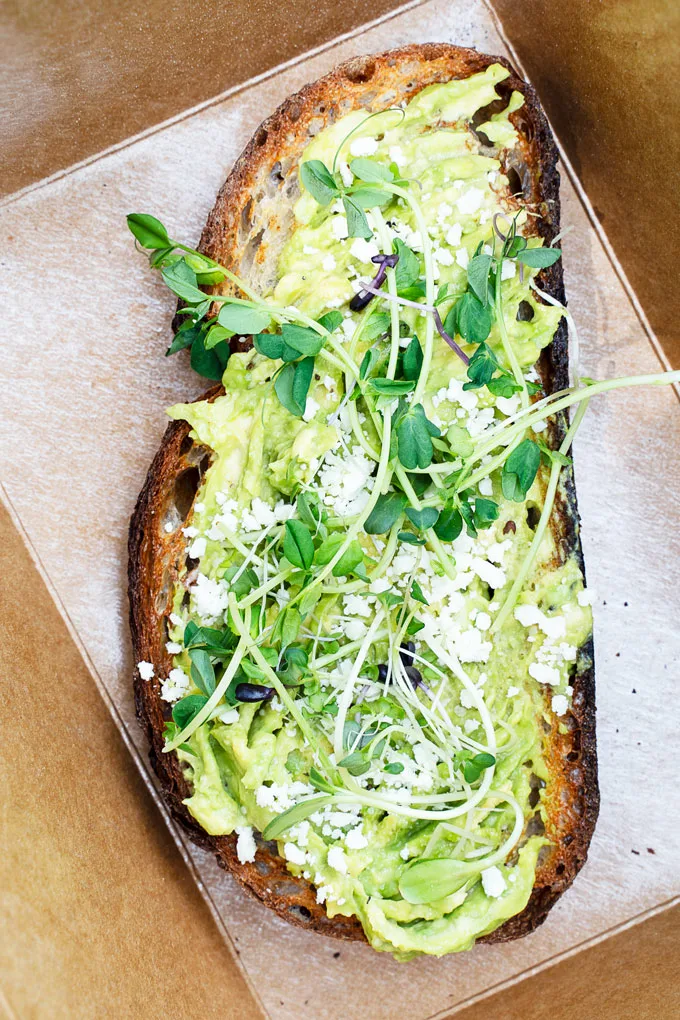 There is also Housemade Granola and Vegan Coconut Yogurt; Avocado Toast; New Zealand Baked Beans on Toast; and so forth.
Breakfast sandwiches feature Sunshine Valley Broken Yolk Egg and come in options like vegetarian; ham & egg; pork sausage and more.
Sprout Bread also has a variety of lunch sandwiches, soups, salads and so forth.
Aside from espresso-based drinks, they do offer coffee, classic Caesars, beer and more.
Overall, a nice place to gather with friends, have a lunch meeting, coffee date or study session.
295 Cannery Ln #125, Kelowna, BC
Oak & Cru
Oak & Cru at the Delta Hotels by Marriott Grand Okanagan Resort is the type of place where you eat, drink and get social!
It's one of the best restaurants in Kelowna with a waterfront view.
Inspired by the Okanagan Valley, the restaurant serves locally inspired eats, craft cocktails & beers and 100% Okanagan Valley wines.
As a hotel restaurant, they are open all day and you can expect globally-influenced small plates made from locally-sourced ingredients.
Some highlights include items for breakfast (like Okanagan Muesli, Fruit Scones, Breakfast Monte Cristo; Milk Bread French Toast); Lunch (like Smoked Bacon & Cheddar Burger; Wild Mushroom Burger; Ginger Ahi Tuna Bowl); Pizza (like Soppressata & Capicola; Fennel & Fior d'Latte); and Dinner (Fattoush Salad; Selva Prawn Fettuccini; Braised Pork & Beef Ragu Penne).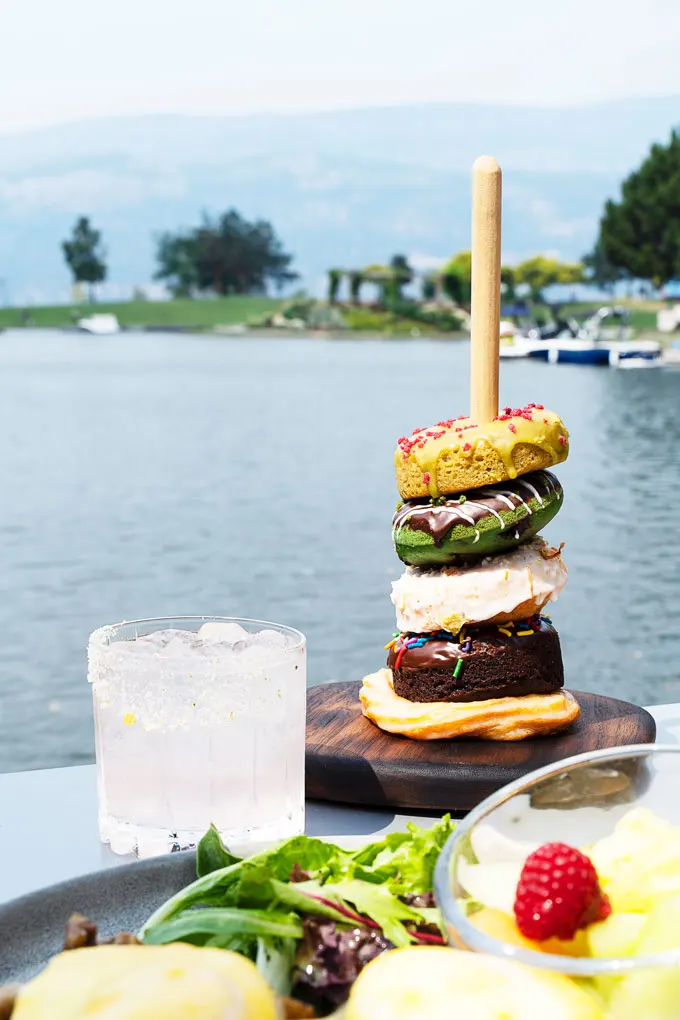 1310 Water St, Kelowna, BC
Bliss Bakery & Bistro
Did you know that a large portion of bakeries don't make their own baked goods but rather rely on mixes or preordered bases?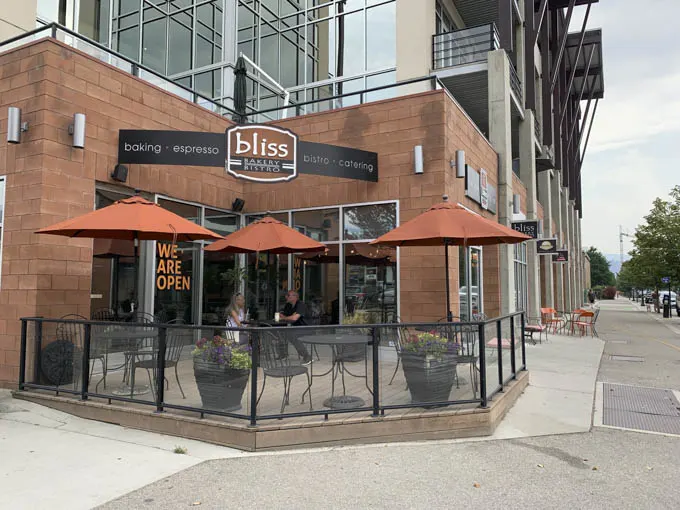 At Bliss Bakery there are zero shortcuts in the kitchen.
Despite their overflowing shelf spaces stocked with every kind of sugary indulgence imaginable, every product is made entirely from scratch with no added chemicals or preservatives.
Their dedication to pure, artisan baking has earned them the reputation as one of the best bakeries in Kelowna.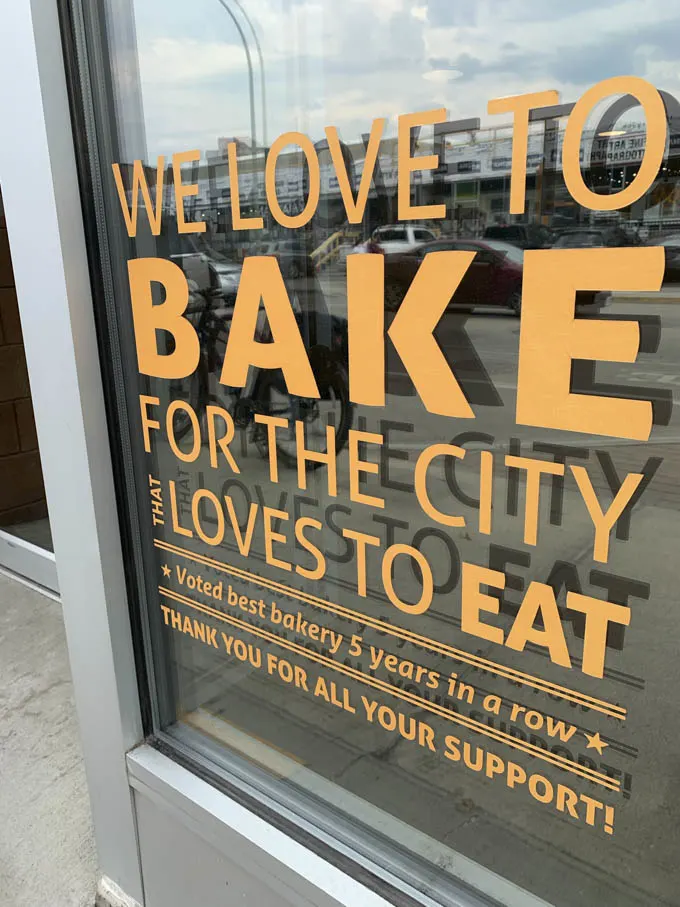 Stop by for some all-day breakfast, lunch, a warm cup of locally roasted Cherry Hill coffee, or choose a baked treat from a seemingly endless assortment of desserts, breads, and croissants.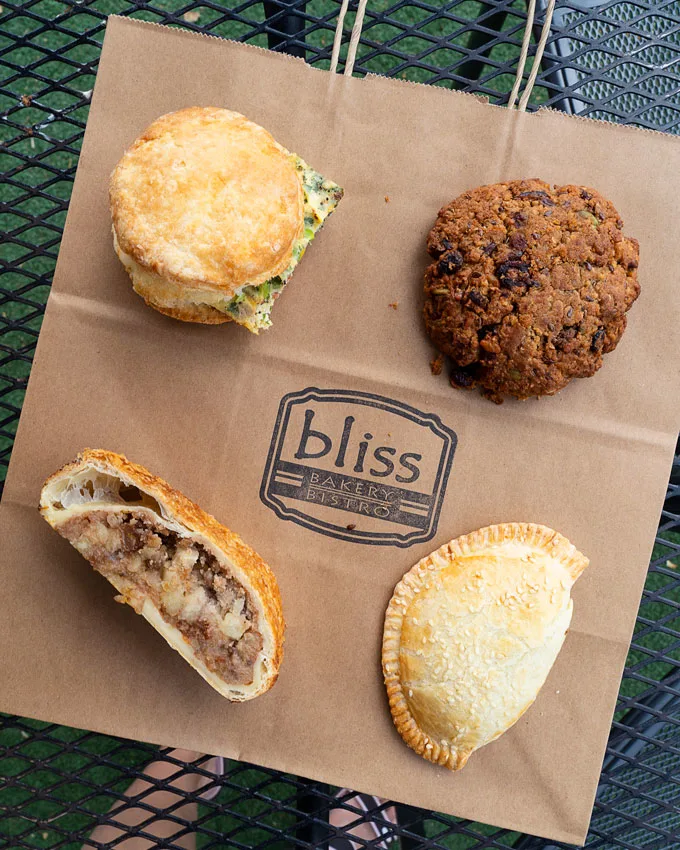 1289 Ellis St #109, Kelowna, BC
Waterfront Wines Restaurant
One of the best restaurants in Kelowna for fine dining is Waterfront Wines Restaurant.
Their acclaimed reputation is evidenced through its adulations in publications such as Where Chefs Eat and as the ten-time recipients of Vancouver Magazine's Okanagan's Best Restaurant.
Head chef and sommelier, Mark Filatown, combines his wine expertise with reinvented classics to offer a refreshing and undoubtedly delicious culinary experience.
Each dish is made with seasonal ingredients from local, organic suppliers with a dedication to sustainability.
You'll find signature fish plates with filets from the local fish market, Codfather's, as well as expertly prepared proteins like the grilled peppercorn-crusted flatiron steak with potatoes and bordelaise sauce.
While you can bet Chef Filatown will perfectly pair you with a glass of wine, there is also a fully stocked bar with signature cocktails and local beers as well.
1180 Sunset Dr #104, Kelowna, BC
Krafty Kitchen & Bar
If you're a fan of Top Chef Canada, you may recognize season 3 Chef and owner of Krafty Kitchen, Chris Shaften.
Chef Chris fuses a passion for unique food and 90's hip hop to bring Kelowna his very own eclectic restaurant, Krafty Kitchen – one of the best restaurants in Kelowna for brunch.
The casual atmosphere is decorated in a rustic industrial style with a wide-open kitchen and hip-hop art decorating the walls.
The menu features inventive farm-to-table dishes like their famous beef tartar or the General's Tofu.
Some of the best times to stop by Krafty's is when the weather is nice and you can enjoy a meal on the outdoor patio, or on the weekends for the 90's theme brunch playing all the old-time hits.
281 Lawrence Ave, Kelowna, BC
Sunny's
Sunny's is a modern diner with a warm, inviting atmosphere.
This wholesome spot is named after the co-owner's sweet golden retriever, Sunny, whose painting you may even see on the back wall.
The restaurant is styled with numerous elements of a traditional diner, including the long floor plan, countertop seating, and an open grill.
However, the walls of reclaimed brick, exposed wooden beams overhead, and colorful lantern-like light fixtures create a distinctly modern feel.
The menu is filled with diner style milkshakes burgers, and sandwiches as well as an elevated, all-day breakfast menu of homestyle favorites.
You may even recognize two of their most famous dishes, 'Chicks on a Raft' and 'Chicken Meets Waffle' that were seen on an episode of Food Network Canada's Big Food Bucket List.
235 Bernard Ave, Kelowna, BC
Bouchons Bistro
If Bouchon Bistro's menu of French classics doesn't immediately transport you to a Parisian bistro, then the red banquettes, warm yellow walls, outdoor patio area and vintage artwork may do the trick.
As for the menu, an everchanging list of sophisticated French comfort food can be found on the restaurant's charming chalkboards.
You'll find traditional bistro favorites like La Bouillabaisse which is a classic from Marseille made with fresh seafood, a spicy saffron broth, and rouille dressing.
Another popular dish is a specialty from the south of France: Le Cassoulet, which consists of duck leg confit, smoked pork belly Toulouse sausage, and a navy bean ragout.
Compliment your dish with the perfect bottle of French or regional wine as recommended by the restaurant's certified sommeliers.
Finish off with a spectacular dessert like Okanagan Strawberries paired with house made French chocolate lava cake and sweet Provence wine.
1180 Sunset Dr, Kelowna, BC
Hector's Casa
Since its doors first opened in 1999, Hector's Casa has inarguably remained the best Mexican food you'll find in town.
Owners Mario and Martha celebrate their culture from the Pacific coast of Mexico through a vibrant, genuine space and authentic food prepared by acclaimed Mexican chefs Juan C. Perez and Juan C. Hernandez.
The restaurant itself is decorated in stucco walls, vibrant colors, traditional décor, and outdoor seating.
The full bar has a wide variety of drinks to choose from, including imported Mexican beers and domestic drafts, wine, sangria, and margaritas.
For food, you'll find classic staples like guacamole, chips, and salsa for starters, an assortment of tacos, enchiladas, burritos, and fajitas for mains, and churros con chocolate for dessert.
2911 Pandosy St, Kelowna, BC
BNA Brewing Co.
BNA Brewing Co. is a trendy, independent craft brewery in Kelowna's cultural district.
Husband and wife duo Kyle and Carolyn realized their dreams upon finding and renovating a former tobacco warehouse turned cannery into a rustic chic brewery and restaurant with elements of it's original charm.
Not only does BNA offer in-house craft beers, custom cocktails, and a world class kitchen serving classic comforts, but it is also filled with entertainment.
From the arcade games and airstream bar on the first floor to the bowling lanes upstairs, you're bound to leave BNA Brewing with a full stomach and a whole lot of memories.
1250 Ellis St, Kelowna, BC
Bamboo Chopsticks
If you're looking for a hot bowl of the city's best pho, head on over to Bamboo Chopsticks.
This family-run restaurant specializes in homemade Vietnamese cuisine and bold, authentic flavors.
The restaurant is a tribute to the owner's mom whose recipes make up the menu and whose strong, resilient, and adaptable nature is symbolized through the restaurant's name, bamboo.
Some of these famous recipes include a variety of rolls and wontons, wings, and soups for starters, and a variety of stir-fried dishes, vermicelli or rice bowls, curries, and lemon grass bowls.
Not only are these meals exceptional in flavor and easily customizable for dietary restrictions, but the service at Bamboo Chopsticks is truly unbeatable.
105-1360 Ellis St, Kelowna, BC
2189 Springfield Rd #112, Kelowna, BC
Gather Restaurant
Next on this list of one of the Best Restaurants in Kelowna is Gather – a modern Korean & Italian fusion restaurant headed by owners and Chef Sung Ji Park and restauranteur Luigi Coccaro.
Drawing from each of their heritages, you'll find unique innovative flavors as well as the shared tradition of gathering around the table to enjoy family-style plates of amongst loved ones.
This unique restaurant has a highly modern aesthetic with sleek, minimalist design and floor to ceiling glass windows that allow guests to peer into the kitchen as well as out onto the trendy streets of downtown.
While the design may be bare, the atmosphere is lively.
Start off your visit with a smoke infused soju shot and play around with a variety of dishes for the whole table to enjoy.
Favorites include the bibimbap bowl, smoked pork belly, the seafood linguine, and the gnocchi fritti.
460 Doyle Ave #105, Kelowna, BC
La Bussola
You won't find many other restaurants in Kelowna with the longevity of La Bussola.
As one of the top restaurants in Kelowna, this family-run business was established in 1974 by Francesco Coccaro and Lillo Santamaria as the first Italian fine dining restaurant in Kelowna.
Upon opening, their white tablecloth establishment served house-made pasta, meat, and seafood dishes in the traditional cooking styles of southern Italy and became an instant success.
Now, decades later, Franco has retired a successful restauranteur and a member of the BC Restaurant Hall of Fame while his son, Luigi, continues on the family tradition.
If you find yourself at La Bussola, a classic choice is their signature Scampi La Bussola, but the agnolotti ai funghi and veal marsala are sure to impress you as well.
1451 Ellis St, Kelowna, BC
Provisions Kitchen
Provisions Kitchen is where you will find contemporary, comfort food with innovative twists and made with locally sourced ingredients.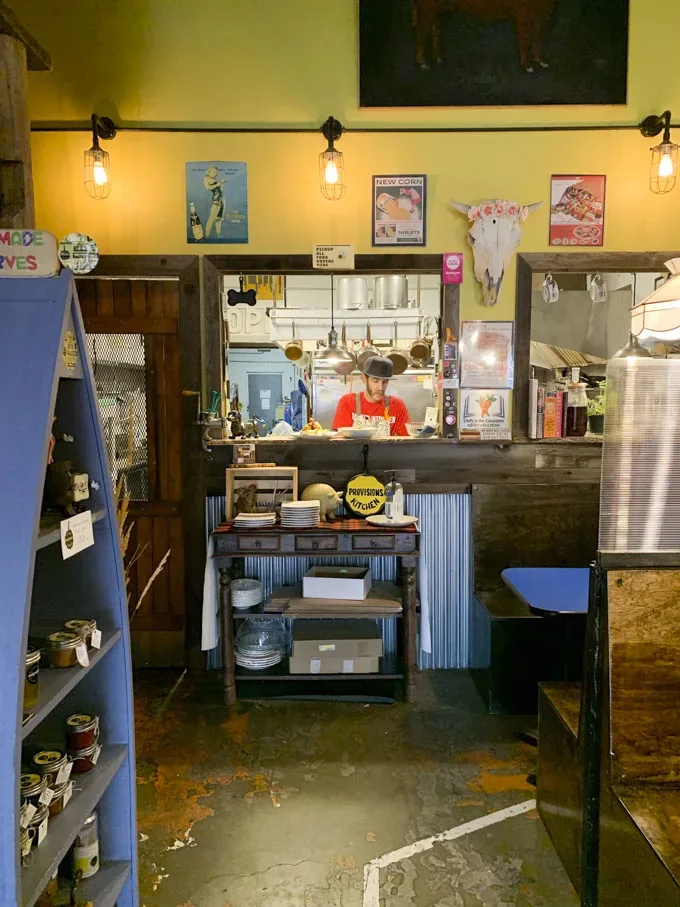 Chef Brock Bowes is co-owner and chef at Provisions Kitchen and was also the Chopped Canada Season 2 Champion and competed on Top Chef Canada Season 8.
He is known for his using French technique with Asian influences and a creative flair.
Provisions Kitchen operates out of Kettle River Brewing so you can enjoy delicious beer and eats together.
The menu changes very regularly so you'll have to look at the chalkboard to see what is on the menu for the day.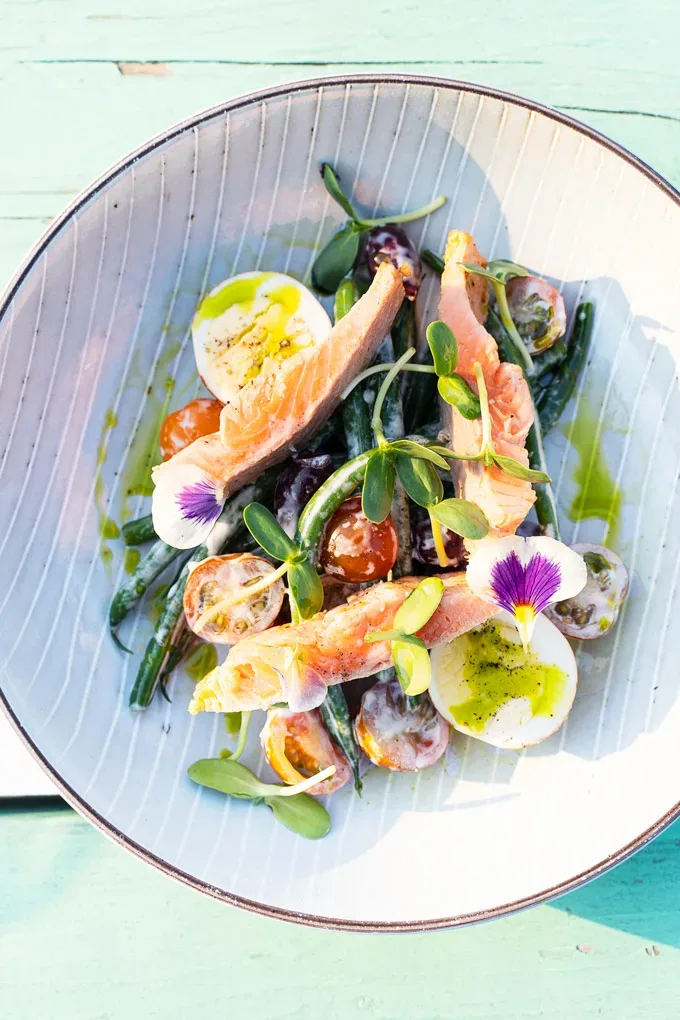 I have enjoyed the crispy fried pork ribs & pork belly; prawn, salmon, rockfish, ceviche, corn chips, Jalapeno, cherries; and hot fried chicken drums, baby potato salad, watermelon wedge.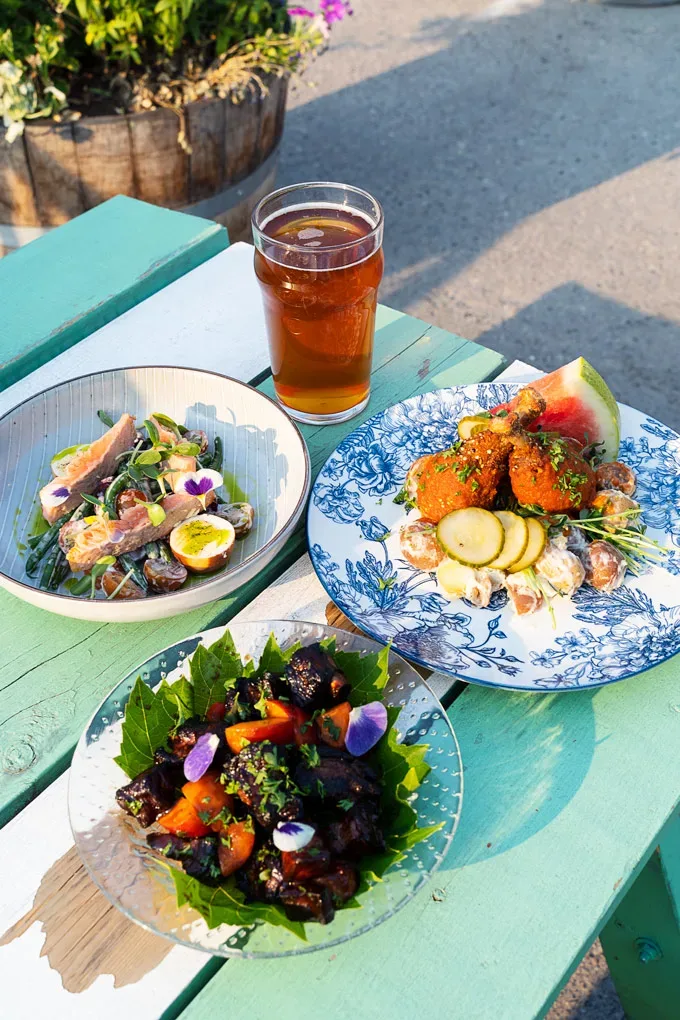 Bohemian Café & Catering
As one of the best places to eat in Kelowna, Bohemian Café is a fun, eclectic, and welcoming environment as shown through the vibrant red and orange paint, colorful art adorning the walls, and bright furniture on the outdoor patio.
Their laid-back nature makes Bohemian Café an ideal spot to have a casual breakfast or lunch, while homestyle dishes will keep you coming back.
This family run shop features family recipes throughout the menu, including homemade sausages, breads, and jams.
Make sure to go for the mango chutney turkey salad, or the wild Nanuk sockeye salmon served with hash browns.
If you're a vegetarian, the menu is also incredibly accommodating to a meat-free diet with a variety of dishes for every palate.
524 Bernard Ave, Kelowna, BC
Lobster Pot Food Truck
One of the most popular food trucks in Kelowna is Lobster Pot.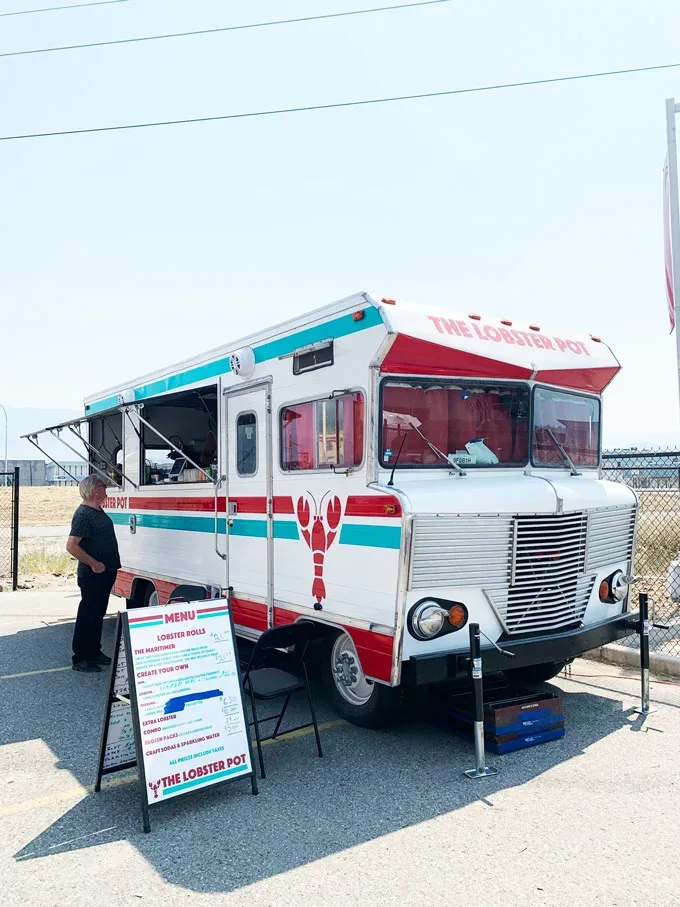 Their specialty is Atlantic Lobster Rolls featuring sweet and succulent lobster mixed with homemade dressings, a touch of celery and served on a hot toasted bun.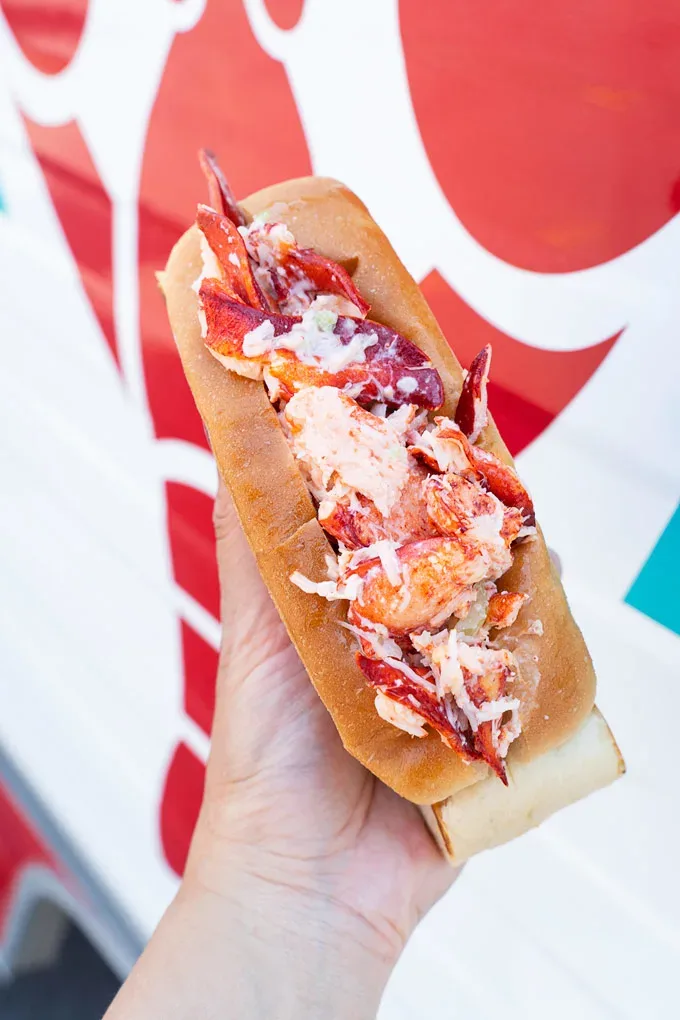 Broken Anchor (Formerly The Table Café at Codfather's)
Last but not least on this list of Best Restaurants in Kelowna is The Broken Anchor – a 100% sustainable seafood restaurant featuring a simple menu of homemade dishes.
Their location is inside Codfather's, a locally owned fish market dedicated to delivering fresh seafood that is held to the highest standard, while respecting the oceans and the ethical fisherman operating out of sustainably managed fisheries.
The menu is filled with these fresh catches prepared by owner and chef Ross Derrick.
For starters, enjoy a clam chowder or a handful of vegetable based, vegetarian appetizers.
For mains, choose from a variety of fish tacos served with spiced slaw, lime crema, and pico de gallo, or indulge on their signature fish and chips –prepared entirely gluten free using West Coast Halibut, Wild Pacific Cod, BC Wild Salmon, or prawns alongside a signature sauce, and their famous brine-soaked chips.
2355 Gordon Dr, Kelowna, BC
Simplee Boba
One of the best bubble tea spots in Kelowna is locally owned and operated, Simplee Boba.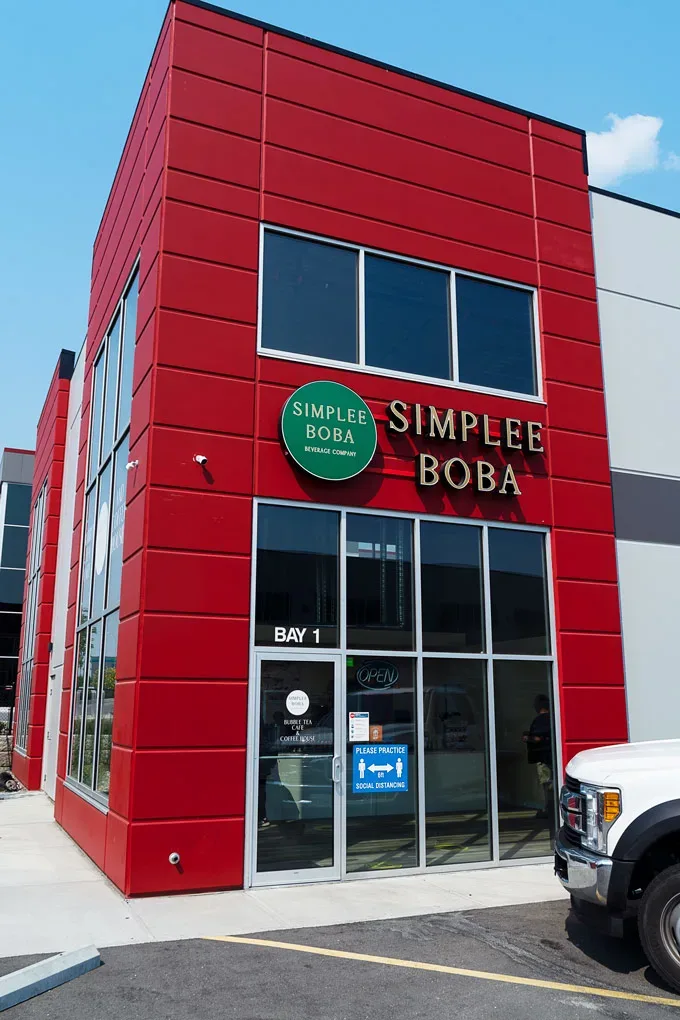 They are located in the Airport Village of Kelowna close to UBC Okanagan.
Their space is bright and airy and looks to be in kind of a warehouse setting.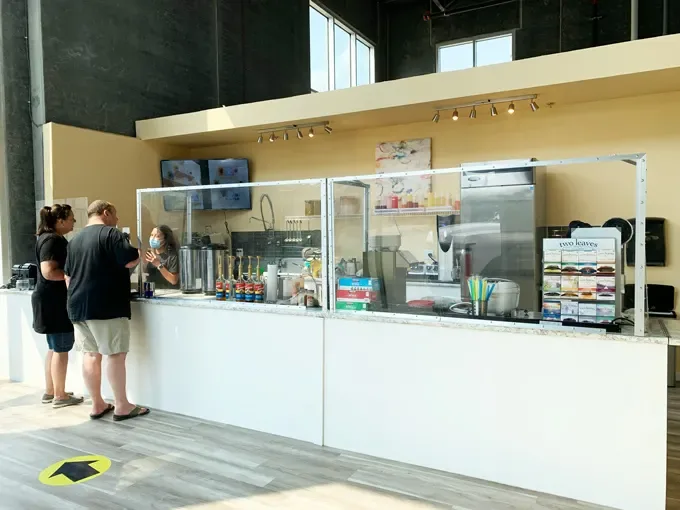 The menu at Simplee Boba is quite extensive ranging from milk teas, fruit teas, yogurt-based drinks, lemonade, espresso-based and more.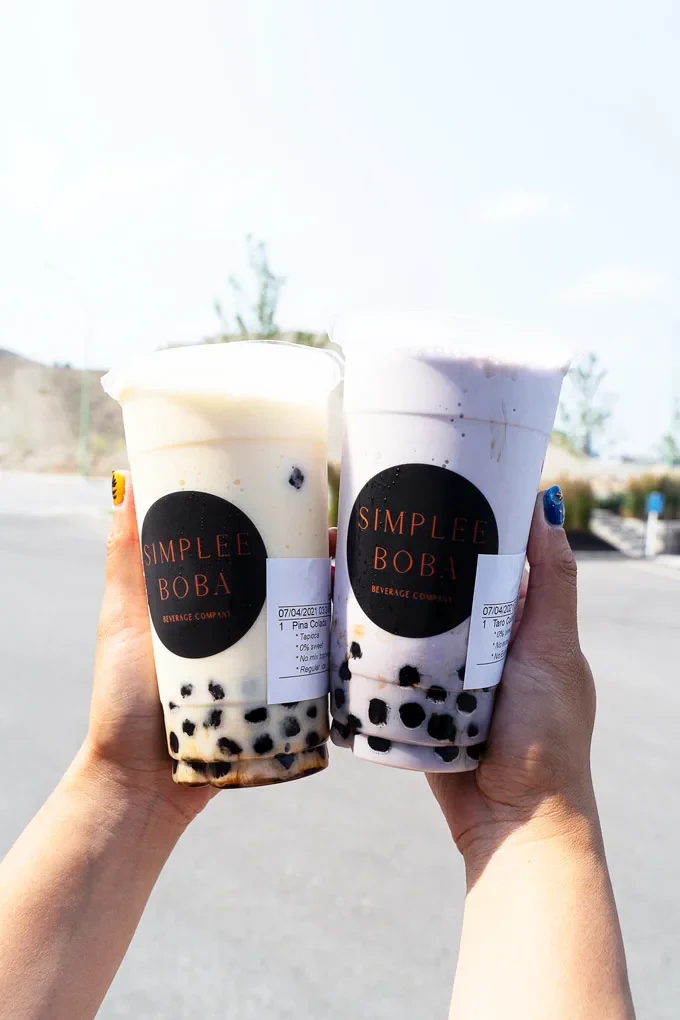 945 Pier Mac Way #1, Kelowna, BC
Kekuli Café Coffee
Kekuli Café is one of the top Indigenous cuisine restaurants in BC.
They are open for breakfast, lunch and dinner and on the menu you will find Bannock, Pow Wow Tacos, Bannockwiches, and more.
The Bannock, a type of fried flat bread in traditional Indigenous cuisine, comes in flavours like Skor; Maple Glaze; Berry; Lemon Butterhorn to name a few.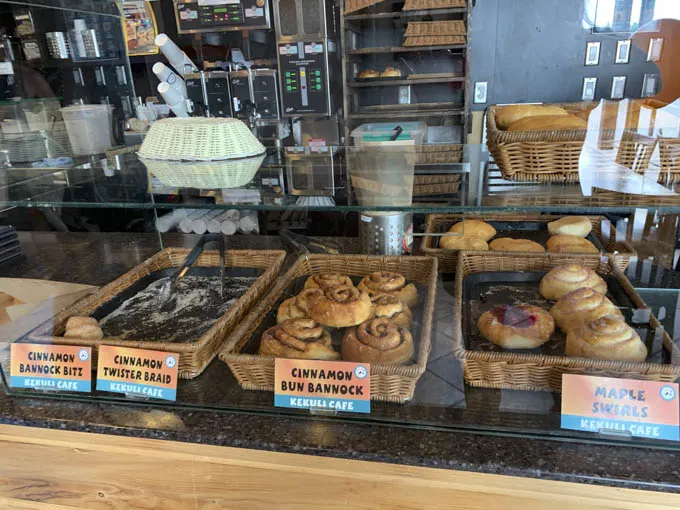 At Kekuli, guests can enjoy a wonderful cup of coffee, fresh Indigineous cuisine, and perfectly prepared bannock in an inviting, home-like atmosphere.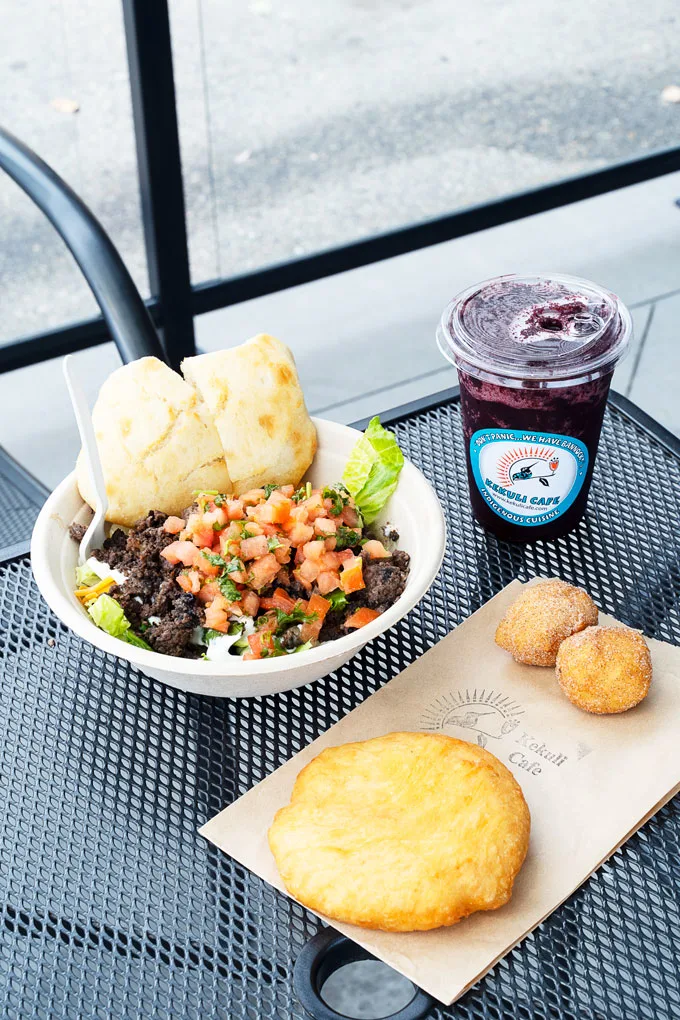 3550 Carrington Rd #307, Westbank, BC V4T 2Z1
For more Kelowna travel ideas, check out my post on Top Things to Do in Kelowna.