There's no denying the appeal of sweet Bing cherries and dark fudge flakes. Cherry Garcia held the #1 spot on the list of Ben & Jerry's Fan Favorites for 25 years and remains one of the company's most popular flavors of all time. But that reign may be in jeopardy now, thanks to Ben & Jerry's newest Limited Batch. Welcome, Ben & Jerry's Cherry Crumble: an irresistible concoction of buttery ice cream with cherries and swirls of oat crumble.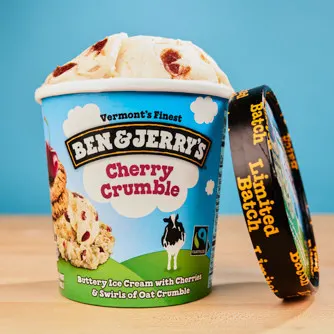 The Flavor Gurus who work full-time innovating leaned into spring this year, inspired by fresh fruit and the season of fruit crisps, cobblers, and crumbles. To be fair, unseating America's favorite cherry flavor is not an easy task.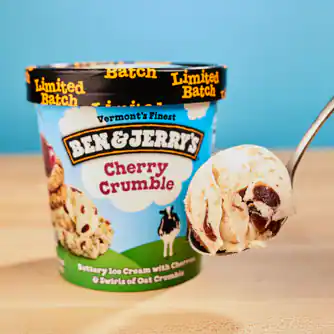 Fortunately, this Limited Batch ice cream has a few things going in its flavor… uh, favor. Deconstructing a fruit crisp, the foundation of Ben & Jerry's Cherry Crumble is a delicious butter ice cream base, and while uncommon, it positions the fruit flavor front and center.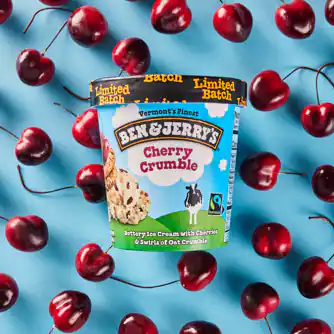 Once you pop open the lid on a pint of Cherry Crumble, monstrous cherry chunks are the first to spring forth. The bold, Bing cherries provide a snappy, sweet pop of fruity flavor that is as dark and delicious as the day is long. And if texture is your thing (like our Co-Founder Ben), then you will totally appreciate the crunchy oat crumble swirl that provides an additional layer of texture and mouthfeel to complement the creamy base.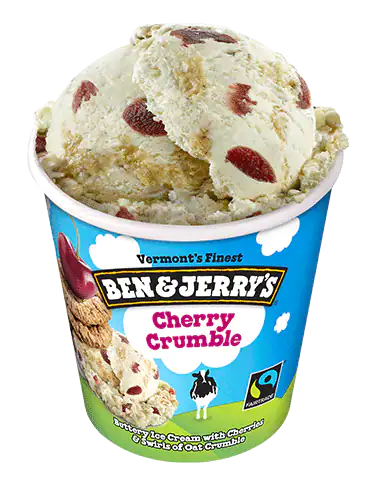 To find this new favorite flavor, go to BenJerry.com and click on Cherry Crumble for nearby retail locations and delivery options. Cherry Crumble has a suggested retail price of $5.49 USD.
Ingredients
Cream, skim milk, water, liquid sugar (sugar, water), sugar, cherries, canola oil, egg yolks, butter (cream, salt), wheat flour, oats, brown sugar, butteroil, guar gum, cinnamon, fruit and vegetable juice (for color), lemon juice concentrate, natural flavor, tapioca starch, carrageenan, salt, soy lecithin, vanilla extract, sea salt, citric acid, baking soda.
Nutrition
Serving size is 140 g (2/3 cup). 3 servings per container.
Calories per serving is 350. Calories per container is 1,050.