The next time you attend a Whitecaps FC home match, BC Lions home game or BC Place Stadium event, you might notice some exciting new additions to the food and beverage offerings. BC Place and Centerplate has unveiled a host of new menu items featuring fun and creative new dishes, locally-sourced fan favourites, vegan, vegetarian and gluten-free options as well as Oceanwise dishes.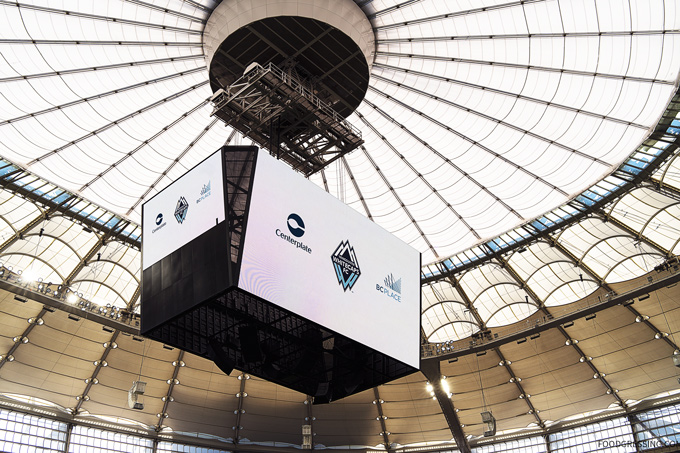 I recently attended a showcase of the new food and beverage offerings at BC Place. Here's a look at what you might want to order.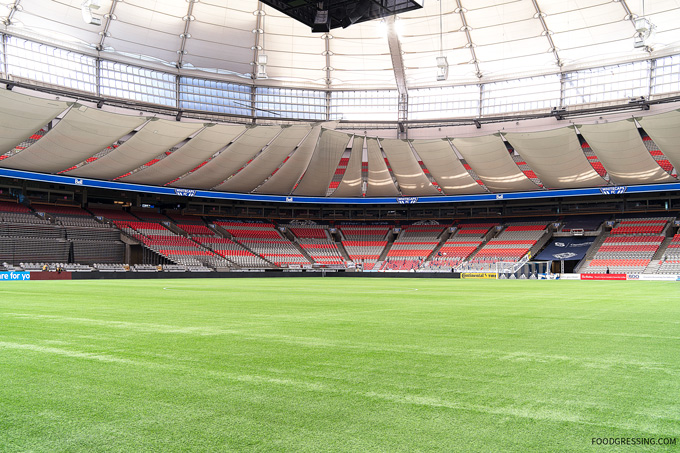 Rainbow Grilled Cheese Sandwich
Are you ready to taste the rainbow? Available May 25th for the Pride Match, the Rainbow Grilled Cheese Sandwich is a vegetarian offering that is made with 100% mozzarella cheese. Find it at Boom Kitchen! at Sections 210 & 244.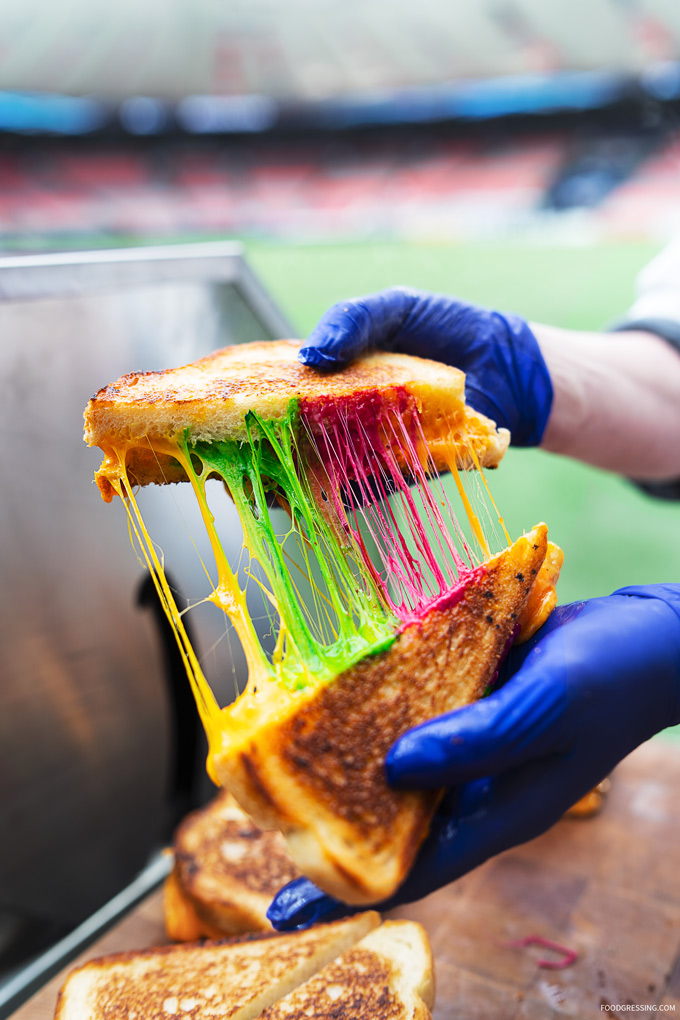 The Outrageous Burger
If you're looking for a food challenge while at BC Place, you might just want to try the new Outrageous Burger. It has 3 house-made beef patties, a hot dog, 3 chicken strips, 6 strips of bacon, 3 slices of cheddar cheese, fries and house recipe sauce. Find it at Lionsgate Grill at Sections 206, 215, 228, 242 & 254.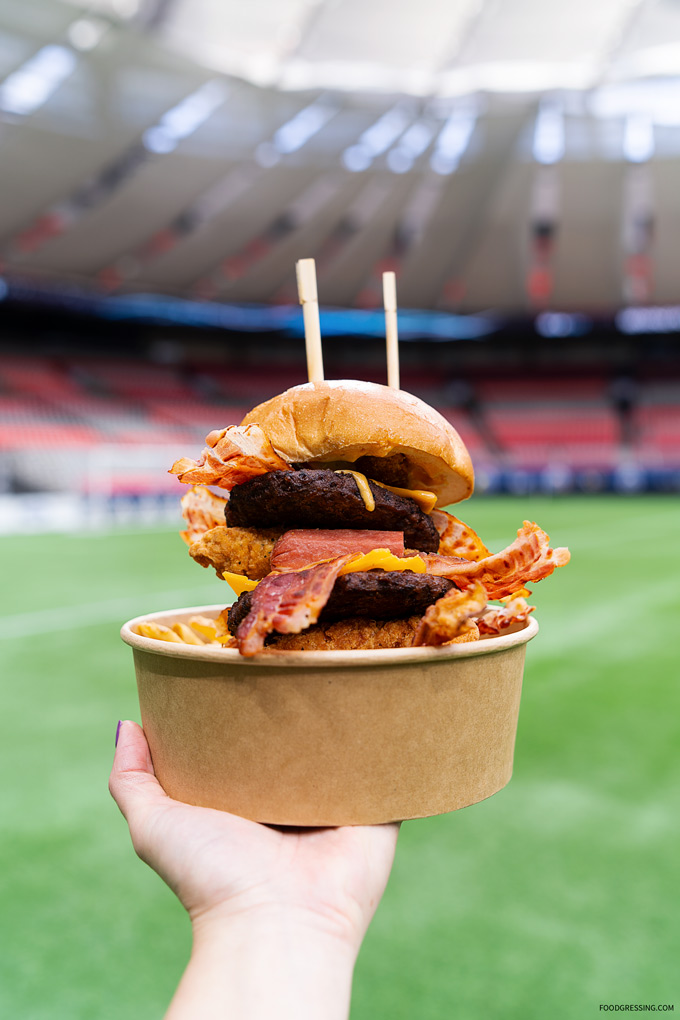 Fiesta Burrito Bowl
Another new menu item is the Fiesta Burrito Bowl which has black beans, salsa fresca, sour cream, and marinated slaw served over cilantro-lime rice. You can also enjoy this dish gluten-free and vegan by skipping the sour cream. This bowl is offered at Beast on Fire at Sections 217 & 236.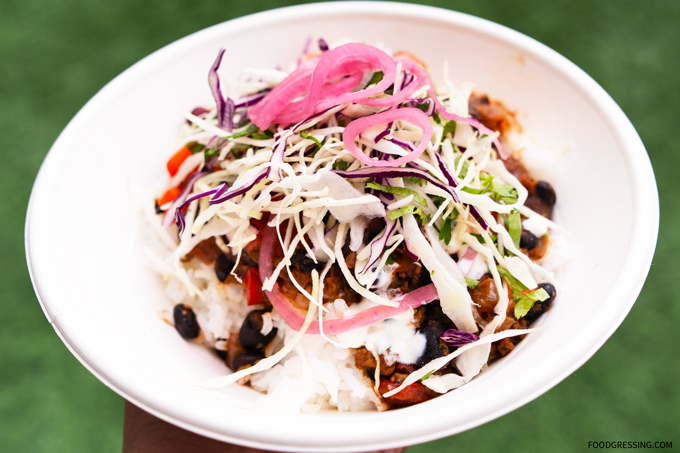 Crispy Shrimp Tacos
With the crispy shrimp tacos, Oceanwise shrimp are cooked in a light and crispy batter, finished with green cabbage slaw, salsa verde, and pickled onion red onion. This is offered at Steveston's Fish & Chips in the Food Court.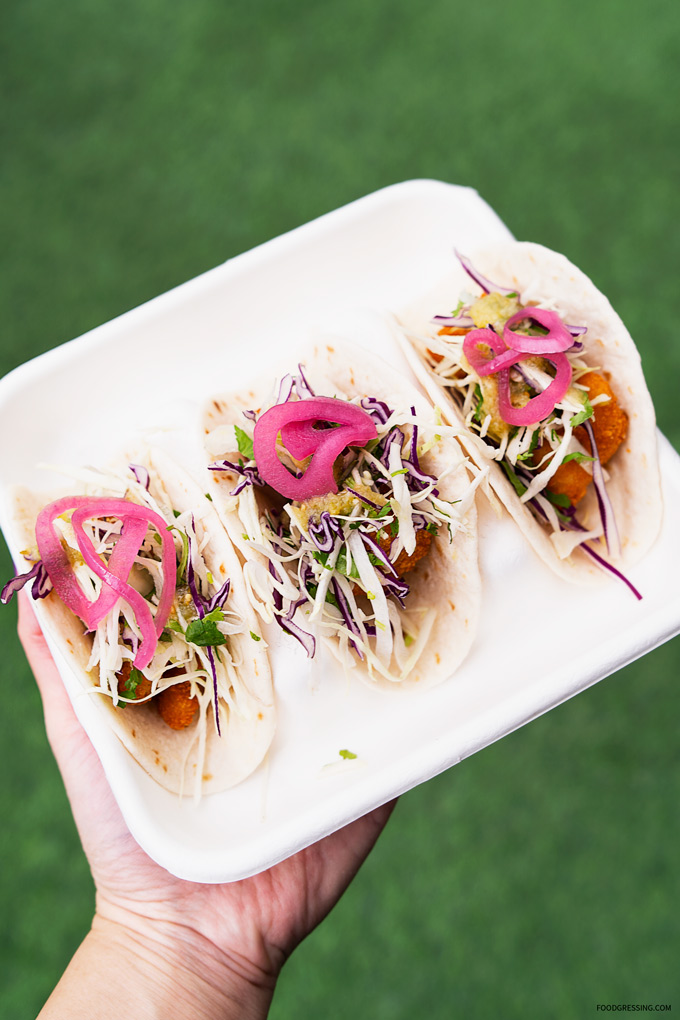 Curry Offerings: Butter Chicken, Lamb Cury and Chana Masala
You can find curry dishes at Bombay South Asian Kitchen at Section 220 and in the Food Court. New to the curry menu is Butter Chicken featuring boneless chicken thighs cooked with fenugreek, garam masala, crushed tomatoes and cream. Returning this year is Lamb Curry (tender lamb shoulder, onion, tomato, garam masala and coconut milk) as well as the vegan Chana Masala (chickpeas, red lentils, onion, tomatoes, house masala and coconut milk).
Beast Fries
For your poutine fix, there are the Beast Fries (caramelized onion, cheddar cheese, and Thousand Island dressing). Find it at The Poutinerie at Sections 212 & 239.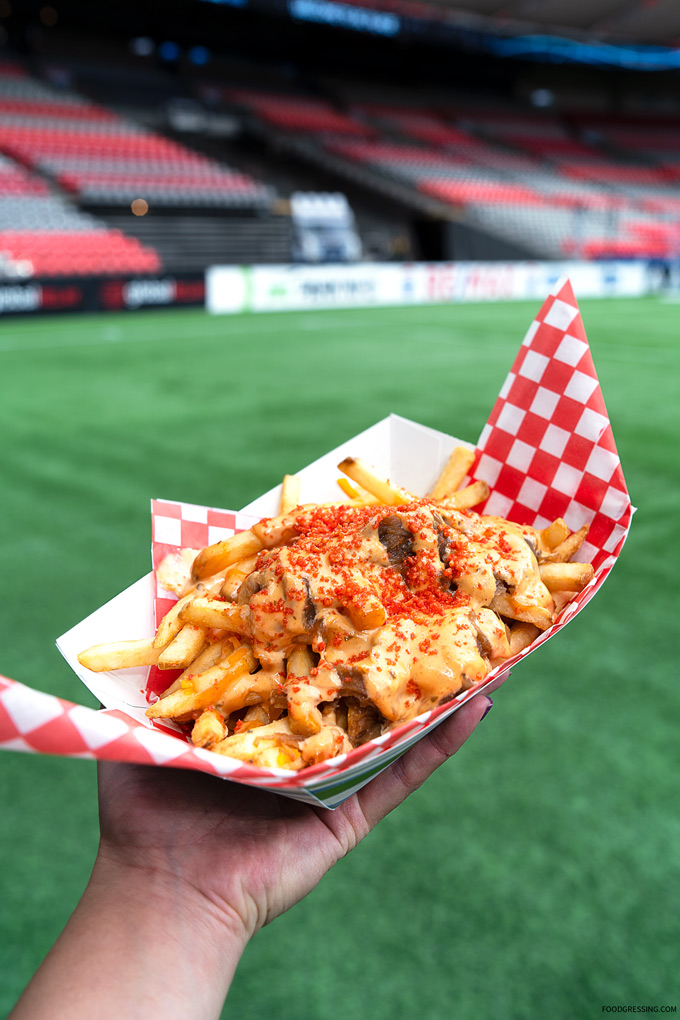 Macaroni & Cheese
A vegetarian option is the Macaroni & Cheese made with house three cheese sauce finished with a hot Cheetos crunch. Find it at Boom Kitchen! at Sections 210 & 244.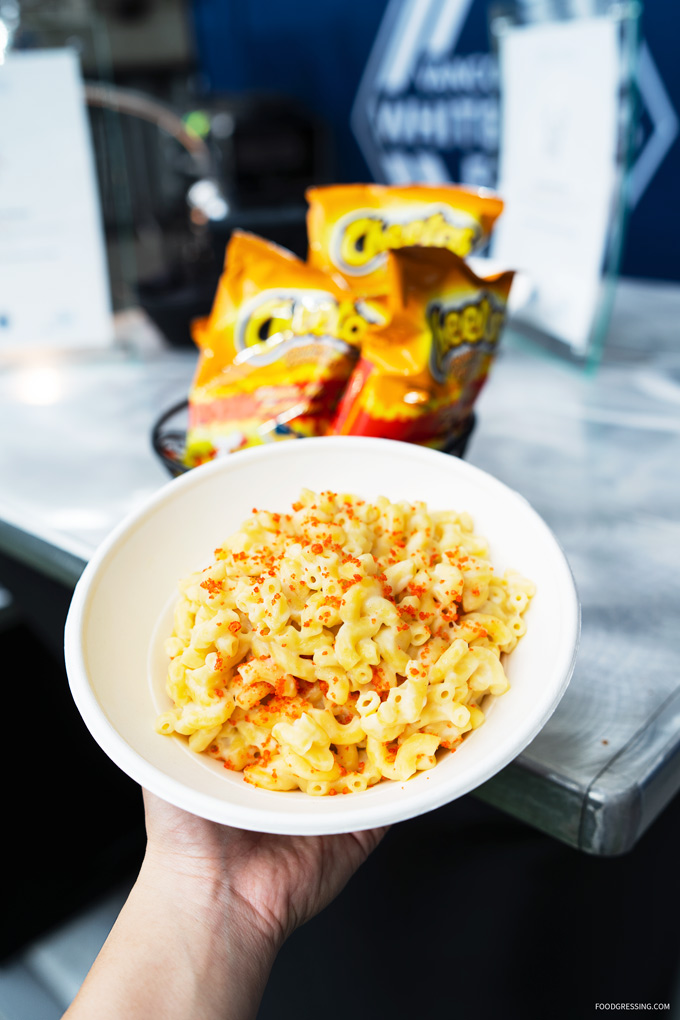 Buffalo Chicken Tenders Burger
On the menu is the Buffalo Chicken Tenders Burger featuring Buffalo chicken tenders, crisp lettuce, tomato, onion, jalapeno havarti, and Frank's hot mayo.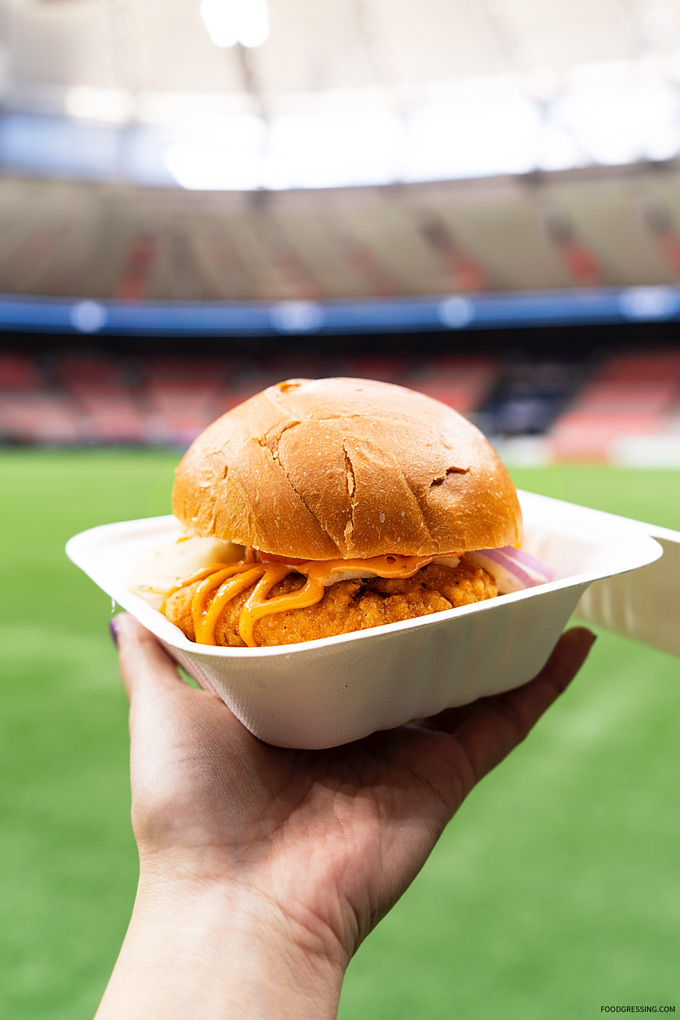 Beverage Offerings
Some of the featured breweries include Stella Artois, Budweiser, Stanley Park Brewing and Red Truck Beer.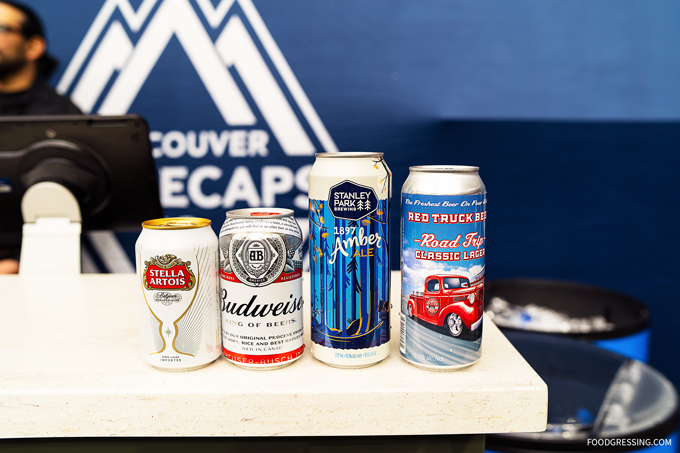 Ready In-Seat Ordering at BC Place
At BC Place, you can also order food and drinks delivered right to your seat. With a smartphone, you simply hover the camera function over the unique code on your armrest to instantly open the menu. There are no apps to download and no registrations required! Each seat is uniquely coded to identify the guest's location.
You can order from the full kitchen and bar menu, and submit payment via the online checkout. Your order is then freshly prepared and delivered to you.
My top recommendation is the Rainbow Grilled Cheese Sandwich which aside from its novelty factor is really delicious! The melty cheese is just perfect and the bread is nicely toasted and buttery.
For more information about BC Place including rotating menu selections and event day specials, follow @BCPlace on Twitter and check out their website at www.bcplace.com.