The A&W Nashville Hot Chicken Sandwich has just launched on the A&W menu. Here's a look at the calories, price and ingredients of the sandwich.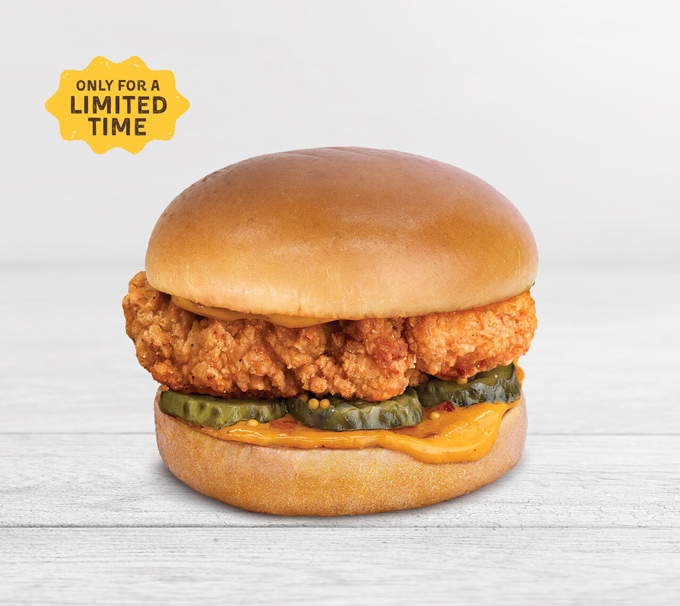 A&W Nashville Hot Chicken Sandwich Ingredients
The A&W Nashville Hot Chicken features five ounces of crispy, crunchy chicken breast, sweet pickles and a Nashville-inspired aioli, all on a brioche-style bun.
As per the A&W chicken guarantee, the chicken is raised without antibiotics and fed a grain-based, vegetarian diet with no animal by-products.
The Chickens are humanely raised in large barns, with room to roam and ample access to fresh air and clean water.
Here is the official list of ingredients:
Chicken Portion
Chicken, Water, Wheat flour, Toasted wheatcrumbs, Corn flour, Modified corn starch, Wheat gluten, Salt, Soy protein product, Spice, Onion powder, Baking powder, Palm oil, Garlic powder, Defatted soy flour, Guar gum, Spice extracts
Brioche Bun
Enriched wheat flour, Water, Sugars (sugar, barley malt, syrup, dextrose, corn maltodextrin), Yeast, Vegetable protein (pea and/or potato and/or fava bean), Wheat starch, Modified corn starch, Vegetable oil (canola or soy oil and/or sunflower oil), Salt, Wheat gluten, Cultured wheat flour, Dough conditioners (DATEM, monoglycerides, ascorbic acid, food enzymes), Corn flour, Annatto, Turmeric, Natural flavors.
Bread & butter pickles
Cucumbers, Water, Sugar/glucose-fructose, White vinegar, Dehydrated onions, Salt, Calcium chloride (A natural mineral that enhances crispness), Dehydrated peppers, Spices (mustard seed), Flavours, Turmeric.
Nashville Aioli
Soybean oil, Water, Frozen egg yolk, Vinegar, Salt, Modified corn starch, Sugar, Smoked paprika, Garlic powder, Onion powder, Dried red bell pepper, Mustard, Seasoning, Spices, Natural flavour, Polysorbate 60, Soy lecithin, Xanthan gum, Citric acid, Paprika oleoresin, Potassium sorbate, Sodium benzoate, Calcium disodium EDTA.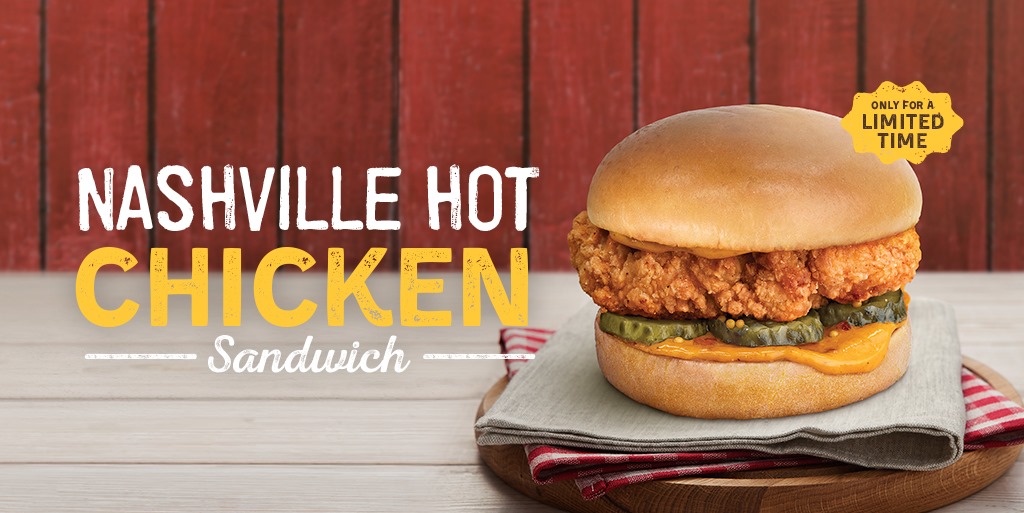 Calories and more nutritional info
Here is the nutritional info: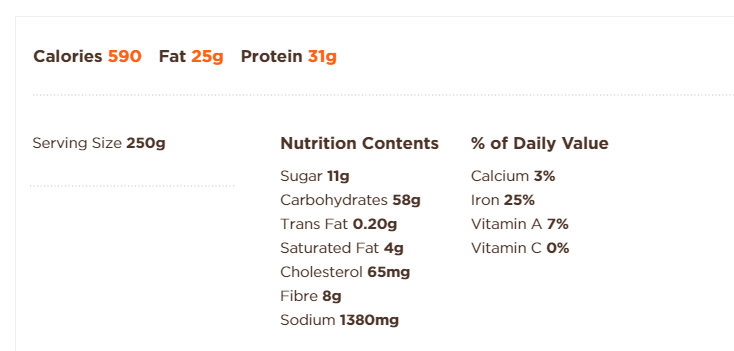 Serving Size: 250g
Calories: 590 calories
Fat: 25g
Protein: 31g
Sugar: 11g
Carbohydrates: 58g
Trans Fat: 0.20g
Saturated Fat: 4g
Cholesterol: 65mg
Fibre: 8g
Sodium: 1380mg
% of Daily Value
Calcium: 3%
Iron: 25%
Vitamin A: 7%
Vitamin C: 0%
Allergen Information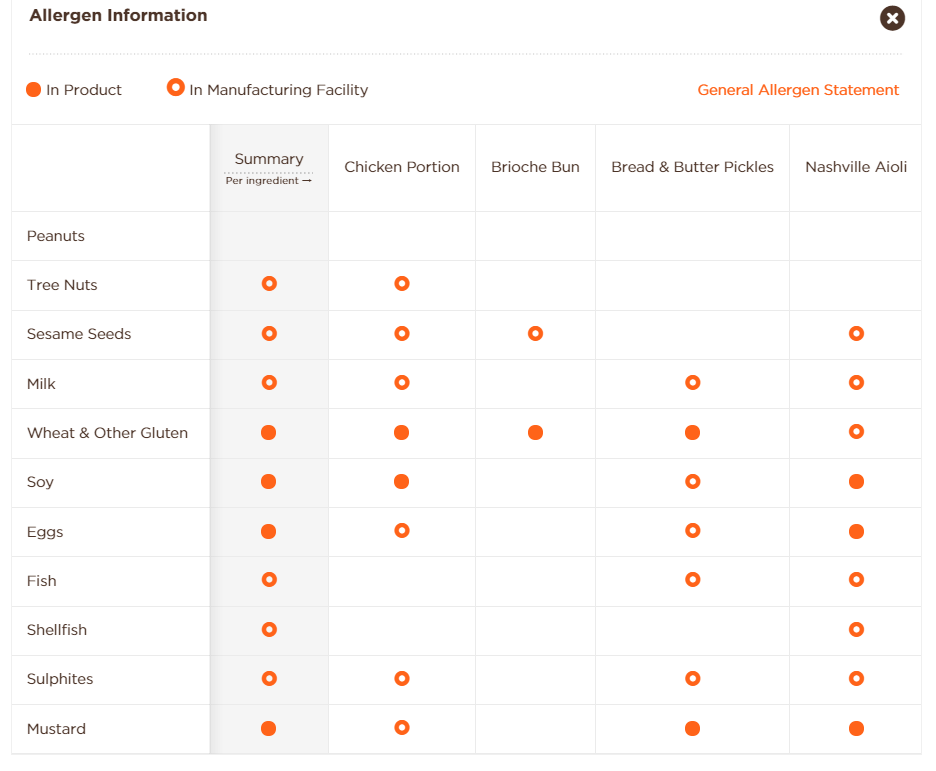 Price
The price of the sandwich varies by location. Restaurants in the same city may charge different prices.
Here is a sampling of the A&W menu prices for Nashville Hot Chicken Sandwich by location:
Vancouver (1028 Granville Street): $7.99
Calgary (The Core Shopping Centre): $7.99
Edmonton (Kingsway): $7.99
Toronto (Eaton Centre): $7.99
Montreal (Parc & Milton): $7.99
A&W Nashville Hot Chicken Sandwich Customization Options
Based on Vancouver pricing
Make it a combo
Fries: +$1.54
Onion Rings: +$3.54
Poutine: +$3.94
Sweet Potato Fries: +$2.84
Add toppings
Lettuce: +$0.50
Tomato: $$0.30
Remove toppings
For more information, visit https://web.aw.ca/en/our-menu/chicken/nashville-hot-chicken-sandwich