National Cinema Day is September 3 and the Movie Theatre Association of Canada (MTAC) and The Cinema Foundation welcome moviegoers across Canada to celebrate a day at the movies with discounted admissions. National Cinema Day will bring together audiences of all ages to enjoy a day at the movies at a discounted admission of $3.00 (plus applicable taxes) – a $3 movie day!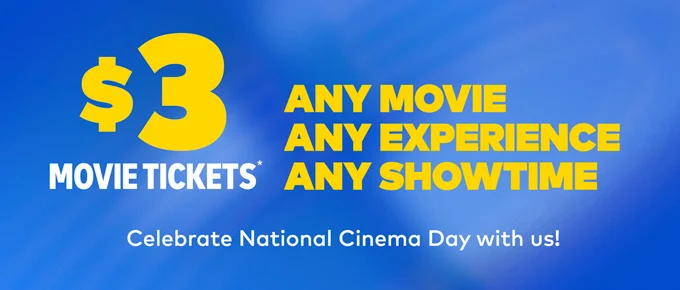 The one-day event will be held at more than 3,000 participating locations with more than 30,000 screens across North America.
Participating theatres in Canada include :
Major Theatres Across Canada
Cineplex
Cinemas Guzzo
Cinemas Cine Entreprise
Imagine Cinemas
Landmark
Magic Lantern Theatres
Independent theatres in Provinces:
British Columbia
Caprice Twin Theatres
Dunbar Theatre
Hollywood 3 Pitt Meadows
Hollywood 3 Surrey
Hollywood Cinema Caprice
Hope Cinema Café
Kootenay Centre Cinemas
The Roxy Theatre
Tillicum Twin Theatres
Alberta
Alma 3
Cochrane Movie House
Fox Theatre
Grand Theatre
Hinton Movies
Leduc Cinemas
The Lux
Movie Mill
Okotoks Cinema
Rocky Mountain House
Wetaskiwin Cinemas
Manitoba
Boissevain Community Theatre
Countryfest Community
South Cariboo Theatre
Stardust Drive-In
Saskatchewan
Lyceum Theatre
May Cinemas 6
Ontario
Film.Ca Cinema
Hyland Cinemas
The Westdale
Quebec
Cinema Carnaval
Cinema Pine
Le Clap Loretteville
Le Clap Ste. Foy
New Brunswick
Newfoundland
The list is growing so check with your local theatre!
Cineplex $3 movie deal
Here are the terms and conditions for the Cineplex $3 movie deal:
Join Cineplex in celebrating National Cinema Day with $3.00+tax movie tickets. See ANY movie, ANY experience, ANY showtime.
Movie tickets for showtimes on Saturday, September 3, 2022, will be $3.00+ tax at all Cineplex locations. Offer applies to all feature film performances and all experiences, including films in 3D, IMAX®, D-BOX, 4DX, ScreenX, Kids Clubhouse, UltraAVX®, and VIP (legal drinking age required) auditoriums. This promotion is not valid for non-feature film performances and Cineplex Events. Paid admission tickets will earn Scene+ points as per standard earning terms. Tickets for particular theatres/movies are subject to availability. This offer cannot be combined with any other promotion, coupon or discount, and is not valid on past purchases, transferable, redeemable for cash or credit, or valid for re-sale. Offer is subject to change or may be cancelled without notice. Additional restrictions may apply.
More information on National Cinema Day is available on social media using the hashtag #NationalCinemaDay and by visiting your local movie theatre's website. Join millions of other moviegoers and head to a theatre near you.