The New Home Chef, a trend identified within the Loblaw 2017 Canadian Food Trends, is balancing the dichotomy of time pressure and a desire to be more ambitious in their cooking. Loblaw Food Council Member, Chef Claire Tansey, has prepared the following recipes to help Canadian home chefs discover new fall favourites, whether they're looking for a quick and homemade Friday night snack, a savory side to add to ready-made protein or a delectable dessert prepared in less than an hour!
Smoky Sweet Popcorn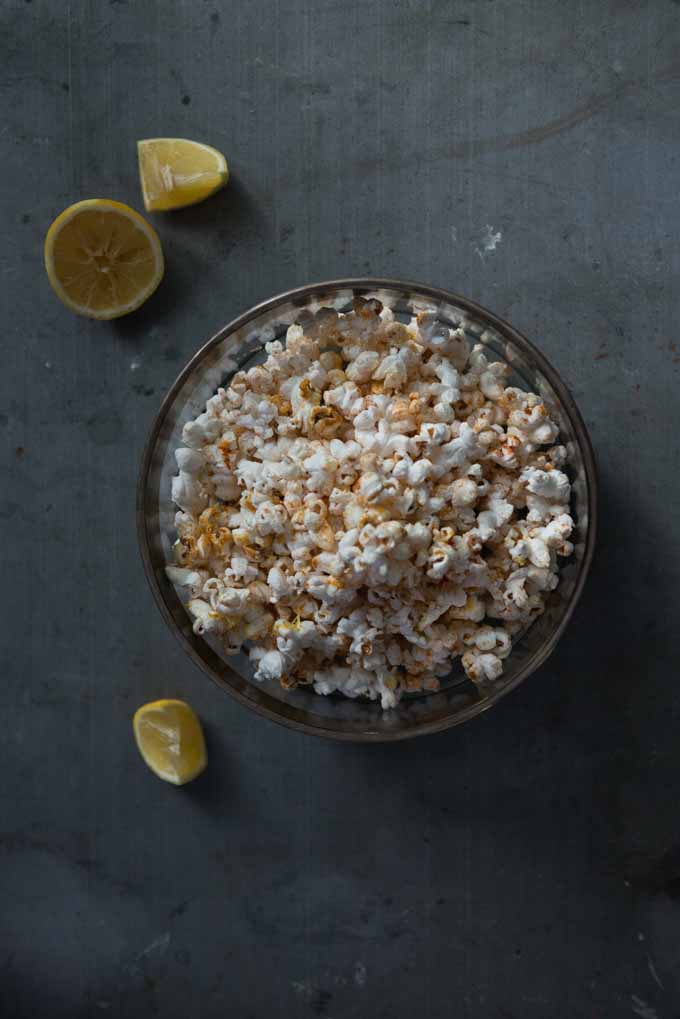 Prep: 5 min
Total: 10 min
Serves 4
1 teaspoon (6 g) smoked paprika
2 tablespoons (28 g) granulated sugar
½ teaspoon (2.8 g) salt
½ teaspoon (2.8 g) hot red chili flakes (optional)
3 tablespoons (44 mL) canola oil
1/3 cup (113 g) popcorn kernels
Zest of 1 lemon
Combine a pinch of the smoked paprika with sugar in a small bowl. Combine remaining paprika with salt and chili flakes in another small bowl.
Heat oil and 3 popcorn kernels in a large heavy-bottomed pot with the lid on over medium-high. Once the 3 kernels pop, add remaining popcorn and shake the pot a bit so the kernels get coated with oil. Immediately sprinkle kernels evenly with sugar mixture. Cover and cook, lifting and shaking the pot frequently, until popped, 2 to 3 min. Turn off the heat and immediately pour onto a large baking sheet. Sprinkle popcorn with salt mixture, then zest the lemon right over top. Serve immediately.
Per serving: 228 calories, fat 11.6 g (1.0 g of which is saturated), sodium 295.0 mg, carbohydrate 28.9 g, fiber 4.1 g, sugars 7.4 g, protein 3.3 g
Roasted Carrot Salad with Micro Greens, Avocado-Thyme Vinaigrette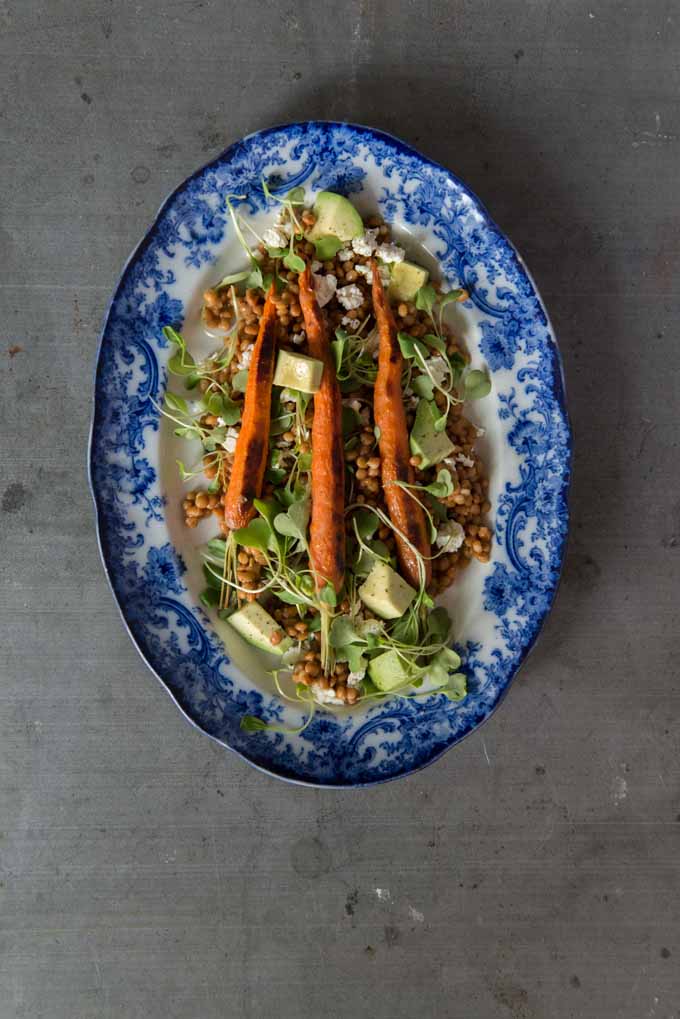 Prep: 15 min
Total: 30 min
Serves 4
12 small carrots, scrubbed
1 tablespoon (15 mL) extra-virgin olive oil
¼ teaspoon (1.4 g) kosher salt
3 tablespoons (44 mL) fresh lemon juice
1/8 teaspoon (0.7 g) garlic powder
¼ teaspoon (1.4 g) thyme
¼ teaspoon (1.4 g) kosher salt
1 teaspoon (5 mL) Dijon
1/3 cup (85 mL) extra-virgin olive oil
2 cups (540 mL) small brown lentils, drained and rinsed
2 cups (540 mL) micro greens
1 avocado, diced
1 cup (284 mL) crumbled feta
Preheat oven to 425F. Line a large baking sheet with foil or parchment. Combine carrots with 1 tablespoon oil and ¼ teaspoon salt on baking sheet and toss well to coat. Roast 17 to 22 min or until tender-crisp.
Combine lemon juice, Dijon, thyme, ¼ teaspoon salt and garlic powder in a small jar. Shake well to combine. Add 1/3 cup oil and shake to emulsify. Combine about half of dressing with lentils and stir well. Divide lentils, greens, avocado, feta and carrots among 4 plates. Drizzle with remaining dressing. Season with fresh pepper as desired.
Per serving: 554.2 calories, fat 40.8 g (11.1 g of which is saturated), sodium 1122.2 mg, carbohydrate 36.8 g, fiber 10.7 g, sugars 11.3 g, protein 15.4 g
Triple Lemon Petit Fours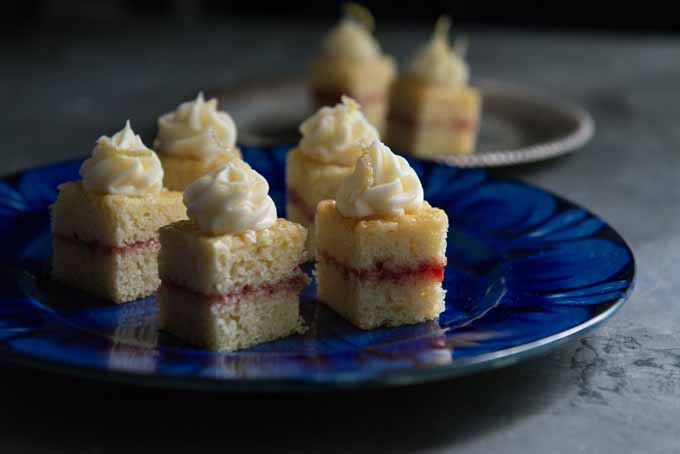 Makes 25 petit fours
Candied Lemon Curls
Prep: 10 min
Total: 1 hour
2 large lemons
1 ½ cups (510 g) granulated sugar, divided
1 cup (284 mL) water
Take the peel off both lemons using a vegetable peeler. Trim into thin strips. Combine 1 cup of the sugar with water in a small pot and bring to a boil. Add lemon peel, reduce heat to simmer and cook gently for 10 min or until translucent. Place remaining ½ cup sugar in a shallow bowl. Use tongs to lift lemon peel out of the sugar syrup, drain for a few seconds, then transfer into sugar. Toss very well, then transfer peel to a rack to cool and dry completely. Reserve sugar for Lemon Cake and sugar syrup for glaze.
Lemon Cake
Prep: 20 min
Total: 2 ½ hours
½ cup (115 g) butter, at room temperature
1 cup (205 g) sugar
Zest of a large lemon
2 eggs
1 tsp (5 mL) vanilla
1 1/3 cups flour (200 g)
1 ½ teaspoons (8.5 g) baking powder
¼ teaspoon (1.4 g) salt
2/3 cup (188 mL) milk
Preheat the oven to 325F. Grease an 8-in. square cake pan well with baking spray, or with butter and flour. Beat butter and sugar together, by hand or using an electric mixer on medium, until well- combined. Beat in zest. Beat in the eggs and vanilla until well-combined. Add the flour, baking powder and salt, and stir gently until just combined, then add the milk and stir well. Scrape into the prepared pan. Bake 35 to 40 min or until golden and a cake tester inserted into the center comes out clean. Let cool in the pan set on a rack for 10 min, then flip out onto a rack and cool completely before frosting.
Lemon Frosting
Prep 10 min
Total 20 min
1/3 cup (75g) butter, at room temperature
2 ¼ cups (255g) icing sugar
2 tablespoons (35 mL) fresh lemon juice
½ teaspoon (3 mL) vanilla
¼ cup (71 mL) seedless raspberry jam
Beat butter with icing sugar using an electric mixer on medium. Beat in lemon juice and vanilla, then increase speed to high and beat until very smooth and fluffy, about 1 min.
To assemble petit fours, trim cake and cut in half horizontally. Brush with reserved lemon syrup and spread jam in a thin layer right to the edges. Chill cake until firm. Cut into 25 small squares. Pipe a rosette of frosting on each one. Top with candied lemon curl.
Per petit four: 188 calories, fat 7.0 g (4.2 g of which is saturated), sodium 96.1 mg, carbohydrate 30.4 g, fiber 0.3 g, sugars 24.6 g, protein 1.5 g