Here are some ideas on where to spend a fall date night in Miami.
Bellini at Mr. C Coconut Grove
Instantly transport to a bespoke romantic evening on Italy's Amalfi Coast at Bellini, the Italian-inspired rooftop restaurant perched atop the iconic Mr. C Coconut Grove.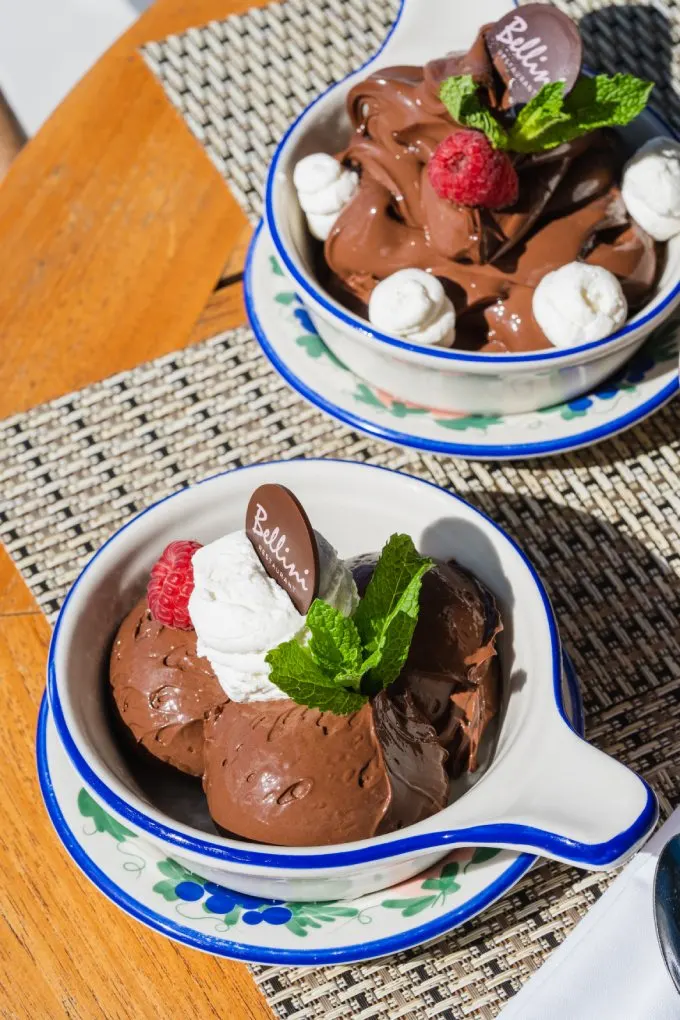 From the minds of Ignazio and Maggio Cipriani, a fourth-generation hotelier family, Bellini's renowned authentic Italian cuisine brings a contemporary edge to much-loved traditional favorites, as well as features classic Cipriani dishes and heavenly cocktail offerings to sip the night away.
Inspired by the hospitality brother's extensive travels throughout Italy, the brilliantly designed menu features a range of recipes from different regions of the European country and boasts a a divine selection of antipastis, salads, and exquisite entrées including a Baked Polenta "al Cucchiaio" con Stracchino Cheese and Crispy Mushroom to begin the meal; a Langoustine Scampi Carpaccio for the table; Tagliatelle with Saffron and Pancetta; and Branzino with Tomato Concasse, Black Olives, and Parsnip Puree.
Featuring awe-inspiring views of glistening Biscayne Bay and exuding both elegance and intimacy, Bellini brings timeless old-world Italian glamor to the historic Coconut Grove neighborhood, making it one of the city's most enchanting date night destinations.
Matador Room at The Miami Beach Edition
Located at the elegant The Miami Beach EDITION, MATADOR ROOM is a creative culinary adventure, tempting guests with the magical charm of supper clubs from the 1940s and 50s.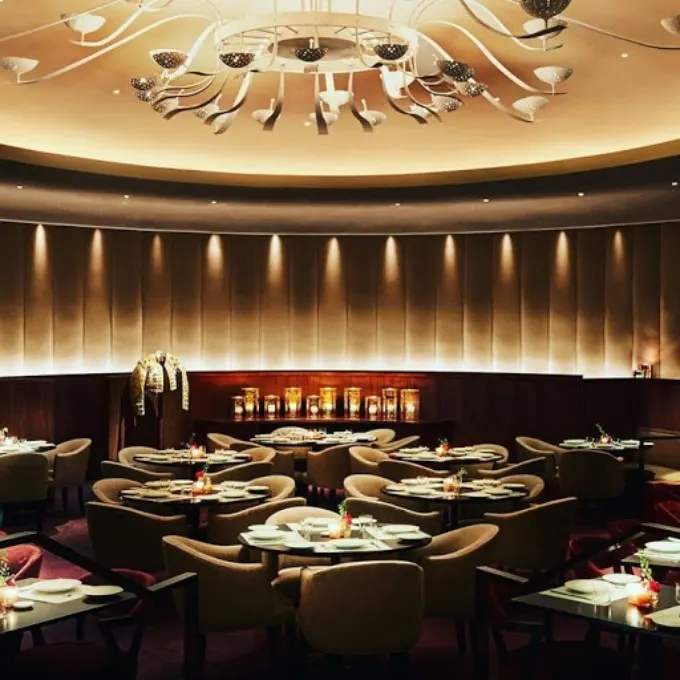 Inspired by its rich history and 1950s glamor, world-renowned chef Jean-George Vongerichten has reinvented the iconic MATADOR ROOM with reimagined dishes that offer his interpretation of Caribbean, Spanish, and Latin and South American cuisines; seasonal menus are composed of small and large plates that embrace the freshest, locally sourced, seasonal produce.
Exuding refined luxury, romantic ambience and modern glamour, MATADOR ROOM presents couples a one-of-a-kind gastronomic experience, setting the tone for an unforgettable evening in The Magic City.
Baia Beach Club
There's nothing that says romance more than the perfect sunset. Dazzle your date with picturesque sunset views and exquisite Mediterranean-inspired cuisine at Baia Beach Club, the tropical waterfront oasis located at the iconic Mondrian South Beach.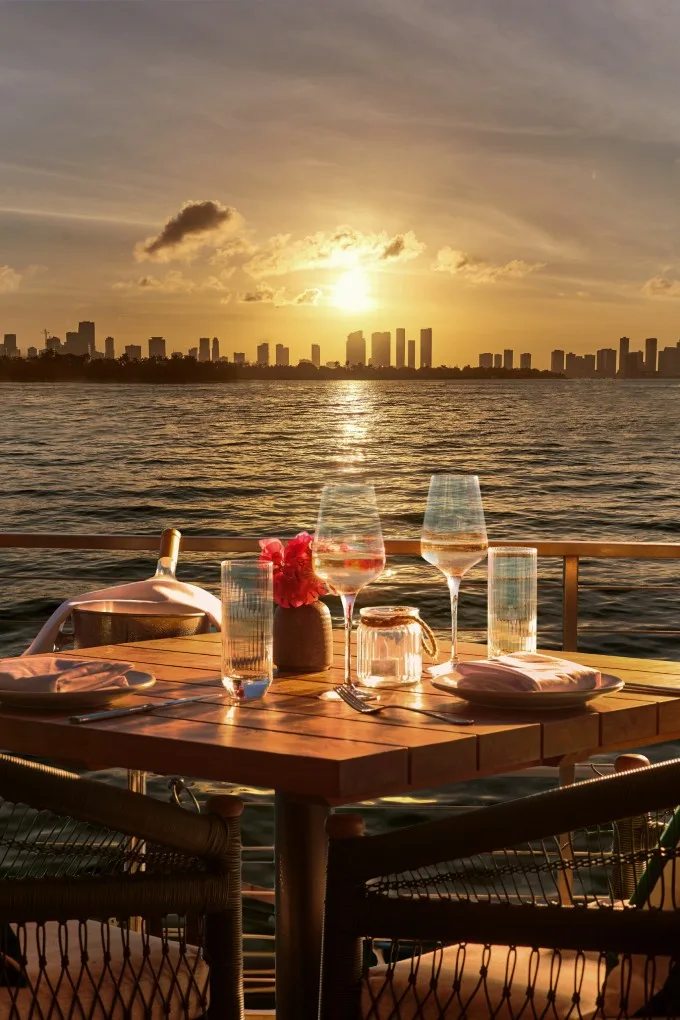 Taking cues from the flavors of the Mediterranean, Baia Beach Club features a unique, coastal-inspired menu and delightful cocktail blends curated from only the freshest ingredients.
Sip on an array of heavenly cocktail offerings like the New Mondrian or the Azul, a subtle yet fruity spritz gorgeously infused with Ketel One Botanicals Peach & Orange Blossom Vodka, St. Germain, White Wine, Ketel One Spritzer & fruit; and pamper your palate with coastal favorites like the Signature Hummus, Tuna Tartare or Delicata Squash.
With a front row seat to breathtaking views of The Magic City and a laid-back bohemian energy, Baia Beach Club makes for the perfect (baeside) date night.
27 Restaurant & Bar
Located adjacent to the courtyard at Freehand Miami, 27 Restaurant & Bar, housed inside an eclectic 1930's house and using only one-of-a-kind vintage dishware, specializes in fusing classic homestyle favorites with exciting new flavors using an ingredient-driven, artisanal approach.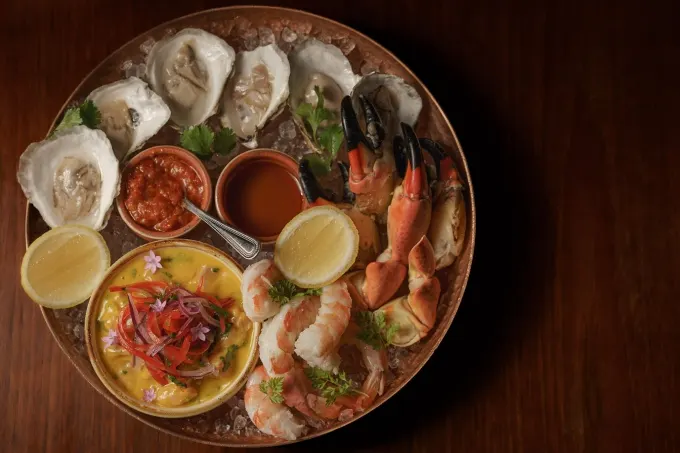 From the mind of award-winning Chef Jimmy Lebron, the carefully curated menu features lovingly crafted dishes from Carbonara to Kimchi Fried Rice, and the cult-favorite Griot & Pikliz- each dish is an imaginative reinvention of traditional dishes presenting guests an unforgettable, multi-sensory culinary journey.
Beautifully situated in an intimate setting, 27 Restaurant presents guests a comforting yet elevated gastronomic experience, perfect for a cozy date night in Miami.
Lido Bayside Grill at The Standard Spa, Miami Beach
Situated along the serene Biscayne Bay, Lido Bayside Grill at the Standard Spa, Miami Beach offers an idyllic setting for an intimate date night.
The culinary concept is influenced by global cuisines with a flavor profile that exudes the essence of Miami Beach, offering light but shareable dishes designed so you can enjoy a variety of flavors during your romantic evening at Lido Bayside Grill.
The panoramic golden sunset bay view sets the ambiance for an intimate evening of building heartfelt connections with your partner.
Monterrey Bar at The Standard Spa, Miami Beach
Drenched in warm ambient lighting and an aura of sophistication, Monterrey Bar at The Standard Spa, Miami Beach sets an intimate date night mood.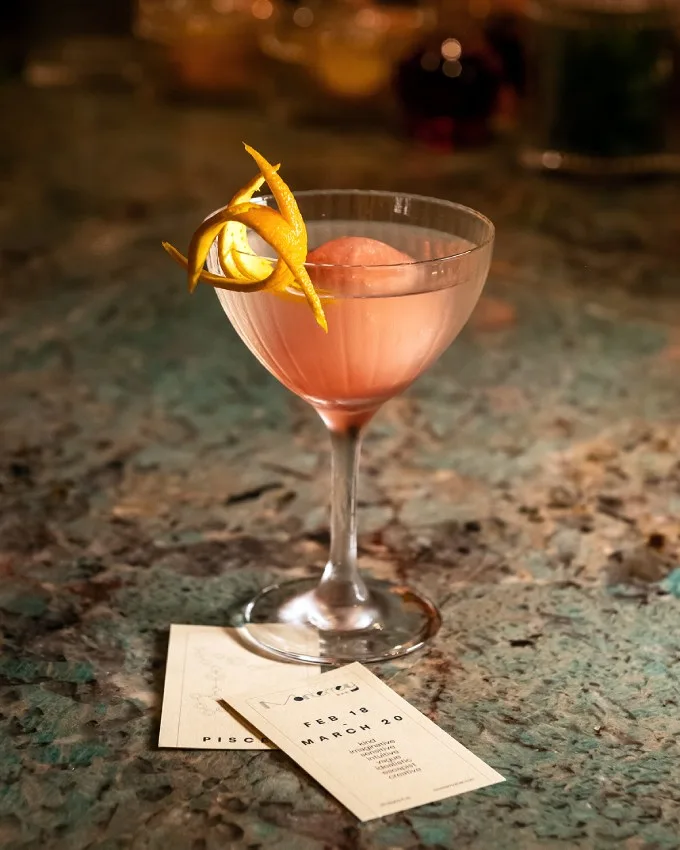 The curated drink menu offers a captivating array of handcrafted cocktails, ensuring every sip is filled with excitement.
The contemporary decor provides an intimate and ideal environment for meaningful conversations and shared laughter amongst you and your partner.
Elcielo at SLS South Beach
At the heart of Miami's vibrant South Beach, Elcielo at SLS South Beach offers an oasis of romance and culinary artistry.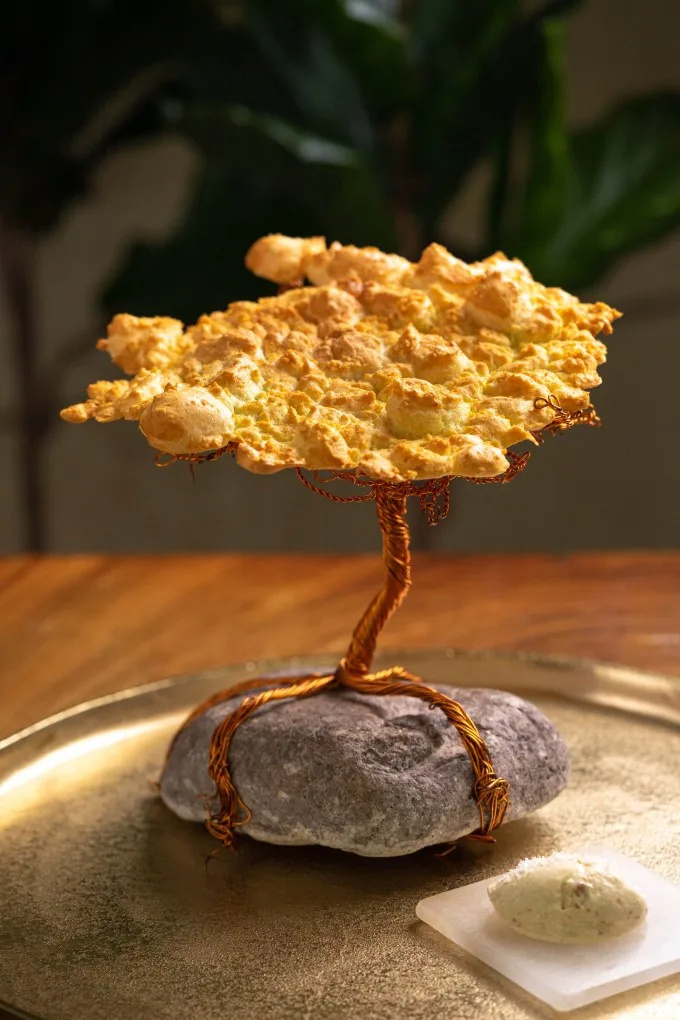 Celebrated for its creative and unexpected take on Colombian cuisine, dining at Elcielo is more than a dinner, it's a memorable experience to be shared.
Among its signature dishes, couples can savor warm Truffle Buñuelos, crispy Crab Empanadas infused with caribbean spice, craveable Waygu Smoked Nigiri accompanied by coconut rice and delectable truffle, and Lulo Yellowtail Ceviche complete with a champagne emulsion.
The meticulously crafted cuisine tells a story with each exquisite dish, starting conversation and creating an interactive dining experience.
Create new memories together and try one of Elcielo's unique cocktails such as the Mezcal & Pearls with almond milk, whole egg, spices, lime caviar, aire de mar.
The sophisticated yet laid back vibe offers an idyllic environment for an intimate evening out on the town.
Katsuya at SLS South Beach
Katsuya at SLS South Beach offers a sultry, intimate ambiance, accentuated by sleek wooden interiors and delicate lanterns This Japanese contemporary gem features specialty cocktails, unique rolls and spectacular sushi and sashimi platters by Chef Uechi, who skillfully translates Japanese flavors for the American palate.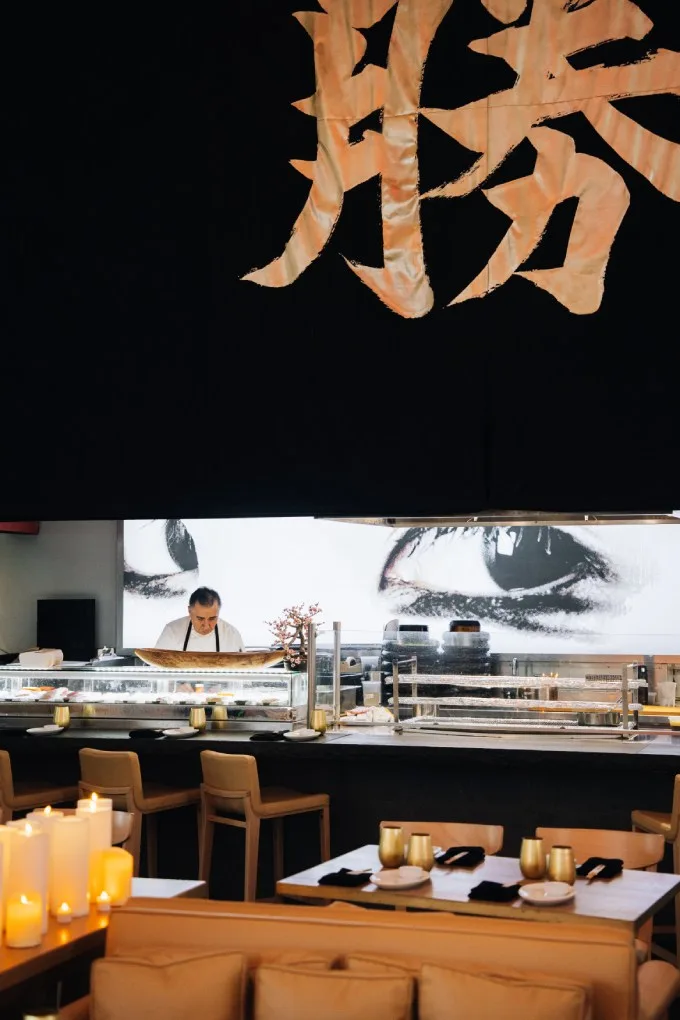 Savor delectable bites of Katsuya Classics like the Spicy Tuna Crispy Rice or the Salmon Sashimi and Caviar.
Enjoy the Katsuya Signature, Miso Glazed Black Cod with Houba leaf, hajikami ginger, broccolini, sure to create an experience to be remembered.
For a romantic private dining experience, explore Katsuya's exclusive Omakase Suite, located in SLS South Beach's Tower penthouse.
The tantalizing flavors and exquisite ambience set the tone for an idyllic evening.
Serena at Moxy Miami South Beach
Located at the Moxy Miami South Beach, Serena is a rooftop garden oasis perfect for a romantic date night.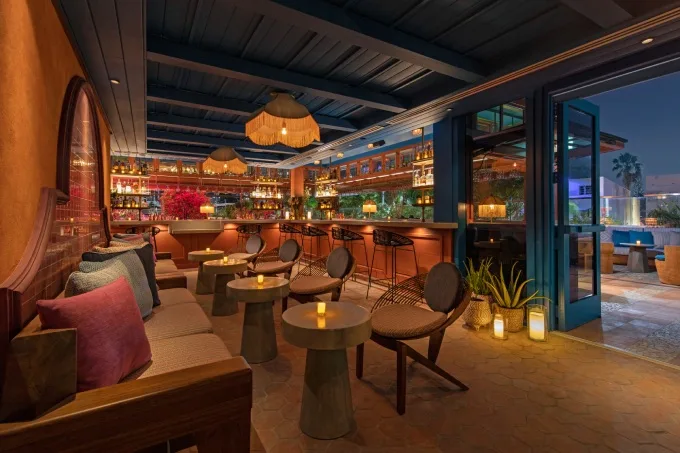 The lushly lined and vibrant rooftop terrace offers an intimate yet lively environment for date night of shareable dishes and a modern take on Latin and Mexican cuisine.
Traditional dishes with a new twist, like the Birria Enchiladas featuring chipotle tomato sauce, mexican cheese blend, avocado, pickled onion, are sure to create conversation.
Couples can enjoy the tantalizing flavors of Serena's Surf N Turf For Two paired with a Margarita Pitcher, all made to share.
The laid back yet sophisticated vibe of Serena invites couples to reconnect in an enchanting setting and indulge in flavorful conversations during their next date night.