The BC spot prawn season is upon us! Here's a look at where to buy live spot prawns in Calgary along with some buying tips, how to cook spot prawns tricks and spot prawn recipes.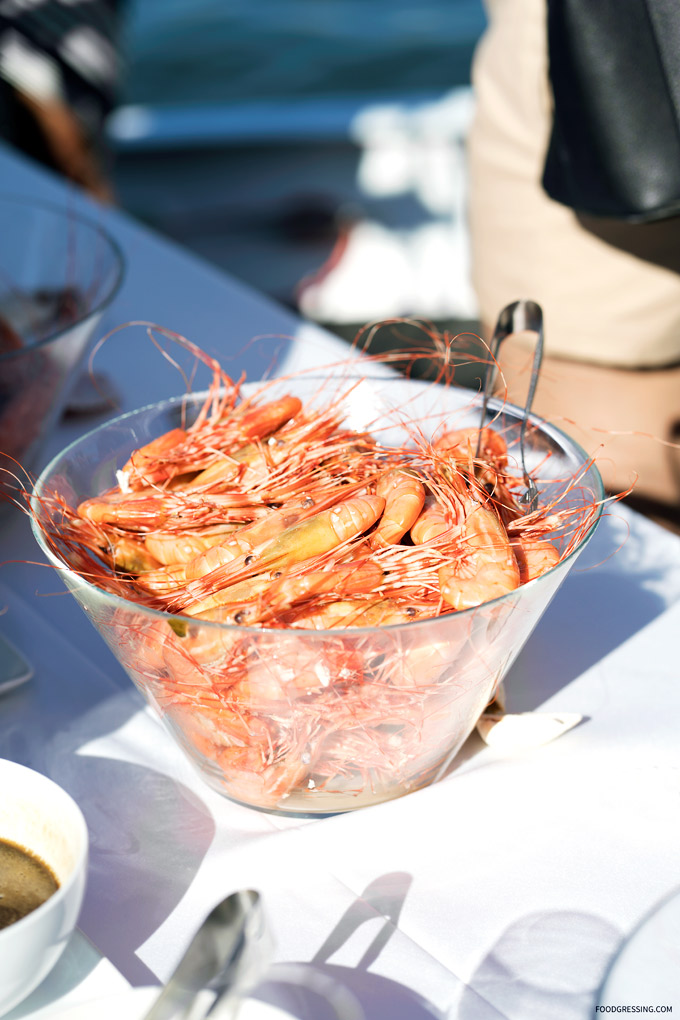 YYC Seafood
YYC Seafood sells BC live spot prawns in a foam box with icepack at 5lbs ($140) and 10lbs ($270).
They have pickup locations and offer delivery. You can DM them on Instagram to order.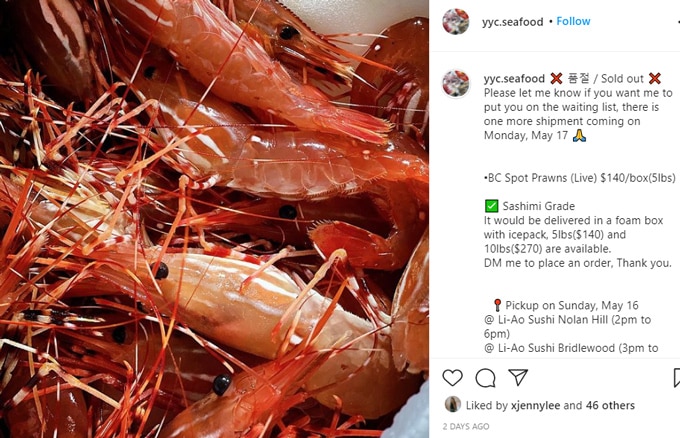 Fresh D Foods Canada
Fresh D Foods sells BC live spot prawns for pickup at Valendine, 2001 Centre Street Northwest Calgary.
Their prawns undergo purging, which is a process to clean the spot prawns and remove any unwanted residue in, and on their bodies.
Pricing is 3 lbs ($78), 5 lbs ($130) and 10 lbs ($240).
---
How to prepare spot prawns
So you've brought home your live spot prawns, kept them cool and they're sticking kicking and moving about. What to do next?
Get ready to cook them ASAP. You need to cook them live because dead prawns have a black flesh and are simply not good to eat.
Do not put spot prawns in tap water because fresh water will actually kill them.
Spot prawns taste best when they are cooked fast in just about two minutes. Beware of overcooking!
You can even undercook the spot prawns a bit because they will continue to cook after removal from heat.
Look for them to turn pink and curl up which means they are ready to be enjoyed.
For the spot prawn meat to be in the best condition, cook the spot prawns live with their head or you will need to remove their heads while still alive.
How to remove spot prawn head
It can be intimidating at first, but to remove the head of a live spot prawn follow these steps:
Carefully remove the spot prawn from the bag and carefully handle the sharp ends.
Firmly grab the spot prawn head in one hand and the spot prawn body with the other.
Pinch the spot prawn head with your thumb and index finger.
Twist your hands in opposite directions and pull.
Voila, the head will come free easily!
Grab the body with your dominant hand and pinch the head between the thumb and index finger of your other hand. Quickly and forcefully twist the body away from the head until it's removed. Rinse the tail thoroughly.
Check out this demo video to see how it is done.
How to steam spot prawns
Bring the water in your pot to a boil. Place spot prawns in the steamer basket. Steam for about 2 minutes and then run cold water over them.
How to grill spot prawns
Grill for 1 to 2 minutes per side at medium heat. You can also skewer them.
How to boil spot prawns
Bring the water in your pot to a boil. Boil spot prawns (with shell) for about 2 minutes.
How to sautee spot prawns
You can sautee spot prawns for a few minutes with or without shell.
About spot prawn tails
Spot prawn tails can be eaten sashimi-style from de-headed fresh, BC live spot prawns.
Spot prawn recipe ideas
Here are some spot prawn recipe ideas for inspiration.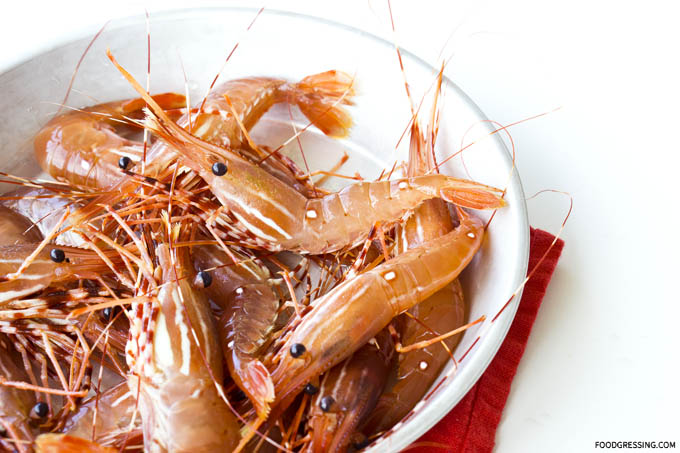 Cooked then chilled on ice. Serve with a lemon and cocktail sauce.
With butter only!
Paella with mussels, clams and fish. Serve with wine.
Steamed and then seasoned with olive oil, lemon and salt.
Cooked in sweet chili, butter, garlic and tomato sauce.
Pasta with tomatoes, asparagus in a garlic white wine sauce.
Tacos with mango, lime, sweet onion, salsa, chipotle mayo, avocado, cilatro and so forth.
Ceviche style.
Olive oil, salt and lemon zest.
Spot prawn boil with corn, potatoes and onions.
Garlic butter with Romesco sauce.
With coconut milk and lime.
Grilled and tossed in uni butter.
Spot prawn scampi (linguine pasta, butter, garlic, parsley, lemon, white white, parmesan)
Skewered and grilled.
With a butter garlic sauce.
Grilled with corn, then served with pasta and cherry tomatoes.
Chili garlic spot prawn steamed with sake and served with coconut rice.
Seafood risotto with mussels and clams.
Serve with soy sauce.
With a sake dashi broth.
Olive oil, garlic and fresh lemon juice.
Served with garlic, herb butter and zucchini and peas.