Peking Duck is one of my favourite Chinese dishes but sometimes I don't want the fuss of going to a restaurant. Here's where a trip to T & T Supermarket can satisfy my Peking Duck cravings in a quick and dirty manner. A few weeks ago, I discovered that T & T was selling Peking Duck wraps, whole/half bird sliced as well as condiments, wraps, and dips. The way they organize their Peking Duck offerings makes it conducive to enjoy it at home or on-the-go. The prices seem pretty reasonable and I took a photo of the menu as seen below.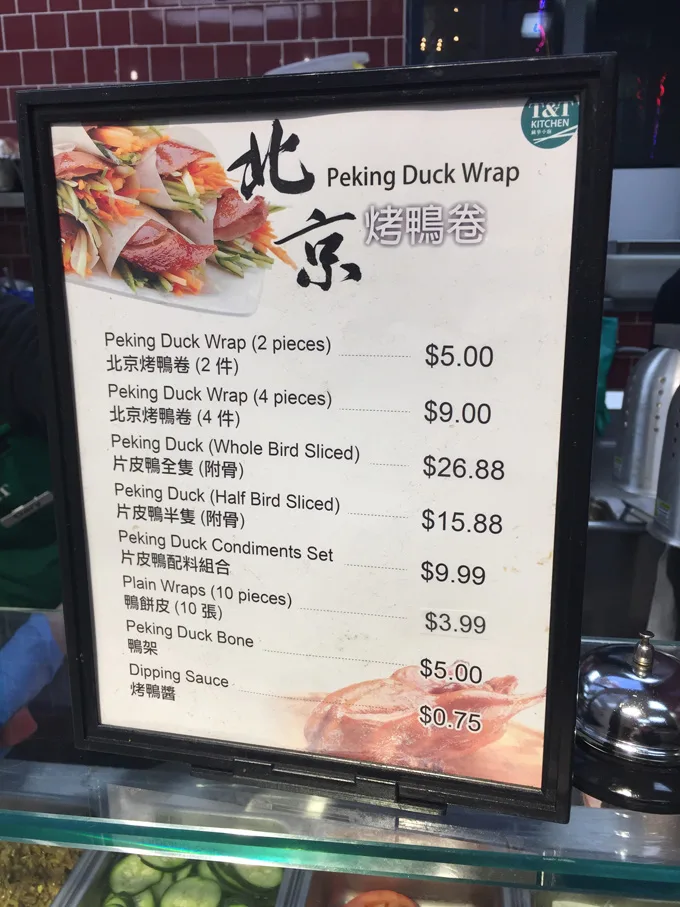 Note: None of the food in this review were complimentary. This review is done anonymously.
How are the Peking Duck Wraps assembled at T & T?
The wraps are assembled on the spot and placed into carry out containers so you can pay at the front along with the rest of your groceries. I ordered the two-piece Peking Duck wrap ($5) on two occasions and found it pretty good for what it is. I videoed the process in which a staff member prepared the Peking Duck wraps for me.
Taste Test
I found the wraps to be nicely loaded with vegetables and cantelope but the sweetness from the Duck Sauce and cantelope kind of overpowers the flavours. The duck could be warmer but the meat was pretty tender and flavourful. All things considered for this in a "fast food" setting and the "cheap" price, I would order this again and recommend this to others.
Which T & T Supermarket have Peking Duck?
I can confirm the location at Keefer & Abbott (179 Keefer Place) has this. Foodology.ca noted that the Metrotown store also offers Peking Duck.
For more T & T product reviews, see https://foodgressing.com/category/type/tt-supermarket/