Here's a look at Valentine's Day St Louis 2022 featuring special offerings by restaurants.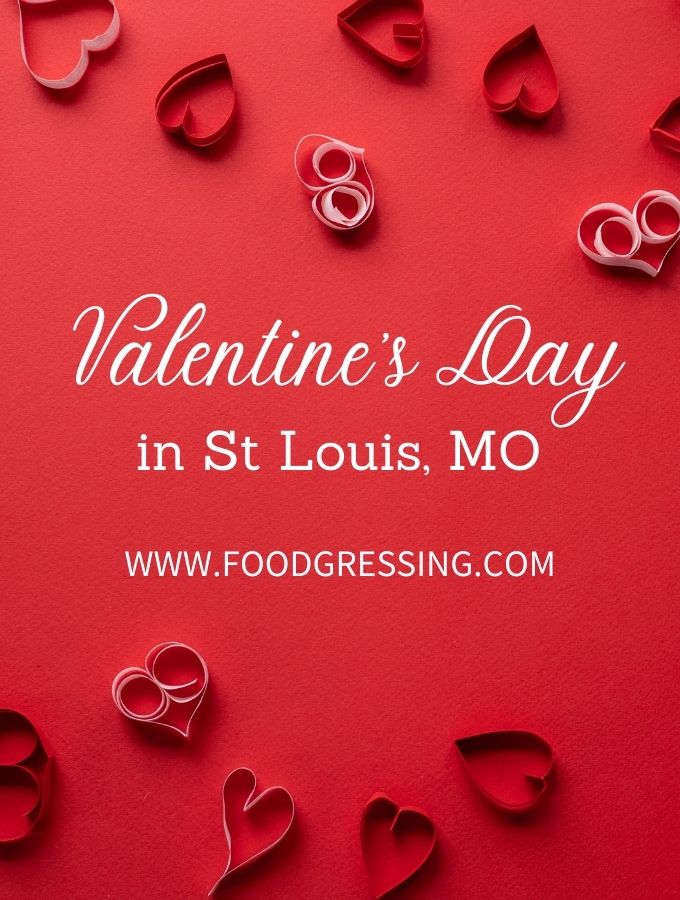 Valentine's Day 2022 is Monday, February 14, 2022.
If you are a business that wants to be featured, please email me a ready to copy and paste excerpt of your offerings.
Valentine's Day St Louis 2022 Missouri: Restaurant Special Menus
Cafe La Vie
Chef Michael takes you on a tour of the most romantic regions in France from Brittany to Alsace.
The flavor profiles and pairings are rich in romance and storytelling. Discover something new and fall in love with love with this whimsical prix-fixe dinner starting at $72 per person.
Amuse Bouche: Laura Chanel Chevre Cornet
Aperitif (choice of one): Maine Lobster Crepe (Brittany) or Foie Gras Torchon (Alsace)
Intermezzo: Blood Orange Sorbet
Entrees (choice of one): Sea Scallops Filet of Beef
Dessert (choice of one): Chocolate & Raspberry Gâteau or Creme Brulee
Reservations for February 11 – 14.
Juniper
Juniper is offering a 4 course tasting menu including Oysters w/Blood Orange Granita and Caviar, Fermented Carrot w/Miso and Togarashi, Roasted Hen of the Woods Mushroom on Red Grits with Popped and Creole Spiced Sorghum, CHOICE OF Beef Tenderloin w/Celery Root, Parsnip, Grilled Onion, Garlic and Fermented Soy Caramel OR Skate Wing w/Sauteed Spinach and Trout Roe Vin Blanc, Red Velvet Cake for Dessert for $65 per guest. Beverage Pairing will be available for $35 per guest. Reserve for February 14 between 5 pm – 9 pm.
Bulrush
Celebrate Valentine's with Bulrush! Reservations for February 14 at 5:30 pm and 8 pm. $150 per ticket.
7 Course Ozark Tasting Menu Experience
Cocktail and Snacks Reception 30 minutes prior to Dinner (7:30)
Special Surprises
Union 30
Union 30 is offering a Valentine's Weekend Dinner from February 11 – 14.
Enjoy a specially reserved clothed table, glass of sparking, and a beautiful atmosphere as you dine on their in-house made-from-scratch menu.
They will be offering a four course prix-fixe menu for $150 featuring: Tuna 7 Scallops, Grilled Prawns, Lobster Cake, Duck Confit Wellington, Roasted Garlic Chevre Souffle, Grilled Caesar, Steak & Crab, Chilean Sea Bass, Petaluma Chicken Breast, Roasted Butternut Risotto.
Dinners also include their fabulous house made desserts: RC Cola Red Velvet, Chocolate Mousse Dome, and Fresh Berries w/ Sabayon, mint, and Chambord Syrup.
Seating will be at 6:00pm, 7:30pm, and 9:00pm. Priced at $150 per person. Mezzanine Seating – $25pp additional.
Four Seasons Hotel St. Louis
This Valentine's Day, enjoy new and unforgettable experiences with a loved one in the stunning setting of Four Seasons Hotel St. Louis.
Cinder House
Boasting spectacular views of the Gateway Arch and twinkling lights of the Downtown St. Louis skyline, Cinder House will be showcasing special menu items expertly crafted by Chefs Gerard Craft, Peter Slay and the Cinder House team.
Appetizers will include a half dozen oysters with a caviar add on, Peruvian crab ceviche, and hearts of palm salad.
The main course showcases Cinder House's nod to South America with a bistec asado, better known as a 12 ounce New York strip with carne secca Rice and a pan roasted ora king salmon.
Tiffany Gilmore, Assistant Executive Pastry Chef, will also be providing a surprise take-away for each couple.
These special menu items, along with the standard Cinder House menu, will be available for dinner service on February 11-14, 2022.
Reservations are required and can be made online or by calling 314 881 5759.
St. Louis Spa Retreat
Valentine's Day is the perfect time to pamper a loved one with an unforgettable St. Louis Spa Retreat.
Lovebirds will enjoy the ultimate couple's getaway with exclusive after-hours access to the spa, including a romantic candlelight dinner, two plush Four Seasons robes, an 80 minute massage in the Spa's Couple's Suite, and much more.
Reservations can be made by contacting the Spa directly at 314 881 5758. This offer is only available to one special couple each evening.
Playing Cupid has never been easier with the help of the concierge team.
These romance ambassadors can help stage a guest room with long-stem roses, champagne on ice, a path of rose petals, chocolate truffles, balloons and more.
For special requests or assistance with an overnight reservation, contact the Hotel directly at 314 881 5800.
The Lucky Accomplice
Valentine's Day celebration created by Chef Logan Ely in the Shift Restaurant style. You will enjoy a tasting menu, a series of small dishes created with local and sustainable ingredients. Reservations for February 9, 10, 11, 12 and 14. $110 per person.
J.Devoti Trattoria
Valentine's Weekend Prix Fixe Menu is the ONLY menu available February 11-14th. Five courses for $75/person, add wine pairings for an additional $25/person. Reserve here.
The Hall at Olive + Oak
The Hall at Olive + Oak is offering a Valentine's Day prix-fixe menu priced at $85 per person on February 12 and 14. Doors open at 6:00pm with dinner beginning at 6:30PM. Bar will be available for purchase the night-of or elevate your dining experience by adding wine pairings with your meal.
Bulrush
Celebrate Valentine's with Bulrush on February 14 priced at $150 per person. Seatings at 5 pm and 8 pm. Package Includes:
7 Course Ozark Tasting Menu Experience
Cocktail and Snacks Reception 30 minutes prior to Dinner (7:30)
Special Surprises
Vicia
Feast on Vicia's 8-course Chef's Tasting Menu with the one(s) you love this Valentine's Week. The menu will feature a creative mix of luxury and local, highlighting winter ingredients with 6 savory courses and 2 desserts. Each guest will receive a glass of sparkling rose (or a non-alcoholic rose) to begin the evening and a few other surprises.
This menu is offered with no restrictions, vegetarian, or pescatarian (including shellfish) only. No other dietary restrictions or preferences can be accommodated (this includes no gluten-free or dairy-free options). Please allow approximately 2 1/2-3 hours for the experience.
Exclusively available February 11, 12, and 14. Proof of Covid-19 vaccination required for all. Priced at $170 per person.
Elaia
Join Elaia for Valentine's Weekend 2022. This year they are spreading out their celebration over four nights. They are offering a four course menu each night with Chef's special selections and supplements. They will not be offering a tasting menu this weekend. Tickets are $95 per person plus tax and gratuity and include the four course meal and complimentary glass of sparkling rosé. Optional wine pairings and bottle selections are available. Seating is limited and proof of Vaccination is required for all guests.
Bowood by Niche
Guests will enjoy a multi-course prix fixe menu offering, cocktail specials, expanded wine list, and a sneak preview of dinners to come. Reservations for February 14.
Avenue Restaurant
Avenue Restaurant (Clayton, MO) is taking reservations for February 11 and 12 for a prix-fixe menu.
Brett Hull's Junction House
Brett Hull's Junction House (Wentzville) will be offering a 4-Course Valentine's Experience. 2 Appetizers, 2 Salads, 2 Entrees, & 2 Desserts per 2 guests and for $69/person.