Here's a look at Valentine's Day Fort Lauderdale 2022 featuring special offerings by restaurants.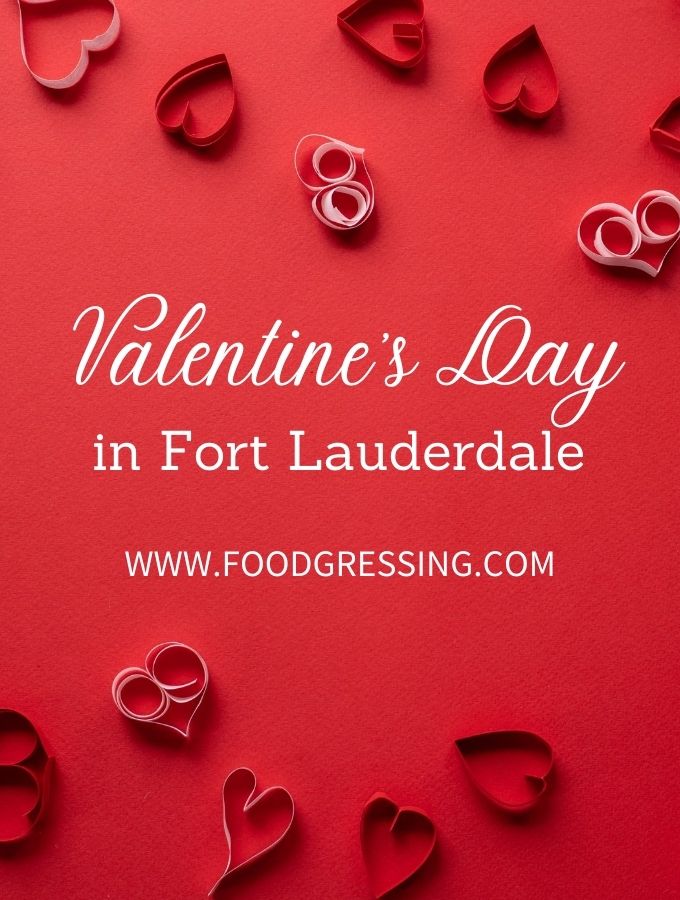 Valentine's Day 2022 is Monday, February 14, 2022.
If you are a business that wants to be featured, please email me a ready to copy and paste excerpt of your offerings.
Valentine's Day Fort Lauderdale 2022: Restaurant Special Menus
DUNE By Laurent Tourondel
This Valentine's Day on Monday, February 14th, celebrate your special someone at DUNE by Laurent Tourondel with a romantic oceanfront dinner.
With indoor and outdoor dining highlighting DUNE's spectacular viewpoint overlooking the Atlantic Ocean, you'll be sure to fall in love.
Delicious highlights from the restaurant's three-course menu include: Welcome Glass of Sparkling rose | Cheese Gougere | Roasted Beets Pani Puri | Lobster Salad or Valentine Maki Roll with 24k gold or Wagyu Beef Carpaccio | Roasted Black Angus Filet or Seared Chilean Seabass or Seafood Ravioli | Milk Chocolate Peanut Butter Croquant or Strawberry Napoleon | Valentine Petit Fours.
This dining experience is priced at $130 per person + tax and gratuity.
B Ocean Resort
This Valentine's Day, travelers and locals alike can pick their perfect romantic vibe to celebrate the weekend of love. B Ocean Resort's Naked Crab Seafood Kitchen & Bar, Wreck Bar and Florida Bar will be serving the same, delicious three-course meal at all three dining venues so couples can choose their favorite date-night spot without giving up the hand-crafted, holiday menu!
Offering mouth-watering options, such as a crab souffle, beef wellington and a sweet lovers dessert tasting tray, B Ocean Resort's very own Chef Morales has also provided his recommendations on the perfect wines to pair with each course. This extraordinary meal is only available on February 11th, 12th and 14th from 6 p.m. to 10 p.m. for $65 per person. Guests can reserve their table by calling 954-245-3852.
Couples looking to add a unique sizzle to their weekend of love at the world-famous Wreck Bar. On February 14th, guests and travelers alike can attend an adult-only Aqua Mermaid Burlesque Show for a riveting experience unlike any other! The show will take place at 8:30 p.m. and tickets can be purchased here. Tickets are $60 per person with a $35 credit towards food and beverage. Guest may order the pre-fixed Valentine's Day menu for an additional $30 after food and beverage credit.
Lips – Fort Lauderdale
Enjoy a delicious 3-Course Prix Fixe Dinner & Show Package for $40 per person, which includes a complimentary glass of Champagne. Reserve for February 14 at 7 pm.
Tax, gratuity and drinks are additional.
Appetizers: Shrimp Cocktail, Mushroom Ravioli or a Lips Salad
Entrées:
Lobster Ravioli
Stuffed Chicken Breast
Steak Au Poivre
Panko Herb Crusted Grilled Salmon
Baby Back Ribs
Chicken Penne a la Vodka
Grilled Portobello Mushroom (Vegetarian)
**Vegan option available upon request
Dessert: Triple layer chocolate mousse cake
Eve On The Water
Eve On The Water is taking reservations for February 14.
The Melting Pot – Cooper City
Enjoy a preset four-course dinner for $87.50 per person PLUS TAX and GRATUITY (ADDED TO YOUR BILL). Includes cheese fondue, salad, entree (choose from two combinations), and chocolate fondue. VIP Curtained Seating with candle lighting. Each couple will receive 4-$25 off certificates for future visits that will be applied when purchasing a four-course dinner for two and a complimentary champagne toast. Reserve here.