Here's a look at Valentine's Day Edmonton 2022 featuring special offerings by restaurants.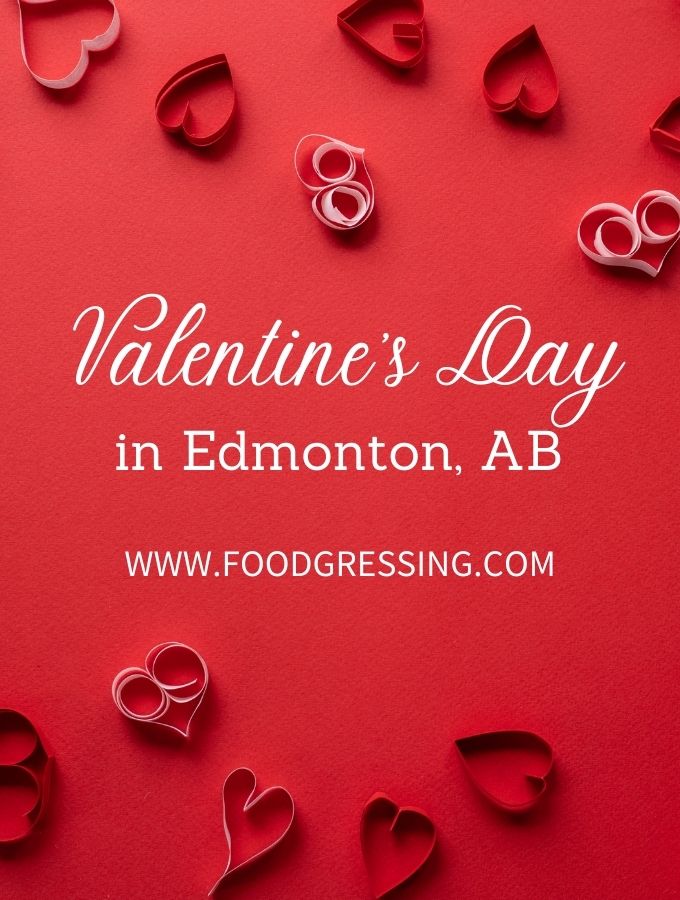 Valentine's Day 2022 is Monday, February 14, 2022.
If you are a business that wants to be featured, please email me a ready to copy and paste excerpt of your offerings.
Valentine's Day Edmonton 2022: Restaurant Special Menus
The Butternut Tree
The Butternut Tree is offering a Valentines High Tea on February 13 starting at 11 am.
It includes a tiered selection of baked, sweet, & savoury items along with Canadian herbal tea for a price of $65 per person.
Cocktails, wine & additional beverages available to order upon arrival day of high tea.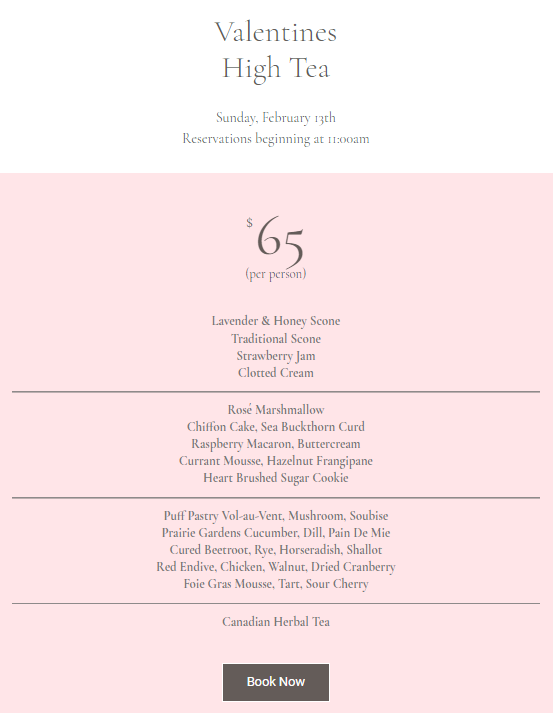 They are also offering a Valentine's Day special dinner on Sunday, February 13th and Monday, February 14th from 5:00 pm to 9:00 pm.
Three Course Pre-fix menu for $92 per person with special add-ons available to enhance your meal.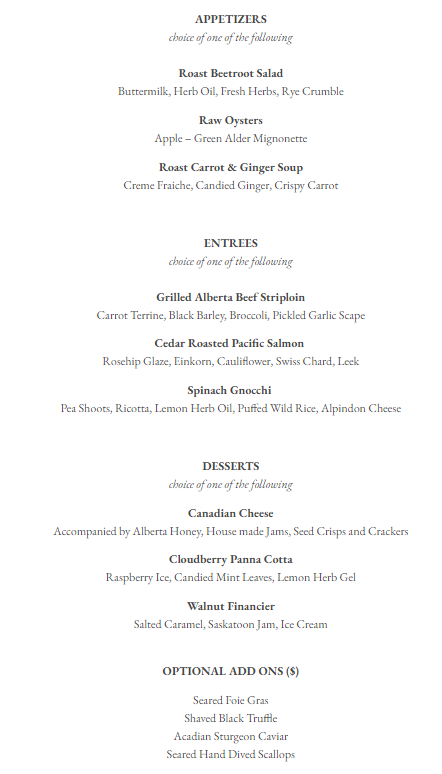 Stages Kitchen + Bar – DoubleTree by Hilton
Love is in the AIR at the DoubleTree by Hilton West Edmonton!
From February 11th through 14th, Executive Chef Adam Brack and his Culinary Team is offering a Valentine's Day EXPERIENCE at Stages Kitchen and Bar. Priced at $75 per person.
They are offering a 3-Course feature topped off with a Glass of Prosecco and a Dessert & Share featuring Chef Scott's homemade Caramelized Praline Whoopi Pies, Cinnamon Heart Brûlée & Passion Fruit White Chocolate Eclairs.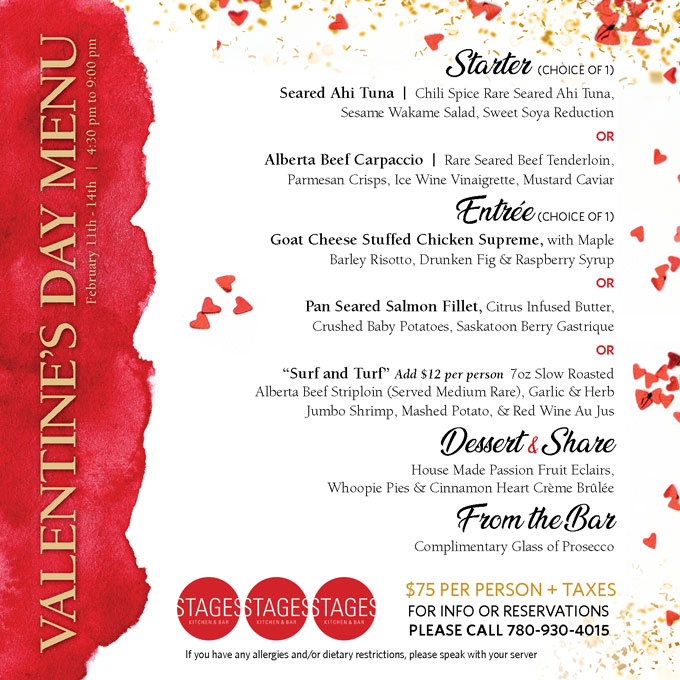 RGE RD
RGE RD is offering a prix-fixe menu on February 14 priced at $125 per person. Reservations from 5 pm – 10 pm.
The Parlour Italian Kitchen & Bar
The Parlour Italian Kitchen & Bar has created a wonderful menu that includes each of the following items:
Truffle Wild Mushroom Bruschetta
-Sauteed forest mushrooms, shaved truffle, truffle pesto, crostinis
Lobster Arancini
-Atlantic Lobster, arborio rice, panko crusted, double creme brie, black tobiko caviar
Chicken Parmigiana
-Hand breaded chicken, fior di latte mozzarella, tomato sauce, basil, spaghetti with marinara
Osso Bucco
-Sangiovese slow braised veal shanks, truffle mushroom risotto, seasonal vegetables, fresh herbs, red wine balsamic reduction
Nutella+ Strawberry cheesecake
-House made Nutella cheese cake, strawberry compote, fresh mint
Limited quantities are available. Reserve for February 11 – 14.
LUX Steakhouse + BAR94
LUX Steakhouse is offering "Love in LUXury" this Valentine's Day Weekend (February 12,13 & 14th).
Chef Rob Friesen has created two amazing large cut menus for sharing. Their regular Dinner Menu will be available.
Menu One: 'Molly & Lolli' features a shared salad to start along with our 24oz Bone-in 'Lollipop' Ribeye prepared to your liking along with two sides and paired with a bottle of Mollydooker 'Carnival of Love' Shiraz *$400 per couple (1/2 price without wine) *limited availability
Menu Two: 'Dom & Tom' elevate your Valentine's Day with our showstopper 40oz Tomahawk Ribeye (shared salad to start), two sides and paired with a bottle of Dom Perignon $600 per couple (1/2 price without wine) *limited availability
Fantasyland Hotel
Nothing says "I love you" more than spending a nice and romantic dinner together while enjoying a delicious candlelight dinner prepared by Executive Chef Rodney Khoo and his amazing culinary team.
This year to ensure peace of mind with social distancing, we will be hosting Valentine's Dinner in our beautiful Beverly Hills Ballroom.
Doors and Cash Bar will open at 6pm. Dinner will start right at 6:30pm on February 11 or 12.
Here is what is all included in the price ($89 per person + tax):
Welcome Drink
4- Course Plated Dinner
Take-Home Chocolates Made By Our Pastry Chef
Gratuity Included
Purchase your tickets here.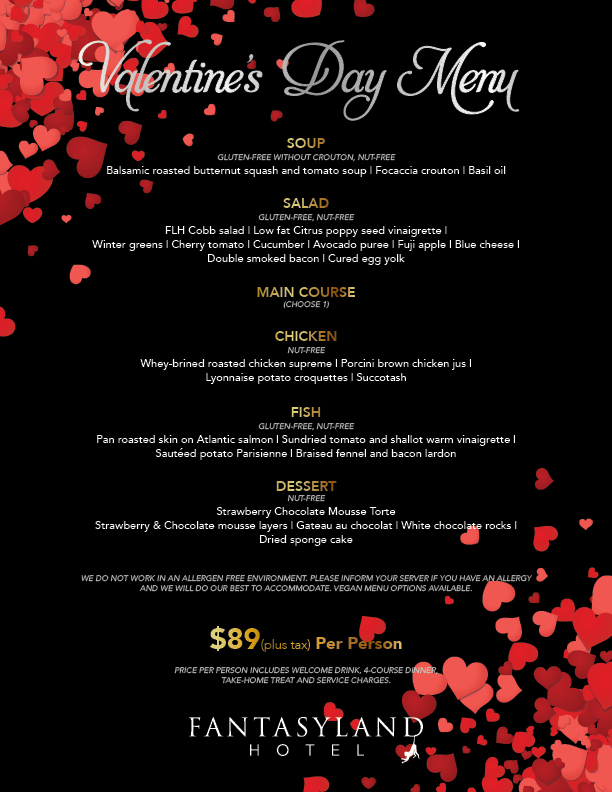 Add even more romance to your Valentine's Day celebration and book a room stay with the Amore Package. This room package includes:
Sparkling Wine
1/2 Dozen Chocolate Dipped Strawberries
Panna Cotta Dessert
Romantic Rose Petal Décor
Treat your plus one to a three-course menu for two at Moxies.
Between February 11th to 14th, enjoy your choice of an appetizer, two entrees and a dessert to share.
Pick from Moxies' favourites, including Chipotle Mango Chicken, Lemon Basil Salmon, Steak Frites, and delicious desserts like the White Chocolate Brownie, Sticky Toffee Pudding, or Key Lime Pie.
Celebrating from home? Bring home their three-course menu for two, DIY meal or cocktail kits, or favourites from our full menu.
They are offering 50% off all bottles of wine on phoned in or online pick-up orders from the Moxies location nearest you.
Evario Kitchen + Bar
Celebrate the romantic valentine's day at Evario Kitchen and Bar!
Special 3 course menu hand crafted by Chef Sonny Sung at $99.99 couple plus taxes.
Apps
Evario sampler
Truffle Four Cheese Cream Brule
Tomatoes herb on Crostini shaved Parmigiana-Reggiano
Shrimp caked with Apricot shallots compotes
Or
Mimosa salad
Arugula with mélange' of melons, grated parmesan, lemon vinaigrette Shaved Dark Chocolate
Entree
Baked veal Cannelloni
Wild mushroom cream champagne sauce
Or
Crispy BC Rock Fish
With spicy tomatoes salsa
Or
Braised Alberta Beef in Barolo maple syrup
with Chocolates Mashed Potatoes
Dessert
Duo Chocolates, sour cherry gateau
Crème de rose Anglaise
The Kitchen-River Cree Resort & Casino
Indulge with Steak & Lobster at The Kitchen on February 14. Enjoy a grilled filet mignon and butter-poached Atlantic lobster tail served with whipped potatoes, chef's vegetables, cabernet pan jus & choron sauce. Available for $49.99 (taxes and gratuities not included) from Sunday to Thursday from 5 PM to 10 PM. Available for dine-in and takeout.
Pink Gorilla Pizzeria
Treat your special someone to a candlelit dinner… and a full dinner experience at Pink Gorilla.
Cozy into a special Valentine's meal that we've created for you to celebrate this special day.
You'll enjoy a beautiful variety of dishes that we have planned just for this event.
Start with a glass of bubbly and a citrus vinaigrette salad. Then move into your choice of pizzas, highlighting our house-prepared dough, vegetables, meats, and sauces.
Tie up your dinner with a rich surprise dessert.
Whether you are vegetarian, vegan, or a meat lover, we have designed the menu to suit your preferred taste experience. Priced at $49 per person.
Cafe Celeste Bistro
Come and celebrate Valentine's Day at Cafe Celeste! They will be offering a prix fixe menu for our love birds to enjoy.
Sawmill
Book with them on Valentine's Weekend (February 11 – 14) to get a classic Sawmill Prime Rib & Steak House 3 course menu – premium quality and exceptional service. All meals include a starter salad, your choice of entrée and a dessert platter for two – starting at $54.95.
Book by location:
Hart's Table & Bar
Hart's Table & Bar is offering the following:
Sweet-Harts Brunch Board $52 serves two. Share this signature platter. Nutella French toast – Benny Duo (brie + blueberry, lobster) – signature hollandaise – potato hash – crisp thick cut bacon – breakfast sausage – fresh baked croissant – chocolate dipped strawberries.
Sweet-HARTS Dinner for two (three course meal) – $99 serves two.
Spinach & Artichoke Dip: cream cheese, baby spinach, artichoke hearts, sautéed garlic, shaved parmesan, Cobs herb loaf (1st course)
Hart's Platter: grilled AAA Alberta New York steak, peppercorn sauce, stuffed chicken Valentino, mushroom crema, garlic prawns, loaded mashed potatoes, seasonal vegetables (2nd course)
Dessert Trio: New York cheesecake with strawberry compote & Callebaut chocolate whipped cream, chocolate dipped strawberries, house-made truffles
Meal Kit Delivery Services
Chef's Plate
In time for Valentine's Day, food loving Canadians can now create a foolproof, homemade 3-course meal at home as Chefs Plate officially launches its new Add On feature to offer craveable appetizers, and delectable desserts – in addition to its 16 mouthwatering mains on the menu weekly.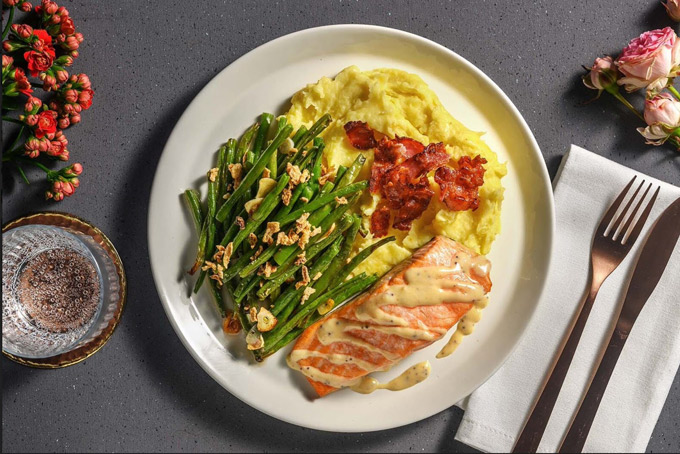 Canadians can order by February 3 to receive meal kits in time for the big day.
Chefs Plate sends all of the pre-portioned fresh ingredients and step-by-step recipe instructions to doorsteps so consumers can focus on the fun parts of cooking. So while preparing the Feb. 14 meal for that special someone is sweet, making dinner together with Chefs Plate can also make for a fun activity.
In time for Valentine's Day, Chefs Plate offers:
Appetizer options include: Simple spinach caesar salad, Easy peasy garlic knots and Fuss-free jalapeno cheddar biscuits. Delectable desserts include No-Bake Peanut Butter Cups, Death by Chocolate Bowls and Cinnamon Roasted Pears.
Meals can be prepared in 15 or 30 minutes or less, while add ons take as little as 20 minutes.