Here's a look at Valentine's Day Cleveland 2023 featuring special offerings by restaurants.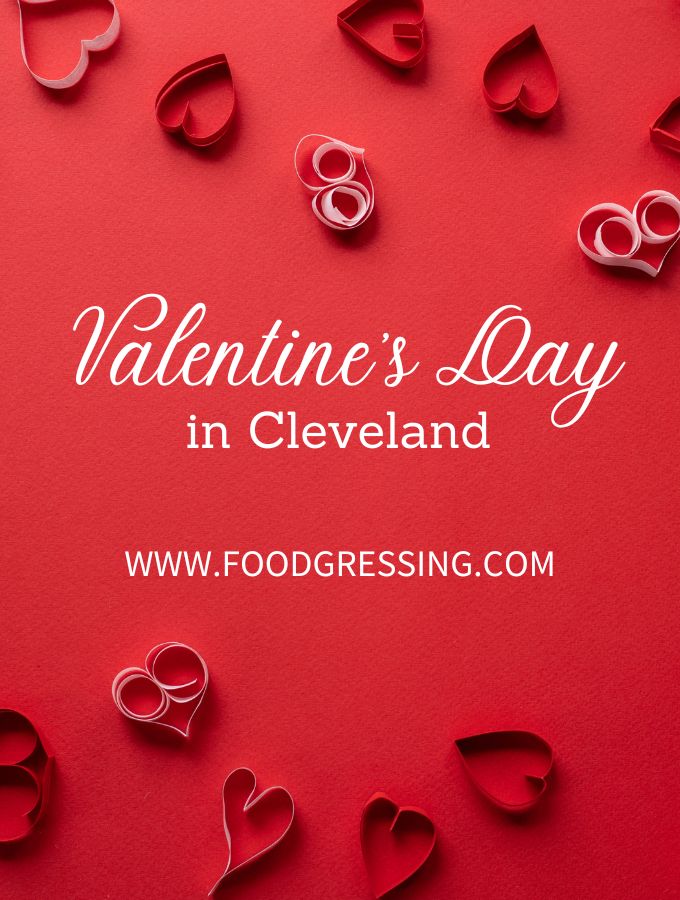 Valentine's Day is Tuesday, February 14, 2023.
Please reach out to me [email protected] or @foodgressing on social media if you are a restaurant that wants to be featured. Provide all the details of your holiday offering in your message. For faster processing, please provide a ready to copy and paste excerpt in paragraph form in a similar format to the restaurants featured below.
This list is not exhaustive and is updated as information becomes available. I try to feature as much as I can but certainly this is not all that is out there. If your favorite restaurant is not on the list, contact them to see what they are offering.
Valentine's Day Cleveland 2023
Kimpton Schofield
On Valentine's Day, Betts has created a menu that will delectably appeal to any palette. Chef Sean Kerrigan, the new executive chef for Betts, created a menu that reflects the qualities that distinguish Betts – classic American dishes with an emphasis on freshness and quality.
The Valentine's Day menu will be served February 10th – 14th, and consists of the following menu:
Tomahawk for 2 – 32 oz 28 day aged certified angus beef, choice of two sides with garlic compound butter, $100.
Deconstructed Beef Wellington – 8 oz certified angus beef filet, mushroom duxelles, puff pastry, truffle demi, duck fat, mashed potato $65
Cioppino Pasta– Linguini noodles, shrimp, mussels, clams, white fish, crab meat, smoked tomato bouillabaisse sauce, parsley, charred lemon, $60.
To reserve a spot, please call 216.357.2680 or reserve through Open Table. Want something different? You can order from the full menu, as well.
Let the love of the season last through April with Kimpton Schofield's Romance Package, available now through April 17, 2023. The package includes luxe accomodations, complimentary parking, a dozen roses, a bottle of champagne, $25 food and beverage credit at Betts Restaurant and late checkout.
To book the package, visit here or call 2163573250. Package must be booked at least 24 hours in advance.
House of Creole Cleveland
House of Creole Cleveland is offering a 4-course Valentine's Day dinner which includes a specialty drink, choice between 5 starters, 7 entrees and choice of dessert for $75 per person.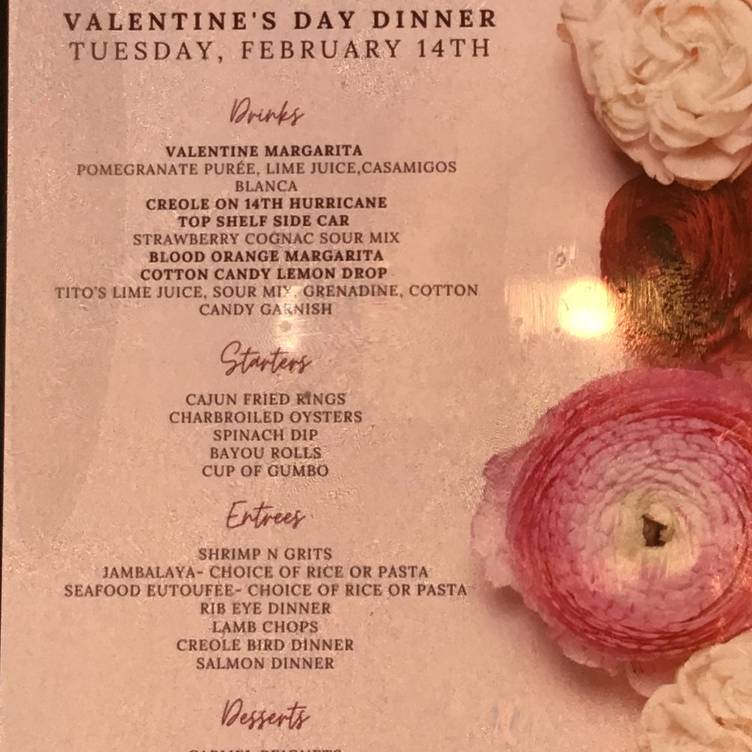 Table 45
Table 45 is offering a Valentine's Day Cleveland 2023 prix-fixe menu on February 10 – 14 from 4 pm – 10 pm. Priced at $88 per person.
First Course for the Table: Lobster & Steak Pinchos, Mixed Green OR Mixed Greens, Zucchini & Mushroom Pinchos.
Second Course for the Table: Pork Belly Spring Roll, Crab Tostada OR Smoked Beet "Tartar", Heart of Palm Tostada.
Third Course choice of one: Tandoor Roasted Half Chicken, Roasted Cabbage, Bone-In Short Rib, Potato Wrapped Salmon, Lobster Ravioli, Twin Lobster Tails, Fresh Catch, Beef Wellington for Two.
Dessert choice of one: Pavlova, Roasted Apple.
The Rustic Grill at StoneWater
Valentine's Day is celebrated all weekend at The Rustic Grill at StoneWater (One Club Drive, Highland Heights, Ohio) with a delectable 3 Course Chef Tasting menu (February 10, February 11 and Feb-14) and Sunday Vaelntine's Brunch (February 12) curated by Kathryn Neidus, Executive Chef.
The Chef Tasting Menu begins with a choice of French Onion Soup, Winter Beet Salad or Porcini Arancini. Mains include the option of Airline Chicken Florentine, Pan Seared Walleye, Grilled Hanger Steak or Cheese Tortellini, and Dessert will include the choice of Trifle Chocolate Mousse Cup or Goat Cheese Cheesecake. The full dinner menu is also available.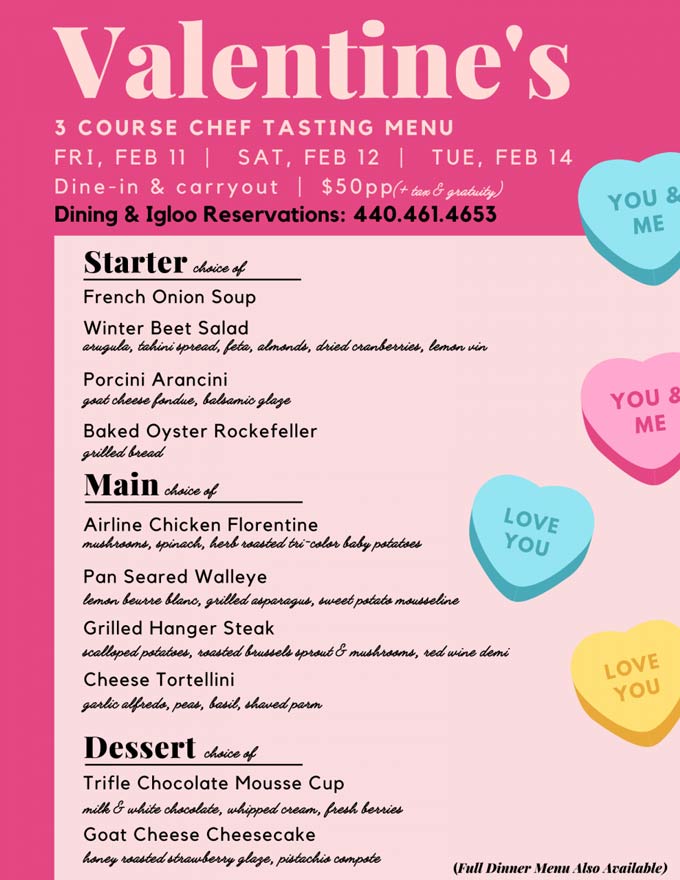 The cost is $50pp, + tax and gratuity). Reservations are recommended by calling 440.461.4653. Igloos are available upon request.
Brunch is offered on February 12 from 10am-2pm, including an all you can eat menu with items such as chef-attended omelet station, scrambled eggs, pancakes, orecchiette with vodka sauce and mini meatballs, Valentine's Day themed desserts, brunch cocktails and kids' specialty drinks such a strawberry or chocolate milk or a BFF Spritz (Shirley Temple). Cost is $28pp (+ tax and gratuity), $14 for kids under 12, kids under 3 are free. Reservations are required and Igloos are available. Here is the full menu.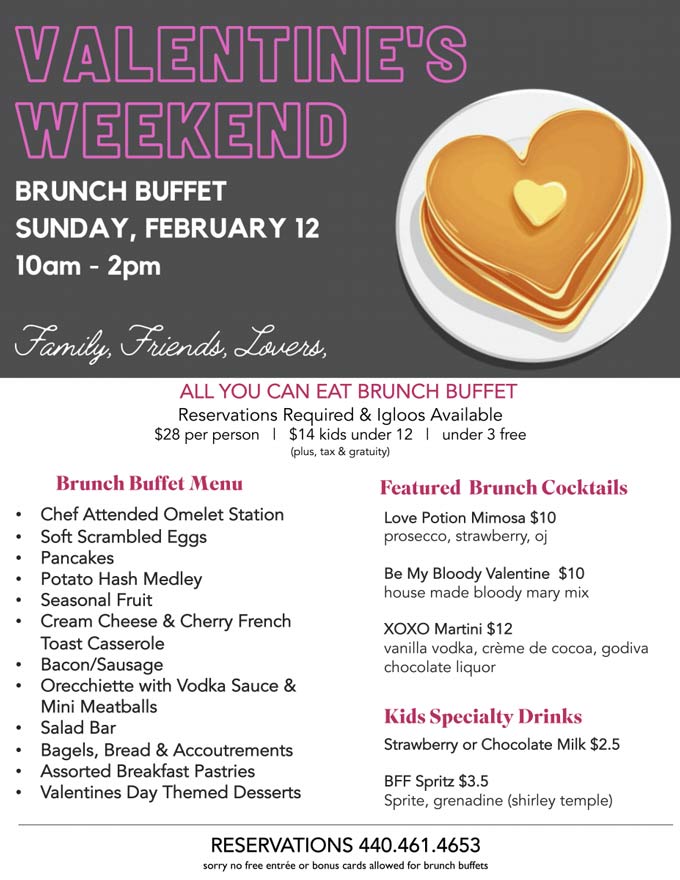 Bartleby
Bartleby is taking reservations for February 14.
The Melting Pot – Lyndhurst
The Melting Pot – Lyndhurst is offering a Valentine's Day romance prix-fixe menu. Prices vary depending on the ate. Begins with a Prosecco toast and includes your choice of three exclusive cheese fondues, your choice of salad, a specialty entrée, and your choice of three unique chocolate fondues. Kid's three course of cheese fondue, petite entrée, and chocolate fondue available for $30 for children 12 and under.
They also offer a Galentine's 3-course meal on February 6 – 8. Priced at $39 per person. Delectable cheese fondue with specialty dippers, a fresh salad, and a savory petite entrée of Pacific Shrimp, Herb-Crusted Chicken, Teriyaki Marinated Steak, and Premium Filet Mignon. Delicious chocolate fondues with cream puffs and macarons for $5.
The Oaks Lakeside
The Oaks Lakeside (Chippewa Lake) is offering a Valentine's Day dinner and dancing on February 14. Priced at $140 per couple includes taxes and service fee. Beverages are extra.. Champagne Toast, 3 Course Meal and Live Entertainment.
In the Weeds
In the Weeds is offering a Galentine's Day Indian food specials on February 13 starting at 6:30 pm. Priced at $55 per person. Samosa, Dal Soup, Chicken Tika Masala, Garlic Naan and movie watch party of Valentine's Day.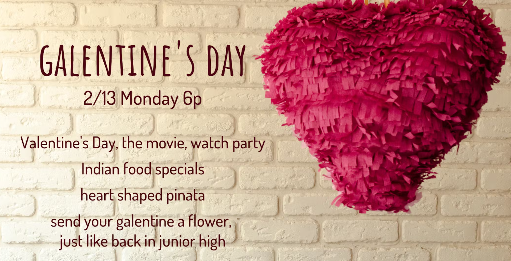 SJ Cellars
SJ Cellars (Newbury Township) is offering a Valentine's Day 4-course menu. Priced at $39 per person.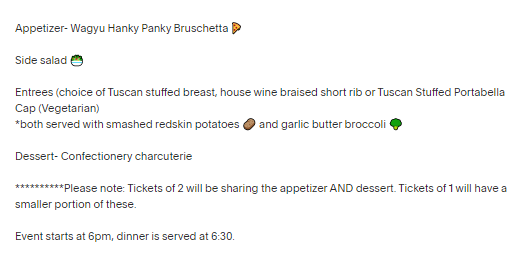 Visible Voice Books
Visible Voice Books has got you and the literary lover in your life covered this Valentine's day. For $60, this exclusive bookstore experience includes: · Bottle of wine · Charcuterie board for 2 · Cleveland Chocolate Co. chocolate bar · 90 minutes to take a romantic stroll through the bookshelves. Tuesday, February 14 at 5:30pm / 7:15pm / 9:00pm.
Gervasi Vineyard
Gervasi Vineyard (Canton) is offering an exclusive dining event in The Villa Grande, where you'll experience a four-course gourmet meal featuring amazing housemade cuisine paired with our award-winning wines.

Collision Bend Brewery
Collision Bend Brewery is offering a Valentine's Day Cleveland 2023 prix-fixe menu on February 10, 11, 13 and 14 priced at $130 per person.
Thorncreek Winery & Gardens
Thorncreek Winery & Gardens (Aurora) is offering a Valentine's 4-course dinner with wine pairing on Saturday, February 11, 2023, 5pm – 10pm. Priced at $125 per person.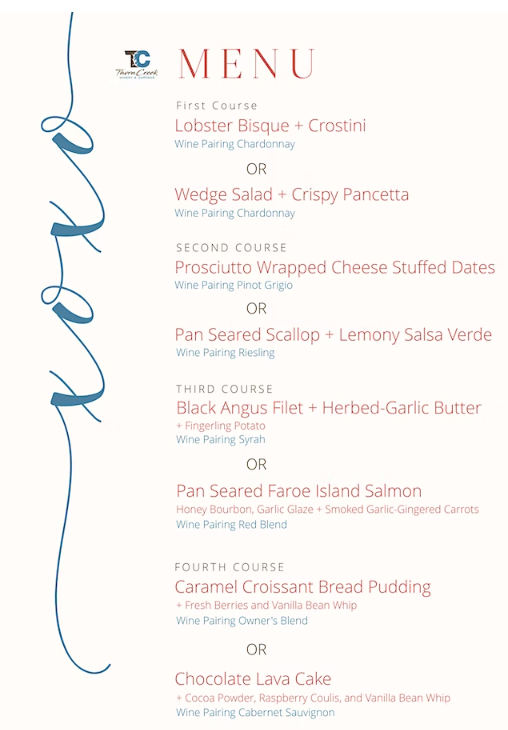 They are also offering a Chef's Valentine's Tasting Menu with Wine + Bourbon Immersive Experience on February 14.
Wine Tasting Tickets: $5 – Includes one sample glass + complimentary pairing bites.
Private Wine Tasting Experience with Owner: $45 per person – Includes private guided tasting of 5 wines + 1 full glass of wine + complimentary pairing bites.
Bourbon Tasting is $30 per person – Includes 3 high-end Bourbon tastings + complimentary pairing bites.
Chef's Tasting Menu will include shareable small plates for a la carte purchase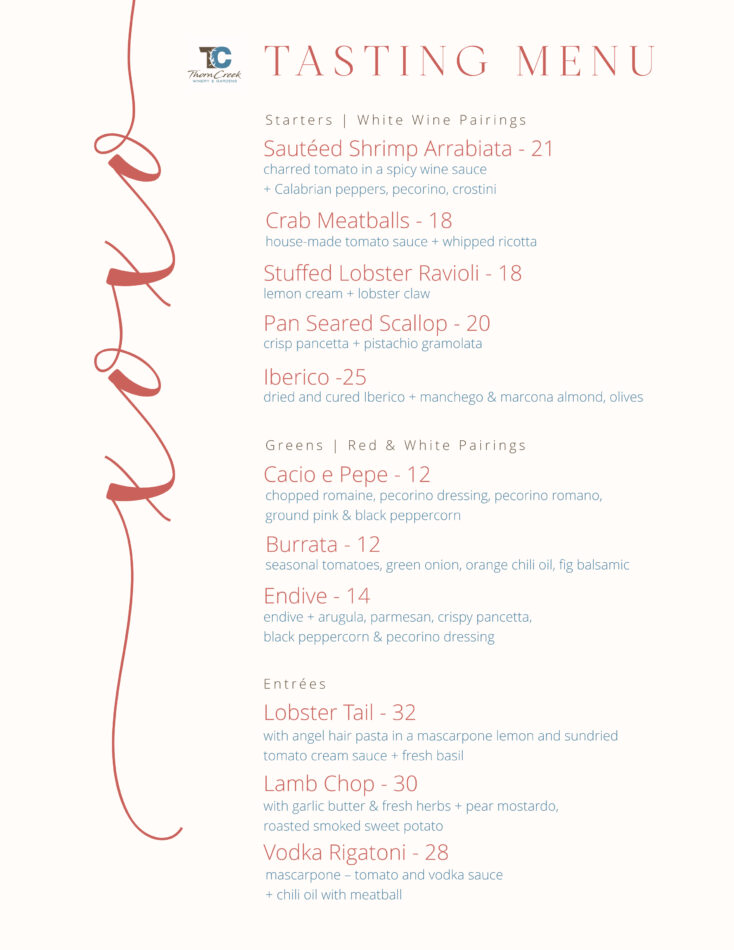 Gervasi Vineyard
Gervasi Vineyard (Canton) is offering a Valentine's Day prix-fixe menu priced at $75 per person.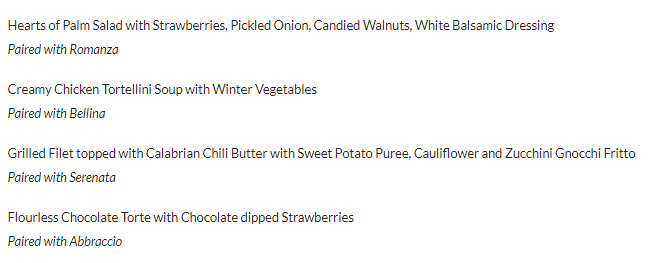 Great Lakes Brewing Company
Put your rom-com knowledge to the test with Last Call Trivia at Great Lakes Brewing Co. Free to play, open to all, and prizes for the winners. Teams of up to 6 people are permitted. Space is limited and reservations are encouraged.
Der Braumeister
Der Braumeister is offering a Valentine's Day & Northern Italian Wine Dinner on February 14. Four courses, four wines, beginning at 6:30pm, and $75 per guest.