Here's a look at Valentine's Day Cincinnati 2022 featuring special offerings by restaurants.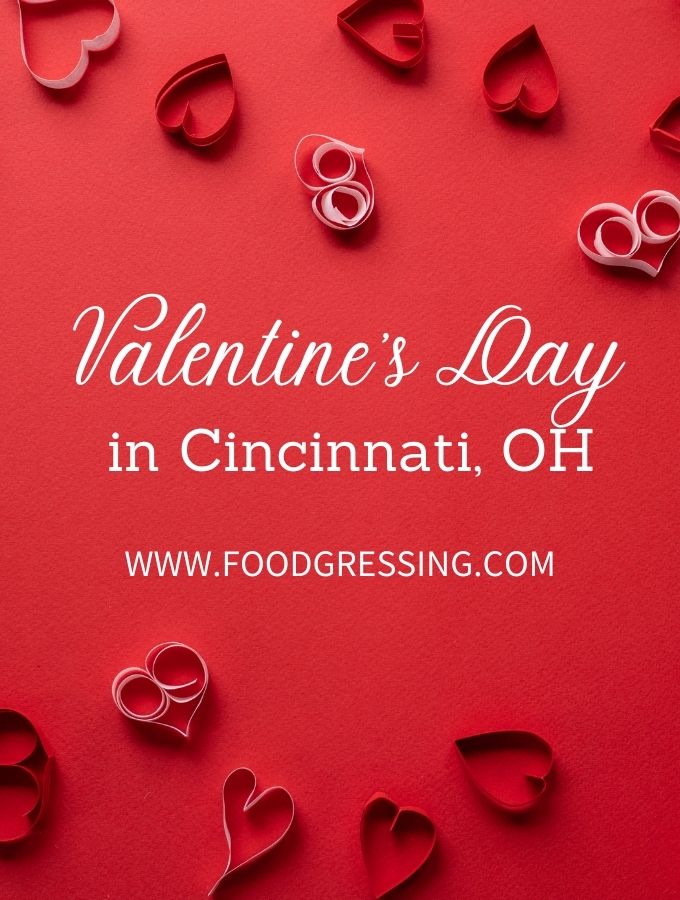 Valentine's Day 2022 is Monday, February 14, 2022.
If you are a business that wants to be featured, please email me a ready to copy and paste excerpt of your offerings.
Valentine's Day Cincinnati 2022: Restaurant Special Menus
Forno Osteria & Bar
Forno Osteria & Bar, Hyde Park is offering a 3-course prix-fixe menu priced at $50 per person on February 14.
First Course: Butternut squash soup, crème fraiche and chives OR Pork tonnato, thinly shaved local pork roast, traditional tonnato sauce and pickled Italian giardiniera, xv olive oil
Second Course: Campanelle with smoked salmon, asparagus and mascarpone-brandy cream sauce OR Tortelloni gorgonzola with parmigiano glace and roasted mushrooms
Third Course: Braised veal cheek with "patate alla contadina"fresh herbs and hazelnut gremolata OR Grilled Swordfish Siciliana with fregola sarda, nicoise olives, sea salt capers, sicilian sauce and extra virgin olive oil
You can reserve for Hyde Park or Montgomery.
Bouquet Restaurant
Bouquet Restaurant is offering a 4-Course tasting menu where you can choose from multiple items per course. Can be paired with wine for $25. Priced at $60 per person. Reservations for February 14.
The Butcher and Barrel
The Butcher and Barrel is offering a $99 Valentine's Dinner for Two from February 11 – 14.
First Course – Choose One to Share
Burrata
Bruschetta
Lump Crab Cakes
Second Course – Choose One Each
Grilled Caesar Criolla
Chopped Salad Clam
Chorizo Chowder
Third Course – Choose One Each
Filet Mignon Horseradish and Mustard Smashed
Redskin Potatoes, Chimichurri
Grilled Salmon
Warm Heirloom Tomato and Fennel Salad, Lemon-Tarragon Aioli
Choice of Three Empanadas
Chicken Salsa Verde, Buffalo Chicken
Korean BBQ, Ground Beef
Spinach and Mozzarella Served with Bacon-Brussels Sprouts
The View at Shires' Garden
The View at Shires' Garden is offering a Valentine's Prix Fixe Dinner for Two. Priced at $99 per person.
First Course – Choose One to Share
Smoked Chicken Dip
Smoked Chicken Blended, Melted Cheeses, Arugula, Roma Tomatoes, Crostini
Empanada Trio
Shires' Shrimp Cocktail
Chimichurri Cocktail Sauce, Grilled Lemon
Second Course – Choose One Each
Cincinnatus Caesar
Arugula Salad
Brussels Salad
Third Course – Choose One Each
"Surf & Turf" 4oz
Filet Mignon, Two Red Argentine Shrimp, Smoked Marble Potatoes, Grilled Asparagus, with a Béarnaise Sauce
Salmon
Wood-Fired Norwegian Salmon* with a Lemon Butter Sauce, Wild Mushroom and Arugula Risotto, and Grilled Broccolini
Bucatini Pasta Tossed in a White Wine Garlic Beurre Blanc Sauce with Arugula and Roma Tomatoes, and Your Choice of Grilled Chicken or Shrimp
Pampas Argentine Gastropub
Pampas Argentine Gastropub is offering a Valentine's prix-fixe dinner for 2 priced at $89 per person.
First Course – Choose One to Share
Baked Oysters – Chimichurri Creamed Spinach, Argentine Pepper Mignonette
Gourgeres – Blue Cheese and Black Pepper Gougeres, Membrillo Jam and Crushed Marcona Almonds
Pampas Shrimp Cocktail
Second Course – Choose One Each
Mushroom and Grain Salad
Grilled Caesar
Ensalada Mixta
"French" Onion Soup – Malbec Onion Broth, Caramelized Onions, Toasted Baguette, Melted Provolone
Third Course – Choose One Each
"Steak & Cake" Filet Mignon, Lump Crab Cake, Grilled Asparagus, Bearnaise
Faroe Island Salmon, Roasted Squash, Farro, Pickled Onion, Tomatoes, Bouillabaisse Broth
Shrimp Scampi Linguini – House-made Linguini, Blackened Red Argentine Shrimp, Sun-dried Tomatoes, Spinach, Chimi-Garlic Sauce, Parm
Street City Pub
February is the month of love and to celebrate they are highlighting theirRoad to Love menu with our gourmet four course meal and sophisticated wines. Priced at $46 per person. Reserve here.
Prime Cincinnati
Prime Cincinnati will feature the Valentine's Couples Menu all month long. Dishes included in this menu were specifically designed to entice and enhance your romantic dining experience. $200 per couple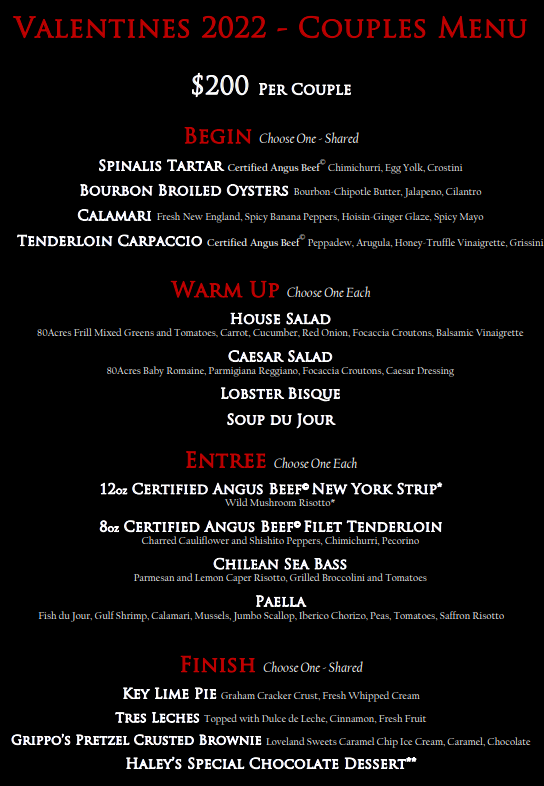 Che Argentinian
Che Argentinian is offering $59 3-course dinner for two on February 14. Priced at $59 per person.
First Course – Choose Any Three Empanadas.
Second Course – Choose One Each:
Half Grilled Romaine Salad – Grilled Romaine, Marinated Heirloom Tomatoes, Gorgonzola Dressing, Bacon, Crostini
Half Strawberry-Walnut Salad: Mixed greens, Strawberries, Marinated Heirloom Tomatoes, Toasted Walnuts, Goat Cheese, Red Wine Vinaigrette
Locro Soup – Traditional Argentine Stew
Third Course – Choose One Each
"Surf & Turf" – Argentine Farmhouse Sausage and Grilled Shrimp, Parmesan & Spinach Risotto, Chimichurri
Steak Milanesa de Cupido – Flank steak Pounded Thin and Breaded, Topped with Marinara, Soppressata, Provolone, Fresh Herbs, with House Fries
Any Three Empanadas, Choice of side
Louvino Cincinnati OTR
Louvino Cincinnati OTR is offering a 4-course prix-fixe menu on February 14.
Brown Dog Cafe
Brown Dog Cafe is taking reservations for Februrary 14.
Via Vite
Via Vite will only be offering the pre-fixe menu on Valentine's Day. Full menu will not be available. $55 per person.
Wine Pairings will be available for $20 per person.
Choice of:
1st COURSE:
Veal Roast | tonnato, Italian giardiniera, olive oil
-or-
Silky Potato Leek soup | white truffle, Parmigiano Reggiano
2nd COURSE:
Handmade Crispy Gnocchi | four cheese fondue, winter Italian truffle
-or-
Asparagus Risotto | mascarpone, golden needle mushrooms, parmigiano salad
3rd COURSE:
Filet of Pork | fagioli, local sausage, charred rapini, jus
-or-
Roasted Atlantic Cod | fregolotto, clams, acquapazza
Full Dessert menu will be available a la carte.
Ghost Baby
This Valentine's Day, Take a trip 4 stories underground and down Memory Lane, as Reilly & Tommie transport you to a dimension of romance and nostalgia. Love is in the air, and the groove is in the heart. Indulge in delectable cocktails and cannolies while your ears are graced with the sultry sounds of romantic rhythm and blues. Bring your sweetheart or your whole gang – love is love, and you certainly will fall in love with Reilly & Tommi this Valentine's Day. Reserve here.