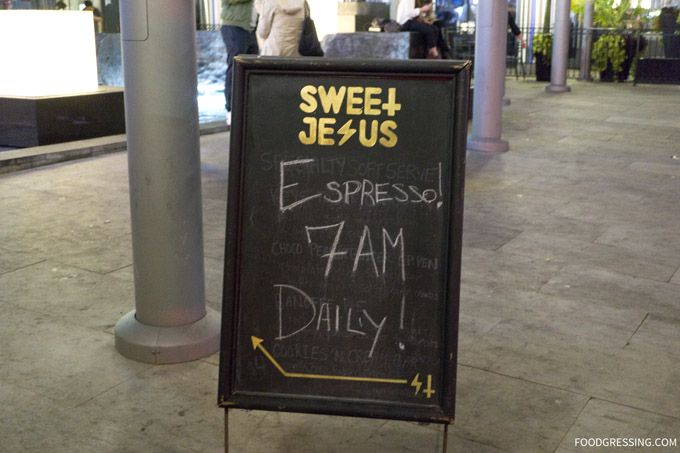 When my family and I visited Toronto last fall, I used Instagram to find interesting places to eat.  One Instagram-worthy spot that I came across was Sweet Jesus, a soft serve ice cream parlour in the Entertainment District.  The Instagram posts about Sweet Jesus were visual candy of colourful and unique cones and ice cream bars.  They are owned by neigh I made it a point to try this popular dessert place.
Sweet Jesus Menu
Sweet Jesus was conceived when the owners of neighbouring and parent restaurant, La Carnita, noticed that their customers wanted dessert after their meal.  Sweet Jesus' menu of carnival- and childhood-inspired specialty soft serve (all priced at $6.00) includes Rocky Road Rage, Krusty the Cone, Banging Brownie and more.  The soft serves are adorned with unique toppings like sour lemon curd, burnt marshmallow, cand Skor bits.  For those who do not want a "pimped out" cone, simpler soft serve flavours are available in the classic flavours ($3.75).  Espresso and pastries are served when they open at 7 am until close while soft-serve and dessert service begins at noon.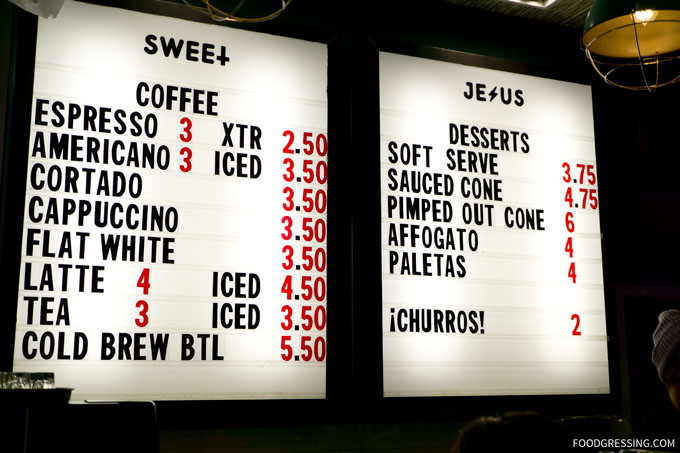 No Seating
Sweet Jesus is a walk-up counter and there is no seating inside their shop.  Most people enjoy their desserts outside in the plaza but I noticed that the plaza ground was messy due to toppings being dropped.
What We Tried
We ordered the
Campfire s'mores ($6)
Simple chocolate soft serve ($3.75)
The Campfire S'Mores is an ode to good old summer camp.  It consists of a chocolate soft serve with burnt marshmallow, graham crackers, and chocolate sauce.  The toppings are really the charm of the soft serve but a lot of it fell off as I was walking around with it.   I really felt like this cone is meant to be shared given the size.  It's more like a meal on it's own!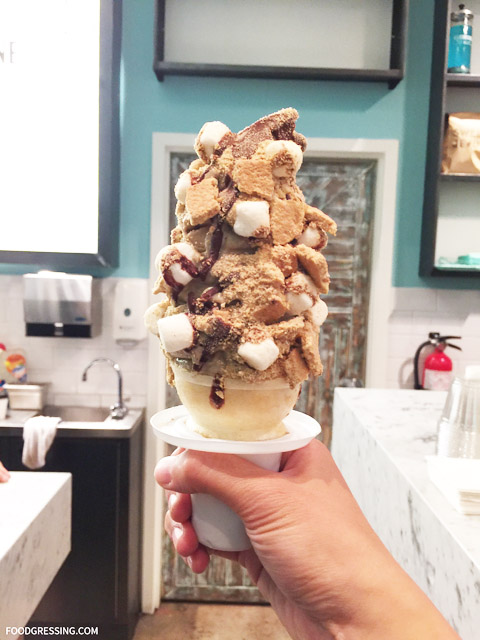 Our friend in Toronto (formerly Vancouver) enjoyed a simple chocolate soft serve.  He also was surprised at the size and had trouble finishing it.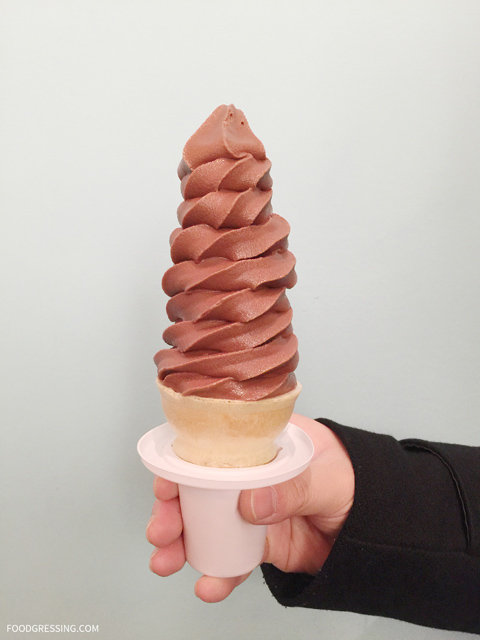 Overall Impression of Sweet Jesus
Sweet Jesus' soft serves makes me feel like a kid again.  Their flavours and toppings are fun and playful, and customers and staff alike seem to be having a great time.  Rating: 4.5/5
Website: sweetjesus4life.com