Super Bowl LVII will be hosted at State Farm Stadium in Glendale Arizona – the home stadium of the Arizona Cardinals — on Feb. 12, 2023.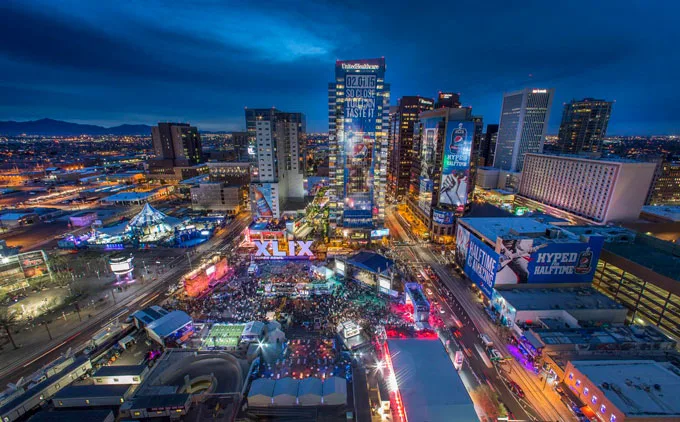 This marks the fourth Super Bowl played in Greater Phoenix since 1996 — the year Super Bowl XXX took place at Sun Devil Stadium — and the third to take place at this venue, it follows Super Bowl XLII in 2008 and Super Bowl XLIX in 2015.
Rihanna is slated to the be the halftime show performer for this year's Super Bowl.
Here's a round of festivities and watch parties for Super Bowl LVII in Phoenix 2023.
Festivities
​​T​he Arizona Super Bowl Host Committee has selected Margaret T. Hance Park in downtown Phoenix as the host site for the signature fan festivities throughout the week leading up to Super Bowl LVII. Free to the public, this multiday outdoor festival will include an immersive fan experience with live music, entertainment, local cuisine and multicultural celebrations.
Surrounding events for Super Bowl LVII include:
Feb. 4-5, 9-11: Super Bowl Experience presented by Lowe's at

Phoenix Convention Center

Experience the NFL's football theme park with interactive games like the 40-yard dash, get star player autographs, take photos with the Super Bowl Rings and Vince Lombardi trophy, and visit NFL Shop. It's the ultimate Super Bowl Week event with fun for all ages. Tickets start at just $20 with no hidden fees. Admission for kids under 12 is FREE. More info here.
Feb. 6: Opening Night presented by Fast Twitch at Footprint Center
Hundreds of media will interview the Super Bowl players and coaches for the first time during their only public appearance in Phoenix before taking the field for Super Bowl LVII. This is the only time the two teams will be together in one location prior to Super Bowl Sunday.
Super Bowl Opening Night will also feature live entertainment, special appearances and autographs by NFL Legends, and team mascots, as well as fan photo opportunities and the chance to see Super Bowl players and coaches up close and listen to players answer media's questions in real time.
Fans will also have the chance to win prizes, including two tickets to Super Bowl LVII by checking in with the Super Bowl OnePass app. More info here.
Feb. 8: Super Bowl Gospel Celebration at Mesa Center for the Arts
Super Bowl Gospel Celebration is the first & only inspirational concert and television special sanctioned by the NFL. For the past 24 years, only Super Bowl Gospel Celebration has created an inspirational Fusion of NFL Players with award-winning musical artists from the gospel and R&B music Industry, along with key celebrities all on one stage to bring audiences an evening of uplifting music and messages of hope & faith at the Biggest Game On Earth!
Super Bowl Gospel Celebration has featured artists including Patti LaBelle, Yolanda Adams, Gladys Knight, Natalie Grant, Mary Mary, Fantasia, Donnie McClurkin, Anthony Hamilton, among many others.
Feb. 8-12: Historic Old Town ESPN Main Street Tailgate in Old Town Scottsdale
The City of Scottsdale is pleased to announce the debut of the Historic Old Town ESPN Main Street Tailgate, a five-day Old West-style football pre-game party taking place Wednesday, Feb. 8, 2023, through Sunday, Feb. 12, 2023.
In partnership with ESPN, the event will serve as the backdrop for much of the network's pre-game coverage of Super Bowl LVII, which will be played at State Farm Stadium in Glendale.
Over the course of this five-day period, multiple ESPN programs, including NFL Live and Sunday NFL Countdown, will be shot live from the Historic Old Town ESPN Main Street Tailgate.
Held along Main St., between Scottsdale Rd. and Brown Ave, in Old Town, the all-ages pre-game party will feature tailgate-style games, live entertainment, free tasting opportunities, and plenty of swag and giveaway items.
Feb. 9-11 Bud Light Super Bowl Music Fest at Footprint Center , featuring Paramore, Imagine Dragons, and Dave Matthews Band
Celebrating its fourth year, the three-night festival connects the city of Phoenix with the football and music communities as part of the festivities surrounding this year's Super Bowl.
The Bud Light Super Bowl Music Fest will run from Thursday, Feb. 9 to Saturday, Feb. 11, at Footprint Center in Phoenix, AZ.
The Bud Light Super Bowl Music Fest kicks off Thursday night with the beloved trio Paramore with special guests to be announced, and is followed by Friday night with the iconic and revered Dave Matthews Band with a DJ set by DJ Pee .Wee (Anderson .Paak).
The three-night music festival wraps Saturday night with the powerhouse lineup of Imagine Dragons and Kane Brown. Ticket information is available at superbowlmusicfest.com.
Feb. 9-12: Super Bowl Experience presented by Lowe's at Hance Park
Fans of all ages will enjoy a free outdoor, multi-day immersive experience in the heart of the Valley with live music, entertainment and local cuisine. Please note clear bag policy enforced. More info here.
Hours of Operation:
Thursday, February 9 from 2 – 10 PM
Friday, February 10 from 2 – 10 PM
Saturday, February 11 from 10 AM – 10 PM
Sunday, February 12: 11 AM – 9PM
Feb. 11: Taste of the NFL at Chateau Luxe
In Arizona it's "Life on a Grander Scale" and for Taste of the NFL 2023, we are tipping the scales and creating an evening in great taste and for a great cause. Proceeds will benefit school nutrition programs in Arizona and beyond through GENYOUth's End Student Hunger fund.
Hosted and curated by culinary superstars Andrew Zimmern, Carla Hall, Tim Love, Lasheeda Perry and Mark Bucher, and featuring appearances by NFL greats, Taste of the NFL will offer guests a bite of the best!
Meet our marquee chefs along with food masterminds from Phoenix's top restaurants. Delight in tasting national and regional food specialties, sipping thirst-quenching beverages and mingling with NFL players and celebrity guests — all while enjoying the most delicious pre-Super Bowl LVII party! And you'll lead with both your heart and your palate in supporting a worthy cause.
Feb. 12: Official Super Bowl Watch Party at Hance Park, featuring the largest LED screens in Arizona
Watch Parties
The Plaza Bar at Fairmont Scottsdale Princess
After the WM Phoenix Open wraps up, stay and watch "The Big Game" on over 50 flat screen televisions at the Fairmont Scottsdale Princess Plaza Bar. Enjoy a full bar, and the Ultimate Game Day Buffet. Limited VIP Tables available. For all reservations, call 480.585.2694.
Bourbon Steak
Join Bourbon Steak for the biggest weekend in sports. This is not your average Tailgate. Get loud, eat steak, drink bourbon and game on!
Bourbon Steak looks forward to showcasing their world class service while you and your guests enjoy the Big Game. From a luxurious grand entrance, photo ops, interactive complimentary cocktail activation, lawn games, and a DJ, your tailgate expectations will be exceeded.
Whether you choose to reserve a VIP table or enjoy the event through General Admission, you will feel the luxury of the Mina brand while watching the Big Game.
General Admission Inclusions:
Welcome cocktail
Full access to Michael Mina's culinary experience
Complimentary valet parking
Table Inclusions:
Welcome cocktail + 5 beverage tickets per guest
Full access to Michael Mina's culinary experience
Designated cocktail server
Access to VIP bar
Semi private table & television
Complimentary valet parking
Tempe Marketplace
Bring the whole family for a Football Sunday at Tempe Marketplace you'll never forget as you cheer on your favorite team and enjoy the biggest game of the season on the jumbo LED screen. Enjoy a DJ, giveaways, games and more. Plus, visit a participating Sip & Stroll stop and enjoy your beer or cocktail at The District Stage.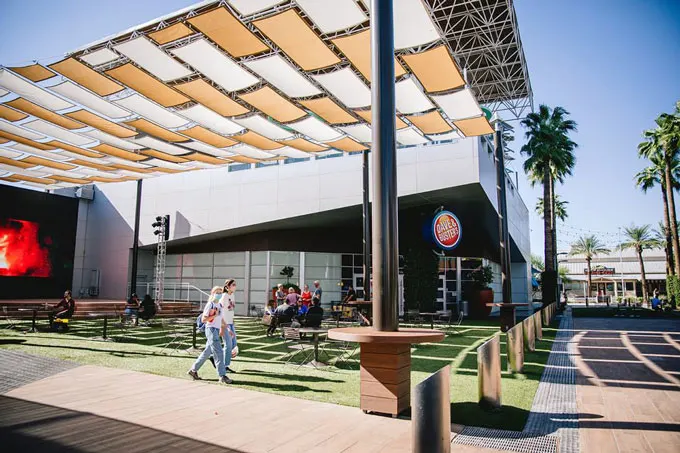 Game Day Activities include:
• DJ
• Interactive Games including squares and guessing games
• Corn Hole
• Field Goal Challenge
• Football Toss
• Capture your favorite memories with a photo at our photo op
• Enter- to Win prizes up to $5,000 in value throughout the party
Then, get ready to watch the Big Game on the big screen, with a larger-than-life viewing party you won't want to miss. Enjoy beverages from Dave & Buster's, and tasty snacks for everyone.
Want to go even bigger? Upgrade to the Dave & Buster's VIP Package for more games, exclusive perks, and an all-around all-star experience.
Desert Ridge Marketplace
Head on over to The District at Desert Ridge Marketplace on Sunday, Feb. 12 to catch the biggest game of the football season at the ultimate tailgate experience.
Here's the Game Plan:
Catch the game on massive outdoor LED screens at The District Stage and Courtyard near Copper Blues Live
Visit a participating Sip & Stroll stop and enjoy your favorite beverage during the game.
Snap a selfie at the game day photo op
Play games and Enter To Win Tons of Prizes!
This event is free and open to the public. Seating is available on a first come, first serve basis. Must be 21+ to Sip & Stroll through The District. All rules and regulations can be viewed here: https://shopdesertridge.com/sip/
Still Runnin Entertainment
Still Runnin Entertainment is offering a Super Bowl watch party at The Nest. Tickets $20 – $100 plus fees.
Casino Arizona
An unrivaled experience in the CAZ Showroom hosted by Fox Sports 910's Bauer, Grose and Jax. More info here.
LCD's AMA Room
LCD's AMA Room is offering a watch party and show the game for free.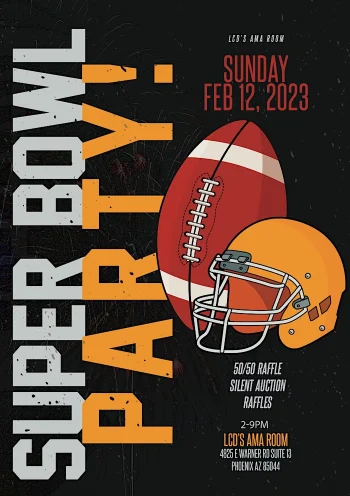 The Chill Factory
The Chill Factory is offering a watch party with food, hookah, and drinks. Ticket prices are:
Early Bird GA: $50
Buy at the Door: $65
VIP: $250 (Table for 4 people, 1 Bottle, Dozen Wings)
Super VIP: $300 (Table for 6 people, 1 Bottle, Dozen Wings, 1Hookah)
La Princesa
La Princesa is offering a watch party with celebrity chef catered menu, mixologist drinks selection, curated vendor pop-up shops, pre-game entertainment, post-game DJ party and on-site private security.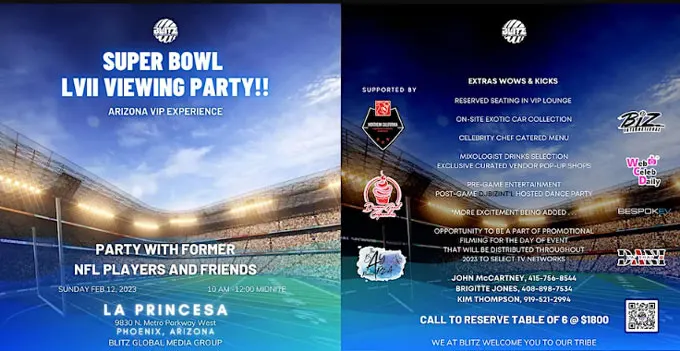 4th Quarter Sports Bar
4th Quarter Sports Bar is offering a watch party with viewing packages.
Ultimate Fans Package – $1,602.45 (incl. $102.45 Fee)
Up to 8 People

VIP Booth on Stage under Giant Screen. Minimum spend required for reservation
Includes:

10 Orders Chicken Wings
10 Orders Nachos
5 Orders Pull Apart Bread w/ Buffalo Chicken Dip
10 Pitchers Bud Light (Official Super Bowl sponsor)
2 Bottles
FAN BASE (Patio) – $150.00
They have several tvs outside plus the large tvs inside that can be seen from outside tables as well. Each table can accommodate 2 people. There is a minimum spend of $150 in which your deposit will be deducted from. Anything over $150 plus all taxes and gratuity are extra.
VIP PACKAGE – $5,337.21 (incl. $337.21 Fee)
Private Lounge with private Patio. Large Screen TV. Dedicated bartender & Host.
10 Orders Chicken Wings
10 Orders Nachos
5 Orders Pull Apart Bread w/ Buffalo Chicken Dip
10 Pitchers Bud Light (Official Super Bowl sponsor)
2 Bottles
Life Time Biltmore Rooftop
The "Flavor Bowl at the Super Luxe Rooptop Experience" will include Live entertainment, a Celebrity DJ, a Gaming Lounge, Pop Up Shops, Celebrity Meet & Greets, Taste of Biltmore Foodie Experience, a Charity Raffle, Champagne and Hors d'oeuvres, Red Carpet Interviews, Puff & Smoke lounge, The Biltmore Sipping Experience at Whiskey Row, VIP valet and high profile parking, VIP Players/Media/Celebrity Lounge plus other Luxe activation's.
Early Bird General Admission (til 2/3/23) – $55.20 (incl. $5.20 Fee)
Early Bird VIP Bracelet – $268.61 (incl. $18.61 Fee)
Early Bird All Access Credential – $535.38 (incl. $35.38 Fee)
Boycott Bar
Boycott Bar is hosting a watch party.
Too Live Crew
Too Live Crew is offering a Super Bowl watch party with pool side and full city view on a rooftop. Tickets $100 plus fees.
Breakfast Bitch
Breakfast Bitch is offering a watch party. Come enjoy their fabulous food and full bar while you watch the big game on one of their multiple TVs. Whether inside or outside, they have plenty of TVs for everyone to see.
They have 15 INSIDE tables and 8 OUTSIDE tables available, each seating up to 4 guests. Each table will have a minimum spend of $100 and your deposit will be deducted from your total bill. No refunds will be given if the minimum isn't reached. Taxes and gratuity extra.
Their Private Dining Room includes entry for up to 20 people, 10 orders of wings, 10 orders of nachos, 5 pull apart breads with buffalo chicken dip, 10-48 oz pitchers of bud light or a non-alcoholic drink, and 2 bottles of Menage a Trois. Your own personal server also will be available. No substitutions. Any additional food or drinks, along with taxes and gratuity are extra.
Kesia Elise Shine PLLC
KESIA ELISE SHINE, PLLC is offering a watch party. No alcohol is allowed on the premises. Ten percent is going to assist in transitional housing for domestic violence victims. The venue will supply free snacks and hor d'oeuvres. Meals will be available for purchase at $25 per plate per meal time. Brunch, dinner, and supper will be served during the course of the event. Doors open at 11:30 a.m. Violinist Tebe Zalango will begin his performance at noon. $100 tickets for all-inclusive tickets, including 3 meals and entry. Brunch will be made to order and catered by Wingcrafters.
Skysill Rooftop Lounge
Skysill Rooftop Lounge is offering a watch party. Tickets $150 – $500 plus fees.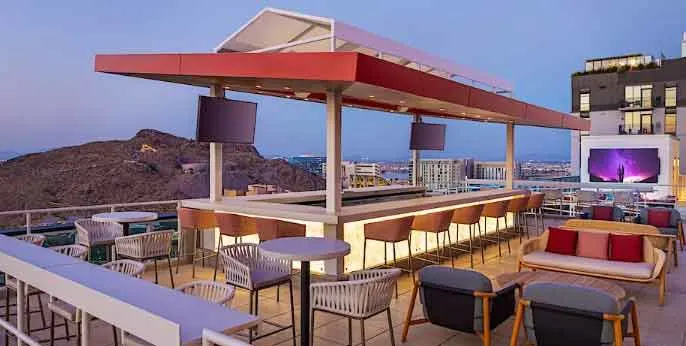 Game Day Eats
Phx Lechon Roasters
Phx Lechon Roasters (Tempe) is offering an in-house pig roast on Super Bowl Sunday. Feeds 50 people. A whole team of chefs will prepare a traditional Kamayan feast for you and your guest. All the food, roasted on site, (YES, they are roasting a whole pig at your party) will be artfully displayed on top of banana leaves and the pig roast will be presented whole. Their Chef will "chop" the lechon to order as your quest come thru the buffet line Included in their traditional Kamayan feast are other fine Filipino Foods, all prepared and cooked right in front of you. This is an experience to remember. Priced at $3980 per package.
the larder + the delta
Nashville Style Hot Chicken Boxes. 8pc, 12pc and 24pc options available, includes our Granny Smith apple & jalapeño slaw with Noble White Bread. Preorder here.
Pre-Game Parties
Sports Illustrated The Party
Big Game Weekend's Most Exclusive Event – Sports Illustrated The Party presented by Captain Morgan – is heading to Arizona on Saturday, February 11, 2023, featuring headlining performances by Machine Gun Kelly and The Chainsmokers.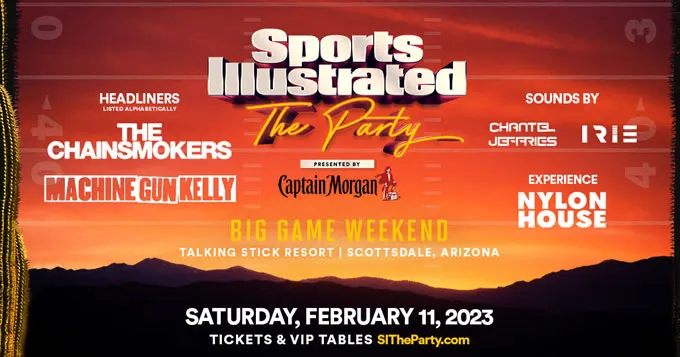 Guests will experience a custom built 100,000+ square foot event space including a music-festival sized main stage with high-end complimentary food and beverage activations thanks to Captain Morgan, CELSIUS, Anheuser-Busch, Electrolit and more. The unique VIP driven event allows fans to mingle with the who's who of the sports and entertainment worlds – past guests have included Kevin Hart, Jeff Bezos, Elon Musk, Ciara, Russell Wilson, Leonardo DiCaprio, and Shaquille O'Neal.
Sports Illustrated The Party presented by Captain Morgan will take place at the Talking Stick Resort in Scottsdale, AZ. All-Inclusive Tickets and VIP Tables are now on sale.
2023 Maxim Super Bowl Party
On Saturday night, February 11, 2023, celebrities, athletes, models, influencers, and executives from all walks of life will come together for this VIP Event to celebrate the intersection of sports, fashion, art, and music.
Maxim's Catch Me If You Can – Big Game Weekend 2023 Experience immerses guests into the 1960's mod days of glamour and sophistication. Style, freedom, and speed are the tenets of Mod culture, which is the motto of this year's Big Game Party. Vibrant blues pop against the white backdrop of a newly built retro airplane hangar reminiscent of the TWA-PAN AM posh days. Always known for being held at unique venues, Maxim's Big Game Weekend Party will be hosted this year at the Southwest Jet Center in Scottsdale, Arizona
The TAO Group will be partnering with Maxim for this event to bring you its best-in-class premium entertainment experience.
Tostitos Super Bowl Weekend Pop-Up Restaurant, Tost By Tostitos
Tost by Tostitos, a limited-time casual dining restaurant that puts Tostitos chips and dips at the center of its recipes, is offering a front-row seat to how the fan-favorite snack can transform into a mealtime MVP from February 9-11 in Phoenix, Arizona.
Reservations for complimentary lunch and dinner are open and are available at www.tostbytostitos.com.
Lunch will be served Feb. 9 to 11 between 11 a.m. and 2 p.m. and dinner between 5 and 9 p.m.
Tost by Tostitos will be located at the Roosevelt Row Welcome Center at 918 N. 2nd Street in Phoenix, AZ.
Hero's Park
Hero's Park is offering a watch party and organizing a 3 day party in the desert.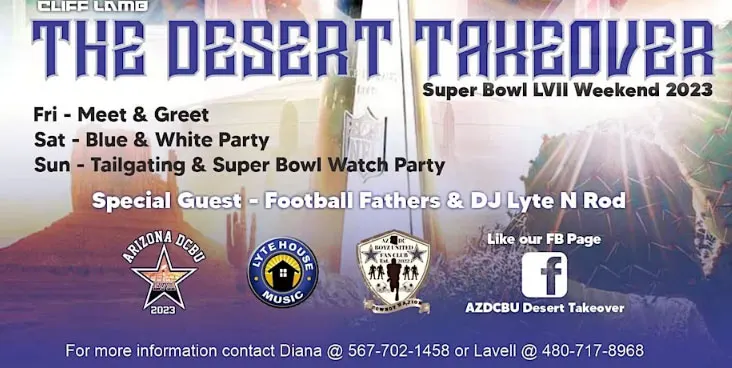 Friday meet and greet American legion 29 6822 N 57th Dr Glendale, Az. 5-10 pm cash bar, food for sale, live DJ, vendors
Saturday Blue and White Party 8 pm – 2am 10040 N 43rd Ave Glendale, Az come represent your favorite football team.
Sunday Tailgating and Super Bowl watch party. 1pm-11 pm. Parking lot of Stingers sports bar10040 N 43Rd Ave Glendale, Az cash bar, food for sale, DJ, games, raffle.
3 day package for all events $150
2 day package $100
1 day package $50
2023 Big Game Fan Tailgate Party at State Farm Stadium
Be part of an exciting all-inclusive VIP tailgate party hosted by Matt Leinart and Nick Lachey at Westgate Right Next to State Farm Stadium, in the heart of all the action!
They are converting a private parking lot within Westgate into a fun, high-end event space to bring together football fans from all over. Our all-inclusive tickets for the Pre-Game Party will include unlimited incredible food, and an open full bar including themed cocktails! Their Game Watch Party will be free to the public with options to upgrade your experience with two different food, beverage and entertainment packages.
Packages prices:
Pre-Game – $420.68 (incl. $25.68 Fee)
Pre-Game – VIP – $738.94 (incl. $43.94 Fee)
Game Watch Party – Food & Drink Package – $691.20 (incl. $41.20 Fee)
Game Watch Party – VIP Food & Drink Package – $1,009.46 (incl. $59.46 Fee)
Pre-Game & Game Watch Food & Drink Pkg – $1,168.59 (incl. $68.59 Fee)
Pre-Game & Game Watch VIP Food/Drink Pkg – $1,911.20 (incl. $111.20 Fee)
2023 Players Tailgate Arizona
With over 75 active players and some of the world's biggest celebrities, Bullseye's Players Tailgate is rated the #1 event Super Bowl weekend and promises to be the biggest and best pre-game event in Arizona ahead of Super Bowl 57 in 2023. Event tickets are now on sale at https://bullseyeeventgroup.com.
The premiere in-person tailgate party and event occurs on Super Bowl Sunday in Glendale, AZ, before the big game.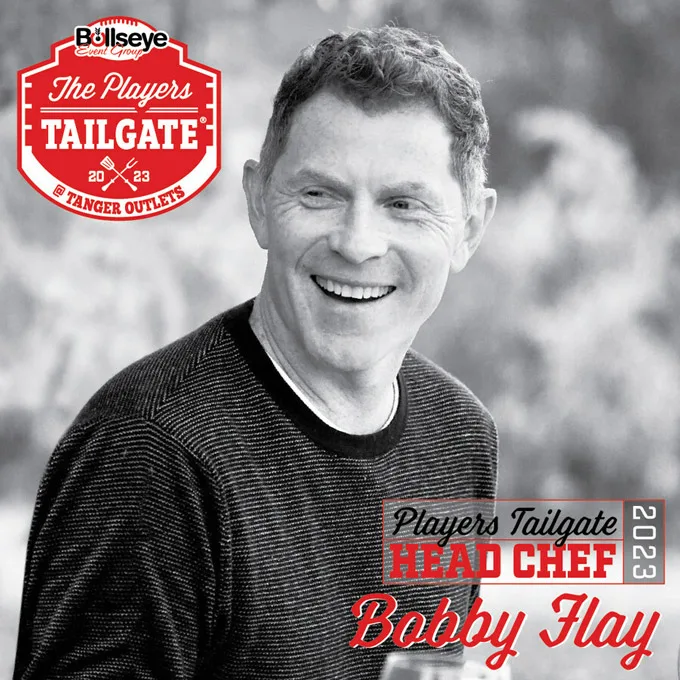 Bullseye Event Group will be creating the 75,000 square feet of VIP tailgating experience flush with red carpet, cabanas, huge LED screens, gourmet food, and top-shelf drinks.
This is the number one rated Super Bowl event and the best Super Bowl party each year.
Bullseye Event Group's Travel Packages for Super Bowl 57 offer fans the chance to cross the NFL's biggest game off their bucket list, without handling any of the logistics,
A VIP experience throughout Super Bowl weekend in Arizona includes some of the most luxurious hotels in the Glendale/Scottsdale/Phoenix area.
Super Bowl 57 travel packages also include entrance into a welcome reception (featuring food, a premium open bar, and a live DJ), a ticket to Super Bowl 57 at State Farm Stadium, private motor coach transportation to and from the stadium on game day and entrance into Bullseye's 2023 The Players Tailgate at Super Bowl 57.
ESPN's Sage Steele and DJ Irie will return to emcee the event among dozens of celebrities and athletes for The Players Tailgate.
Master Chef Bobby Flay will officially take the hosting reigns for the pre-game event on February 12, 2023, to celebrate Super Bowl LVII.
Other Activities
State Farm Stadium
Enjoy a view of State Farm Stadium unlike any other! In anticipation of the Big Game, our flight team will be launching exclusive early-morning flights, providing a bird's eye view of the "Bird's Nest".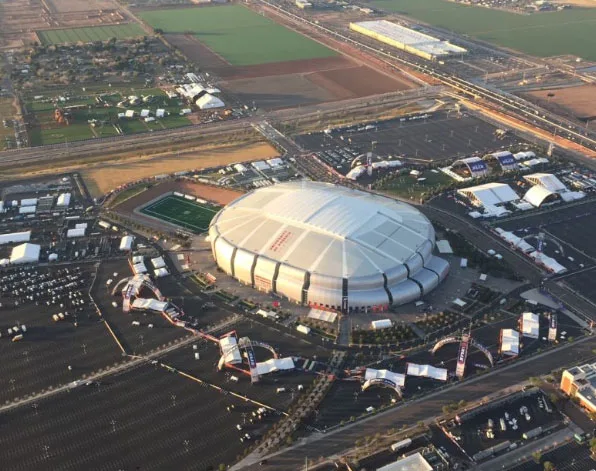 Bring your friends and family and don't forget your camera. You'll want to share your pictures with everyone! Conclude your bucket list adventure with a traditional celebratory toast, and a commemorative flight certificate. Price: $325 per person (no child pricing). Flight Time: 30-45 minutes. Total Time: about 3 hours. Time: 6:00 AM to 11:59 PM. Recurring daily until February 12.