Here is a roundup of Super Bowl Denver 2023 watch parties and game day eats. Game on!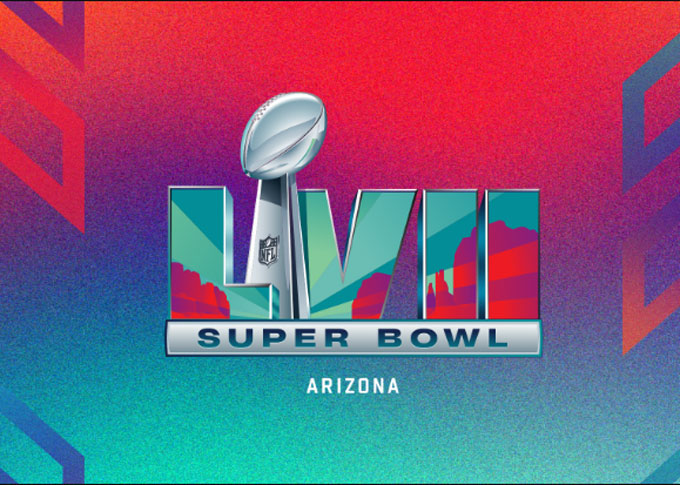 Please reach out to me [email protected] or @foodgressing on social media if you are a business that wants to be featured. Provide all the details of your offering in your message. For faster processing, please provide a ready to copy and paste excerpt in paragraph form in a similar format to the businesses featured below.
Watch Parties
Yardhouse
Yardhouse is the ultimate destination to watch the Big Game. With over 100 beers on tap and 20 TVs on-site, Yardhouse will make sure you don't miss a moment of the game.
Wide Right
Wide Right is hosting a watch party and all-you-can-eat wings for $25. $5 deposit for reservation. Open at 3pm. All you can eat is 4pm – end of game.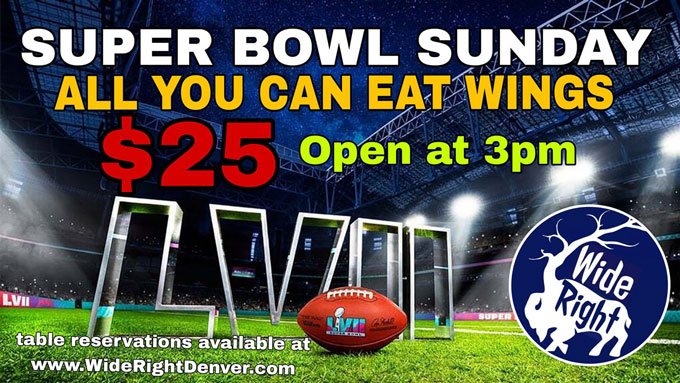 MJ Mansion
The FamBAM is throwing a Super Bowl Party at the MJ Mansion. Come and enjoy food, music, vendors and watch the best of the AFC and NFC go head to head to see who becomes the Super Bowl Champion!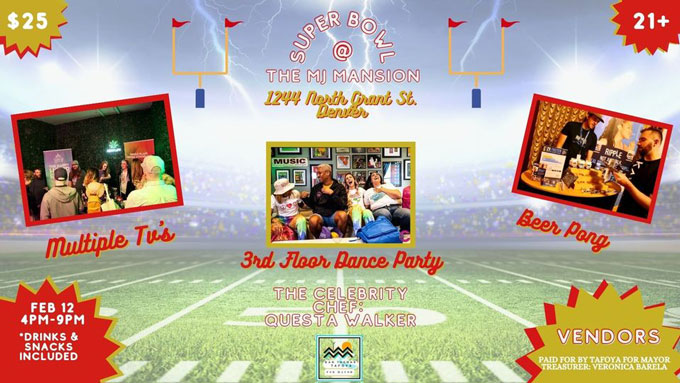 Meet Celebrity Chef Questa Walker and chow down on his southern style food while quenching your game day thirst with Kitty-Tails provided by Queen Kitty CBD Seltzer.
Need a break from the game? Venture off into the rest of the mansion and enjoy 10 unique rooms with all types of vendors and decor that will make the most camera shy person want to take a photo. And when you're done venture upstairs to the third floor for our 3rd floor dance party featuring!
There will be a vendor raffle! They will be purchasing select items from our vendors and raffling them off.
Game Day Eats to Go
Yardhouse
If you're planning to watch the game from the comfort of your own home, opt for one of Yardhouse's delectable take-home platters. See here for the menu.
Urban Village Grill
Urban Village Grill is offering sports fans a $15.99 boneless tandoori chicken wings and beer combo for dine in and take out the day of the big game. In addition, all draft beers will be $1 off after kickoff until the end of the game.
Fogo De Chao
Fogo de Chao is offering a variety of Catering and To-Go package options or order meats by the pound from their Butcher Shop to fire-roast at home.

Get free delivery on all To-Go Orders on 2/12 with code: FREEDELIVERY. Conditions apply.
Or, get 10% off all Catering Orders on 2/12 with code: CATERING10. Conditions apply.
The Bindery
The Bindery is offering game day eats to go including Duck Confit Nachos; Spicy Italian Sausage; Truffled Mac + Cheese; Baby Back Ribs and more.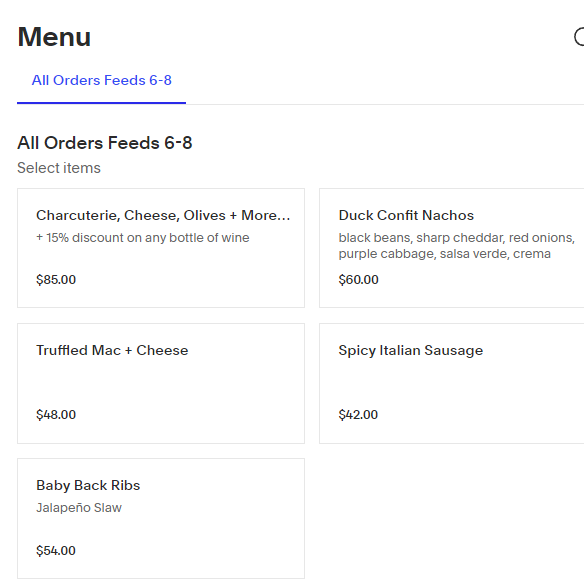 Game Day Apparel
Your team didn't make it to the Big Game? Choose a team, hop on the bandwagon and get yourself decked out by visiting these Park Meadows stores:
Maybe you don't have a team in the game you're supporting, but you want to show up looking your best, consider the following stores:
Tommy Bahama: With everything from sweaters to jackets and t-shirts, Tommy Bahama has something to suit whatever weather comes on Game Day.
Travis Mathew: Stop by Travis Matthew ahead of the game and enjoy a round of ping pong, shuffle board or arcade games to get in the competitive spirit and get outfitted in premium menswear and golf apparel for on or off the course!
UNTUCKit: UNTUCKit's clothing line is perfect for a casual, yet polished look.
Recipes
With the big game quickly approaching, football fans are starting to look for fun, delicious and easy, watch party dishes to whip up at home or the liveliest bars and restaurants to cheer on their favorite teams from! A few Denver bars and restaurants have shared their beloved recipes that add an elevated twist to any at-home big game day party.
Spicy crab guacamole
Toro takes the guac game up a notch by adding spicy crab to the mix. That may seem fancy, but it shouldn't daunt you! The crab can be purchased already cooked at your grocery store, and it's the perfect salty addition to a creamy bowl of guac. Recipe can be found here.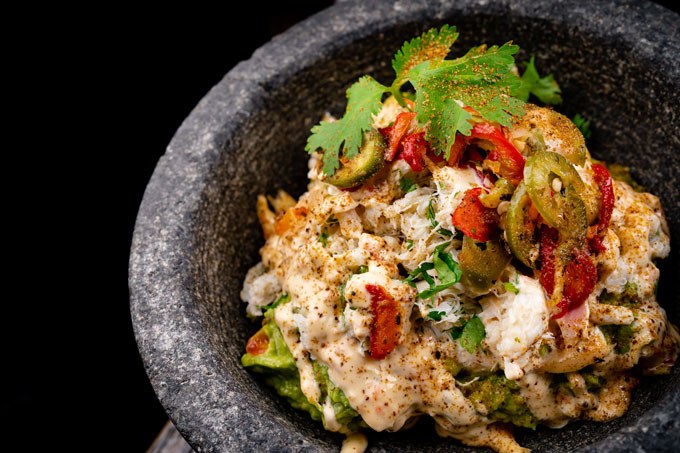 Bacon Guacamole
Tamayo's Bacon Guacamole is always a crowd favorite, and it'll make your home smell heavenly if you're cooking the bacon on game day. You can even serve the bacon bits on the side to give people a unique guac topping suggestion. Recipe can be found here.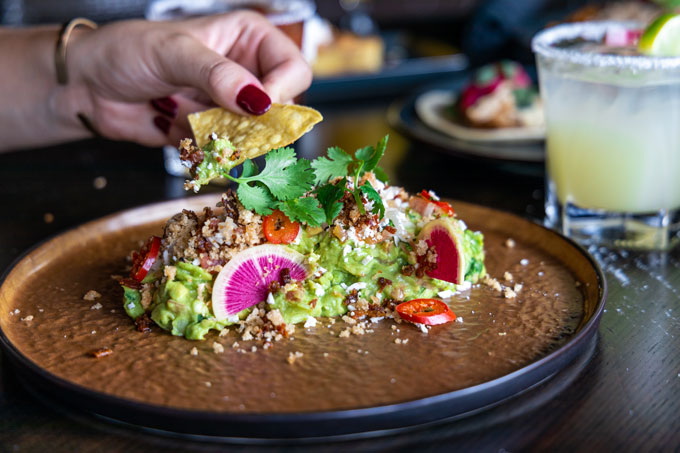 Rock shrimp and bacon quesadilla
Everybody loves Tamayo's rock shrimp and bacon quesadilla, and party-throwers will impress their guests by adding those unique proteins to their favorite cheese mixture. They can also follow Chef Sandoval's cheese method, which can be prepped 12 hours in advance. Recipe can be found here.
Kansas City Rickey
Tamayo's Bar Manager Pete Tognetti drew inspiration from two major Kansas City staples, the Boulevard Brewing Co. and the historic J. Rieger and Co. Distillery, to create his "KC Rickey". Chiefs fans can easily shake this up at home while they're rooting on their team!
Recipe:
1 1/2 oz. J. Rieger Midwestern Gin
3/4 oz. Lemon juice
1/4 oz. Green Chartreuse
Directions: Shake, Collins glass with a lemon wheel and top with 4 oz. of Boulevard Tank 7 Farmhouse ale
The Citywide Special
Pete also came up with a drink recipe for Eagles fans, which gives a nod to the commonly ordered "secret handshake" in the Philly bar scene: The Citywide Special. Usually, this order consists of a simple shot and a beer, but Pete decided to class it up a bit.
Recipe:
2 oz. Rittenhouse Rye
1/2 oz. Simple syrup
3 dashes of aromatic bitters
Directions: Stir the rye, syrup and bitters together, pour over a big ice rock, place a lemon twist over it, and serve with a bottle of Victory Prima Pils.